When it comes to bagels, there are a few different origin stories floating around. One legend, for example, notes that they were first eaten in Vienna, Austria, after the Polish king Jan Sobieski III saved the city from a Turkish invasion in 1683. Other records show, however, that a very similar-looking bread called obwarzanek was eaten in Poland centuries earlier. But regardless of where they began, there is no doubt that today, bagels are a big deal. Jewish Eastern European immigrants brought them to the US in the 19th century, and now, the streets of New York City, in particular, are lined with bagel stands and shops. But is this popular savory snack vegan? Let's find out.
What are bagels, anyway?
To put it simply, a bagel is a bread roll shaped into a ring with a hole in the middle. Just like most basic breaded goods, the dough is made with flour, yeast, and salt, as well as a sweetener. After it is shaped into a circle, the dough is then boiled, which helps to give the bagel its signature dense and chewy texture. After that, they are either left plain or topped with different seeds, like poppy seeds or sesame seeds. Raisins, red onions, and chives are also popular bagel ingredients.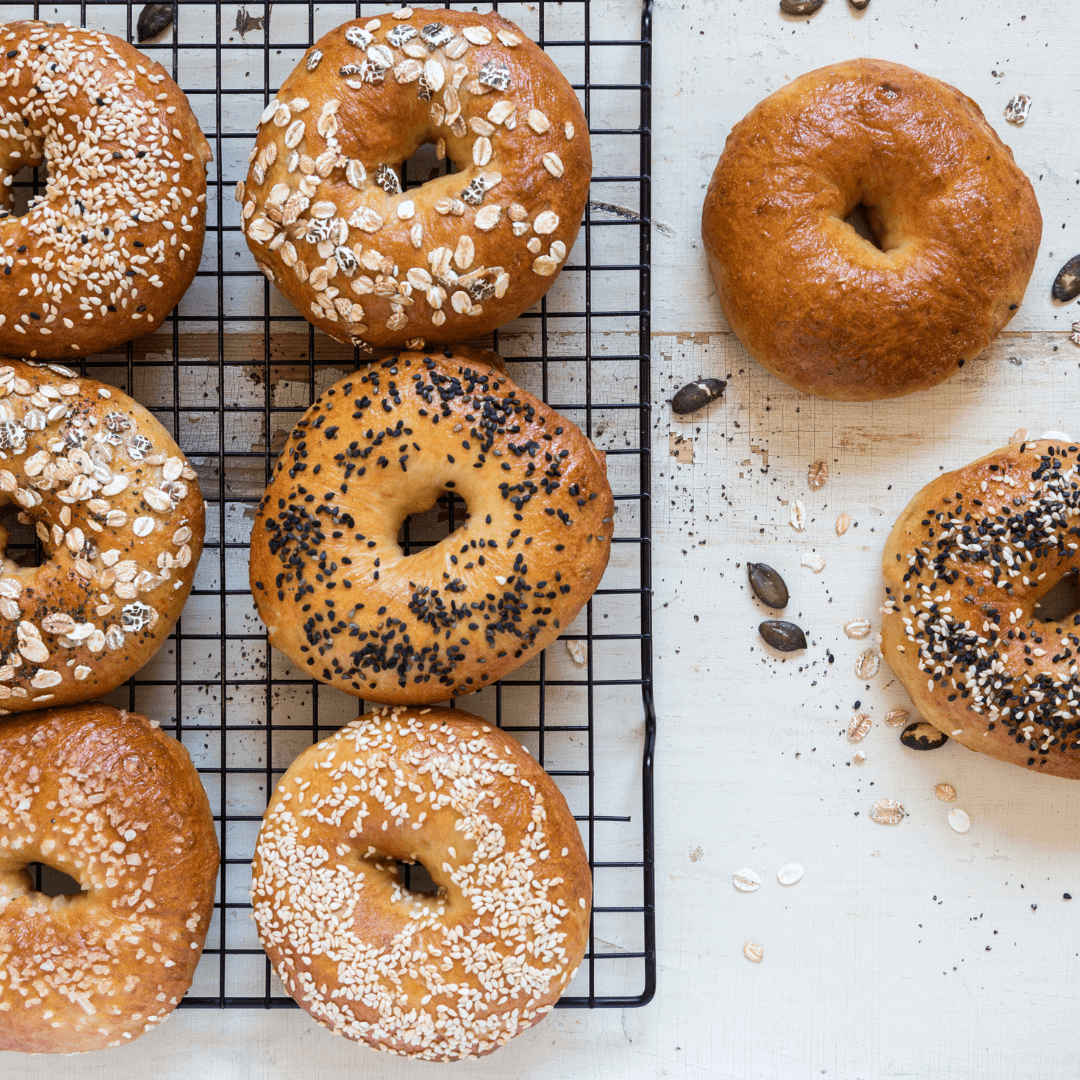 Canva
Important: if it doesn't have a hole in the middle, it's not a bagel. "That center hole is essential, functionally and esthetically," American food critic Mimi Sheraton wrote for The New York Times in 1981.
"As with so many breads and cakes of dense texture, a hole in the center eliminates the portion that takes longest to bake—so long that it might mean the outer crust burns in the process," she added. "The hole in bagels enables shopkeepers to string them up for easy delivery and display and it affords the eater good purchase both for hand and mouth."
Are bagels vegan?
For the most part, bagels are vegan. But not always. Sometimes egg yolk or milk, for example, is used as a glaze. And occasionally, eggs are used in the dough itself. Honey may also be used in the dough as a sweetener, although most will contain ingredients like high-fructose corn syrup.
Do vegan bagels taste like regular bagels?
Vegan bagels taste like regular bagels for one very simple reason: most regular bagels are vegan by default. In fact, most traditional bagels are just made with water, salt, sugar, yeast, oil, and flour. The reason they taste different from other baked goods is not actually to do with ingredients, but it's all in the boiling process. "Do you know what makes a great bagel? It's boiling," notes Rhonda Albom for the Jewish food and lifestyle blog Kibitz Spot. "And, it's not just my opinion. By definition, a traditional bagel recipe includes boiling."
Who makes vegan bagels?
As mentioned above, Jewish Eastern Europeans brought bagels to the US in the 1800s. But it wasn't until the late 20th century that they really started to blow up in popularity. Now, there is no shortage of bagel options across the country. If you've got a craving, here are some of the best shops, chains, and brands to buy vegan bagels from.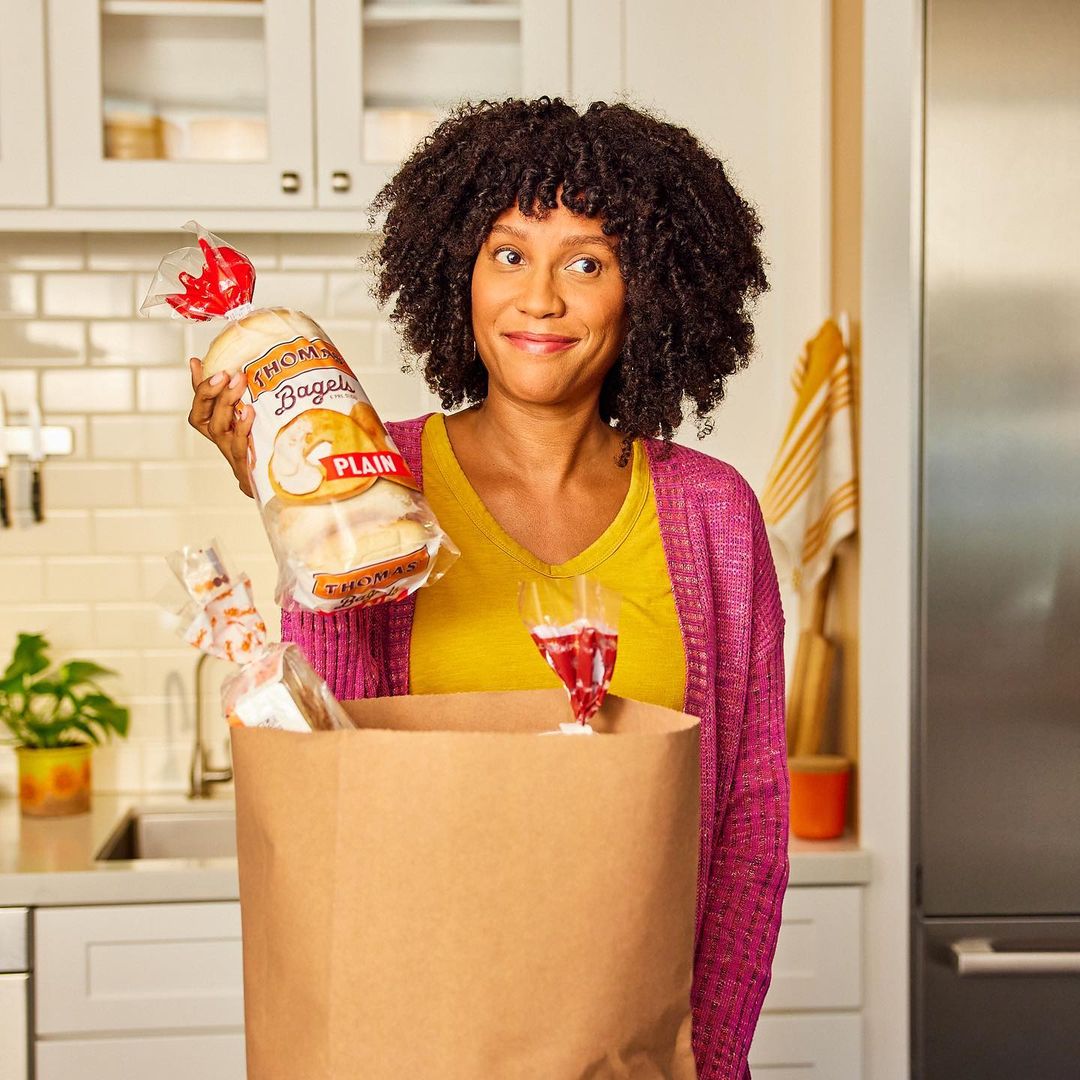 Thomas Breads
1 Thomas Breads
Whether you're in the mood for a simple, plain traditional bagel with vegan butter or cream cheese, or you prefer something with a little more flavor, like Apple Cinnamon or Pumpkin Spice, Thomas Breads has you covered. Most of its bagel options are vegan—even the ones with chocolate chips!
Learn more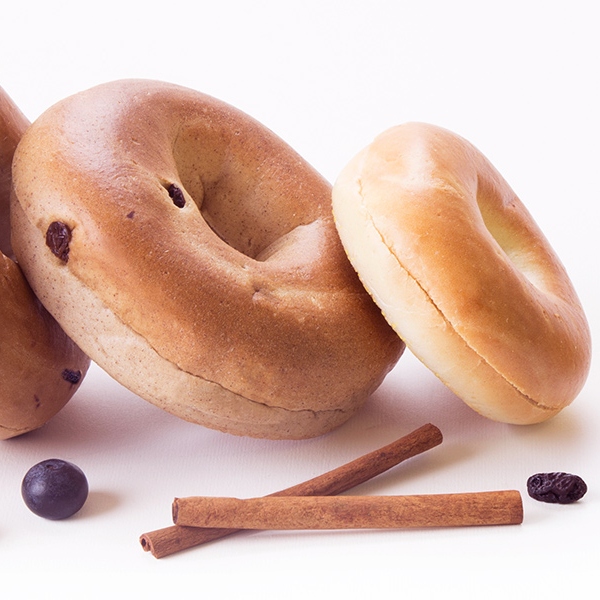 Sara Lee
2 Sara Lee
Sara Lee started off as a cake business in the 1940s, but it has since expanded to offer a wide variety of breads, including bagels. The brand's Blueberry, Cinnamon Raisin, Everything, Onion, and Plain bagels are all made to a vegan recipe. Head down to your local Target to get your fix.
Learn more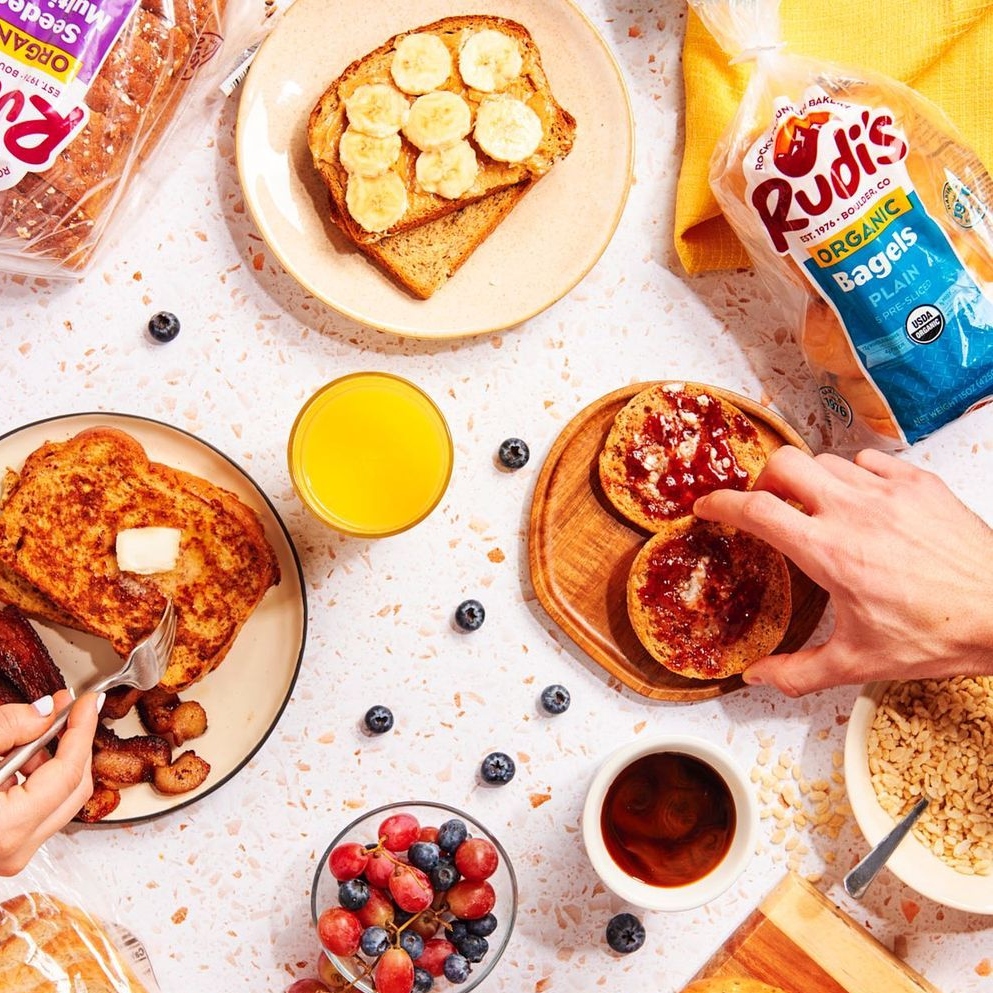 Rudi's
3 Rudi's
If you prefer your baked goods to be made with organic ingredients, Rudi's is the bagel brand for you. All of its bagel options (which include Plain, Multigrain, and Everything) are vegan, non-GMO, certified USDA organic, and free of ingredients like high-fructose corn syrup.
Learn more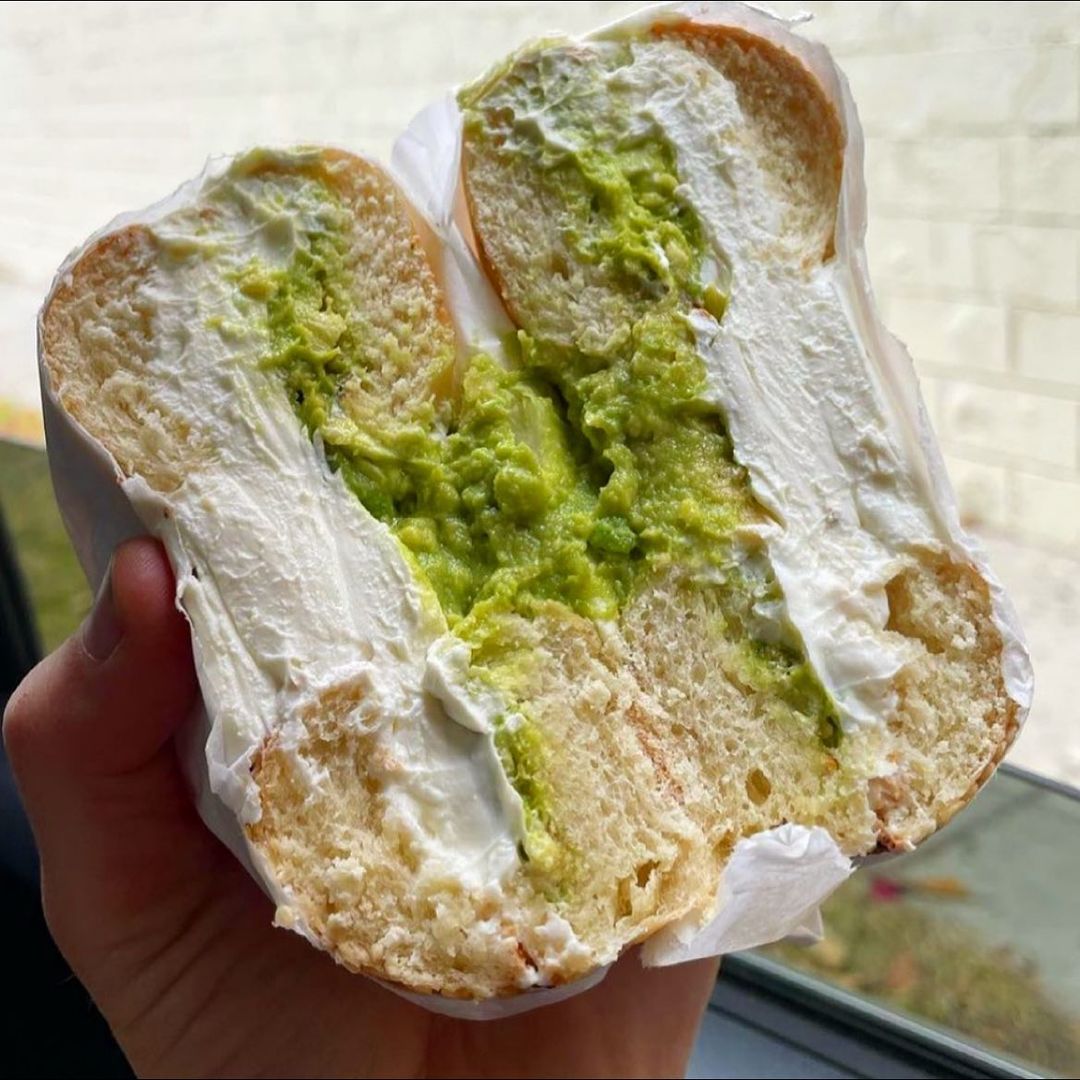 Yeastie Boys
4 Yeastie Boys Bagels
If you're in Los Angeles, Yeastie Boys has seven locations across the city, including spots in Venice, Brentwood, and Melrose Place. For vegans, there's the Mishka, which features a hand-rolled everything bagel, packed with vegan roasted bell pepper spread, tomatoes, and red onions. Another option is a plain hand-rolled bagel with vegan cream cheese.
Learn more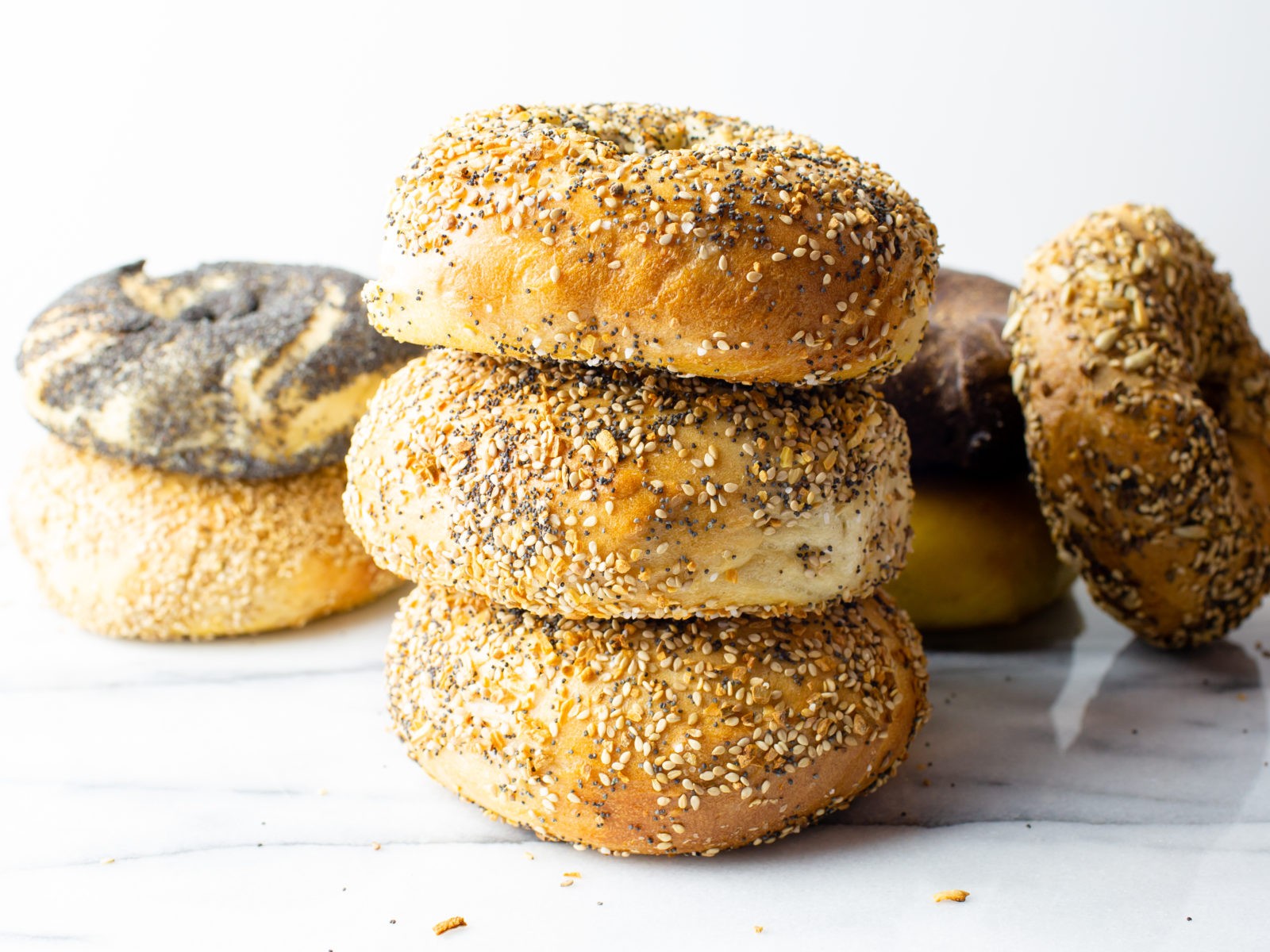 Brooklyn Bagel & Coffee Company
5 Brooklyn Bagel & Coffee Company
New York is packed with bagel shops. But according to Food Network, Brooklyn Bagel & Coffee Company, which has been open for more than 20 years and has five locations across the city, is one of the best. Most of its bagels, which are always cooked to an "old-fashioned" traditional recipe, are vegan by default. Plus, it also offers a vegan, tofu-based cream cheese filling option.
Learn more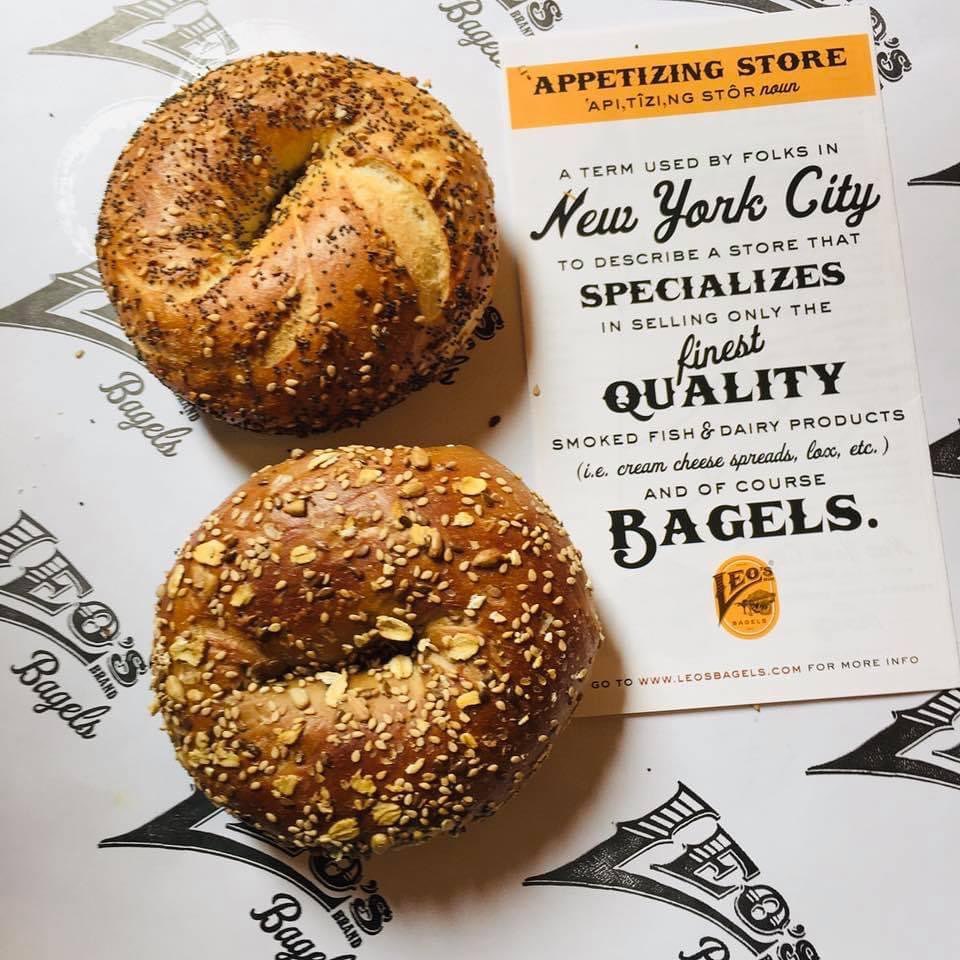 Leo's Bagels
6 Leo's Bagels
Adam Pomerantz first opened Leo's Bagels, which is named after his Eastern European uncle, in 2007. And now, his bagels, made to a traditional recipe with hand-rolling and boiling, are still much-loved across the city. Vegan fillings include tofu-based cream cheese and even "no egg" salad spread.
learn more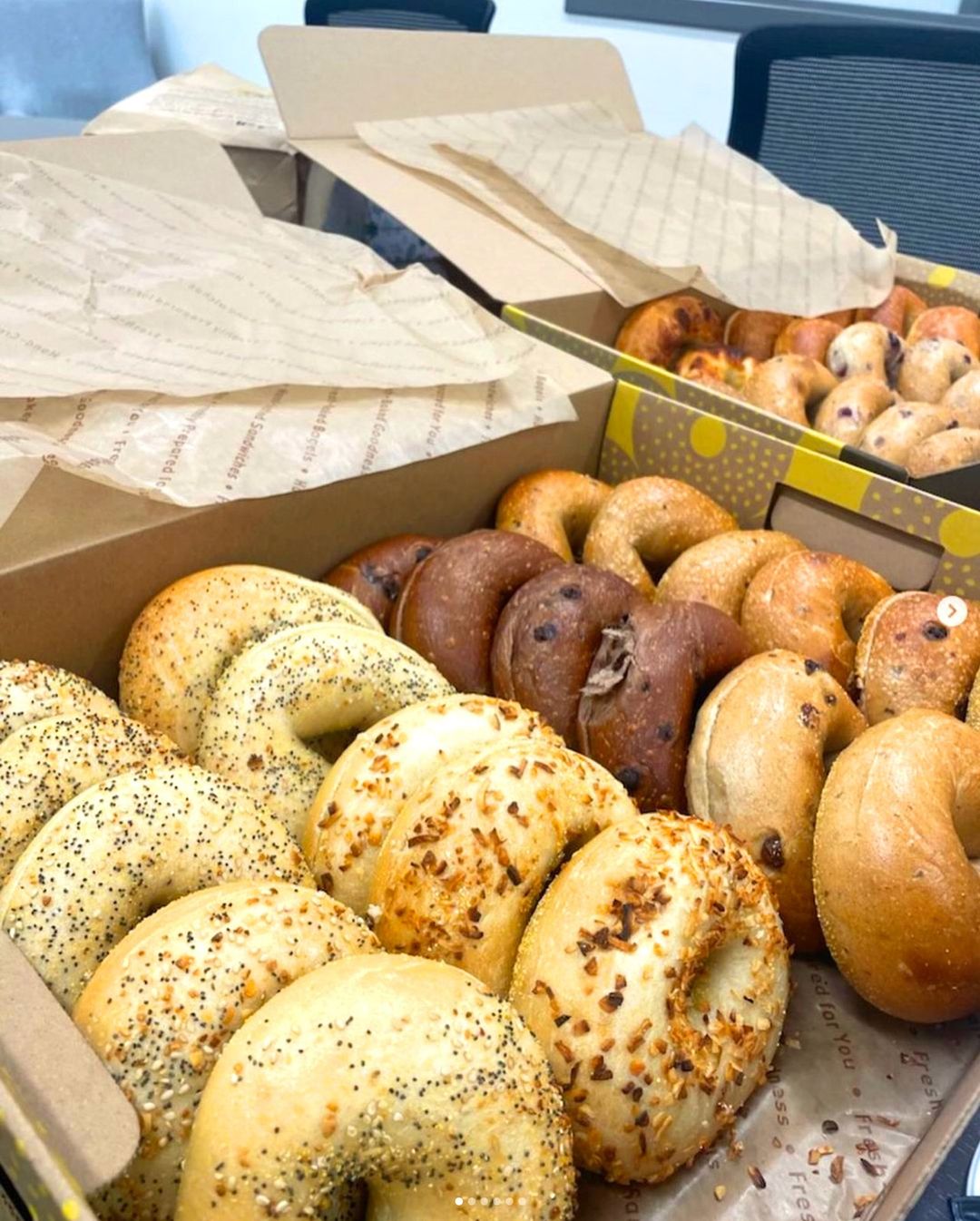 Einstein Bros Bagels
7 Einstein Bros Bagels
With nearly 700 locations across the US, Einstein Bros is one of the easiest places for most Americans to grab a bagel. And good news: most options are vegan by default. For your filling, try avocado, peanut butter, or strawberry jelly, or load it up with veggies like cucumber, lettuce, spinach, and red onion.
Learn more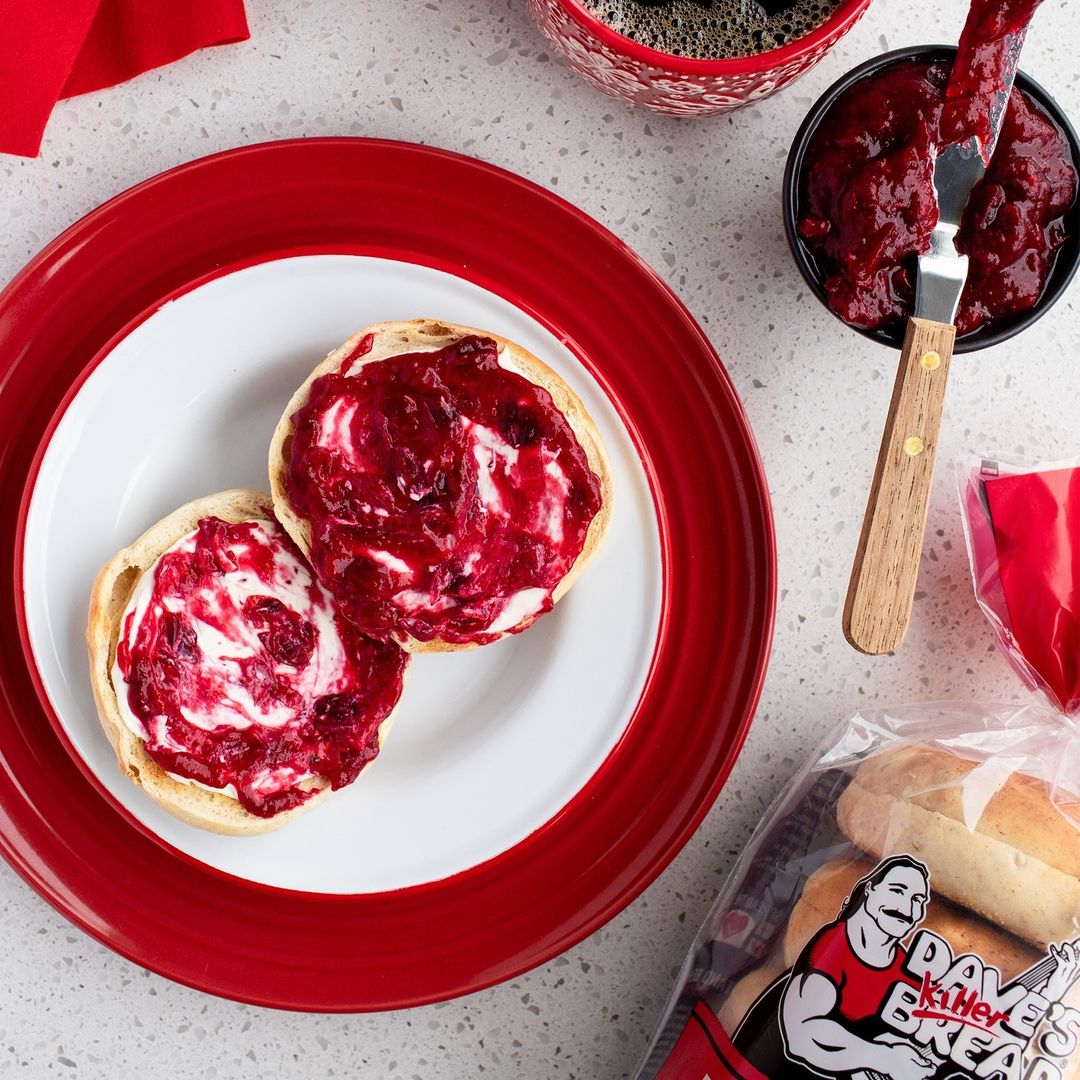 @daveskillerbread/Instagram
8 Dave's Killer Bread
Dave's Killer Bread was founded back in 2005, by family baker Dave Dahl. Over the years, the brand, which is known for its organic whole-grain products, has soared in popularity. But its products are not just tasty and nutritious, they're also mostly vegan. All of its bagels, including its Epic Everything, Plain Awesome, and Bloomin' Berry flavors, are totally animal-free.
Learn more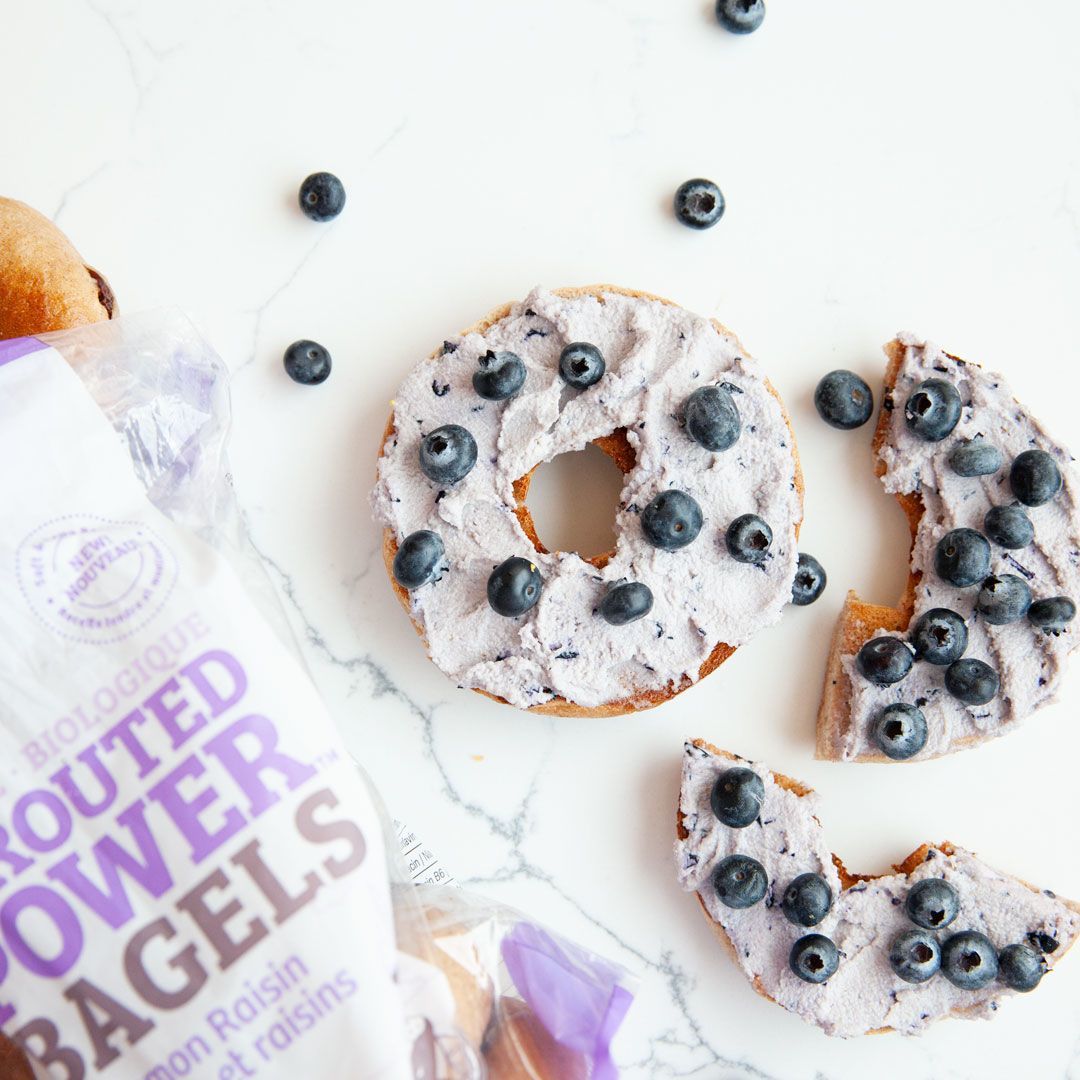 Silver Hills Bakery
9 Silver Hills
Everything at Silver Hills Bakery is vegan. In fact, according to the brand, creating organic, plant-based products is one of its "core values." If you're after something savory, try its Organic Sesame Sunflower Bagels, or, for a hint of sweetness, there's also Organic Cinnamon Raisin.
Learn more
What do you put on vegan bagels?
When it comes to bagel filling, there really are no set rules to follow. If you like things sweet, you can try fruit with chocolate hazelnut spread. Or, if you prefer savory, load it up with some vegan egg mayo, or a simple salad. Peanut butter is another great option, or you could go for dairy-free mozzarella. But arguably, one of the best, and most popular, choices for topping bagels is vegan cream cheese. If this sounds right up your street, here are some of the best vegan cream cheese brands on the market.
Vegan cream cheese brands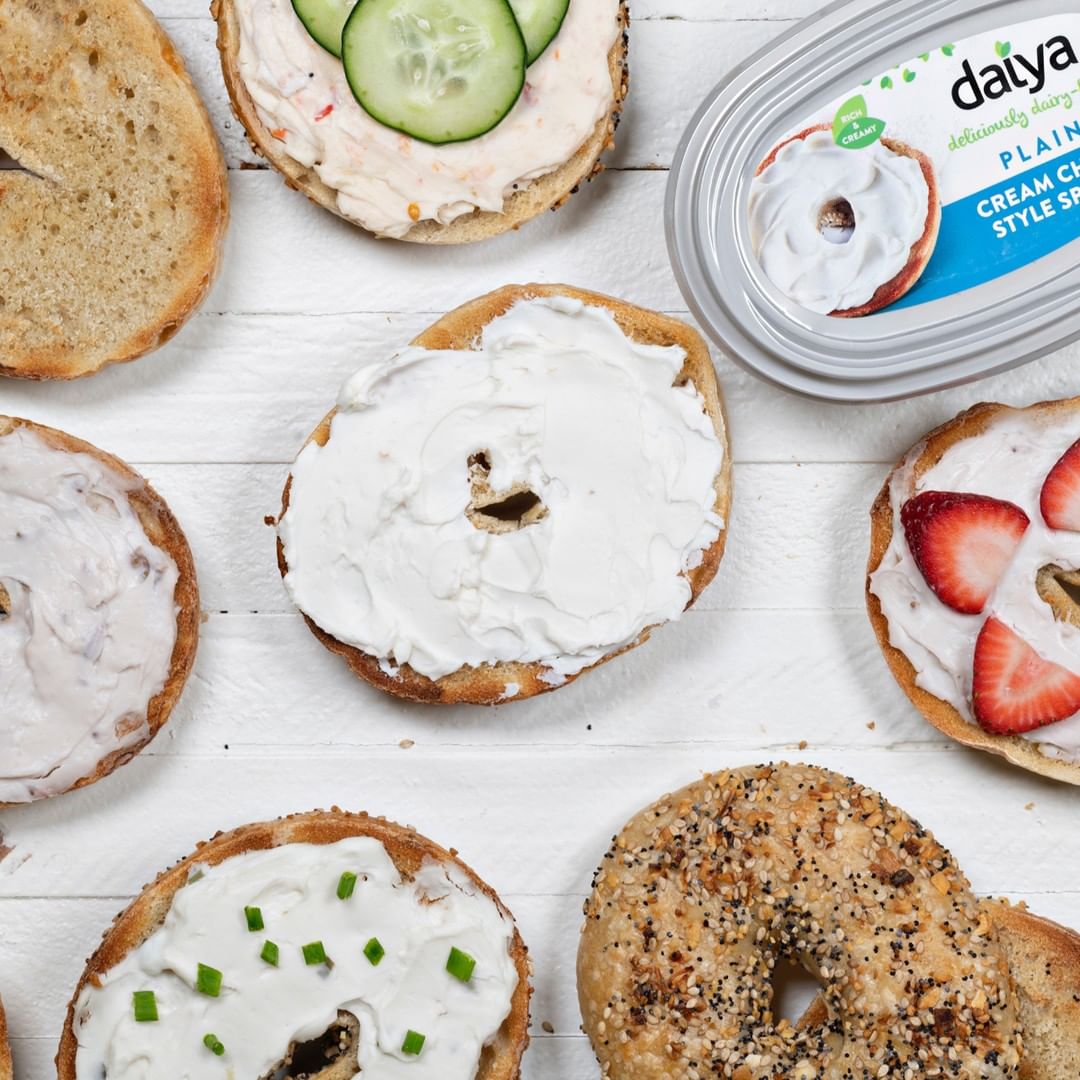 Daiya
1 Daiya
Canadian brand Daiya has been offering dairy-free cheese for more than a decade. Its extensive portfolio includes everything from shreds to slices to cream cheese. The latter is available in several flavors, including Plain, Strawberry, Chive & Onion, and Roasted Garlic & Herbs.
Learn more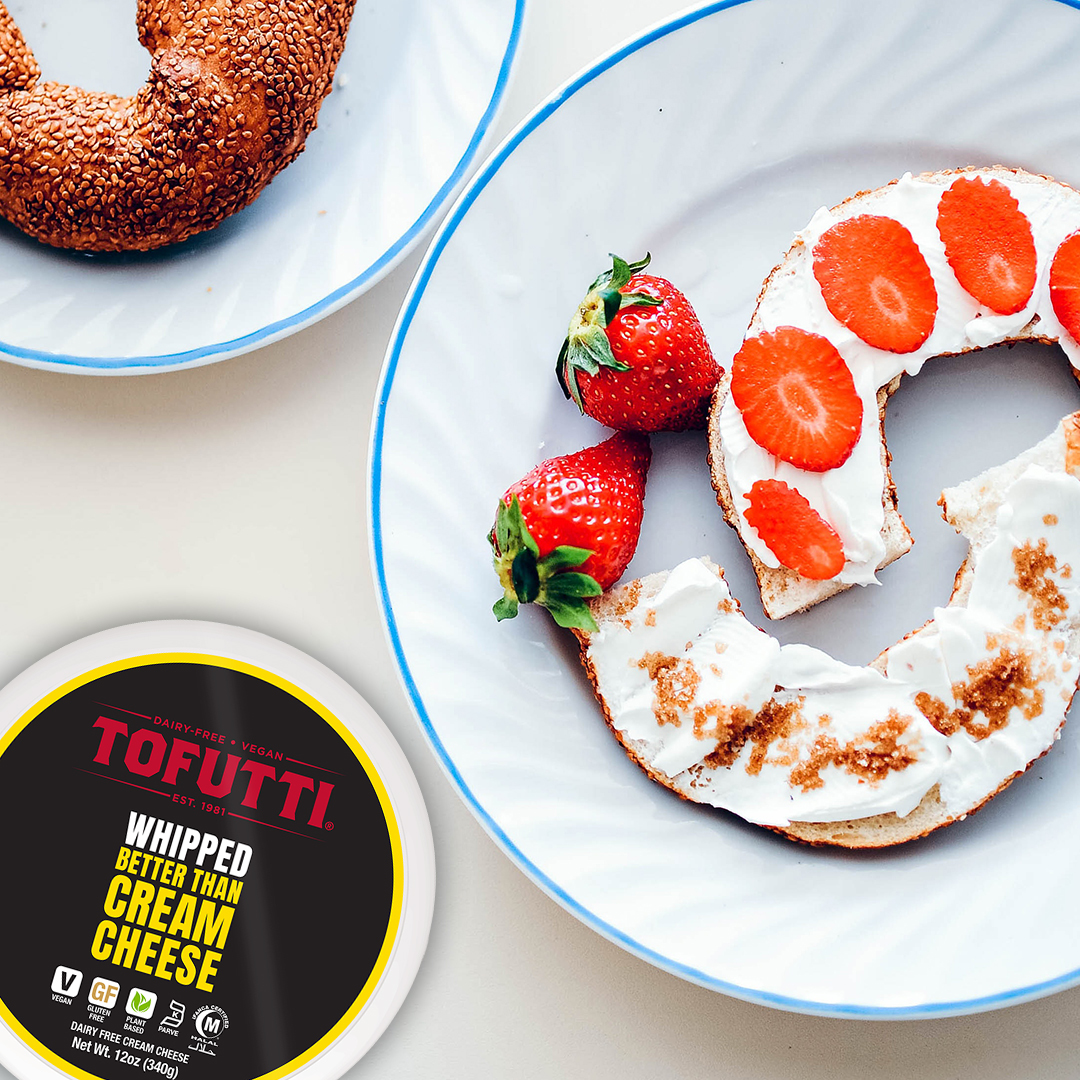 Tofutti
2 Tofutti
Many of the bagel shops in New York offer Tofuti's vegan cream cheese, so there's no doubt it's a quality choice of filling. All of the brand's options are tofu-based, and flavors include Plain, Garlic & Herb, and Herbs & Chive.
Learn more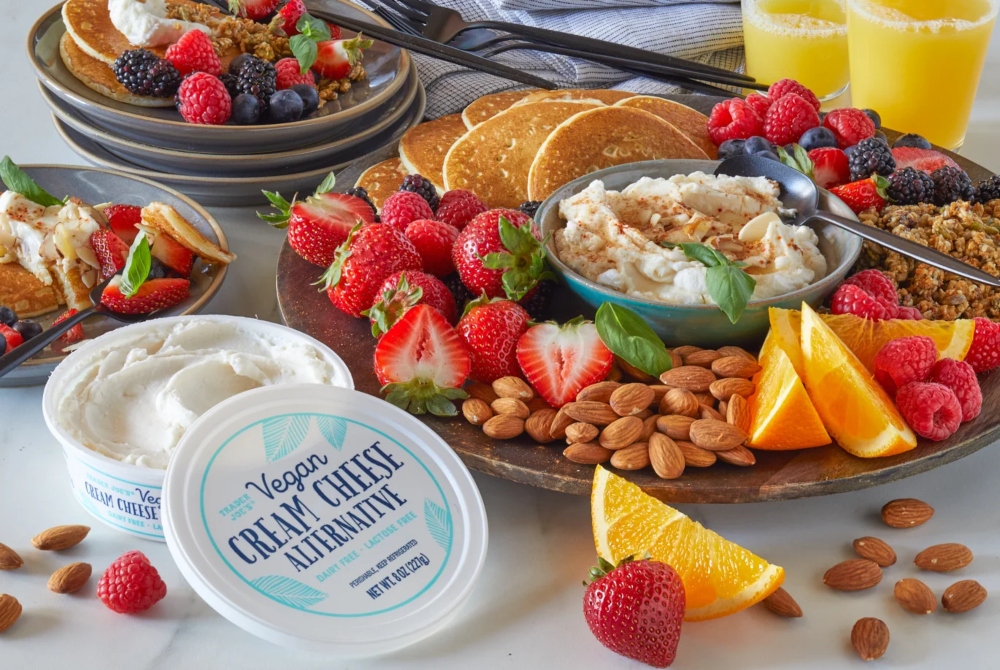 Trader Joe's
3 Trader Joe's
If you're looking for an affordable, vegan alternative to one of your favorite foods, Trader Joe's is always a great place to check out first. Its coconut oil-based vegan cream cheese alternative doesn't disappoint: it's smooth, silky, and deliciously creamy.
Learn more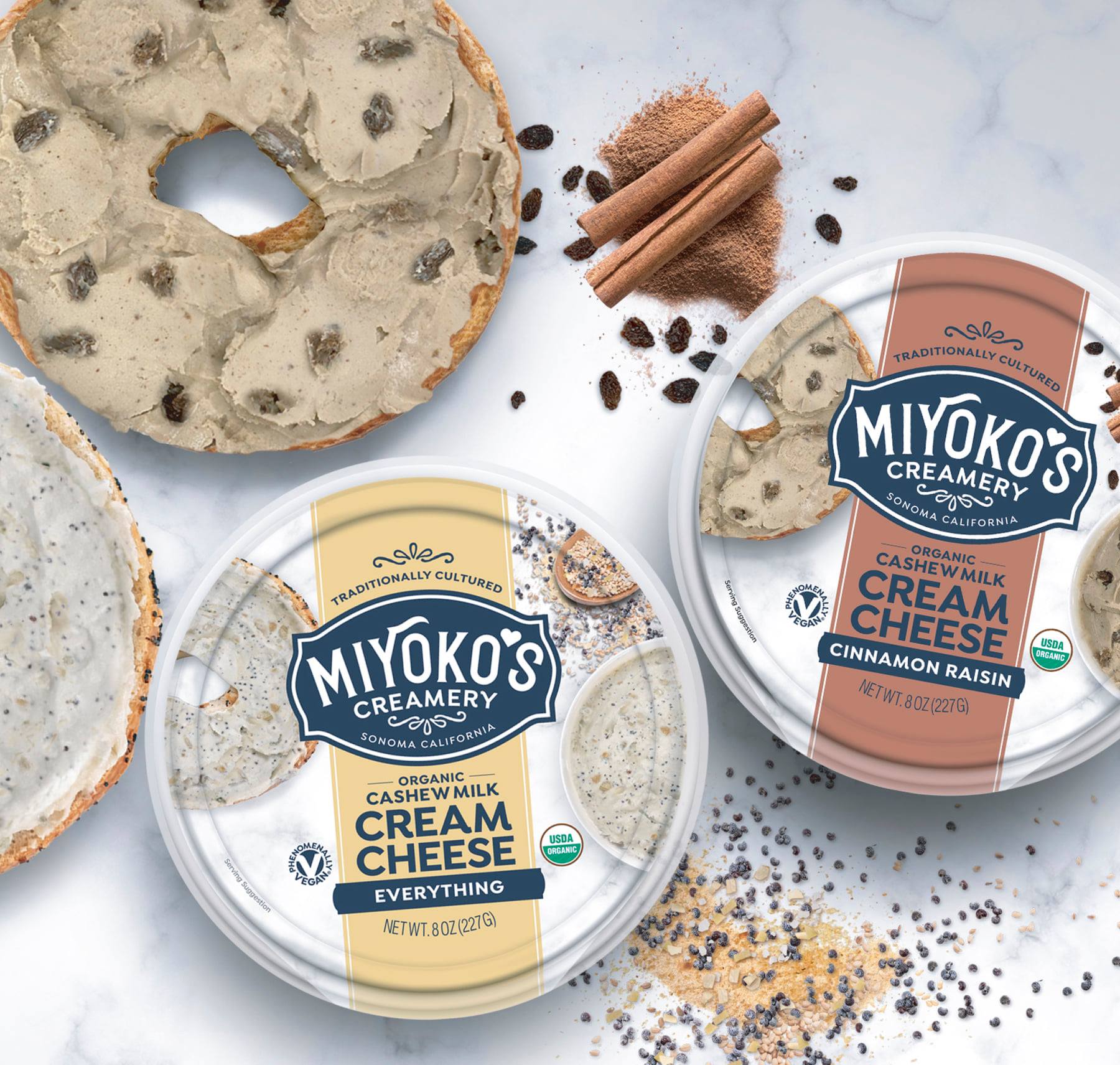 Miyoko's
4 Miyoko's
Miyoko's range of vegan cheese products always delivers on texture and taste, and its cream cheese products are no different. Choose from Organic Cultured Vegan Cream Cheese Everything, Classic Plain, and Savory Scallion.
Learn more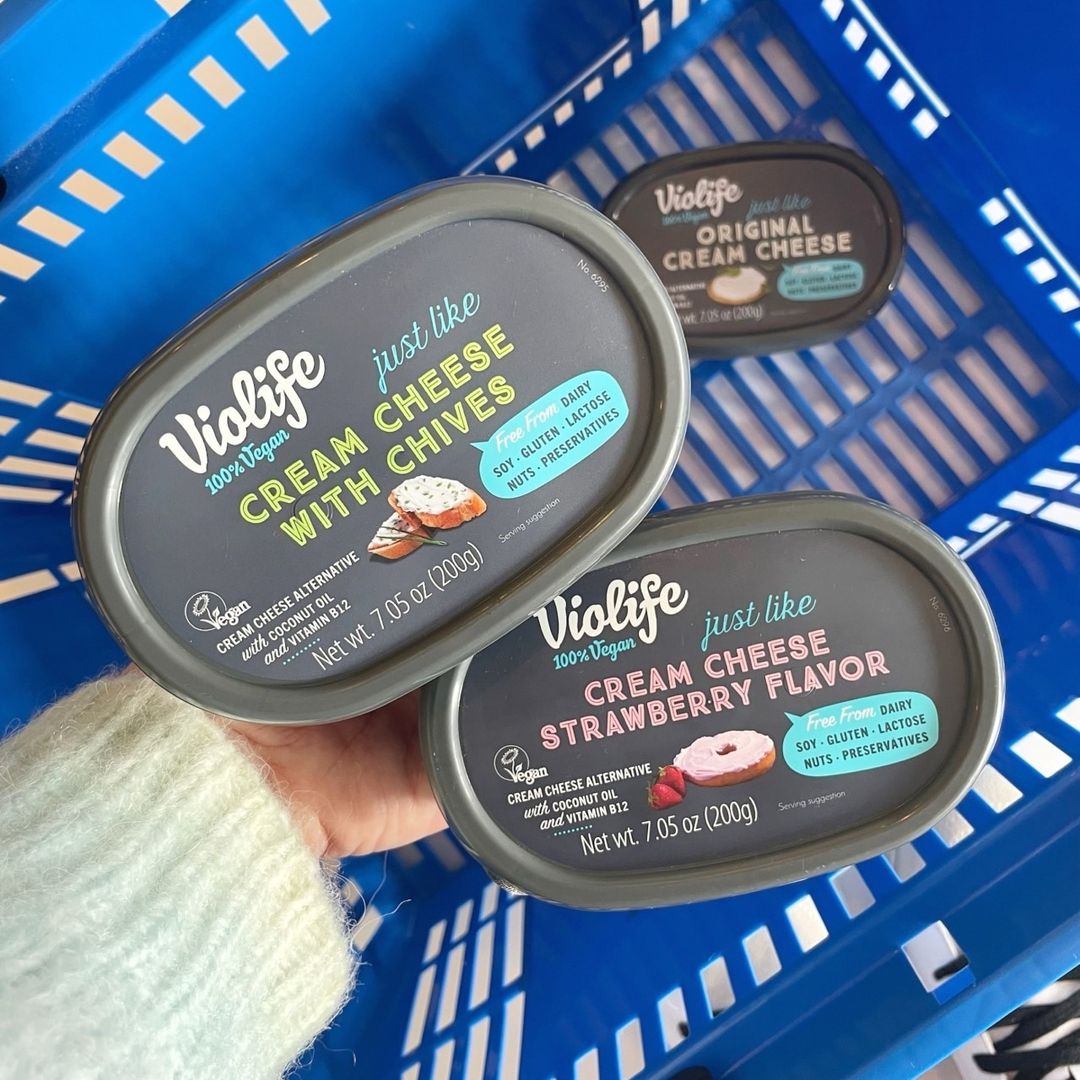 Violife
5 Violife
Just like Philadelphia, Greek brand Violife's coconut-based alternative is beautifully rich, creamy, and spreadable. Plus, it has added vitamin B12.
Learn more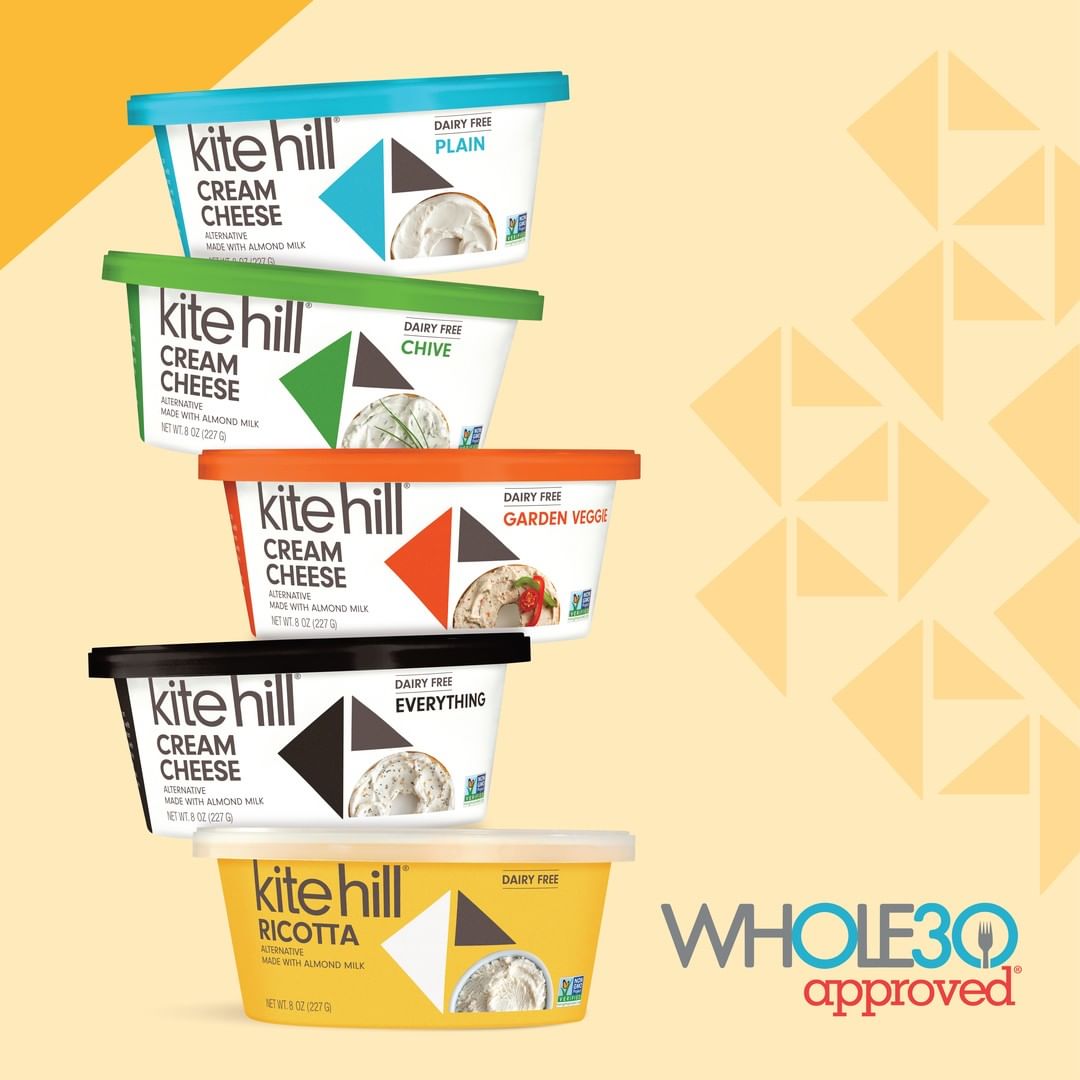 Kite Hill
6 Kite Hill
For rich, tangy, sweet, and smooth cream cheese, it has to be Kite Hill. The brand has several flavors to choose from, so if you fancy trying something a little different from plain, there's also Garden Veggie, Everything, Chive, and even Strawberry.
Learn more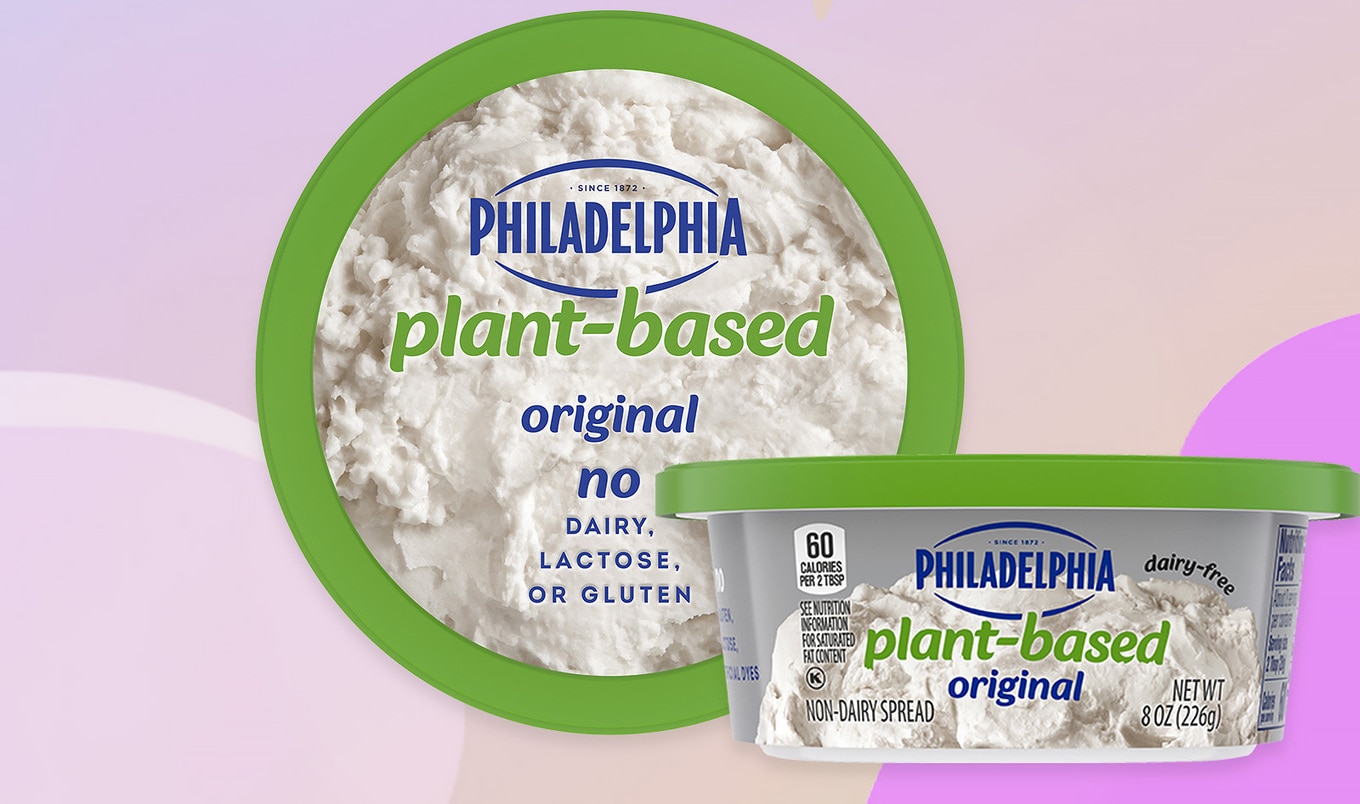 Philadelphia
7 Philadelphia
If you miss the taste of the OG cream cheese spread, then you'll be thrilled to know that Philadelphia Plant-Based is now available to buy in the US! It has the same creamy texture and flavor you're used to, only it's made without lactose, dairy, or milk.
Learn more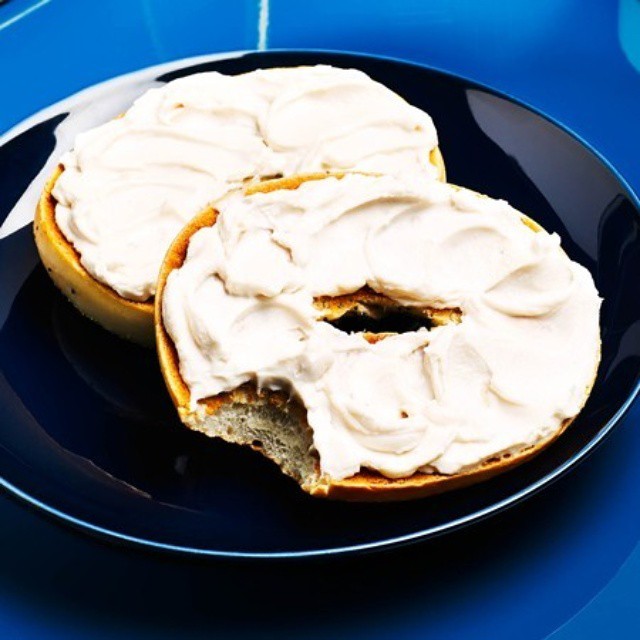 Go Veggie
8Go Veggie
New York-based Go Veggie is committed to helping people find a "healthier way to love cheese." Its diverse range of products includes everything from Mexican Style Shreds to Plant-Based Grated Parmesan to Plant-Based Cream Cheese. The latter comes in Chive & Garlic and Classic Plain.
Learn more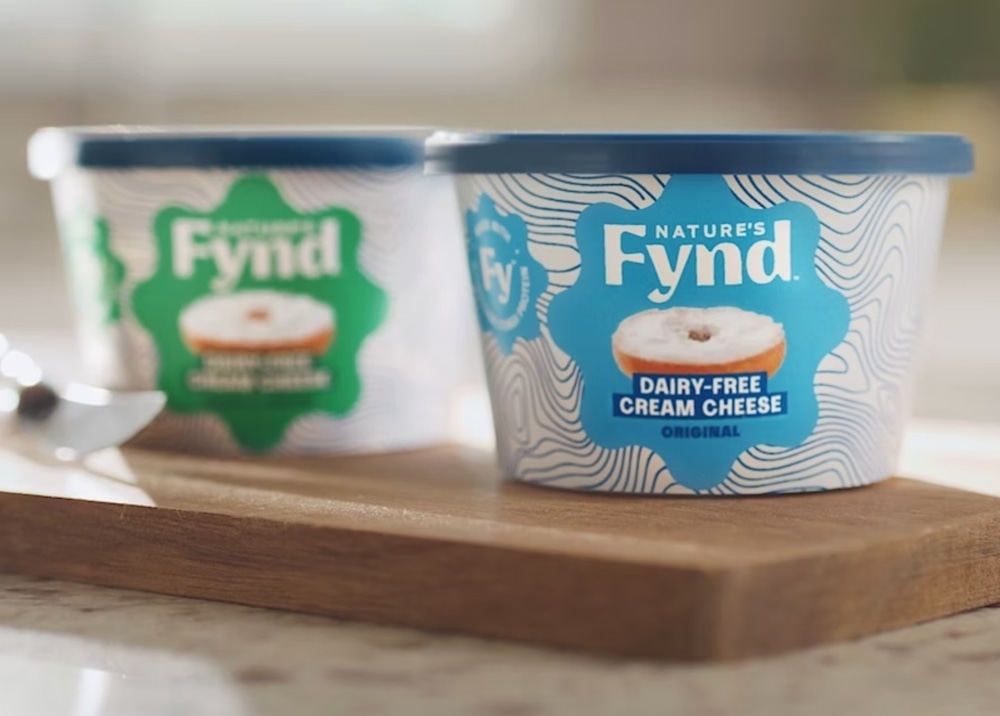 Nature's Fynd
9 Nature's Fynd
At first, fungi-based food sounds a little strange. But trust us, there is nothing weird about Nature's Fynd's products. All you'll be able to think about when you eat its dairy-free cream cheese is where the next bite is coming from.
Learn more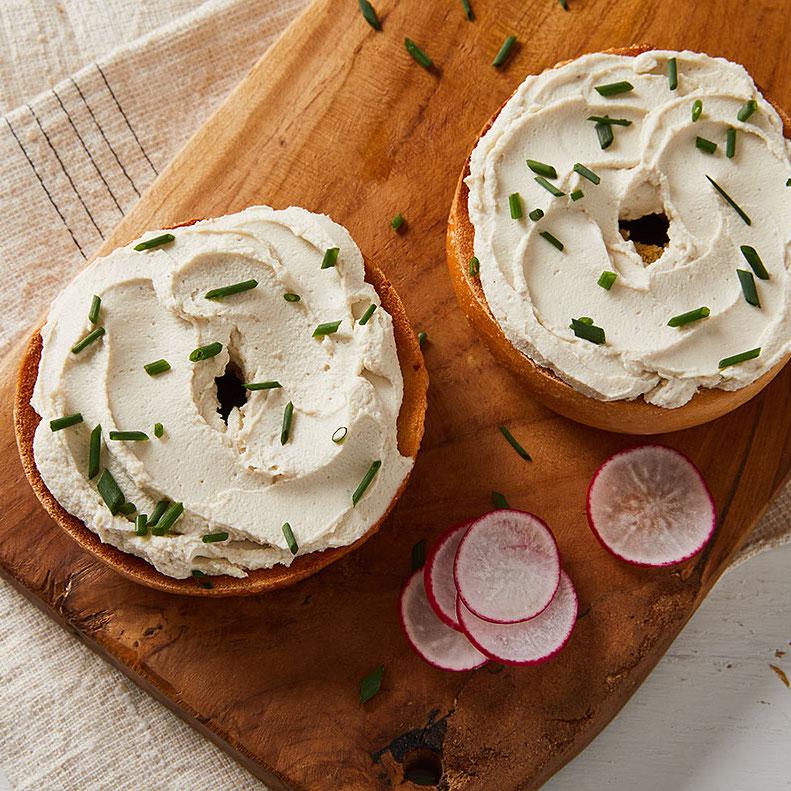 Treeline
10 Treeline
Last December, TastingTable a food-focused digital media platform, judged artisan vegan cheese producer Treeline's Plain Cashew Cream Cheese as one of the best vegan cheeses around. And we can't help but agree. The brand's smooth, velvety, delicious cream cheese comes in three flavors: Plain, Everything, Chive & Onion, and Strawberry.
Learn more
For more on vegan cheese, read: