Baking is the ultimate holiday activity. It's festive, it's fun, and, most importantly, it keeps our taste buds happy. Research suggests that more than half of American millennials—which is the country's largest generation of adults—enjoy baking over the holidays, as it helps them to connect and spend time with their loved ones. Studies also claim that activities like baking can help people find joy and calm, essential for a time of year that can be very stressful for many.
But while baking brings people happiness, it's not always an inclusive activity. Eggs and dairy are common ingredients in baked goods, but they are not vegan or allergy-friendly. It's estimated that around 1 million people follow a vegan diet in the US, while milk and eggs are two of the most common allergens for children. Lactose intolerance, which is less serious than a milk allergy but still results in unpleasant symptoms like bloating and diarrhea, is also common (up to 50 million Americans may suffer from lactose intolerance).
Kids shouldn't have to miss out on baking—or eating delicious baked goods—especially during the holiday season. After all, they are the season's biggest fans. But by choosing vegan ingredients (and avoiding other common allergens, like nuts), baking can be fun for everyone.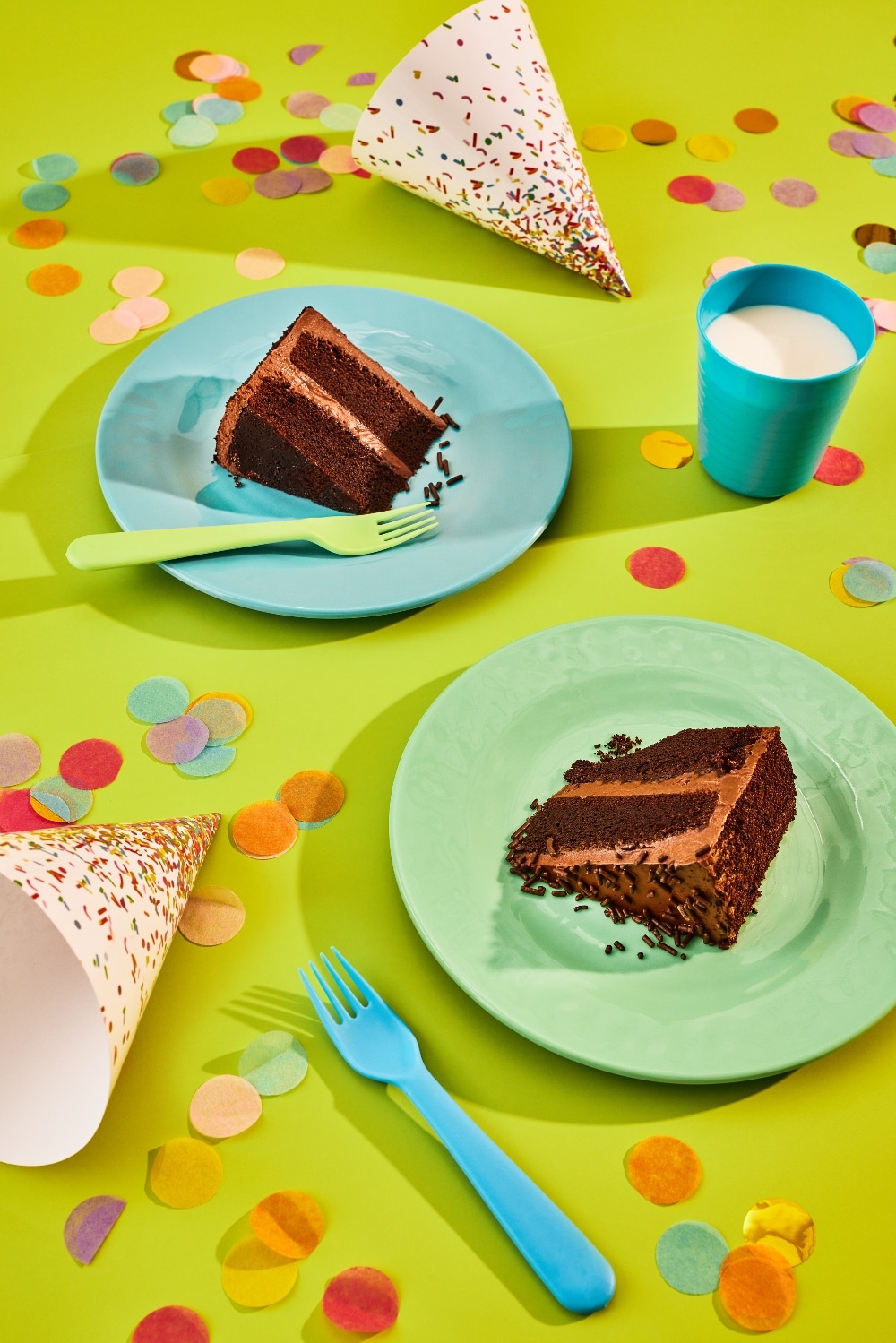 When times are stressful, baking can help people find joy and calm, research suggests. | Abe's Muffins
Include everyone this holiday season, regardless of diet
Including every child, regardless of allergy, lifestyle, or intolerance, is something that the vegan, allergy-friendly dessert brand Abe's Muffins believes wholeheartedly. The New York-based company, which was the first nationally available line of vegan baked goods, was started back in 2010 after co-founder Joseph Koffman's son was born with severe food allergies. The family-owned brand's extensive range of mini muffins, cupcakes, pound cakes, brownies, and cakes are all made without any milk, eggs, nuts, sesame, soy, or pea protein. And they're all 100 percent vegan, too.
But for many of us, baking is a treasured holiday tradition. So if you want to try whipping up some of your own baked goods this holiday season, we spoke to Abe's executive pastry chef, Alessandra Altieri Lopez, to get some of her top tips for creating delicious vegan, allergen-friendly treats. Lopez has worked in many notable outlets, including Ralph's Coffee (Ralph Lauren's own coffee shop) and Thomas Keller's Bouchon Bakery. Plus, we asked some of VegNews editors to share their top baking tips, too.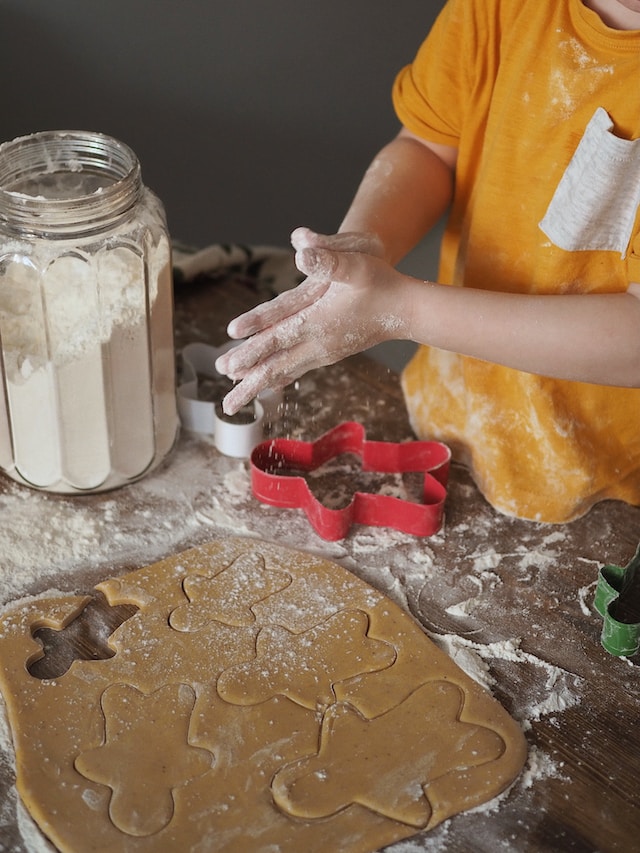 Cookies can be made in just a few steps, making them one of the best options for beginners. | Unsplash
7 vegan holiday baking tips, from Abe's pastry chef and VegNews editors
1 If you're feeling unsure, start off simple
If you're someone who just likes to dabble in baking during the holidays, or this is the first festive season that you've decided to whip up some vegan sweet treats for all of your family, it's a good idea to keep things simple at first—just while you get the hang of things.
"I always recommend cookies as the starter baked good," notes Lopez. "Cookies can be very forgiving, and you can always do a test bake on a few before you begin to bake a lot. Cake and bread recipes typically have a lot more steps and factors involved that can trip up a novice baker. An overly crunchy cookie is never as bad as a collapsed cake!"
2 Stock up on vegan, allergen-free ingredients
Most ingredients for vegan, allergen-free baking are the same as any other type of baking. Flour, sugar, baking powder, baking soda, and salt are all common staples. "It's important to always have those on hand," Lopez says. "That's what we start with here at Abe's as well." But after that, things are a little different. Fruit purées, like applesauce, can be used as a binder to replace eggs, and instead of dairy milk, opt for an alternative (Abe's uses rice milk, for example).
VegNews News Editor Nicole Axworthy also recommends keeping some protein powder on hand if you're baking something like muffins "for a little protein boost" while VegNews Director of Digital Strategy, Jill Ettinger, suggests splurging on high-quality vanilla extract as "it makes all the difference." VegNews Senior Digital Editor Aruka Sanchir notes that if you don't want to deal with vegan egg substitutes (such as a flax egg or chia egg), you can use a bottle of liquid egg like Just Egg (which is also allergy-friendly). "It's easier and quicker for me," she says.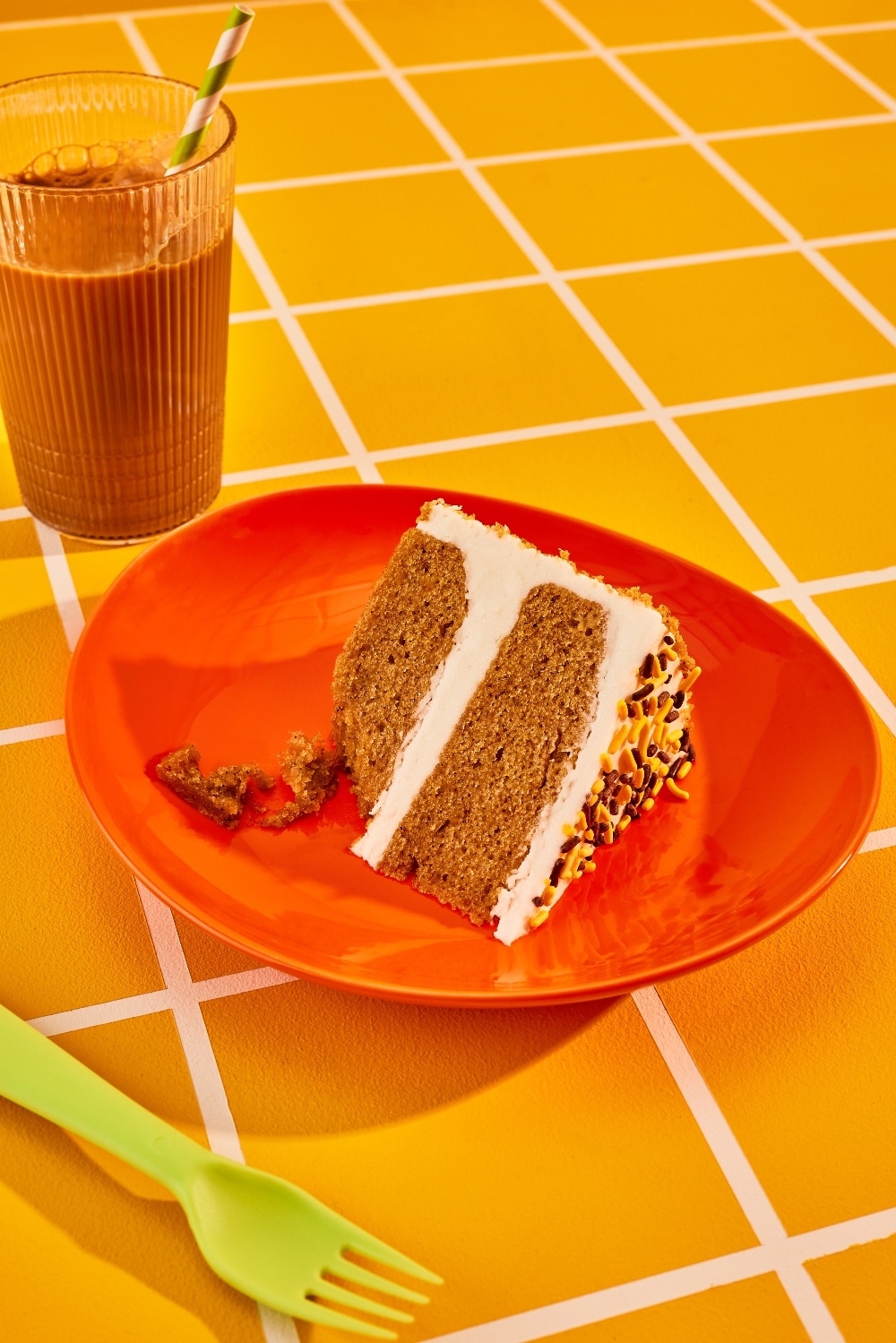 For best results, always read recipe thoroughly before you begin. | Abe's Muffins
3 Preparation is key
When it comes to a calm, fun, stress-free baking experience, preparation is everything. If you don't have everything on hand and organized, you're guaranteed to feel stressed during the process. Nobody wants to get most of the way through baking delicious holiday muffins for the family before they realize they lent the good baking trays to Jerry next door.
Plus, some recipes may need a lot more time than you have budgeted for, Lopez says. "It's really important to read your recipe thoroughly a few days before you plan to bake," she notes. "Many baking recipes require resting of doughs overnight and/or lengthy steps, and you need to be prepared for that."
4 Make sure you have the right equipment on hand
Having the right equipment can make a big difference to the quality of your bake. Things like off-set metal spatulas and bowl scrapers are staples in professional kitchens for a reason, Lopez says. They can help you to spread, scrape, and mix stiff dough with ease.
But the most important baking tool of all is, without a doubt, a scale. Baking is a science, after all, and ingredients need to be precisely measured to get the right result. "Weighing your ingredients is significantly more accurate than using measuring cups and spoons," Lopez says. "The more precise your measuring of ingredients is, the higher success rate you will have when baking.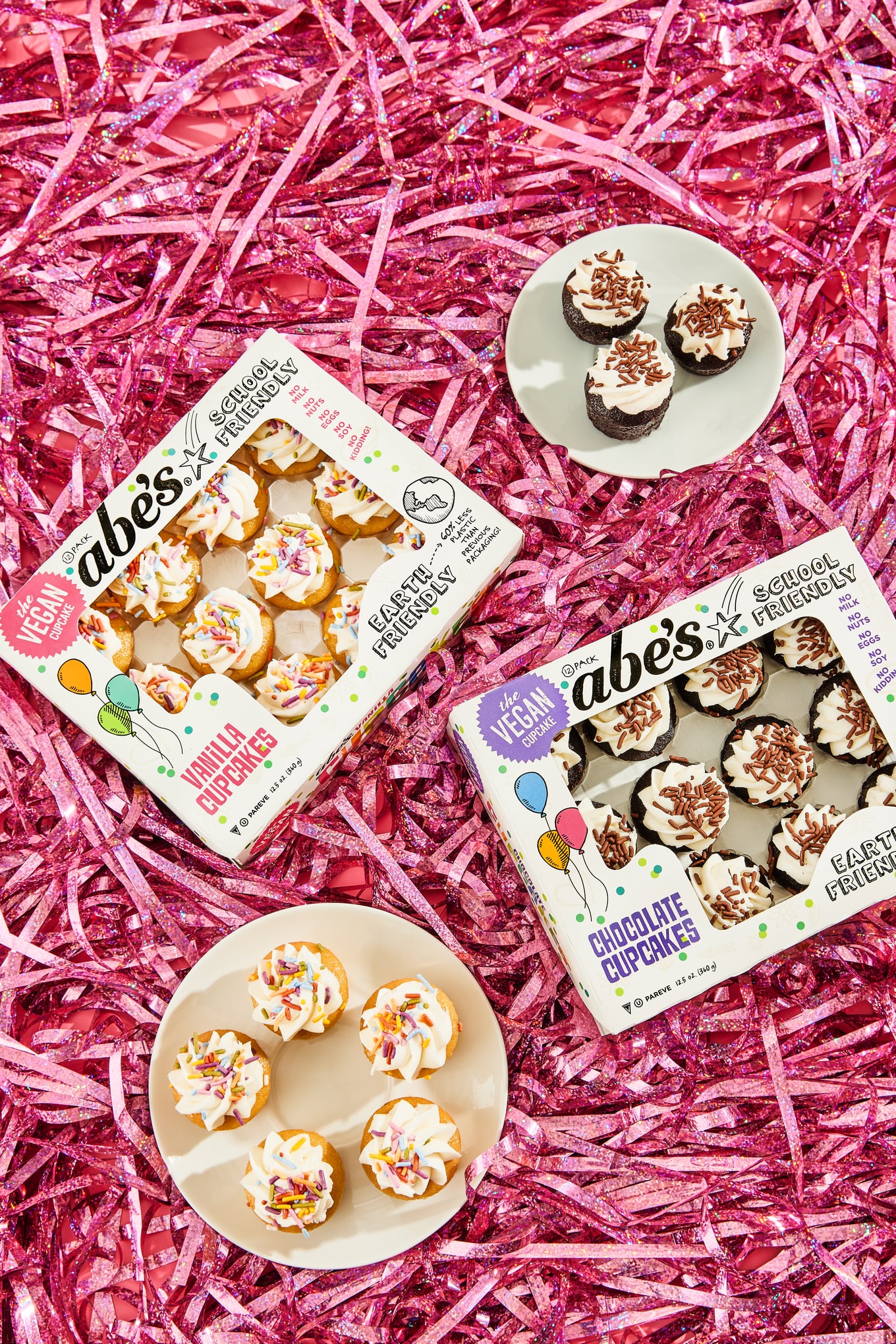 Vegan, allergen-free ingredients mean that baked goods can be enjoyed by everyone. | Abe's Muffins
5 Make as much as you can in advance
The holidays are full of joy—but let's be honest, they can also be quite stressful, especially if you're the one hosting. One way to save yourself time is to do as much as you can in advance. Axworthy recommends freezing several ingredients, for example, so you can have them on hand and ready to go when you need them. "Always freeze your ripe bananas so you have some on hand," she notes. "And keep your nuts and almond flour in there, too, to keep them fresher for longer."
Lopez notes that you can also go one step further than freezing individual ingredients. In fact, for some recipes, you can bake a few days ahead and freeze in advance. "Most raw doughs, like raw cookie dough, raw biscuit, or scone dough, freeze perfectly," she says. "The dough can be made weeks in advance and pulled out to bake right before your holiday party. Most baked cakes also freeze beautifully. Bake your cake layers ahead of time, freeze them, and then ice when you are ready for your celebration."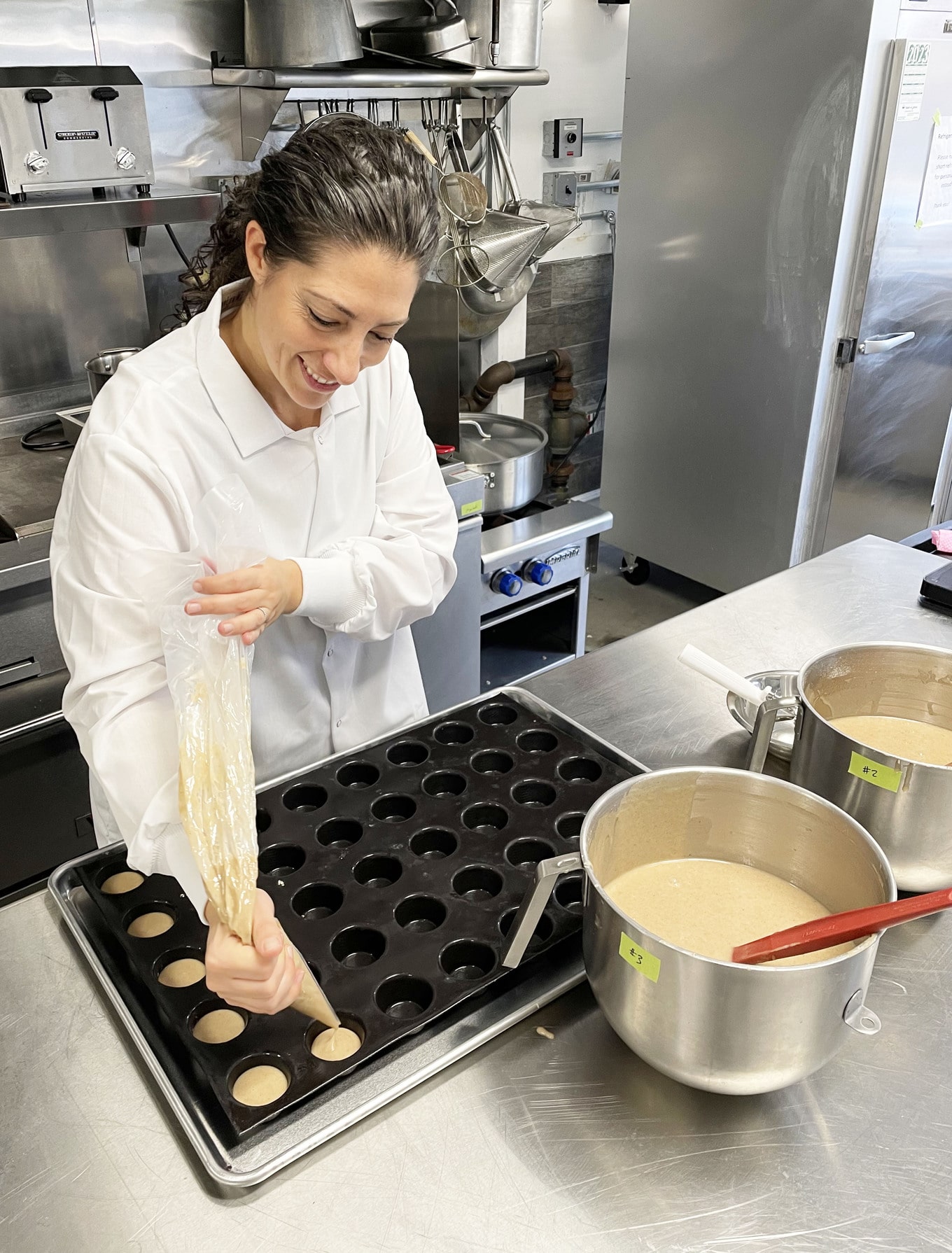 Executive pastry chef of Abe's Muffins, Alessandra Altieri Lopez | Abe's Muffins
6 Stick to the recipe
Baking isn't like cooking. The latter is much more forgiving when it comes to experimentation. If you're not a confident baker, it's best to do as the recipe tells you, Lopez says. Every step is there for a reason.
"Most of the time when someone struggles with baking, it's because they didn't read the recipe thoroughly or they decided to skip a step," she says. "If that doesn't work, simply try a new recipe. Not every recipe out there is a tasty one or actually works. Stick to reputable brand websites for recipes (such as VegNews). Also, on your first few attempts, don't experiment. Baking is a science, and it's not often that ingredients and amounts can be swapped out or adjusted like they can in a lasagna recipe."
7 Keep your values in mind
At the end of the day, holiday baking is supposed to be a fun activity. It's about bonding, enjoying yourself, and getting in the holiday spirit. It's also about including everyone, which is why it's so important to choose allergen-free, vegan ingredients.
"Remember why you're baking in the first place," Lopez says. "For example, Abe's Muffins was founded for kids with food allergies, often to eggs, dairy, or nuts. Perhaps you're baking to make sure all family members are included and can enjoy the same dessert together. Or maybe you're making an allergy-friendly treat to send in for a school celebration. So even if your first attempts aren't showstoppers, your heart is in the right place!"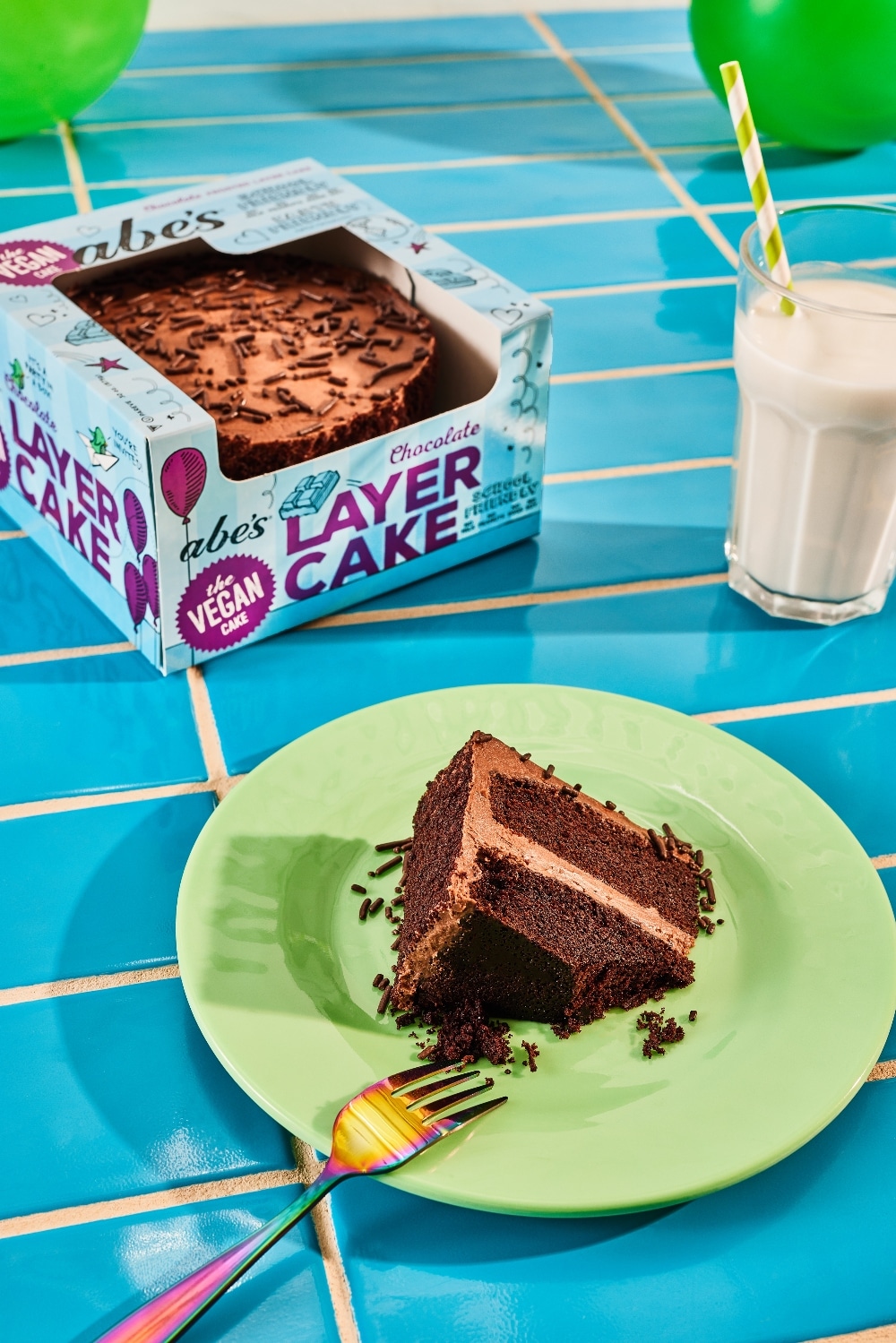 Voted "Best Dessert Brand" by VegNews readers, Abe's can be found in stores across the US.
And if it all goes wrong, there's always Abe's. It's easy to head to the store and pick up an allergen-free, vegan treat from the brand, which was voted "Best Vegan Dessert Brand" by VegNews readers in the 2023 Veggie Awards. Its tasty treats (like its Banana Chip Mini Muffins, Vanilla Mini Cupcakes, and Dark Chocolate Pound Cake) are available in natural food stores, Whole Foods Markets, and on Amazon, too.
Thank you to Abe's Muffins for partnering with VegNews on this story.