Summer officially began on June 21, but Starbucks has been toting its vibrant warm-weather beverages for weeks now. As temperatures rise, we, too, are swapping our hot soy lattes for some caffeine on ice. From no-fuss nitro to the beloved Pink Drink, here is your essential vegan guide to summer Starbucks sips.
Vegan innovation at Starbucks
Every season, the coffee behemoth attempts to top its previous year's viral creation. As the company continues to lean slightly more plant-based, we've been delighted to see some of the vegan options hit the mark, earning a coveted spot on the permanent green menu boards across its nearly 16,000 US cafés.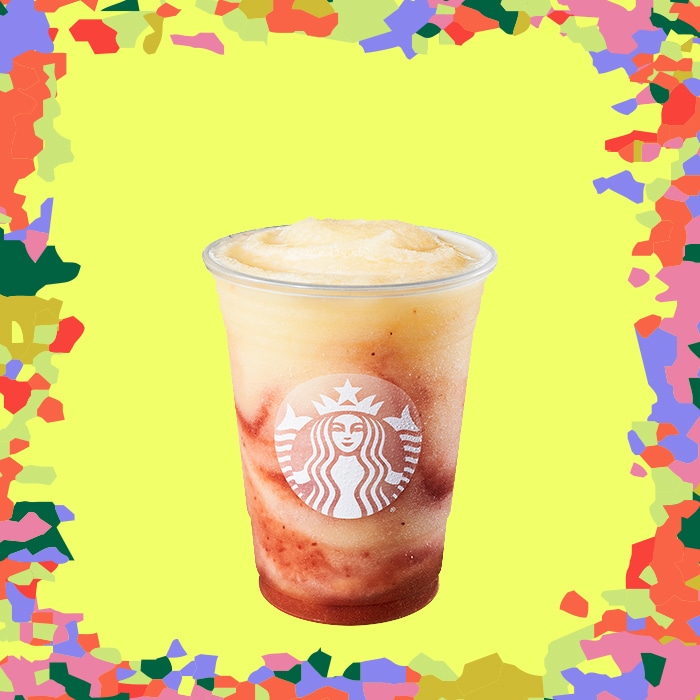 Starbucks
And this year, the chain's new frozen lemonades have already stirred up a serious buzz. The cool and refreshing slushes reimagine Starbucks' beloved Strawberry Açai, Pineapple Passionfruit, and Mango Dragonfruit drinks. They're ideal for a hot summer day, but we're hoping Starbucks adds them to its permanent menu.
Vegan summer drinks to order at Starbucks
Whether you're in need of a quick espresso or something fun and fruity, here is your guide to summer Starbucks drinks.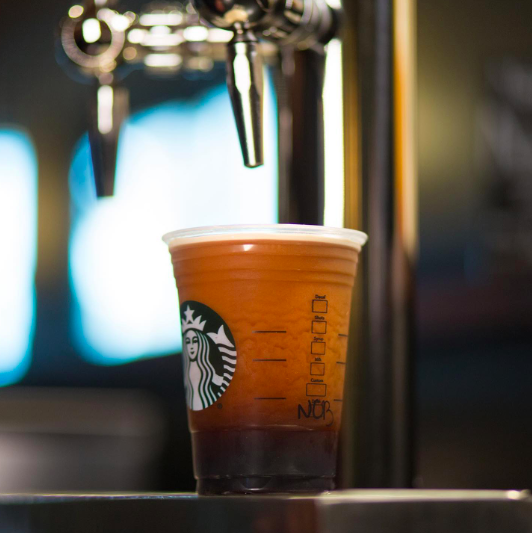 Starbucks
1 Nitro Cold Brew and Cold Brew
In terms of coffee's centuries-old history, nitro cold brew is a baby. This smooth drink entered the scene via third-wave coffee culture in the 2010s. At first glance, the thick layer of foam that floats atop this unadorned chilled coffee may look like cream, but it's not—it's crema, and there's a big difference. Crema is the CO2-infused froth that is produced when coffee oils emulsify with water under intense pressure. In Starbucks' case, it's also produced when nitrogen is added to cold brew. The result is an unbelievably smooth, ever-so-slightly sweet, ice-cold coffee unadulterated without sugar or cream. Even those who say they can't drink coffee black may enjoy this beverage—no creamer or Stevia required.
The regular cold brew coffee is also vegan and smooth enough to drink without dairy-free milk.
Barista tip: Steer clear of the nitro cold brews that come with Sweet Cream or Salted Honey Cold Foam. Those actually do contain dairy and other animal products.
2 Iced Coffee
Iced coffee is the quintessential caffeinated summer drink. In contrast to cold brew, which is made from ground coffee steeped for up to 24 hours and lattes, which are espresso with steamed milk, an iced coffee is brewed hot, then chilled. Get it with your non-dairy milk of choice and enjoy!
Barista tip: If you find iced coffee bitter, ask for a shot of syrup—see here for a full list of vegan flavored syrups at Starbucks.
3 Americano on Ice
An Americano is made from espresso diluted with water. Urban legend has it that the Americano was invented during World War II, when American GIs in Italy weren't used to the taste of straight espresso, so they were served it made with hot water to.
Barista tip: It's basically iced coffee after the ice melts, but it's 10 cents cheaper for a tall.
4 Iced Latte
An iced latte is made with cold milk, so it doesn't have the signature foamy topping of a regular latte. However, if you're looking for a drink that will catapult you through the afternoon slump and goes down easy, an iced latte will certainly do the trick. As with iced coffee, you can add whatever syrup you like to it—just stay away from the caramel sauce (the syrup is fine, the sauce contains dairy. Confusing, we know). Just swap the cows' milk for your favorite non-dairy alternative.
Barista tip: Still want the creaminess but with more espresso flavor? Ask for a long shot. This type of shot is pulled with more water and ends up roughly double in volume than a traditional shot. The result is a less milky but still creamy beverage that actually tastes like coffee.
5 Iced Cinnamon Dolce Latte
While we've already gone over the latte category, this one deserves special attention as it is not vegan by default (and neither is the Iced Hazelnut Bianco Latte, which cannot be modified vegan at all). This menu item comes with whipped cream and cinnamon dolce topping—both of which contain dairy. Veganize this sweet, cinnamony beverage by asking for non-dairy milk, no whip, and substitute a sprinkle of nutmeg instead of the Cinnamon Dolce Topping.
Barista tip: Ask for light ice, so you get more of the good stuff and prevent a sad, watered-down beverage.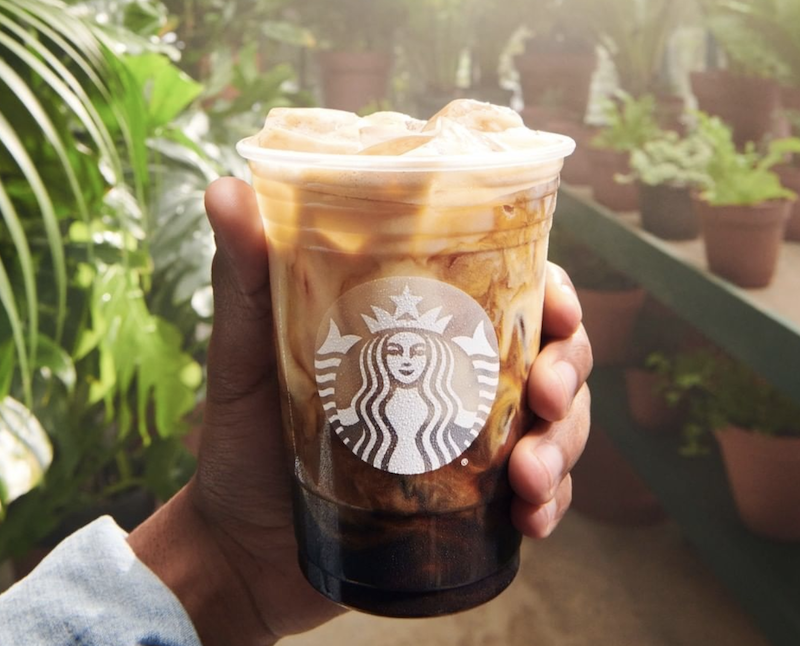 Starbucks
6 Iced Shaken Espresso
When mixology combines with coffee, you get a shaken espresso. Launched in March 2021, this vegan-as-is espresso beverage is made with Starbucks' Blonde espresso that's mixed with ice in a plastic cocktail shaker.
Barista tip: If the taste of espresso is too strong for your palate, order it with non-dairy milk or pick one of the sweeter varieties listed right below.
7 Iced Chocolate Almondmilk Shaken Espresso
This chocolatey drink combines vegan malt powder and almond milk for a lightly sweet, refreshing source of caffeine to power you through your day.
Barista tip: This drink actually isn't cloyingly sweet, but if you want to taste the espresso, ask for a long shot.
8 Iced Brown Sugar Oatmilk Shaken Espresso
This creamy beverage combines iced Blonde espresso, oat milk, brown sugar syrup, and a cinnamon topping. It's sweet, a little spicy, and refreshing enough to combat sweltering days.
Barista tip: Hack your way to this beverage even when oat milk is out of stock. Ask for a Shaken Iced Espresso with two pumps of Brown Sugar syrup and almond milk (the soy will be overly sweet).
9 Iced Toasted Vanilla Oatmilk Shaken Espresso
This tastes like a toasted marshmallow in drink form. The brûlée-esque notes of the toasted vanilla syrup dominate the drink, so if you don't like the taste of coffee, but need the caffeine, then this drink is for you.
Barista tip: Order it will less toasted vanilla syrup if you prefer a stronger espresso flavor. Or, try it with half toasted vanilla syrup and half caramel syrup for a dessert-like beverage.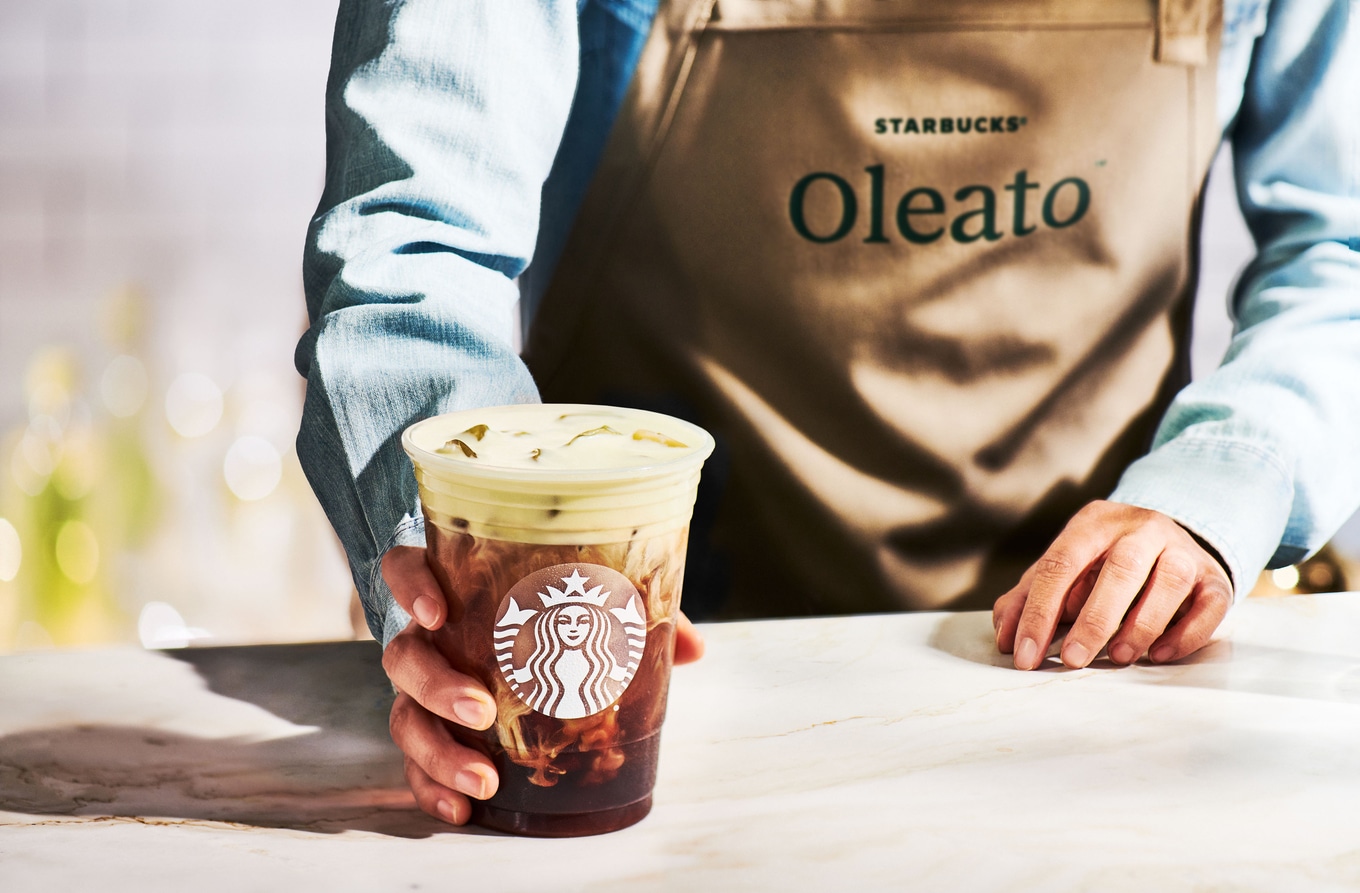 Starbucks
10 Oleato Iced Shaken Espresso With Oatmilk and Toffeenut
Launched in February 2023, Starbucks' Oleato line combines cold-pressed olive oil and the chain's Blonde Espresso. Founder Howard Schultz found inspiration for the Oleato line of beverages in the olive groves of Sicily, where he learned about the Mediterranean tradition of consuming olive oil daily for vitality.
Barista tip: Don't swap out the oat milk for another dairy-free alternative. This drink was specifically formulated with oat milk because of how well it complements the Blonde Espresso.
11 Iced Flat White
A flat white is a drink that hails from 1980s Australia that's made from espresso and steamed milk. So, what makes it different from cappuccinos and lattes? It's all about the milk. A cappuccino is smaller than a latte and contains equal parts espresso, steamed, and frothed milk. A latte is about two-thirds steamed milk with a thin layer of foam on top. Flat whites, meanwhile, have a stronger coffee flavor, a velvety texture, and very little foam. However, when it comes to iced options that don't involve steaming, the difference is less noticeable. Order an iced flat white for a slightly less milky version of a latte.
Barista tip: You're looking at a 60-cent upcharge if you opt for an iced flat white over an iced latte. You've been warned.
12 Iced Mocha
It's caffeinated chocolate milk—what's not to love? Swap in your favorite non-dairy milk and ask for no whip.
Barista tip: Ask for one less pump of mocha sauce and add one pump of hazelnut, peppermint, or raspberry syrup (for a tall) to experience a tasty twist.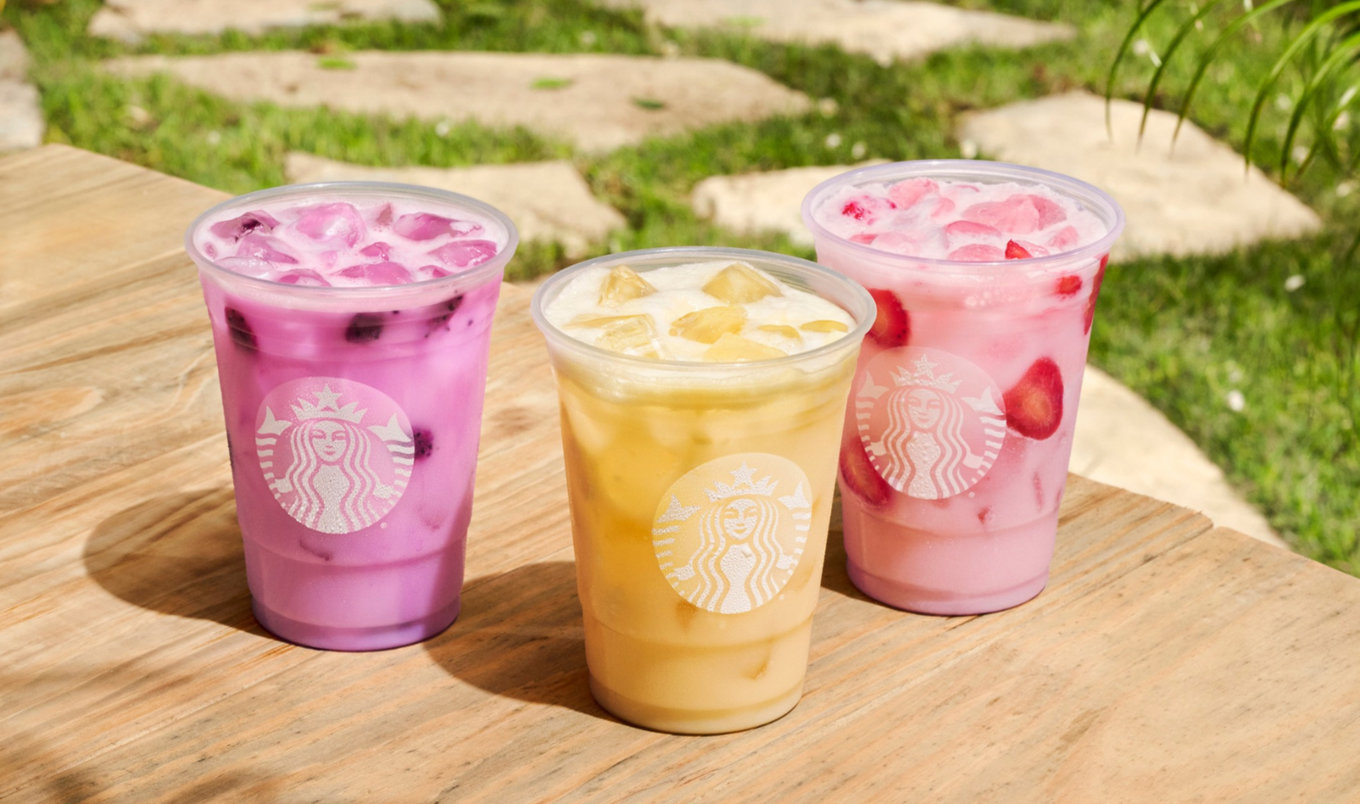 Starbucks
13 Pink, Dragon, and Purple Drinks
After the unprecedented popularity of the Pink Drink, Starbucks leaned into this color scheme. The classic Pink Drink is a creamy energy beverage made with a base of the Strawberry Refresher, a splash of coconut milk, and freeze-dried strawberries shaken with ice. The Dragon drink is an equally vibrant caffeinated beverage made with a Mango Dragonfruit Refresher base (mango and dragon fruit-flavored liquid spiked with green coffee), coconut milk, and freeze-dried dragon fruit pieces shaken over ice. The Purple Drink isn't officially on the menu, but it follows the same format as the Pink and Dragon Drinks. Simply ask your barista for an iced Passion Tango Tea with vanilla syrup and non-dairy milk. Add freeze-dried strawberries for a fruitier drink.
Barista tip: The Dragon Drink does not actually contain mango—the base is mostly white grape juice concentrate with natural (but vegan-friendly) flavors.
14Paradise Drink
The Paradise Drink is a beverage that could easily pass for a mocktail. It features a dairy-free coconut milk base mixed with pineapple and passionfruit juices with pieces of diced pineapple for an extra burst of tropical flavor.
Barista tip: If you don't want to double up on pineapple, ask your barista to swap it with freeze-dried strawberries or dragonfruit pieces.
15 Refreshers
These fruity drinks don't contain coffee, but they'll definitely keep you alert. Each beverage contains 35 milligrams of caffeine (in a tall), which is about one-third the amount in a cup of coffee. They're made with a flavored Refresher base shaken with ice and freeze-dried fruit. Choose from Mango Dragonfruit, Mango Dragonfruit Lemonade, and Strawberry Açaí.
The new Pineapple Passionfruit flavor has joined the permanent menu. The chilled, shaken drink was inspired by popsicles and includes real bits of diced pineapple.
Barista tip: You can pair any Refresher with lemonade for a subtle hint of sweet summertime pucker.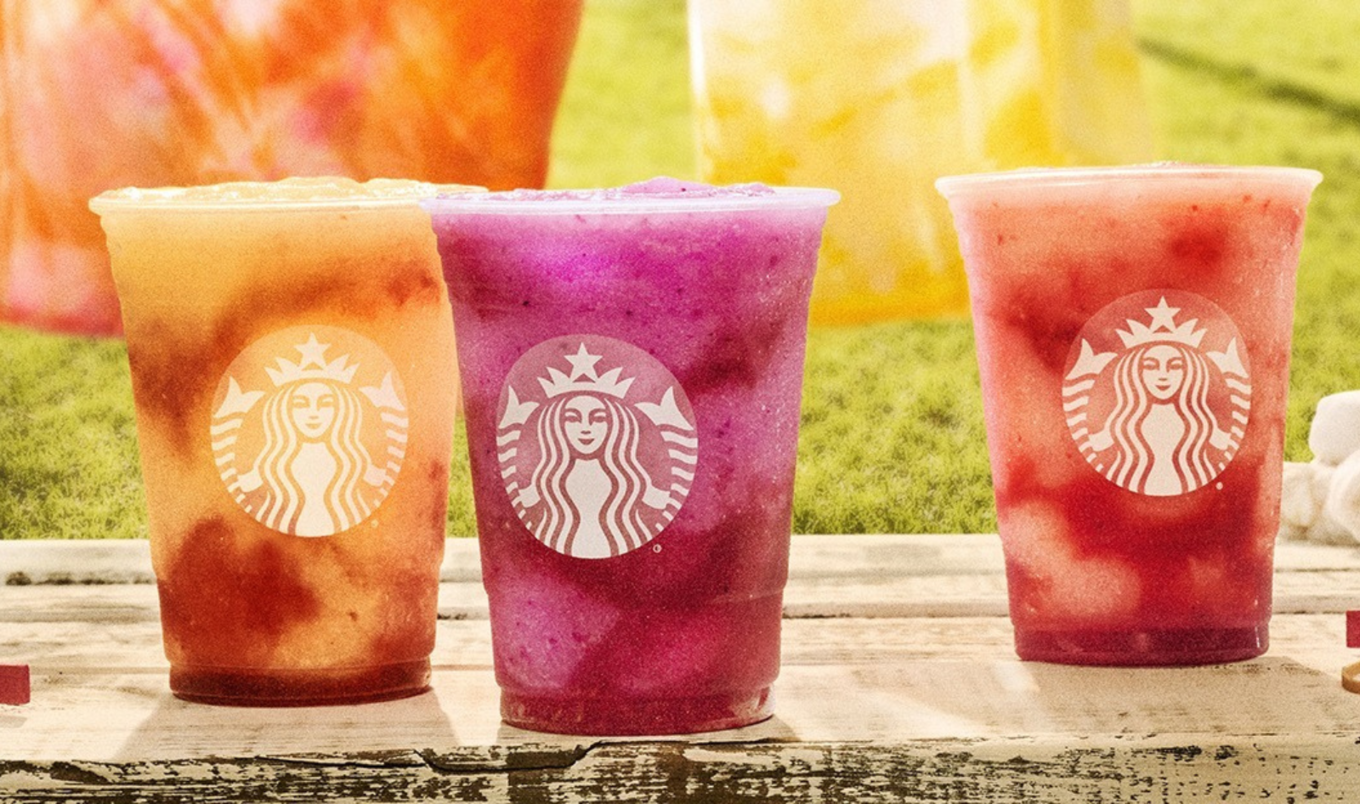 Starbucks
16 Frozen Lemonades
Inspired by its cult-favorite refreshers, Starbucks rolled out frozen lemonades in June 2023. Available in Frozen Strawberry Açai Lemonade, Frozen Pineapple Passionfruit Lemonade, and Frozen Mango Dragonfruit Lemonade, these drinks impart a burst of fruity flavor in slushy form perfect for a hot summer day.
17 Iced Tea and Iced Tea Lattes
Starbucks can put any tea on ice, but it also has a full menu of teas specifically designed to keep you cool. Choose from black, white, herbal, or green varieties (including matcha). Any tea can be transformed into a tea latte by asking for non-dairy milk, though the menu currently features Matcha, London Fog, and English Breakfast tea lattes. Sadly, the Chai Tea Latte is not vegan because it contains honey.
Barista tip: You can ask for any iced tea with lemonade for a custom Arnold Palmer. Particularly perfect lemonade pairings include Matcha, Passion Tango, Black, and Peach.
18 Frappuccinos
No summer is complete without these chilly, milkshake-like coffee drinks. Just remember to ask for non-dairy milk and no whip! It's split into two categories: Coffee and Crème (the latter is caffeine-free). Vegan-friendly Coffee options include Mocha Cookie Crumble (without the Frappuccino Chips), Espresso, Caffè Vanilla, Caramel (without the caramel sauce), Coffee, and Mocha.
Crème options include Chocolate Cookie Crumble (without the Frappuccino Chips), Strawberry, Vanilla Bean, and Matcha. There's also the Blended Strawberry Lemonade, which is vegan-friendly and made with the Crème Frappuccino Syrup.
Barista tip: For a less sweet indulgence, ask for one less pump of syrup. For off-menu, vegan-friendly options, check out this article (mmm, Caramel Banana Vanilla Bean!).
19Iced Tea and Lemonade
Starbucks can put any tea on ice, but is also has a full menu of teas specifically designed to keep you cool. Choose from black, white, herbal, or green varieties (including matcha). The green tea lemonade happens to be Lizzo's go-to drink! You can also order plain lemonade, which we love with a pump of Strawberry Puree Sauce.
Barista tip: You can ask for any iced tea with lemonade for a custom Arnold Palmer. Particularly perfect lemonade pairings include Matcha, Passion Tango, Black, and Peach.
20 Anything on ice
Don't see your favorite hot beverage in an iced form? Just ask. The Starbucks baristas have the power to ice anything. Always remember to substitute non-dairy milk for the standard two percent cows' milk, hold the whipped cream, and stay away from the Java Chips, Frappuccino Chips, Cinnamon Dolce Topping, White Chocolate Mocha Sauce, and Caramel Sauce. Follow these rules, and you're virtually in the clear. Here's to a cool summer.
Starbucks' Vegan Ready to Drink Options
In addition to an extensive vegan-friendly cafe menu, the world's biggest coffeehouse chain also has several grab-and-go drink options that are free from dairy and honey.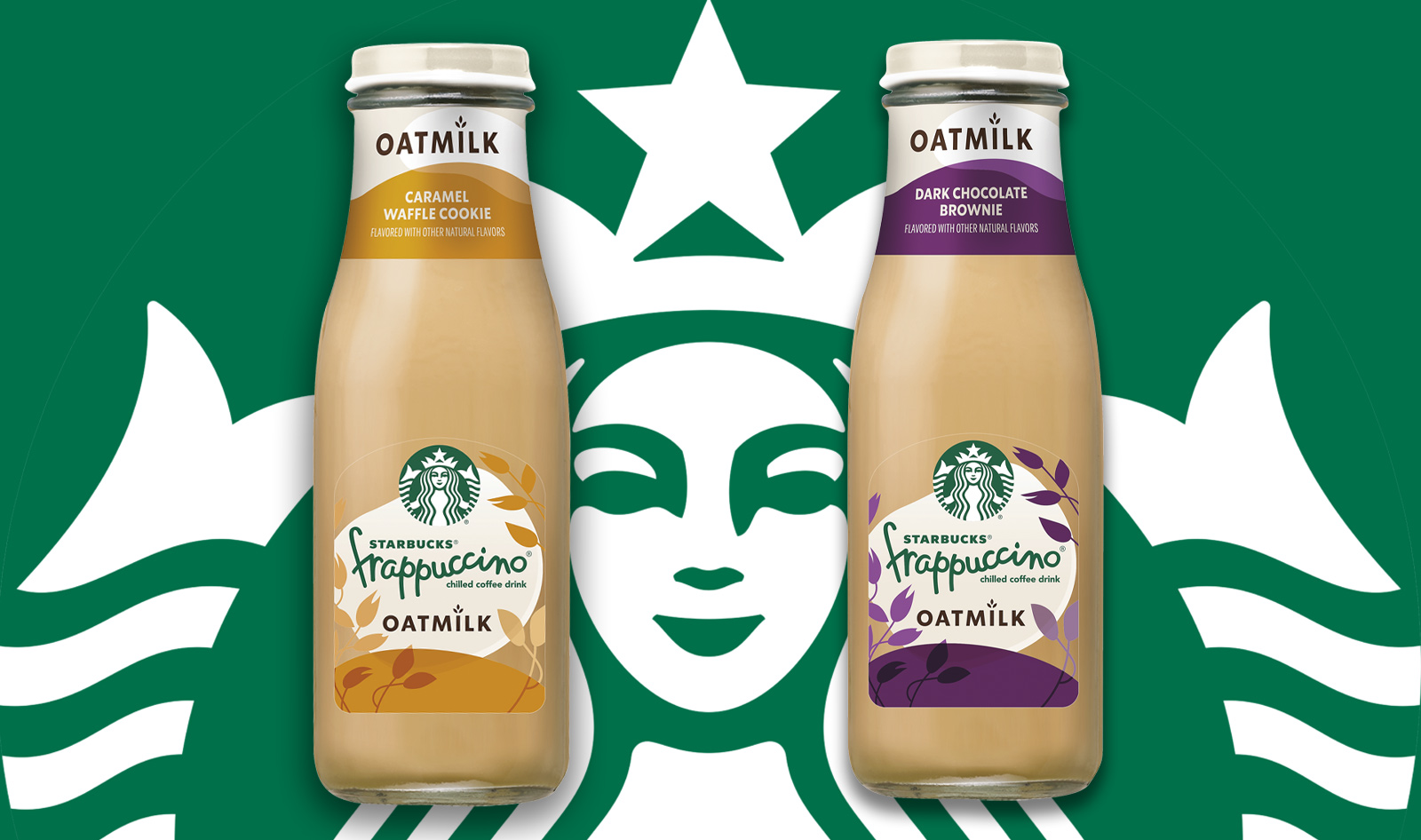 Starbucks
21Bottled Frappuccinos
Starbucks launched its first dairy-free bottled Frappuccinos back in early 2019 in two flavors, vanilla and mocha, made with almond milk. These appear to be discontinued, but fear not: in early 2022, Starbucks rolled out oat milk Frappuccinos in two dessert-y flavors: Caramel Waffle Cookie and Dark Chocolate Brownie.
22 Non-Dairy Creamer
Perfect for making iced coffee at home, Starbucks' non-dairy creamer is made from a blend of almond and oat milk. It's currently available in two flavors: Caramel and Hazelnut. Come August, Pumpkin spice hits stores through October.
23 Cold Brew
Get your cold brew fix at home. Starbucks offers cold brew as a bottled concentrate in the flavors Black, Caramel Dolce, and Madagascar Vanilla. You can also get it in single-serve pods in the flavors Black and Caramel Dolce. Just add water (or dairy-free milk) and ice!
For more vegan Starbucks, read: