Johnny Rockets might not be all about the 1950s-themed decor anymore, but if you're you're looking for that all-American diner experience, it's still a favorite hangout spot for many people across the US. Founded back in the 1980s, the popular chain now has around 126 locations across America (and many more internationally). But is it possible to order vegan food at the chain, which is known for its meaty burgers and creamy milkshakes? It turns out, Johnny Rockets actually has a few plant-based menu items. Here's what you need to know.
Does Johnny Rockets have vegan food?
Back in 2021, Johnny Rockets started trialing meat-free cheeseburgers and dairy-free milkshakes for a limited period. At the time, Andy Wiederhorn, the former CEO of the chain's parent company FAT Brands, indicated that the vegan launch was happening in recognition of the fact that plant-based demand was growing among consumers.
"The Johnny Rockets environment and menu delivers a piece of nostalgic Americana at locations around the globe," he said. "While that will always be the most evident and fun part of the Johnny Rockets experience, we also acknowledge the future, which is plant-based."
He added that FAT Brands had already "seamlessly" integrated plant-based options at its other chains (which include fast-casual chain Fatburger). "These product offerings have performed well to date at other concepts of ours," he said. "And we hope to incorporate as long-standing menu additions at Johnny Rockets, as well."
And FAT Brands has stayed true to Wiederhorn's word. Two years on from his comments, there are still plant-based options on the menu at Johnny Rockets. To find out more about what you can order, read below (although please note that not all options are available at every location).
The best vegan options to order from Johnny Rockets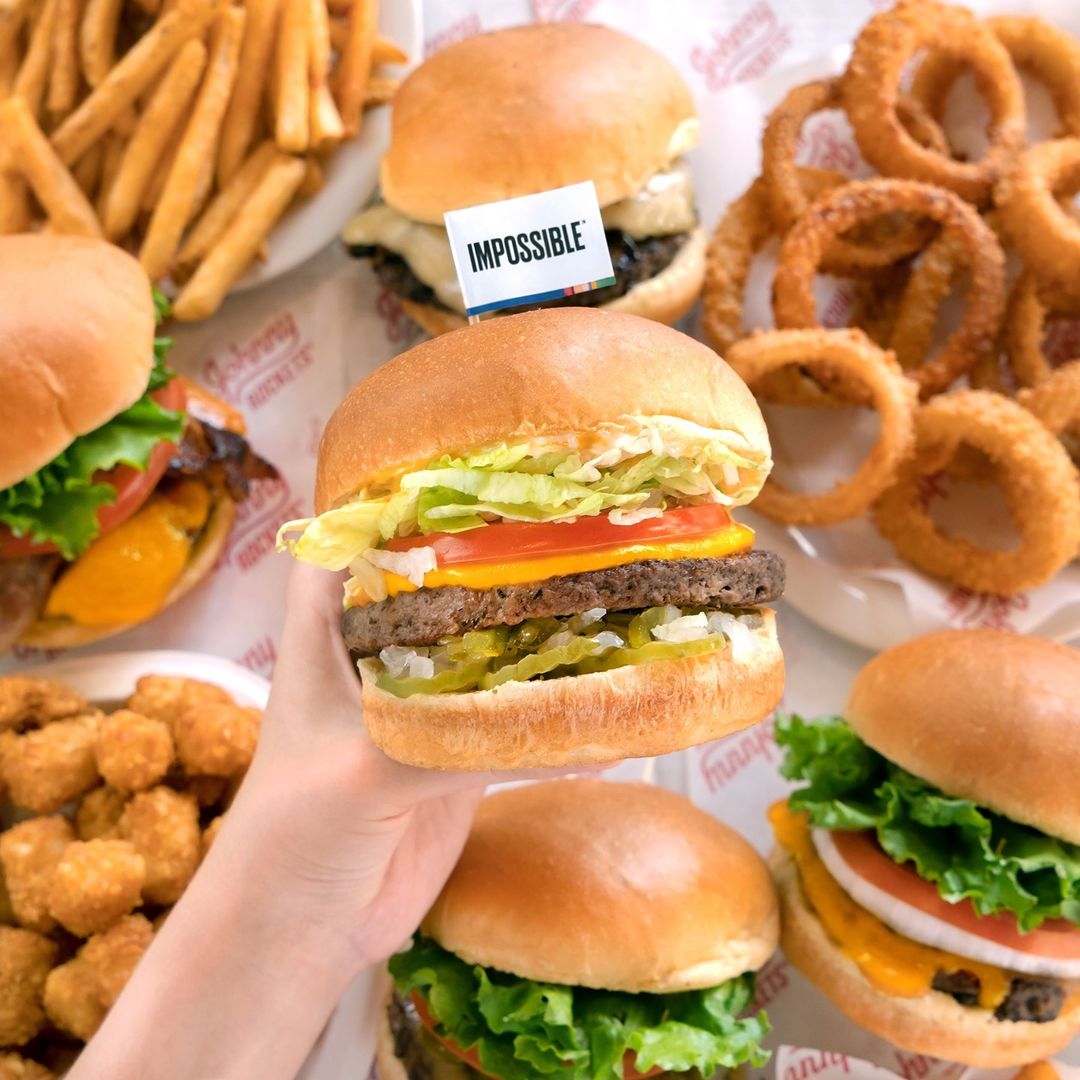 Johnny Rockets/Instagram
1 The Impossible Original
Many Johnny Rockets restaurants offer Impossible Foods' Impossible Burger, which is made with ingredients like soy protein, coconut oil, sunflower oil, and heme. However, while some locations may offer dairy-free cheese, this menu item may need a little customization to ensure it's vegan. Make sure to request your order without mayonnaise, for example, which is made with eggs.
2 Streamliner Burger
Just like the Impossible Original, the Streamliner Burger contains a meaty patty, only this time, it's a soy patty from Boca Burger, a vegetarian burger brand owned by Kraft Heinz. The burger comes with a whole wheat bun (note: not all of Johnny Rockets' burger buns are vegan), as well as caramelized onions, salad, pickles, and mustard.
3 Garden Salad
If in doubt, order a salad. Johnny Rockets' Garden Salad is an easy and quick plant-based option, but just make sure to ask for it without the cheese (yep, this menu item comes topped with shredded Cheddar!).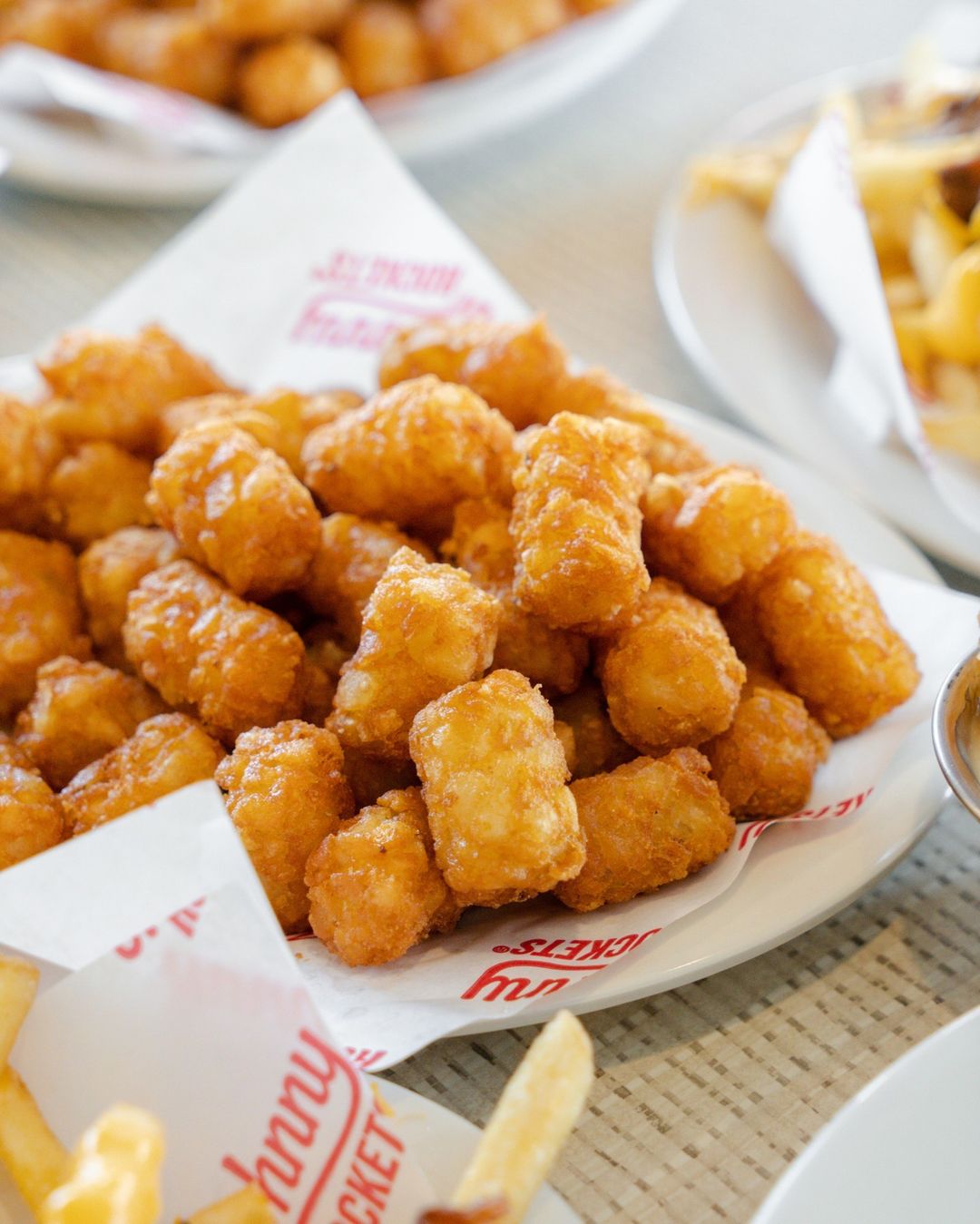 Johnny Rockets/Instagram
4 Tater tots
If you prefer crispy tater tots with your burger (or salad!), then Johnny Rockets doesn't disappoint. Complete your order with its selection of vegan-friendly condiments, including ketchup, mustard, and BBQ sauce.
5 French Fries
This one may seem like an obvious one, but not all fries from fast-food chains are vegan. You can find out more about that here! But Johnny Rockets French fries are pretty safe, as they're cooked in vegetable oil instead of animal fat. That said, note that Johnny Rockets prepares many non-vegan menu items, so cross-contamination may still occur.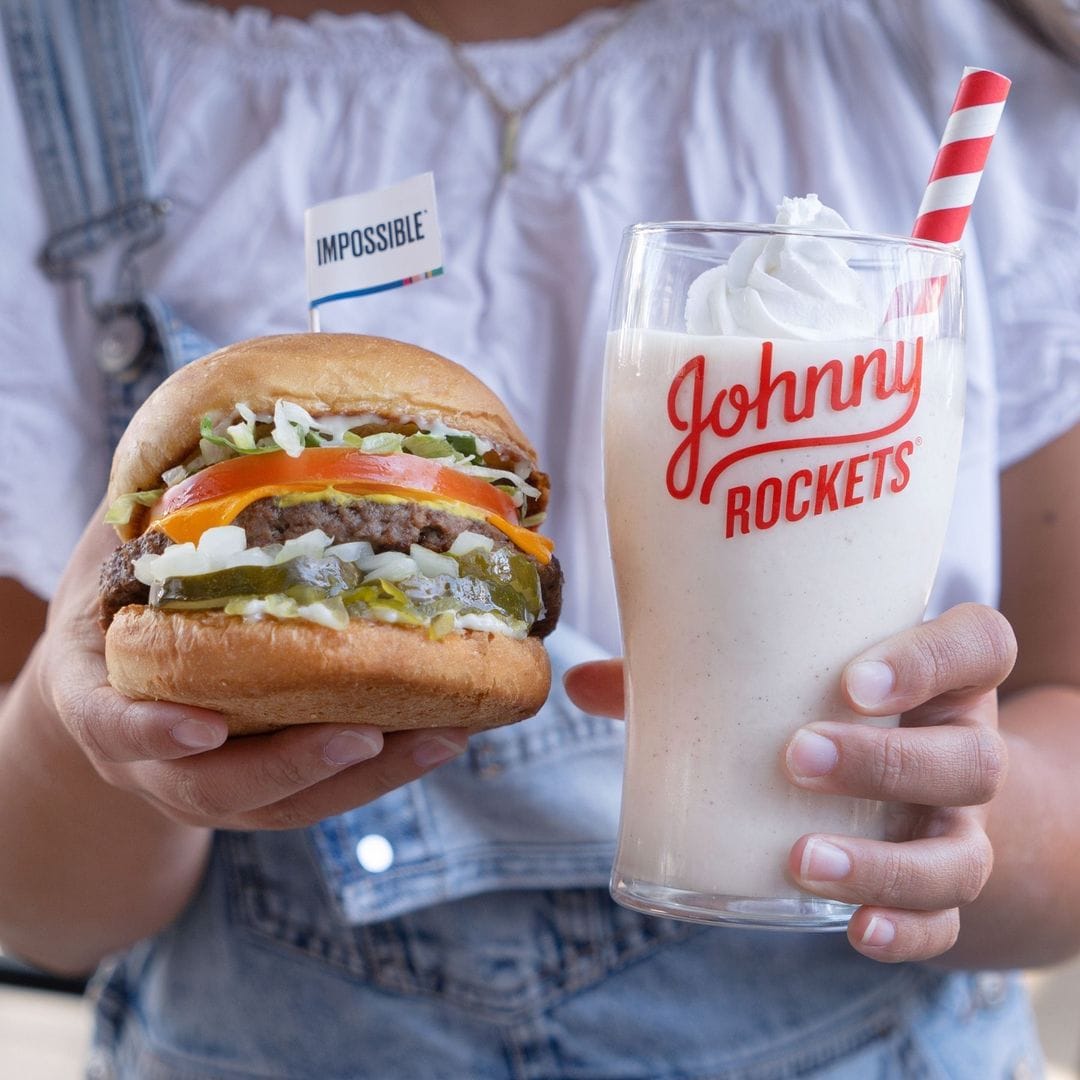 Johnny Rockets/Instagram
6 Milkshakes
No trip to an American diner is complete without a thick, creamy milkshake, but unfortunately, vegans usually have to miss out on this menu favorite. At some Johnny Rockets locations, however, this is not the case. The chain now offers a range of Craig's Vegan Shakes at select locations, including chocolate, strawberry, and vanilla flavors.
For more on vegan fast food, read: