Nowadays, when you think of sausage rolls, you probably think of the UK or Ireland, where the meat-stuffed pastry has been a lunch, party, and quick-bakery snack staple for many decades. In fact, the first documented mention of sausage rolls in England was in 1864, in The Times newspaper. But really, the idea of wrapping meat in rolled pastry isn't unique to any one country. Historians have traced the concept back to the Classical Greeks and Romans, and it was also common in 19th-century France.
Origins aside, however, there is no doubt that the UK is home to some of the biggest lovers of sausage rolls now. Greggs, the country's biggest bakery chain, has a lot to do with the nation's obsession, as it sells around 2.5 million of them every single week. Usually, sausage rolls contain pork, but animal meat isn't a necessity. Lately, vegan versions have also soared in popularity, which, again, is partly thanks to Greggs. In 2019, the bakery chain launched its vegan sausage rolls for the first time, and it was so successful, it helped to push profits up by 58 percent.

If you're intrigued by this hearty British classic and want to learn more, including how to serve and make them yourself (vegan, of course), we've got you covered.
What is a vegan sausage roll?
In a nutshell, a sausage roll is a savory roll of pastry with sausage meat wrapped inside. In the US, the closest equivalent are pigs in blankets, which feature small hot dogs wrapped in pastry. (In the UK, pigs in blankets are sausages wrapped in bacon.)
When it comes to the meat inside a sausage roll, there are no rules. In traditional recipes, pork sausage meat is used. But chicken, beef, and turkey are also alternative options. And, of course, you don't need to use real animal meat at all.
Vegan sausage rolls are exactly the same as pork sausage rolls. They feature the same puff pastry outer layer, only instead of pork or another type of animal meat, the stuffing is made with plant-based protein or whole food ingredients, like mushrooms.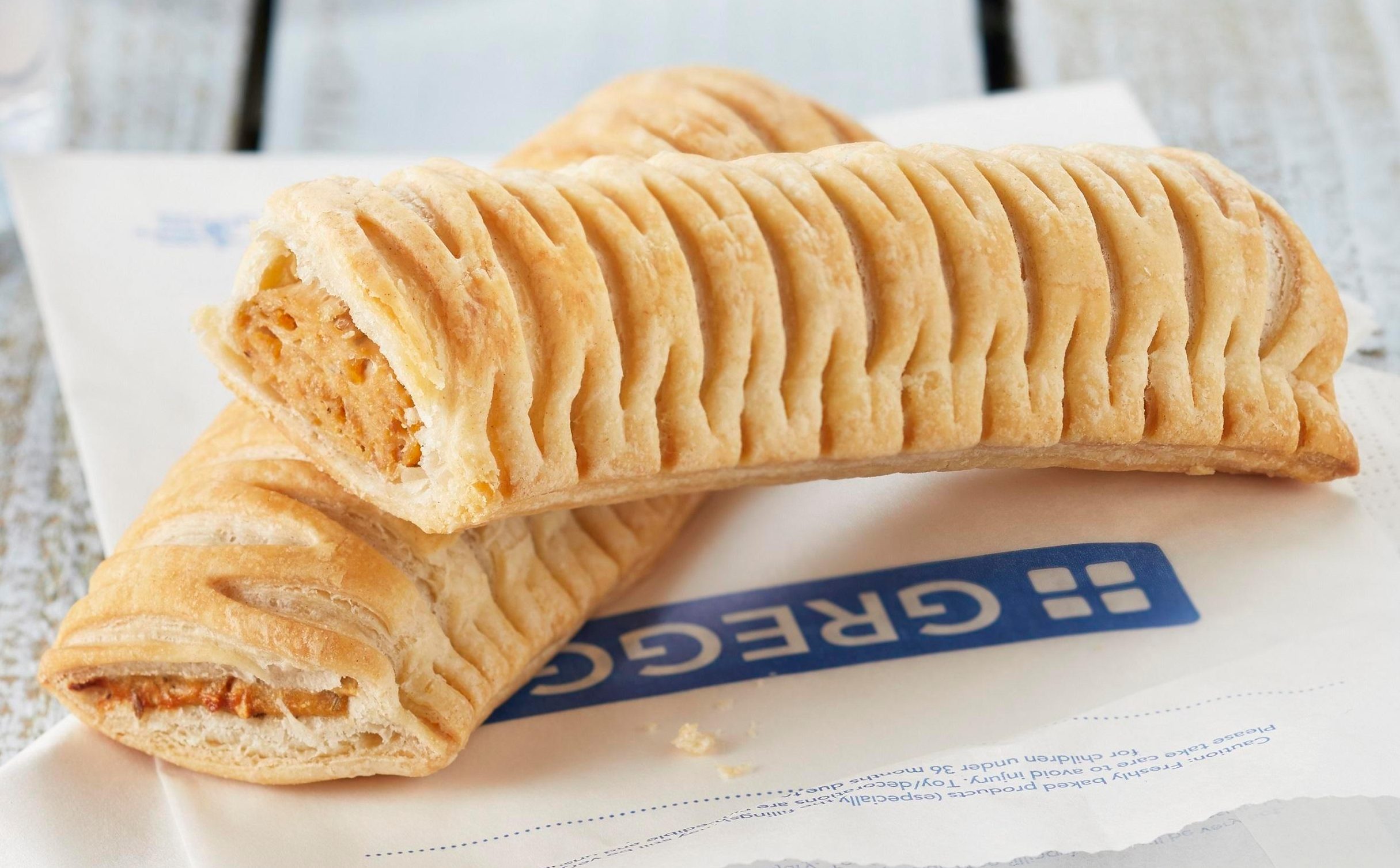 Greggs
Are there different types of vegan sausage rolls?
There are a few different types of vegan sausage rolls available, although they all feature a filling wrapped in pastry. Some contain plant-based meat, like Greggs' version, for example, which features sausages from vegetarian meat brand Quorn. But some options, like those made by UK brand Jack & Bry, contain jackfruit instead. Mushrooms are another popular filling and are particularly good at mimicking the taste and texture of sausage meat.
Who makes vegan sausage rolls?
As you would expect, in the UK, it's easy to find vegan sausage rolls. Not just from Greggs, but also from most mainstream supermarkets, like Asda, Morrisons, Tesco, and Sainsbury's, and popular brands, like Wall's. South African brand Fry's also offers its own vegan meat-stuffed sausage rolls, and so does Birds Eye's meatless range Green Cuisine.
In the US, it's a little bit harder to come by vegan sausage rolls on supermarket shelves, and that's because sausage rolls in general are less common. But that said, if you want to try the savory dish for yourself, you don't have to miss out, because you can make them for yourself at home.
How to make vegan sausage rolls
If you're feeling inspired to get in the kitchen and get cooking, sausage rolls are super simple to make. Plus, they're delicious and filling, too. So it's a win-win! Whether you prefer whole-food ingredients or plant-based meat products, here are a few different ways you can make vegan sausage rolls from home.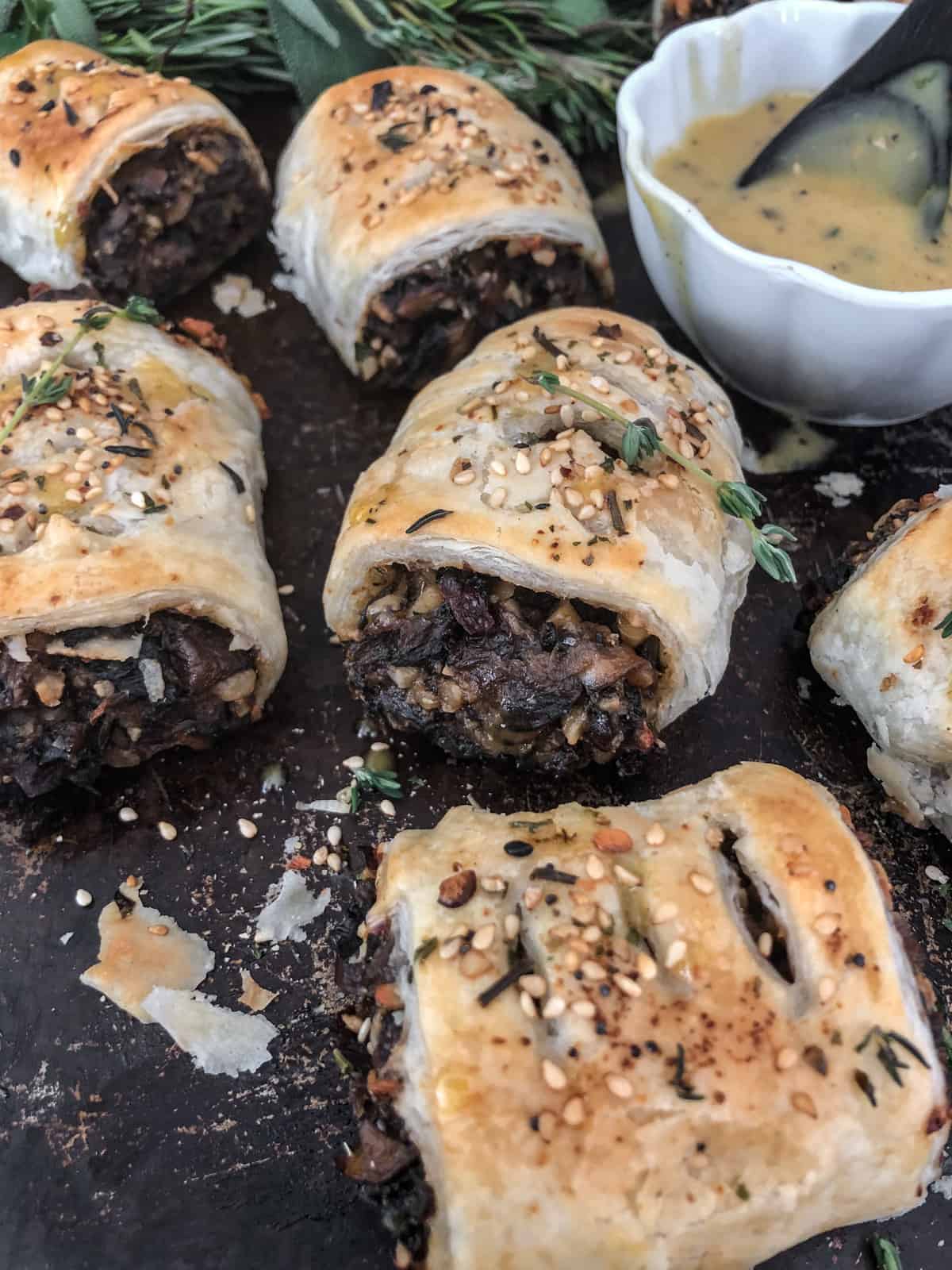 Simply Ceecee
1 Mushroom Sausage Rolls
This tasty, savory-sweet recipe comes together with just a few ingredients. First, you'll need the vegan puff pastry (of course), and then for the filling, you'll need mushrooms (try oyster for a super meaty texture), onions, and cashew nuts (or walnuts, if you prefer). Then all you need to do is cook up the filling, load up the pastries, and bake. Plus, for an extra crunch on top, add some sesame seeds.
Get the recipe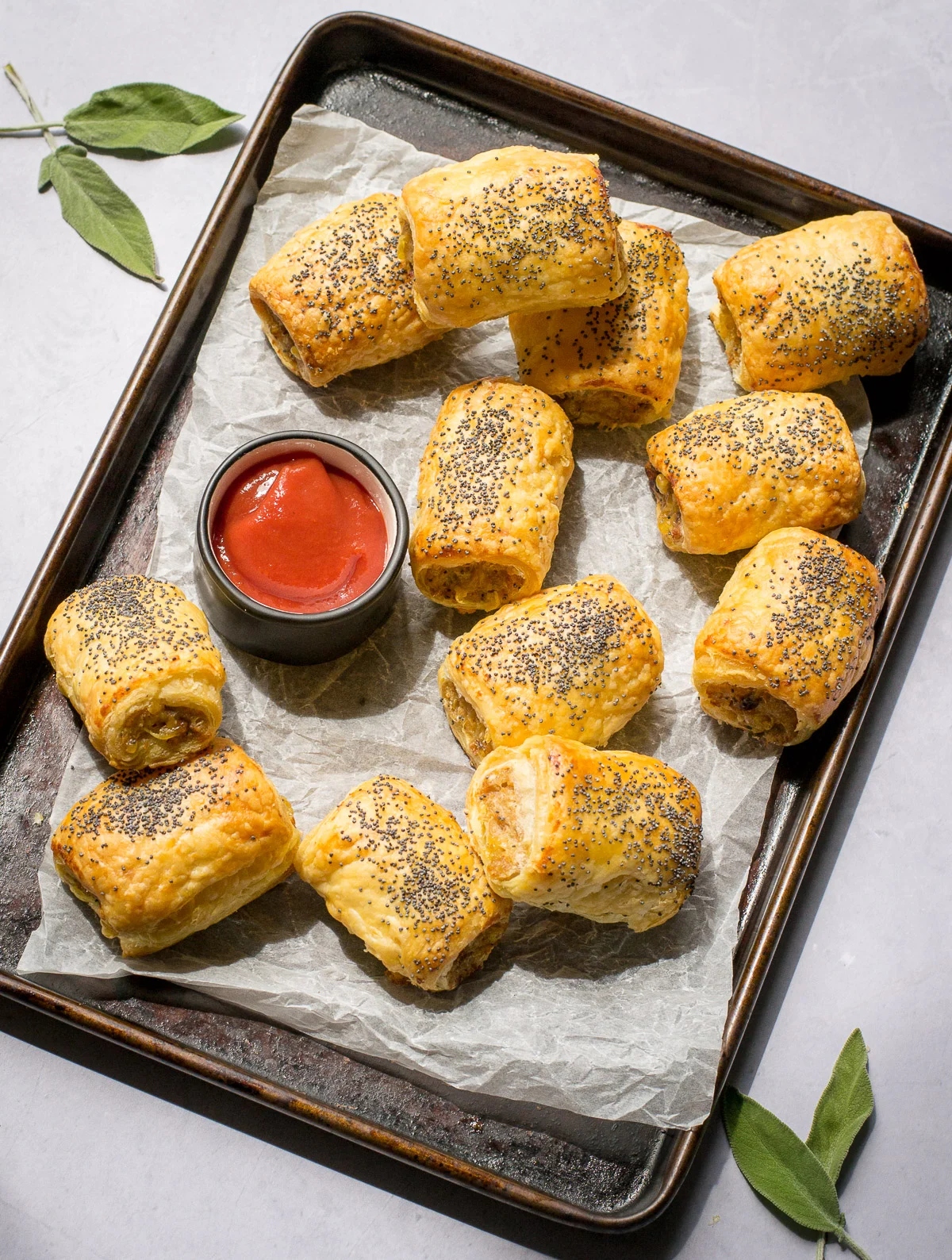 The Veg Space
2 Sage and Red Onion Sausage Rolls
For stress-free sausage roll making, it's always best to buy pre-made pastry. (But if you like, you can make it from home yourself—you'll just need to set aside the time to do so.) In fact, for this recipe, you can basically buy everything pre-made from the shop - vegan sausages and cheese included. It's ideal for when you're in a rush and don't want to spend too much time fiddling about with raw ingredients.
Get the recipe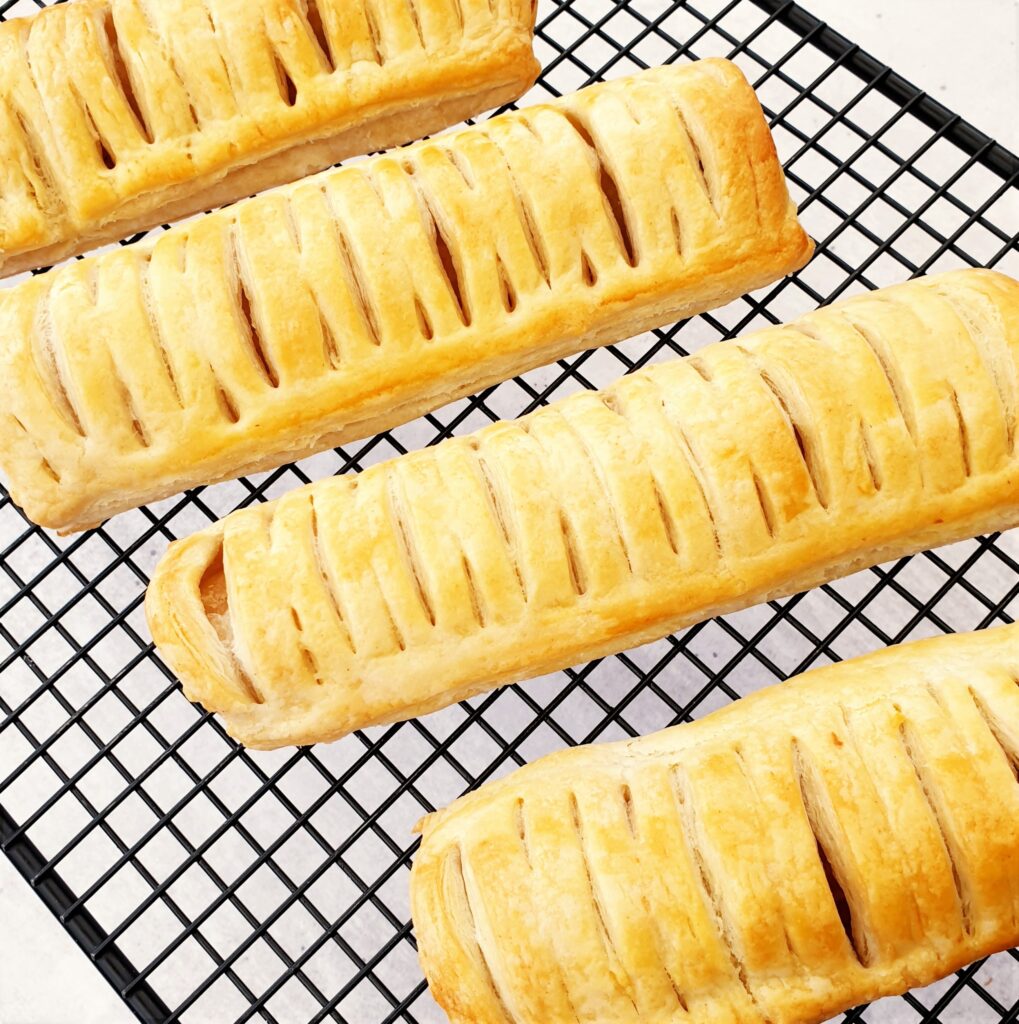 Feast Glorious Feast
3 Greggs Copycat Vegan Sausage Rolls
If you don't live near a Greggs bakery, don't worry, you don't have to miss out on the taste of the chain's iconic sausage rolls. You can follow this recipe and mimic them from home using just three ingredients: vegan sausages, puff pastry, and plant-based milk. Easy peasy!
Get the recipe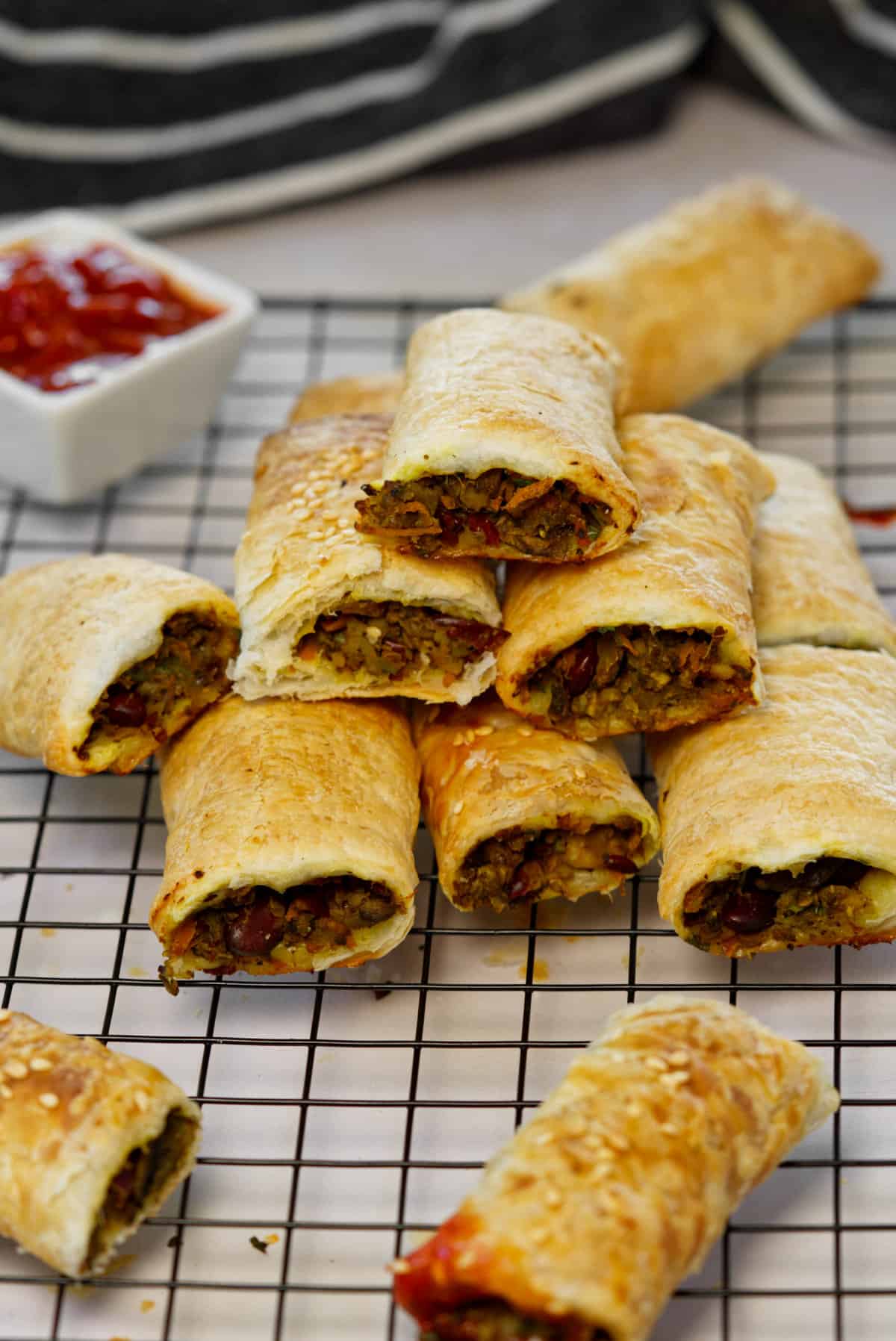 Plant Based Folk
4 Kidney Bean Sausage Rolls
If you're not a vegan sausage fan, then this recipe is well worth trying. It's all the savory, pastry-wrapped goodness, only without the super meaty texture. Instead of store-bought sausages, opt for a nutritious, satisfying filling of kidney beans, mushrooms, and onions.
Get the recipe
How to serve vegan sausage rolls
When it comes to serving vegan sausage rolls, there are no hard and fast rules. If you're just snacking, they're great eaten on their own, or with dipping sauce (ketchup, mustard, and barbecue are go-to choices for many). But if you're eating them as part of a bigger meal, you could also serve them with fries, salad, baked beans, chutney, baked potatoes, coleslaw, potato salad, or a simple side of vegetables. They're so versatile, they go with most things, so let your creativity run wild.