While they might seem like a simple enough snack, cashews have quite the history. Native to Brazil, cashew trees were discovered by Portuguese colonizers in the 1500s, and their fruit, which produces nuts, was quickly traded around the world. Today, you can still find cashew trees in South America's rainforests. But, according to Statista, today's leading exporter of cashew nuts is actually nearly 6,000 miles away in Tanzania.
Today, all over the world, cashews are loved for their versatility (particularly when it comes to making vegan milk, cheese, yogurt, and cream), but also for their nutritional benefits. Here, we dive into all of the benefits of cashews, some of the best products on the market, as well as some tasty recipes to make with cashews as the star ingredient.
What are cashews?
The scientific name for the cashew tree is Anacardium occidentale. This produces a pepper-shaped drupe known as the cashew apple, or if you're in Central America, a marañón. Underneath this grows a small tree fruit which is shaped like a kidney, and inside that is what is commonly referred to as the cashew "nut" (despite the fact that it is technically a seed).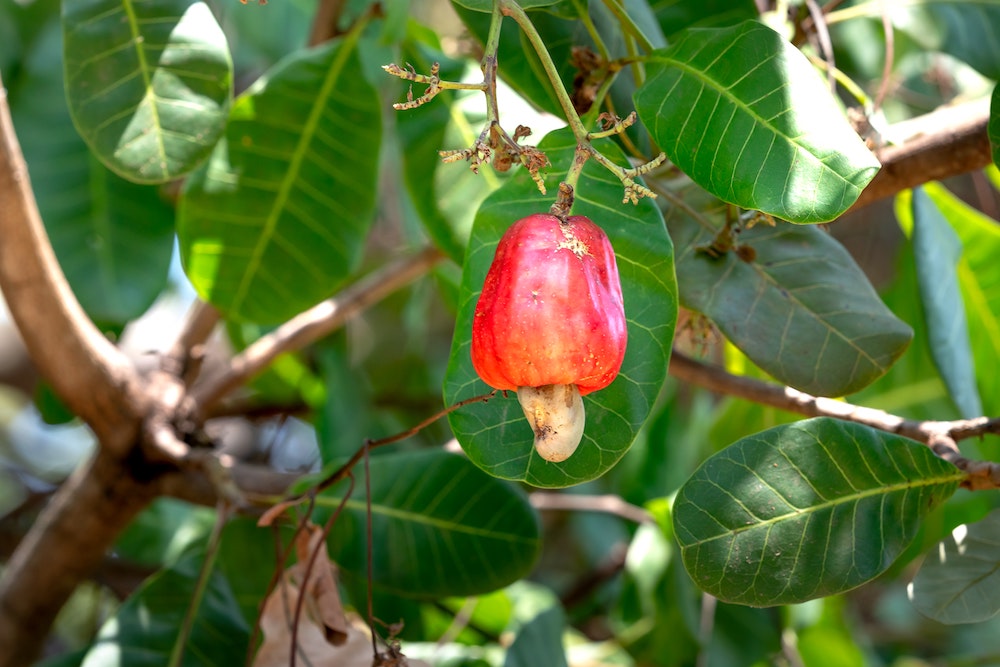 Quang Nguyen Vinh/Pexels
While they grow in a way that is very similar to legumes, cashews are not classified as such because they grow inside a hard drupe shell, not a pod (like peas, for example).
Are cashews healthy?
It's worth noting that in their raw-shelled form, cashews are poisonous to humans. This is because the shells contain urushiol, a mixture of organic and toxic, compounds. When human skin comes into contact with urushiol, it can cause an itchy, red, and painful allergic reaction—imagine if you brushed up against some poison ivy, for example, which also contains urushiol.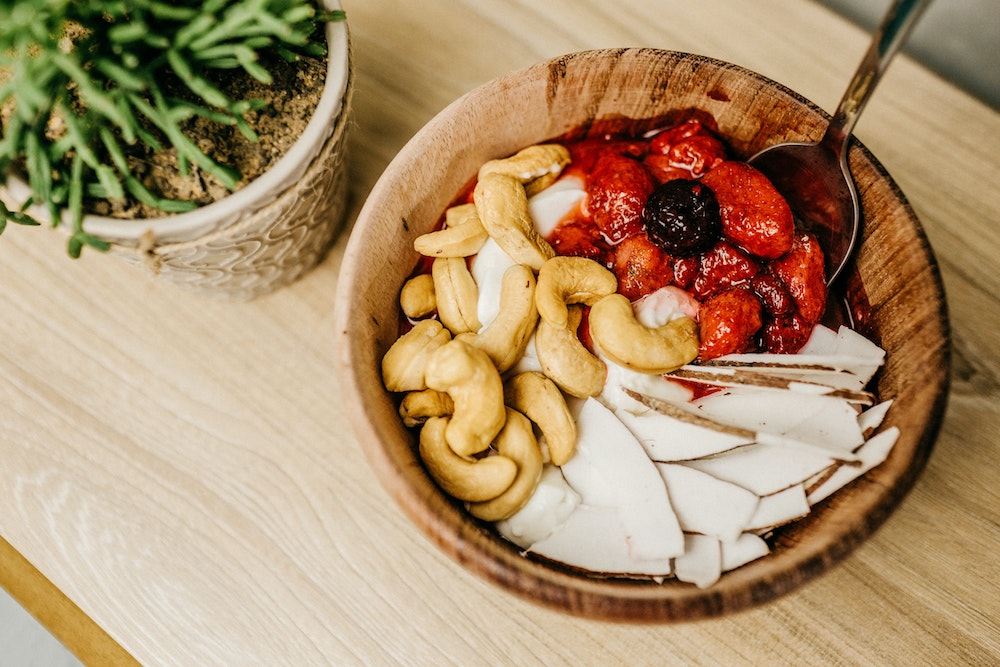 Jonathan Borba/Pexels
But most of the cashews you can buy in the store have been cooked and processed, so they're perfectly safe to eat. And they're nutritious, too, as they're a good source of protein, fiber, iron, and unsaturated fats, as well as copper, zinc, and magnesium. To benefit from this nutrition, experts recommend you consume around 15 cashew nuts per day.
Benefits of cashews
Nutrition aside, cashews have other benefits, too. Because of their creamy texture, they're an effective dairy alternative, and are used to make milk, cheeses, yogurts, and cream that taste like dairy, but are totally plant-based.
This is, of course, better for the animals. Around 270 million cows are forced to produce milk every year, and most of them live in cramped, dirty factory farming conditions. (According to one 2019 study, more than 99 percent of US farm animals are factory farmed.)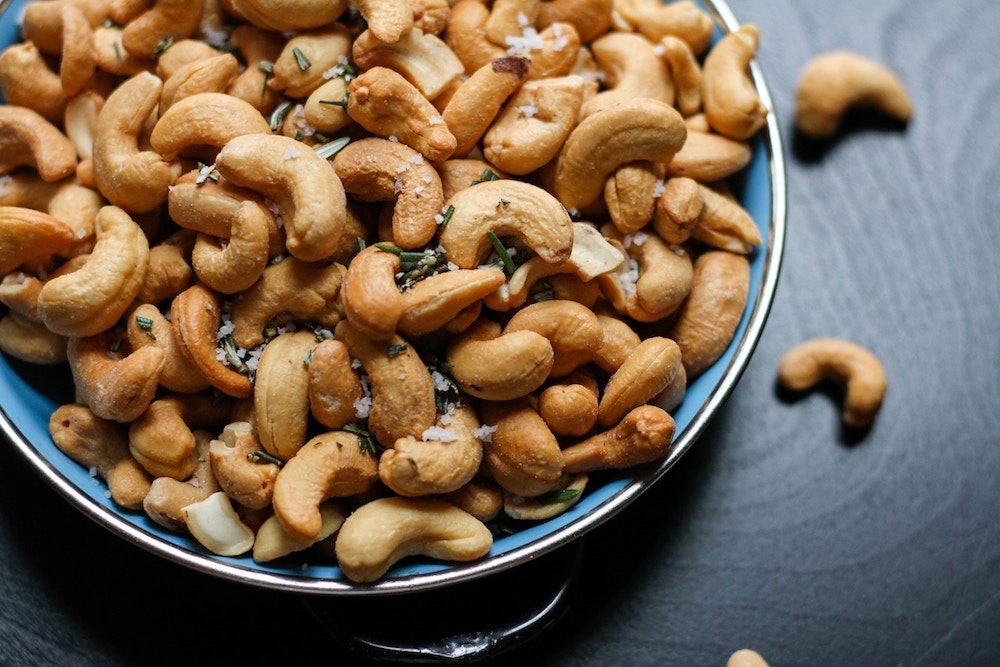 Jenn Kosar/Unsplash
Cashew dairy alternatives are also better for the environment than dairy, which is incredibly resource-intensive. Plus, the entire livestock industry produces 14.5 percent of global greenhouse gas emissions.
According to the BBC climate change food calculator, which is based on Oxford University research, consuming one glass of dairy milk three to five times a week contributes 131 kilograms to a person's annual greenhouse gas emissions. It adds that consuming a handful of nuts for the same amount of time contributes to two kilograms of emissions.
Cashew uses and products
The versatility of cashews means they have been used in many different ways by recipe creators and brands alike. Of course, they're easy to snack on as they come, but if you want to try something more innovative, here are a few examples of some of the recipes and products out there.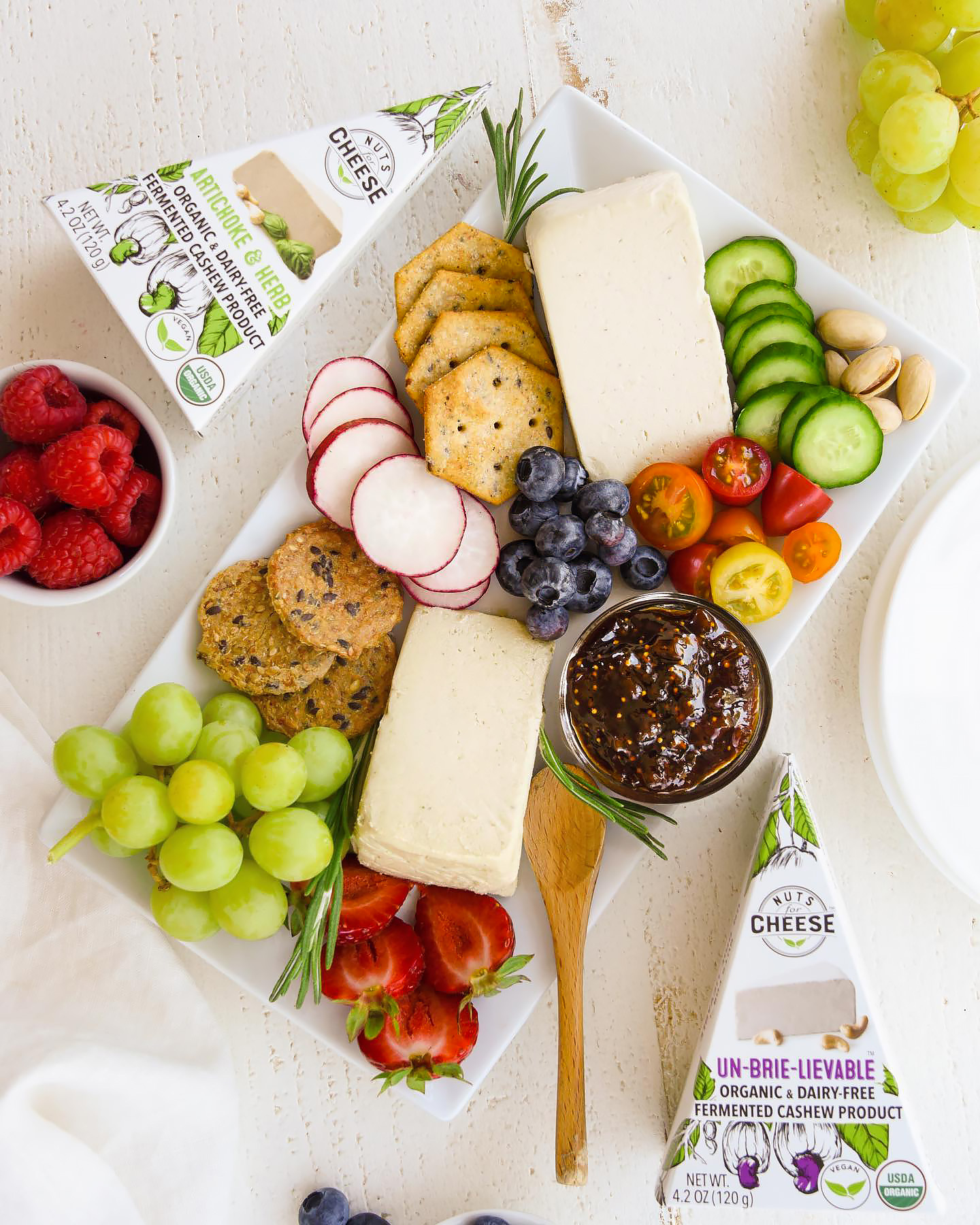 Nuts for Cheese
1 Cashew cheese
When blended and combined with ingredients like nutritional yeast, cashews have a very similar taste and texture to cheese. This is why Canadian brand Nuts for Cheese chose to use fermented cashews as a base for products like its Un-Brie-Liavable brie alternative, its Super Blue, and its Chipotle Cheddar Style Wedge, which are available in stores like Whole Foods and Sobeys.
In London, the UK's first vegan cheesemonger La Fauxmagerie also sells cashew-based products from artisan brands. It sells products from Palace Culture, for example, which uses organic cashews to make Mouldy Goaty, which is creamy, soft, and tangy, just like goat's cheese.
Popular US brand Miyoko's Creamery also relies on cashew milk to make its range of vegan mozzarellas, cream cheeses, as well as Smoked Gouda Cultured Plant Milk Cheese, Aged Sharp English Farmhouse, Fresh European Truffle, and more.
But if you'd like to get creative in the kitchen and have a go at making cashew cheese on your own, this recipe from vegan chef Chad Sarno will walk you through the process from start to finish.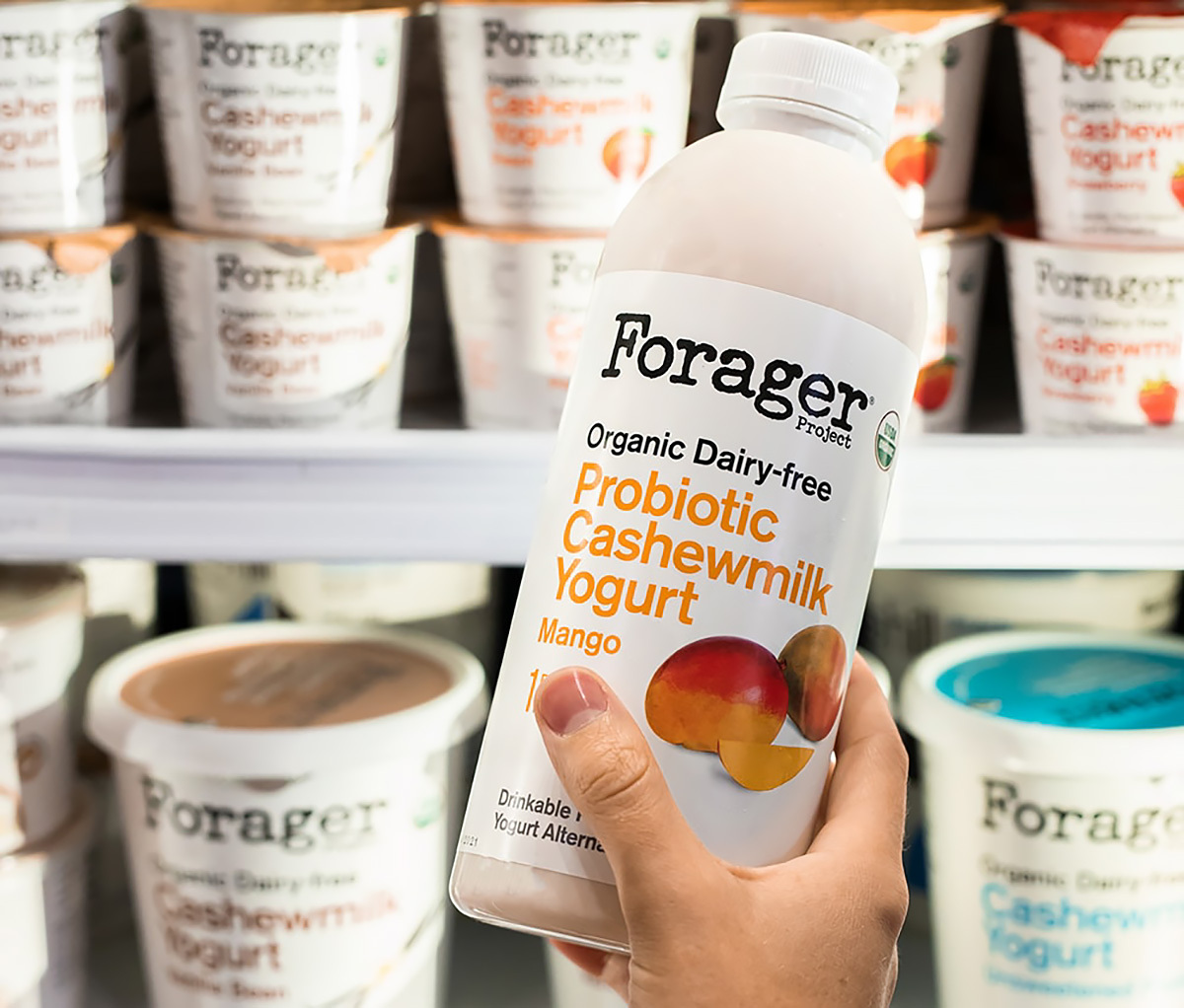 Forager Project
2 Cashew yogurt

The vegan yogurt category is growing. In 2021, it was valued at more than $2 billion, and it's expected to reach nearly $10 billion by 2029. A number of nuts and grains can be used to make yogurt, and cashews are no exception.
Take Forager Project, for example, which makes a whole range of yogurts, including Vanilla Bean, Unsweetened Plain, Strawberry, and Peach, all using cashew milk as a base. Canadian brand LeGrand also makes plant-based yogurts using cashews, rice, and coconut cream. And even Trader Joe's has its own cashew yogurt options, including a seasonal pumpkin spice flavor.
Again, if you want to make your own, you're not short of options. Try this Instant Pot recipe for example.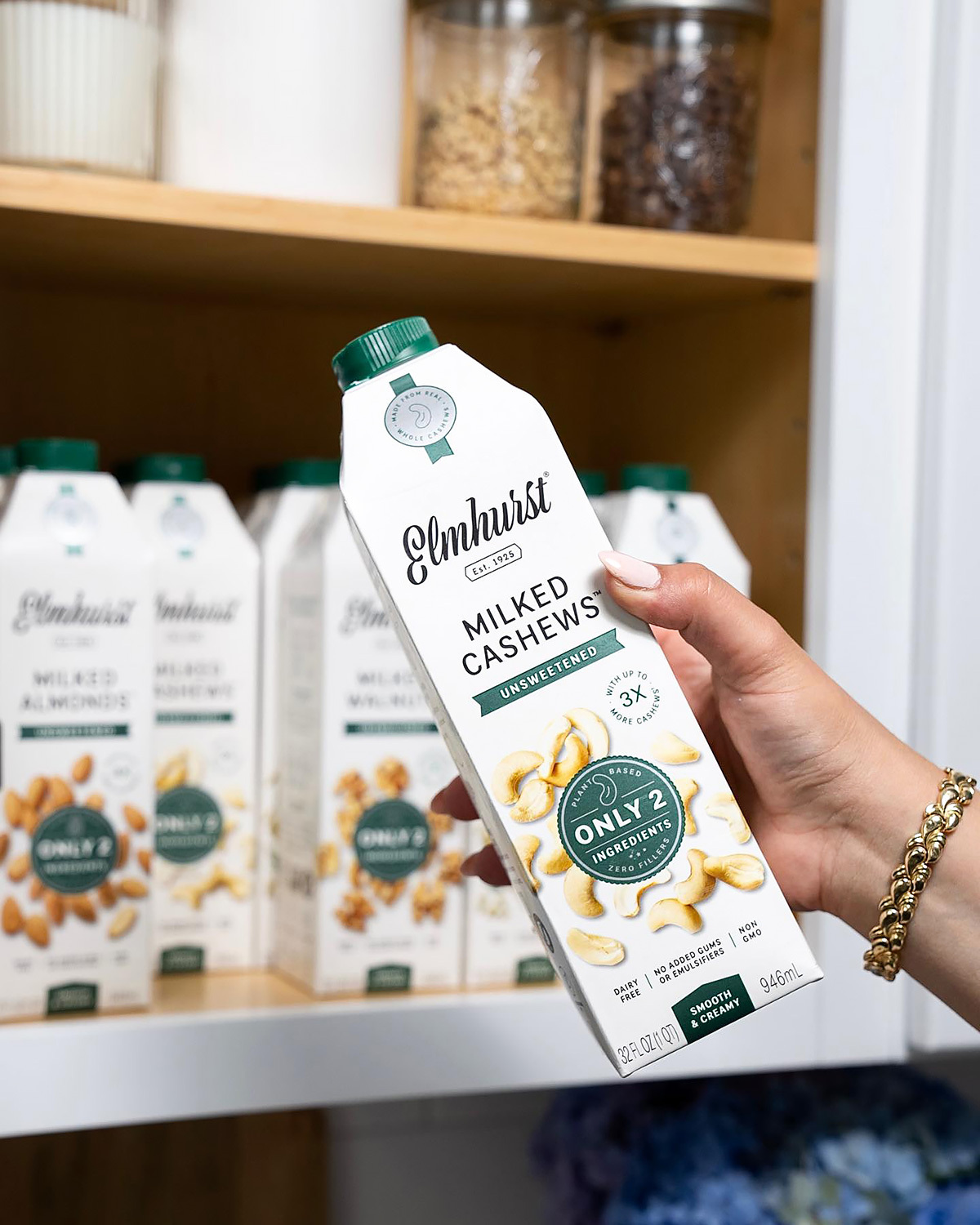 Elmhurst
3 Cashew milk
There are so many vegan milk products on the market. But while oat arguably is one of the most popular, it's important not to forget about the humble cashew, too.
Plenish, Forager Project, Dream, and Elmhurst are just a few examples of some of the brands offering vegan cashew milk today. And, of course, you can make your own if the mood takes you.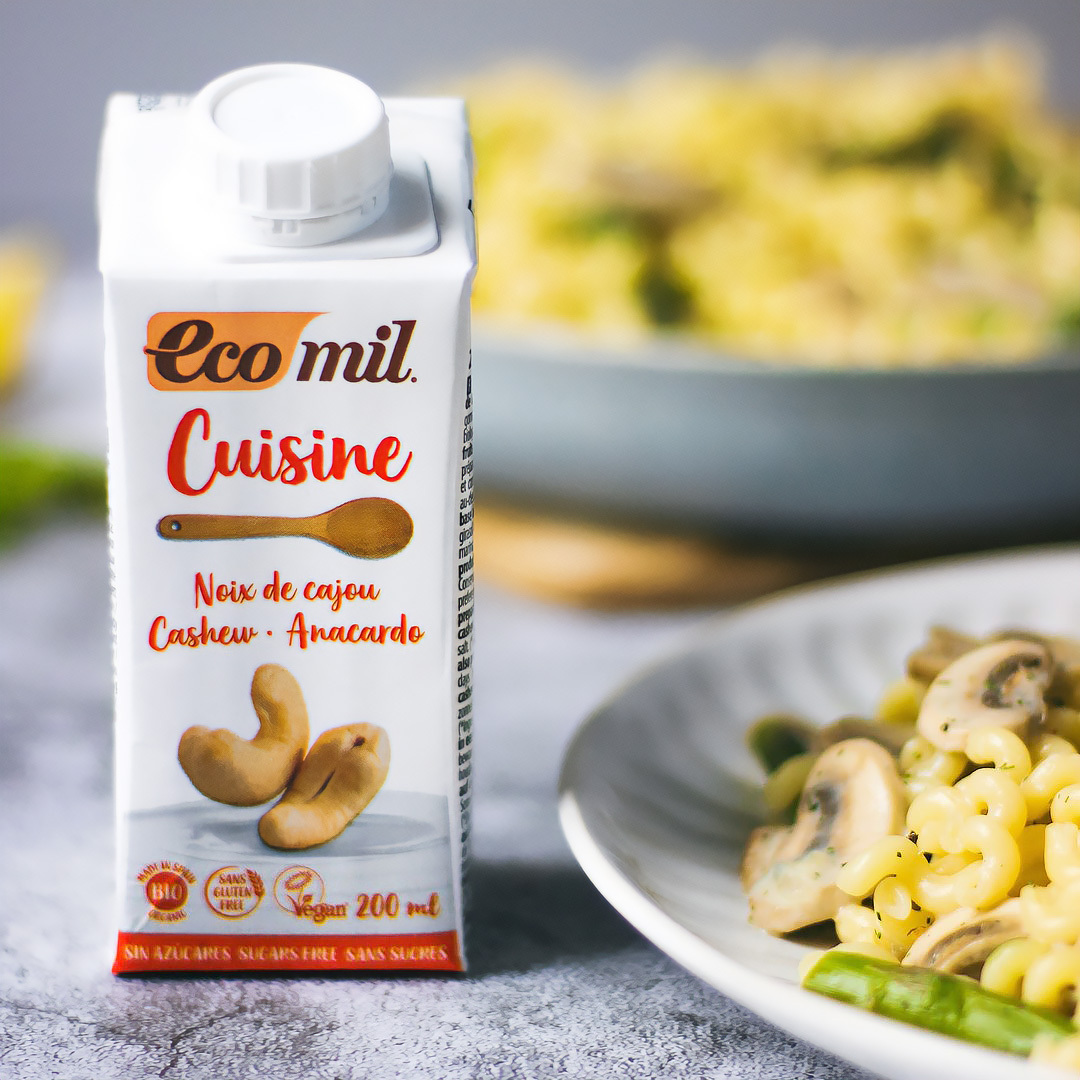 Ecomil
4 Cashew cream
If it's possible to make cashew milk and yogurt, it stands to reason that cashew cream exists too. Although, it's not as common as some of the other products on the list. That said, you can buy it from Spanish brand Ecomil, which sells a sugar-free organic cooking cream, made with cashews, or, you can make it from home!
This recipe, for example, takes just 30 minutes to throw together, and all you need is some raw cashews and one cup of water.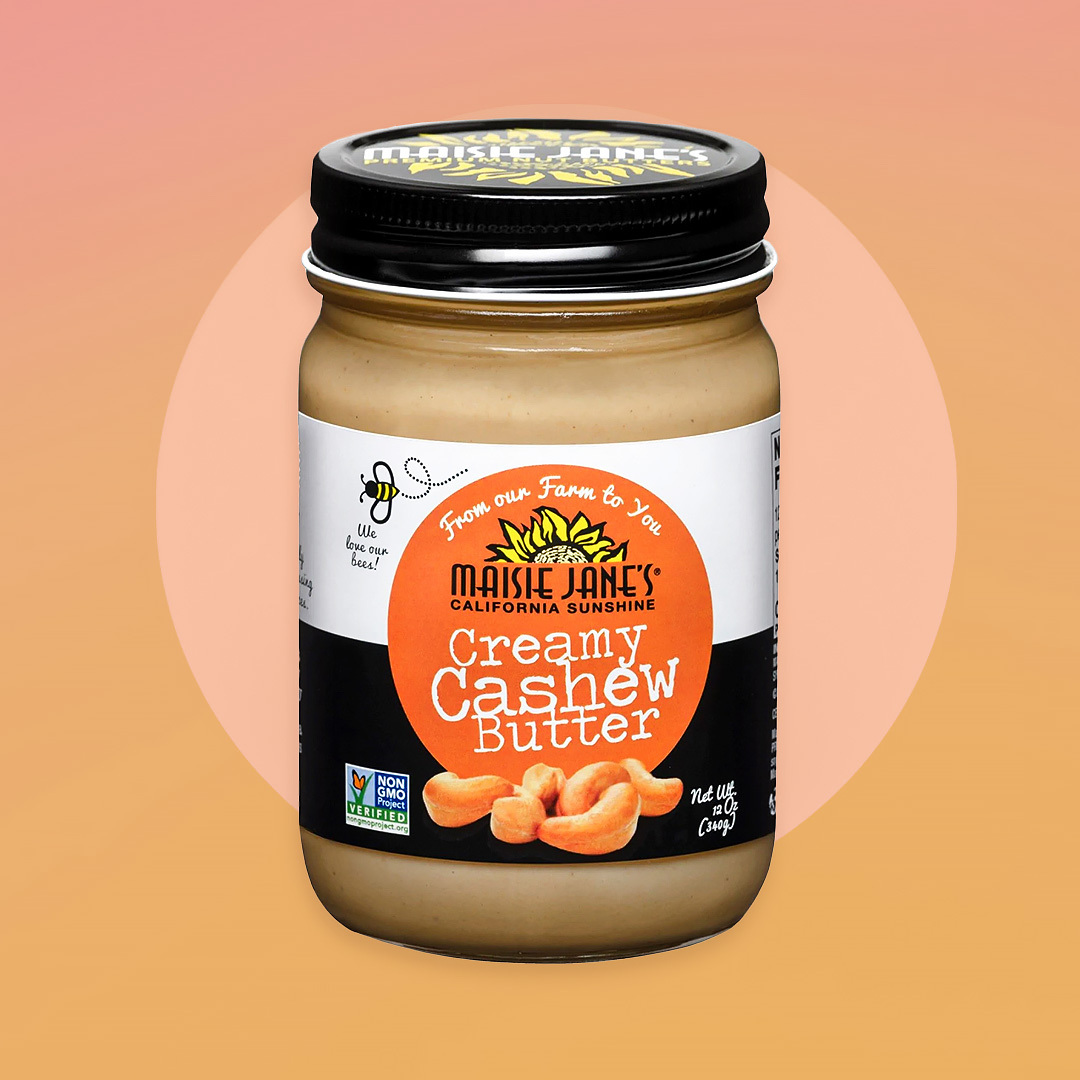 Maisie Janes
5 Cashew Butter
Move over, peanut butter, you've got competition. Just like its rival, cashew butter is creamy, crunchy, and a great source of protein. Plus, it's easy to get hold of, too. Even Whole Foods offers a cashew butter in its 365 range.
Other brands with cashew butter products include Maisie Janes and NutRaw, which makes a pistachio and cashew butter. Artisana Organics also sells raw cashew butter, and you can buy a peanut-cashew hybrid from Wild Friends.
There are also many easy recipes for cashew butter available. And if you need inspiration for how to use it, you can follow our nut butter guide.
Cashew recipes
1 Mac & Cheese
Is there anything more comforting than a warm bowl of creamy macaroni & cheese? We'll answer for you: no. This recipe combines a cashew-based sauce with ingredients like nutritional yeast and coconut milk. It's super quick to make, too, and honestly, once you've tried it, you'll want to make it every single weeknight for the rest of time.
Get the recipe
2 Lasagna
The secret to a delicious and moreish lasagna is perfecting the bechamel. And this recipe produces a velvety, creamy version of the classic French white sauce using, you guessed it, cashews. Simply layer it up with the filling of your choice. Will you go with vegan meat or vegetables?
Get the recipe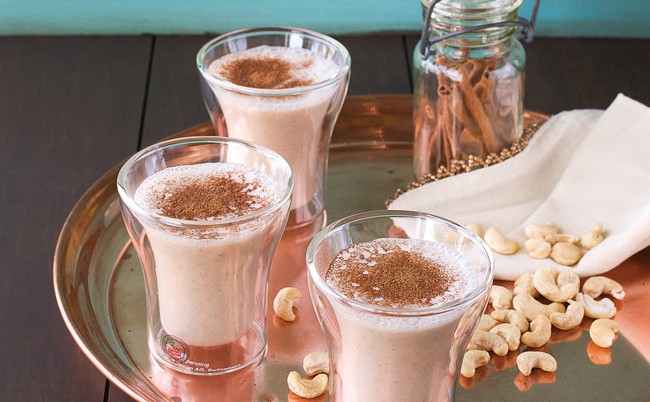 Vegan Heritage Press
3 Horchata
A tasty, comforting favorite, Horchata is a popular drink choice everywhere across Mexico. While traditional recipes often call for cow's milk, it's not a necessity, as this recipe proves. Simply mix cashews with dates, water, and cinnamon! Nope, there's nothing else to it, it's as easy as that.
Get the recipe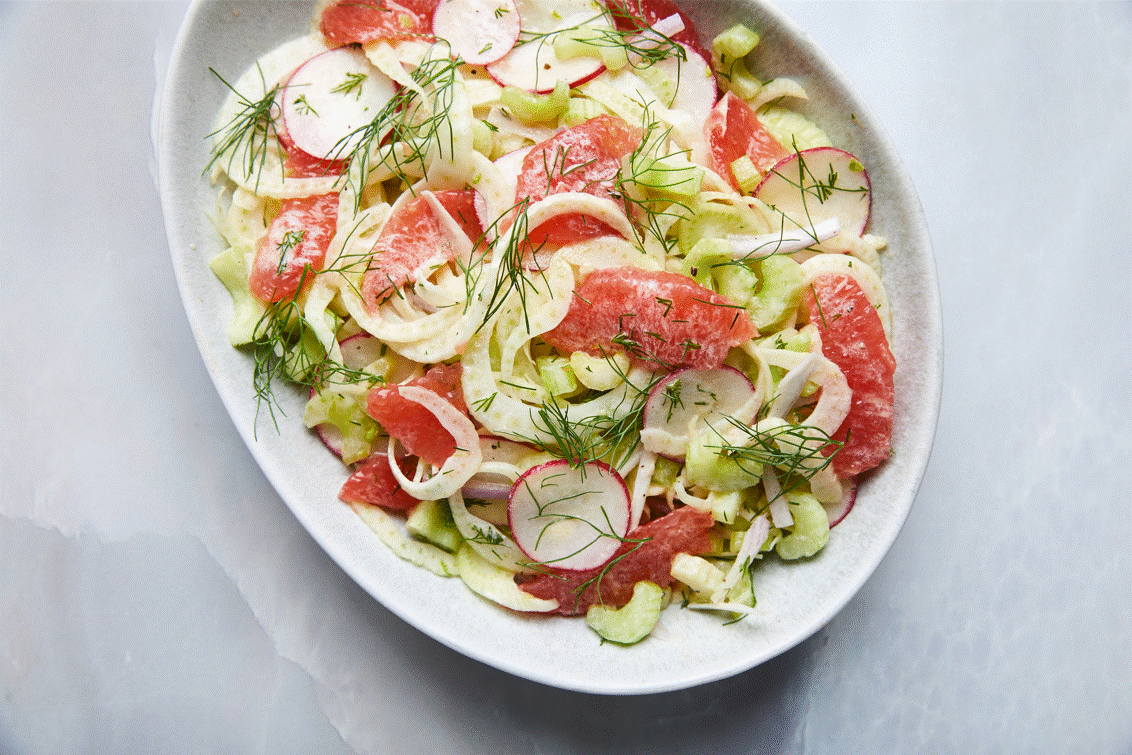 Alejandra Schrader
4 Cashew Dill Yogurt Salad Dressing
Nothing jazzes up a salad like the right dressing. This recipe will show you how to upgrade your lunchtime go-to by making a cashew dill topping. It's a little more complicated than some of the other options on this list, but your tastebuds will be grateful you've put in the time.
Get the recipe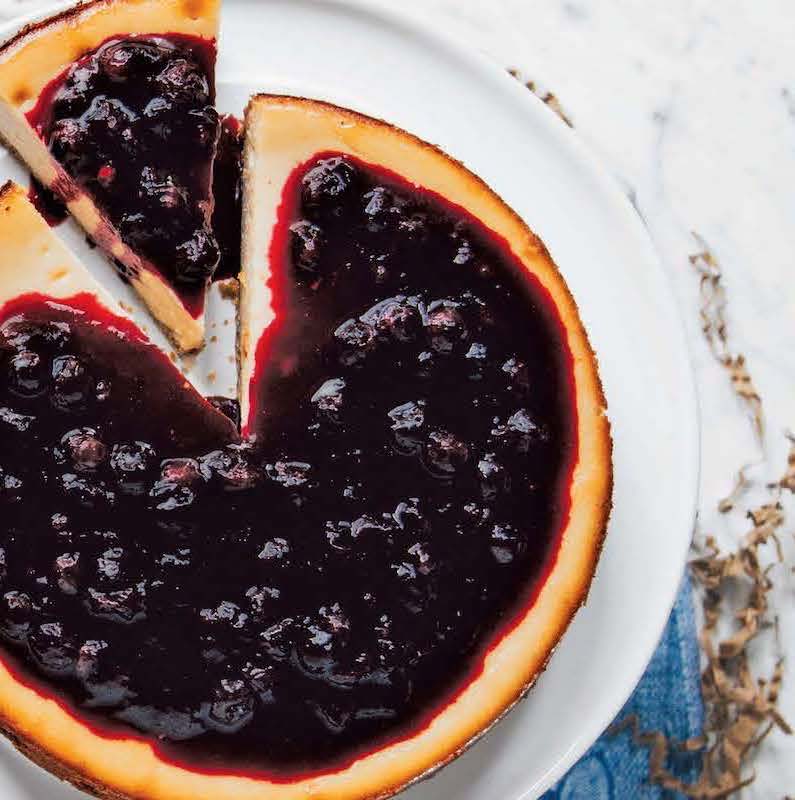 Lauren Toyota
5 Cheesecake
A creamy, indulgent, decadent cheesecake dessert does not require dairy. Instead, swap out dairy cream for a cashew cream base. You'll barely notice the difference, and neither will your loved ones. You'll be fighting them for the last piece!
Get the recipe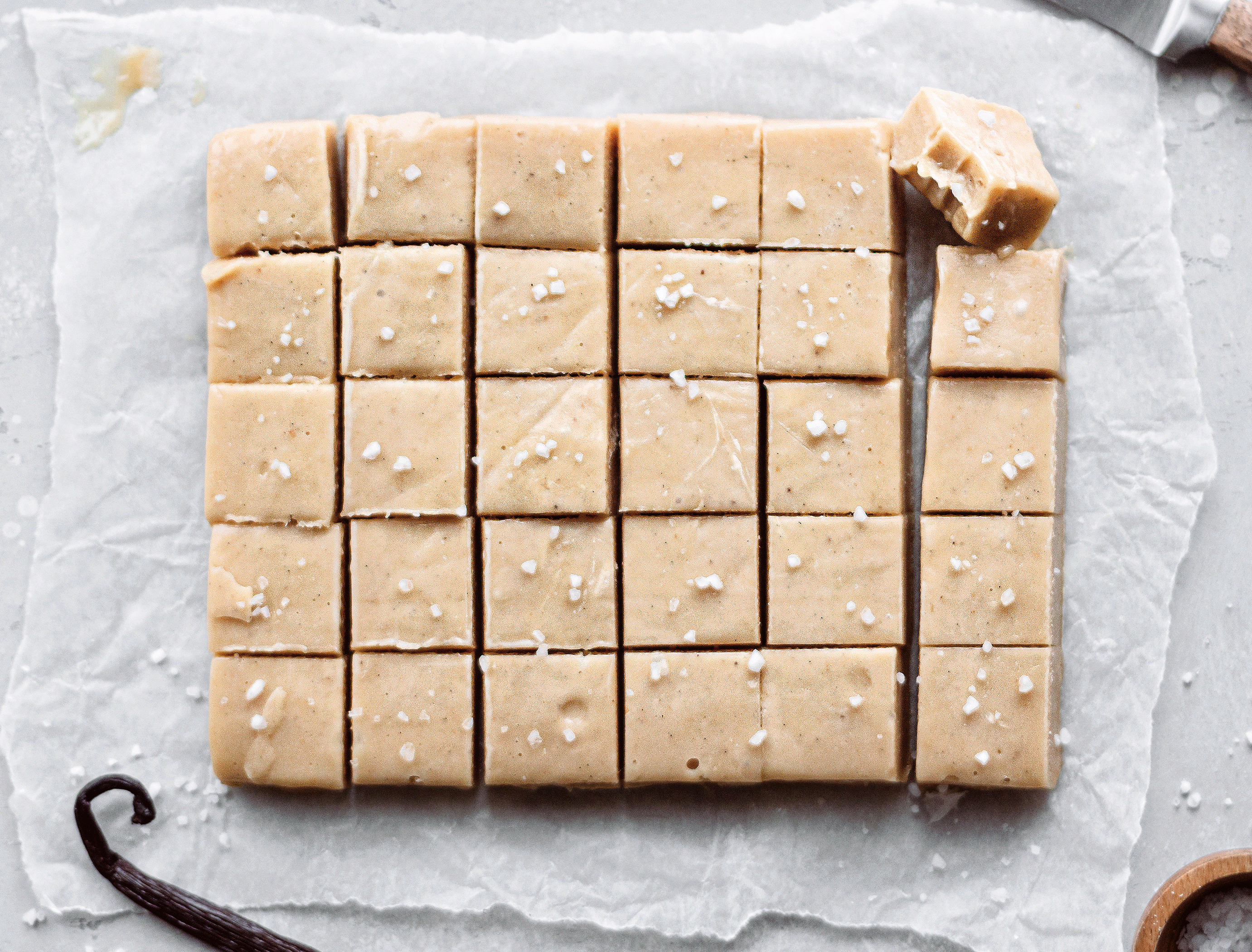 Christina Leopold
6 Fudge
Sweet, salty, moreish, fudge is the ultimate sweet treat. And you'll be pleased to know, it's super easy to make vegan. To make this tasty recipe, all you need is some cashew butter, maple syrup, coconut oil, vanilla paste, and salt. Even better, it's no bake! (Although you will need to set aside three hours for freezing time.)
Get the recipe
For more on cashews, read: