Cooking at home using plenty of plant-based whole foods, like vegetables, fruits, nuts, and seeds, is one of the healthiest ways to eat, research suggests. But let's face it, for many of us, it isn't always possible to whip up a meal packed with nutrition every day. In 2021, a survey by OnePoll found that around 45 percent of Americans feel they are simply too busy to cook. If you can't always get enough whole foods in your diet, another option is to take whole food-based vitamins. As the name suggests, these are vitamin capsules that contain ingredients derived from real fruits and vegetables, instead of synthetics. Want to know more? We've got you. But remember: these aren't an excuse to stop eating fruit and vegetables!
What are whole food vitamins?
To put it simply, whole-food vitamins are dietary supplements that are made from concentrated vitamin-rich whole foods, like fruits, vegetables, and whole grains. This can be instead of or in combination with synthetic ingredients, which are often made in a laboratory. So, if you prefer your vitamins to be entirely plant-based, it's always worth researching the brand and inspecting the label before you buy. "Supplements that list nutrients individually, such as vitamin C, or use chemical names like ascorbic acid, are almost certainly synthetic," notes Mary Jane Brown, PhD, for Healthline.
Are whole food vitamins safe?
Before you make any changes to your diet, or start taking a new vitamin, it's always best to consult with your healthcare professional first, especially if you're pregnant, nursing, or suffering from a nutritional deficiency. And it's important to remember that taking a vitamin is not an overnight fix for a poor diet. "Smart lifestyle choices are your best guarantee of future health," Raul Seballos, MD, told Cleveland Clinic.
But that said, vitamins, whether they are synthetic or whole food-based, are generally safe for most people to consume. And some research suggests that whole food options may be better, as they are easier for the body to absorb. "Whole-food vitamins may be more bioavailable, meaning your body recognizes and can use them right away," Kara Collier, RDN, LDN, CNSC, told Livestrong. That said, they do tend to have lower concentrations of vitamins, so, again, it's important to treat them as a supplement to your diet, rather than a vegetable replacement.
Where to buy vegan whole food vitamins
If you want to start taking whole food vitamins, there are a few brands on the market offering various different options. To help you figure out which one is the best for you, we've compiled this list of 11 different brands to check out—in no particular order.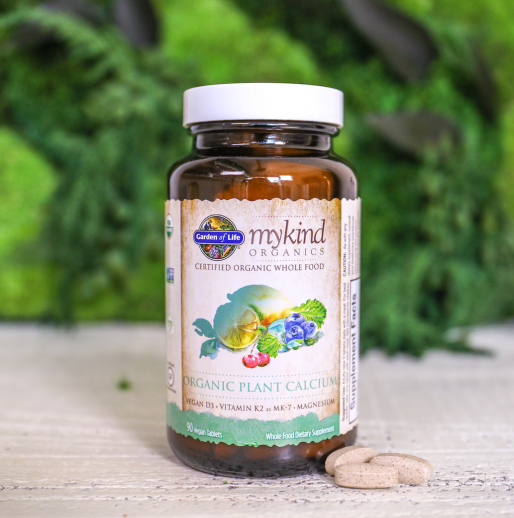 The Natural Dispensary
1 Mykind Organics Plant Calcium
Founded by vegan advocate and actor Alica Silverstone, Mykind Organics' line of organic, plant-based supplements is produced through the popular whole-food supplement brand Garden of Life. The line has plenty of whole food-based choices, but if you're looking to supplement calcium, this formula is designed to support bone health and contains calcium from 20 different powdered fruits and vegetables, including algae, broccoli, carrot, tomato, and spinach.
get it here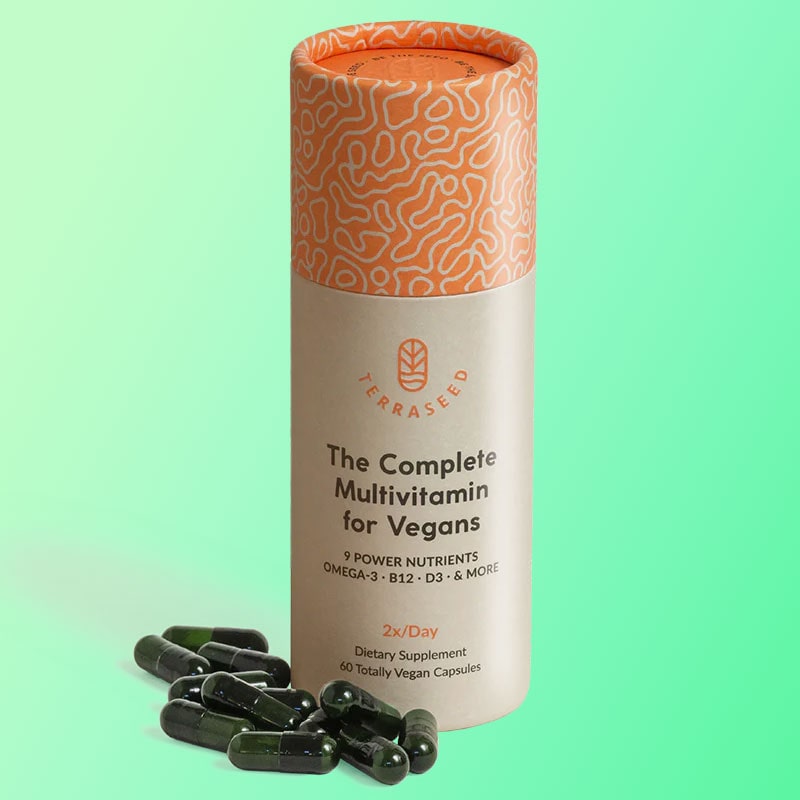 Terraseed
2 Terraseed The Complete Multivitamin
Terraseed has multiple missions. Firstly, it wants to help you nourish your health, which is why it has created an effective, potent vegan multivitamin made with a mixture of synthetic and natural ingredients like algae oil, amla (also known as Indian gooseberry), kelp, and lichen. But it also wants to combat plastic waste in the supplement industry, which is why its packaging is biodegradable.
get it here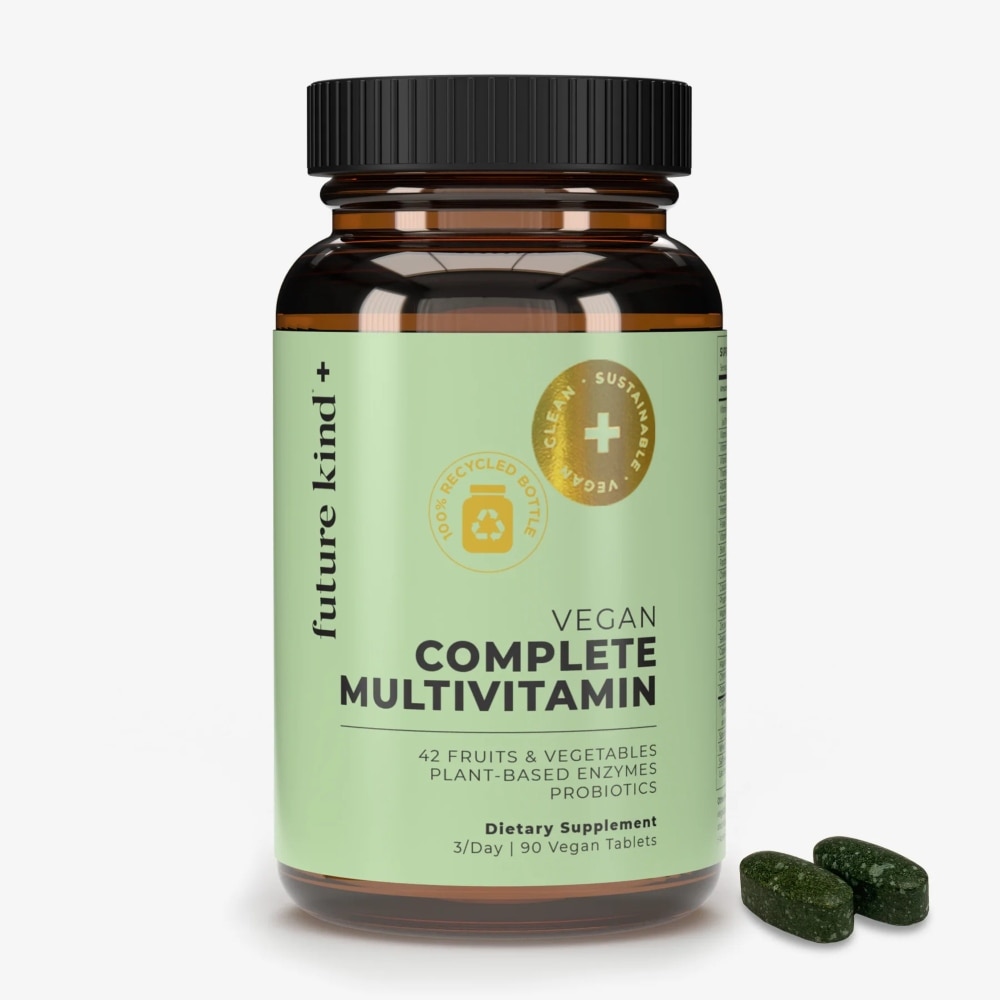 Future Kind+
3 Future Kind Vegan Complete Multivitamin
Made with 42 fruits and vegetables, this multivitamin from Future Kind+ aims to support digestive and gut health, as well as give you a boost of vitamins (including B12 and D3) for your overall wellbeing. Even better, they're packaged inside a 100 percent recycled bottle.
get it here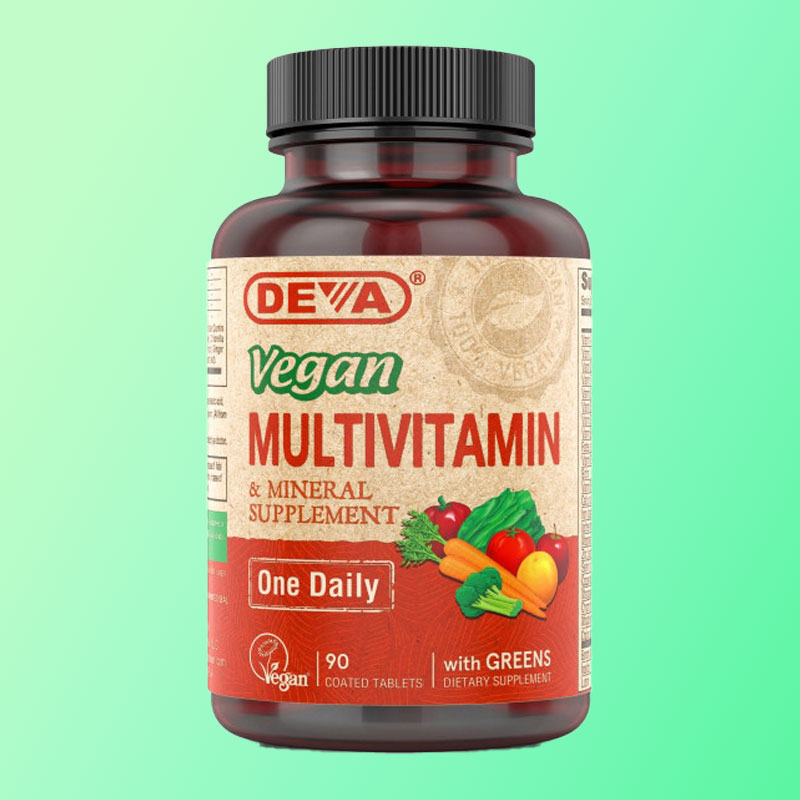 Deva
4 Deva Vegan One-a-Day Multivitamin & Mineral
Spirulina, black cumin, broccoli, carrots, chamomile, and spinach are just a few examples of the type of plant-based ingredients used to make this multivitamin from Deva. If you need a supplement that doesn't contain iron, Deva also offers an iron-free version of this balanced, animal-free formula.
get it here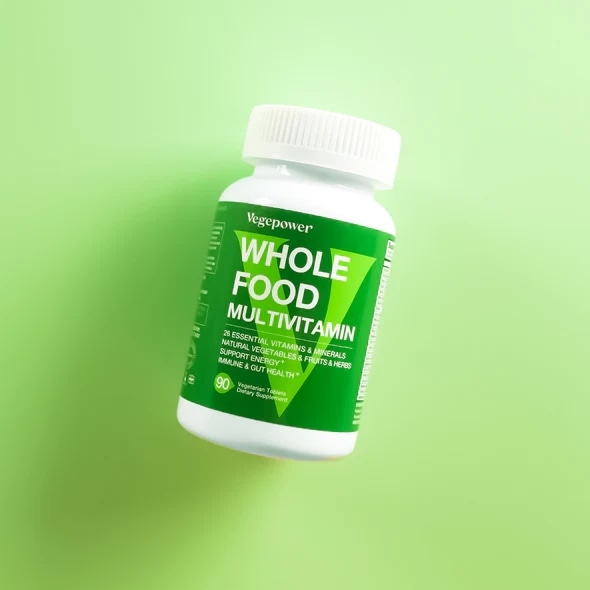 Vegepower
5 Vegepower Wholefood Multivitamin
While this multivitamin from Vegepower does contain some synthetic ingredients, it is also made with a rich blend of whole foods, including herbs like echinacea, mushrooms like shiitake, and vegetables, like carrot and cauliflower. According to the brand, all of these natural ingredients work together to give you a blend of 26 essential vitamins and minerals. Plus, the formula is free of the top 14 allergens and developed in a nut-free facility, too.
get it here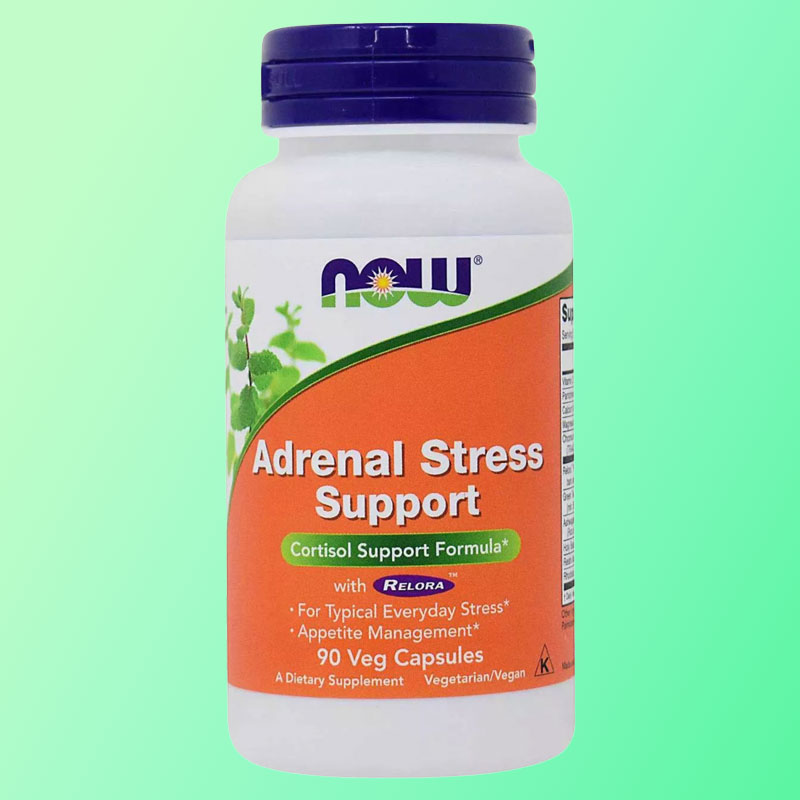 Now Foods
6 Now Foods Adrenal Stress Support
According to Now Foods, this unique vitamin was formulated to "support a healthy adrenal stress response." It contains a mix of synthetic and natural ingredients, including green tea extract, basil extract, and reishi mushroom powder.
get it here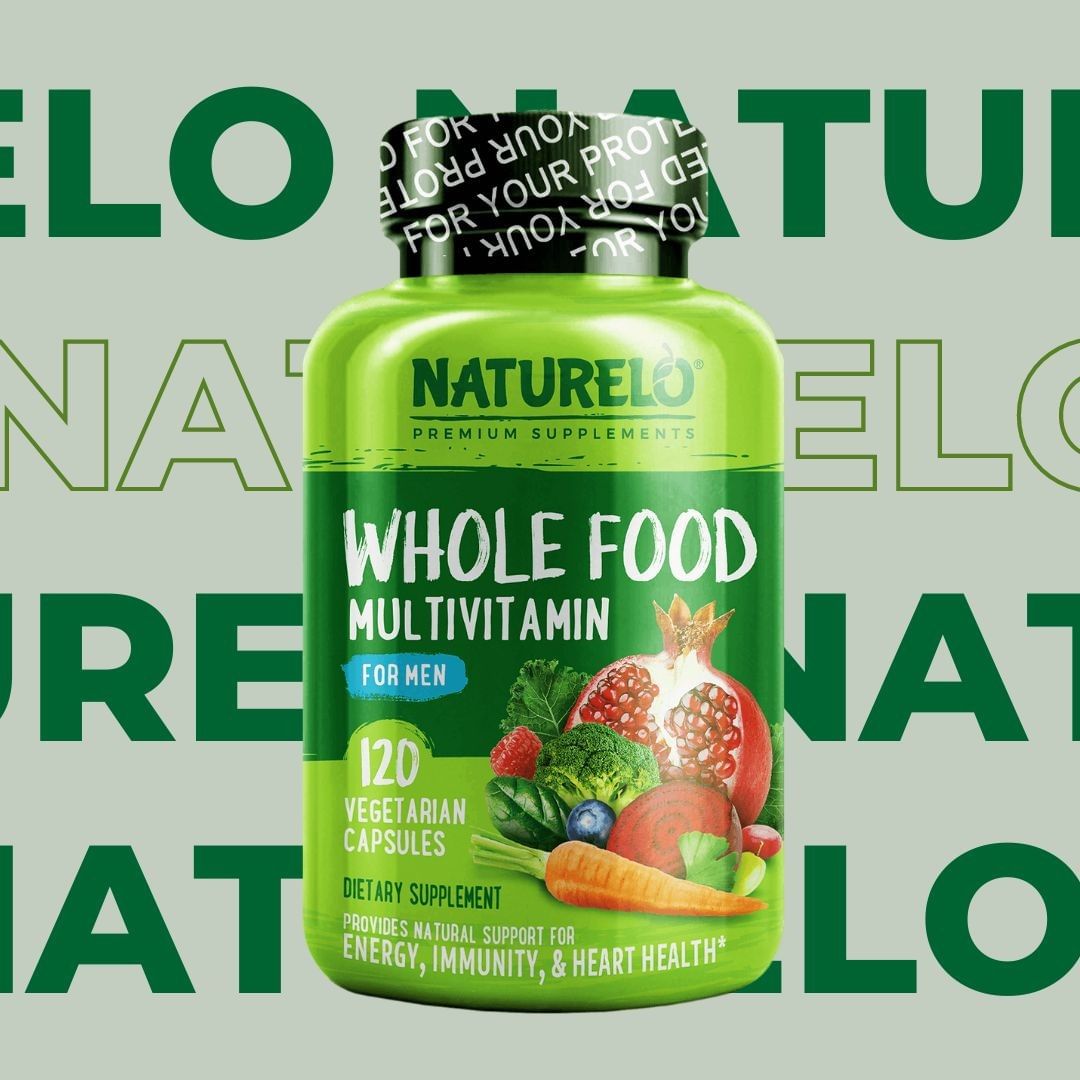 Naturelo/Instagram
7 Naturelo One Daily Multivitamin
All of Naturelo's vitamins contain whole-food ingredients, so there are plenty of options to choose from. But, designed to be taken by women, this One Daily Multivitamin, is a decent all-round option. It contains vitamin D3 from wild-harvested lichen, as well iodine from kelp, and vitamin E from sunflowers.
get it here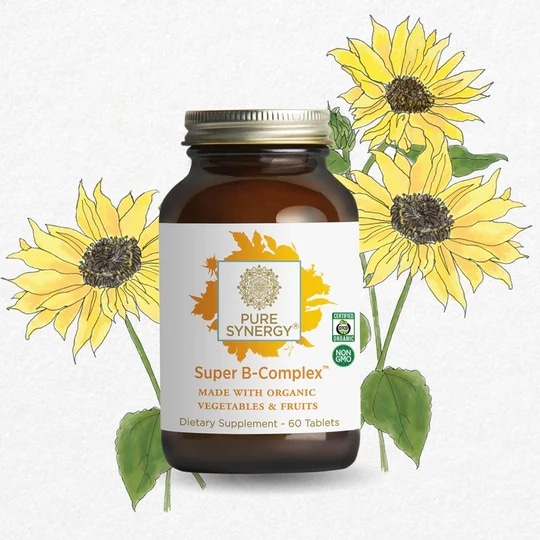 Pure Synergy
8 Pure Synergy Super B-Complex
Designed to be taken daily, this vitamin is a source of thiamin, riboflavin, niacin, biotin, folate, B6, and B12, notes Pure Synergy, a popular supplement brand based in Utah. Its organic ingredients list includes choline, barley grass, soy, and vitamin B5, which is made through a "special fermentation process using organic vegetables, fruits, and other natural food sources."
get it here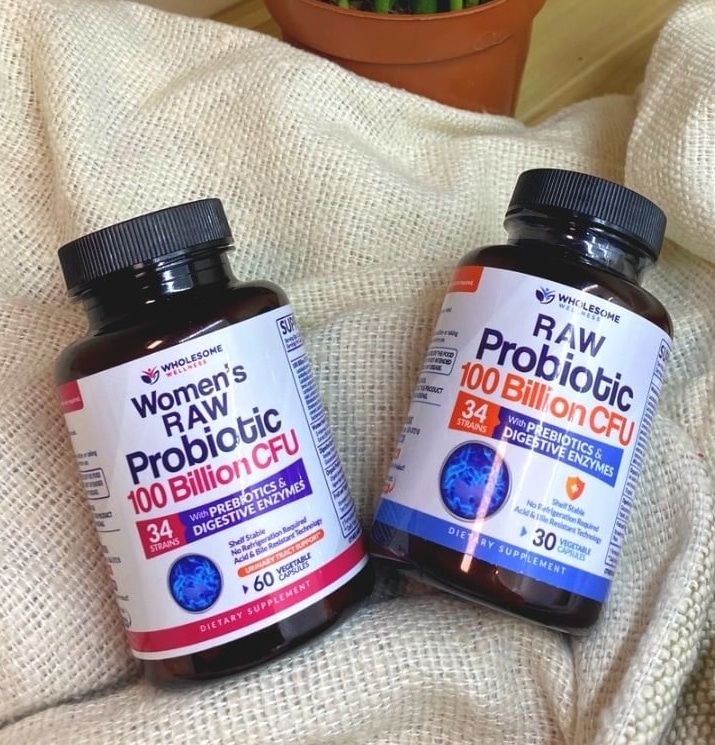 Wholesome Wellness/Instagram
9 Wholesome Wellness Raw Probiotic
Probiotics and prebiotics are an important part of maintaining good gut health (and you can read more about that here). There are many different vegan supplement choices on the market, but if you're looking for an option made with whole food ingredients, these capsules by Wholesome Wellness contain probiotic strains from organically grown produce.
get it here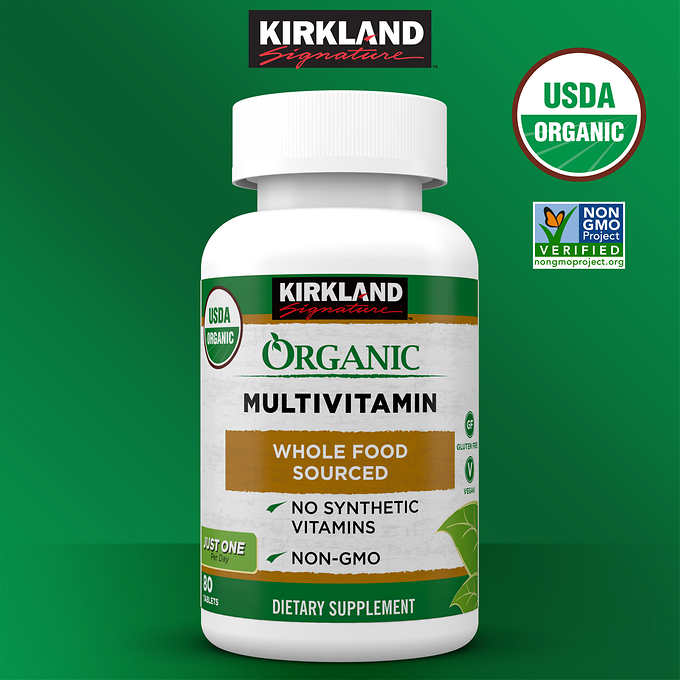 Kirkland Signature
10 Kirkland Signature Organic Multivitamin
Available at Costco, Kirkland Signature has a wide variety of supplements and vitamins. Not all of them are vegan (see: cod liver oil), but it does also offer a plant-based, organic multivitamin, which contains no synthetic ingredients. It's also gluten-free, non-GMO, and certified by the USDA.
get it here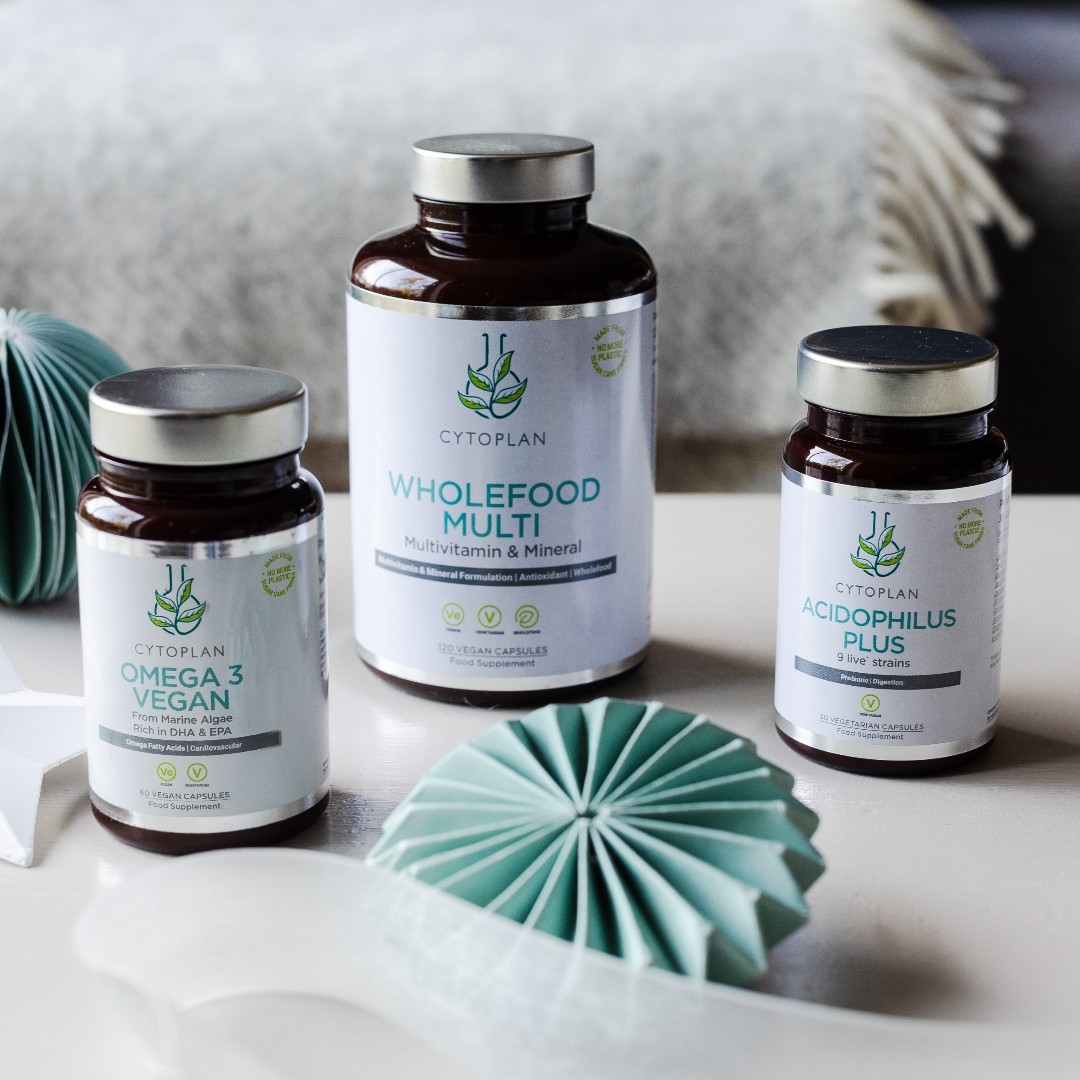 Cytoplan/Instagram
11 Cytoplan Wholefood Multi
British brand Cytoplan is on a mission to help minimize the "nutrition gap" in the UK, by providing top-quality, well-formulated supplements. Designed for men and postmenopausal women, its Wholefood Multi contains 120 vegan capsules that are fortified with vitamins and minerals from brassica oleracea (a plant species related to cabbage and broccoli), as well as carrot, artichoke leaf, beetroot, and more.
get it here
For more on vegan vitamins, read:
Here at VegNews, we live and breathe the vegan lifestyle, and only recommend products we feel make our lives amazing. Occasionally, articles may include shopping links where we might earn a small commission. In no way does this effect the editorial integrity of VegNews.