Whether you're a fair-weather jogger, you've just started Couch to 5K, or you're a dedicated all-seasons athlete, you might have noticed that running comes with a whole host of benefits. It's, of course, good for physical health, and it's also good for mental health, too, thanks to those trusty endorphins. Whatever your fitness level, if you've started to reap the benefits of running regularly, you might be thinking: what's the best way to fuel my body so I can keep this up?
Runners eat in various different ways, but many are starting to gravitate towards a vegetable-rich, plant-based way of eating. In fact, vegan diets are becoming more popular with athletes in general—to name a few, Serena Williams, Lewis Hamilton, Novak Djokovic, and Patrik Baboumian, are all outstanding in their field, and, you guessed it, plant-based.
Here's why plant-based diets can benefit anyone who wants to get fit and active, regardless of whether you're a Grand Slam winner or you just enjoy hitting the tarmac every morning before you start your day.
What's the best diet for runners?
Earlier this year, a study, published in the journal Nutrients, aimed to answer the question: does diet impact running performance? The research involved 245 runners, 45 of whom followed a vegetarian diet, and 91 of whom followed a vegan diet. Everyone else followed an omnivorous diet. The results showed that there were no significant differences between the groups.
"General diet type categories (omnivorous, vegetarian, vegan) appear to make no difference in the best time running performance of [half marathon] and [marathon] races among recreational athletes, even when considering various training behaviors and experience confounders," the authors wrote, before acknowledging that more research is needed into this area of study.
While the research doesn't favor one diet over another, it does, however, help to push back against the belief upheld by many that vegan diets make people weaker, and meat-based diets make people stronger.
Kelsey Costa, MS, RDN, a passionate runner and coach for a volunteer running group, is a keen advocate for plant-based nutrition when it comes to running.
"As an endurance sport, running can be demanding on the body, making proper nutrition essential for optimal performance and recovery," she told VegNews. "That's why plant-based diets are becoming a go-to among athletes, including runners."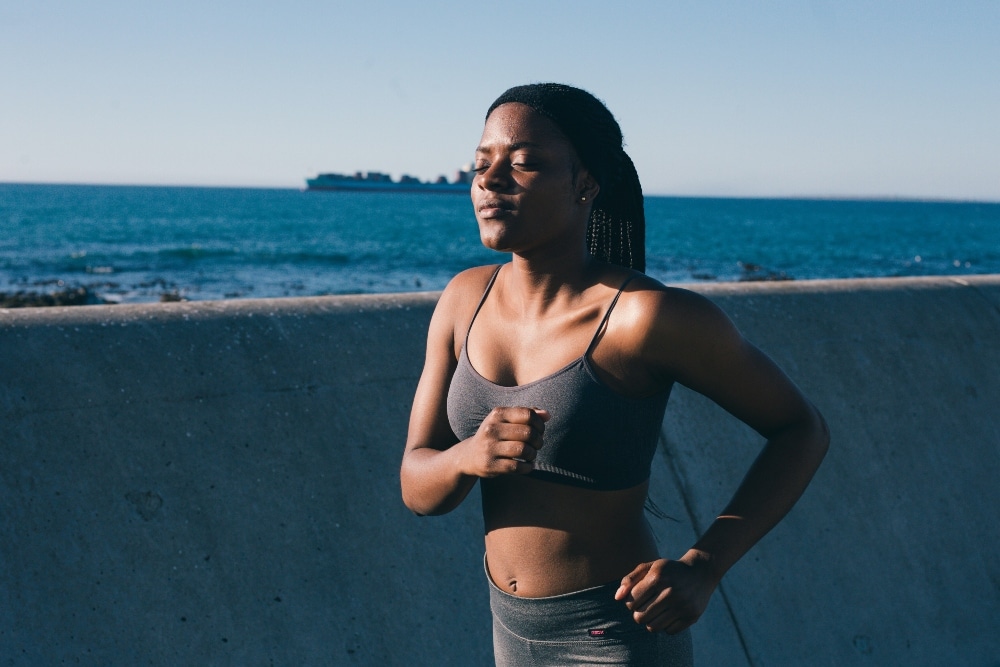 Pexels
Why are plant-based diets good for runners?
A growing body of research notes that vegan diets are associated with a healthy lifestyle, whether we run or not. Whole food, plant-based (WFPB) diets, in particular, may help to reduce the risk of chronic diseases and conditions, including certain types of cancer and heart disease.
This is because fruits, vegetables, grains, pulses, nuts, and seeds, which are eaten in abundance on a WFPB diet, are rich in vitamins, antioxidants, and minerals, as well as nutrients like fiber and protein, and healthy fats. This is also why they make good sense for runners, notes Costa.
"Plant-based diets are an excellent source of essential nutrients that support overall health and performance," she says, explaining that they help to reduce inflammation, improve blood flow, improve blood pressure, reduce oxidative stress, and "optimize body composition," among many other positive factors.
"Opting for a plant-based diet also allows athletes to consume an array of vitamins and minerals, such as folate, magnesium, and iron, essential for energy production and muscle recovery," explains Costa. "Plant-based athletes generally have healthy serum ferritin (iron) levels, which is vital for maintaining sufficient oxygenation of the muscles. This is crucial for optimal performance, particularly in endurance sports."
Like most people who follow a plant-based diet, she adds that vitamin B12 may need to be supplemented, but "all other nutrients can easily be obtained for a well-varied plant-based diet."
Can you get enough protein on a plant-based diet?
One of the biggest myths that surround a plant-based diet is that it's difficult to get enough protein, but as Costa explains, "a balanced plant-based diet meets all nutrient requirements for athletes, including adequate protein intake and all essential amino acids, which is a primary concern for many."

Plant-based sources of protein include tofu, beans, lentils, seitan, tempeh, nuts (and nut butters), seeds, spinach, and many more examples.
But if you're still concerned about whether you're getting enough protein after your run, you can always opt for protein powder. While a number of options on the market include animal products, like whey, the vegan protein powder market is growing. In fact, according to Grand View Research, the global plant-based protein supplement market is worth more than $2.5 billion. To get you started, here, we've gathered a few of the top vegan options.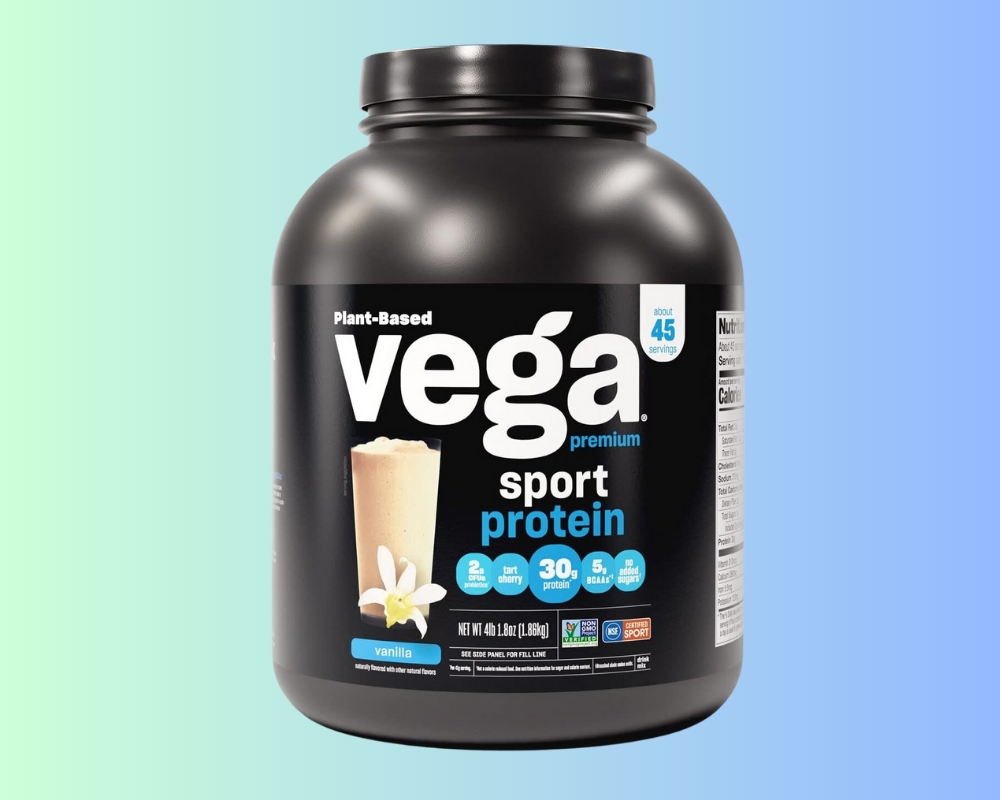 1 Vega Sport Premium Vegan Protein
Available in five tasty flavors, including Chocolate, Vanilla, and Peanut Butter, Vega's premium vegan powder contains around 30 grams of plant-based protein. It's also a source of probiotics, plus it's gluten-free, too.
Get it here
Naked Nutrition
2 Naked Nutrition Naked Shake
Naked Nutrition's Naked Shakes, which are made with premium pea protein, come in several different delicious flavors, including Strawberry Banana, PB Blueberry, and Chocolate Coconut Almond. Packed with 20 grams of protein, they're also gluten-free, GMO-free, and soy-free.
Get it here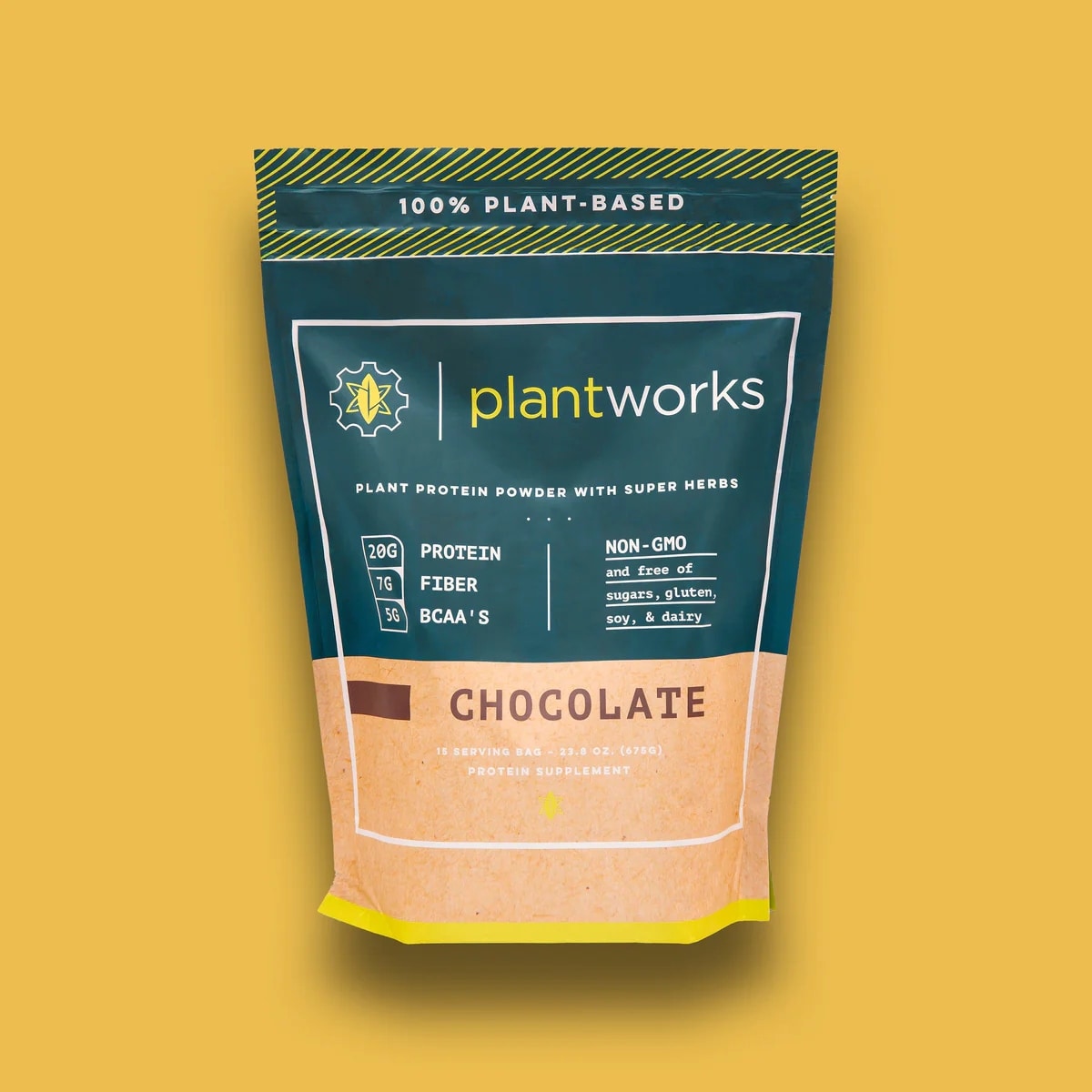 Plant Works
3 Plant Works Plant Protein Powder
Plant Works' protein powder packs in seven grams of fiber, as well as 20 grams of protein and adaptogens, like ashwagandha and camu camu. It's made with a proprietary blend of four different types of plant-based protein (pea, rice, pumpkin, and mushroom), and comes in two flavors: chocolate and vanilla.
Get it here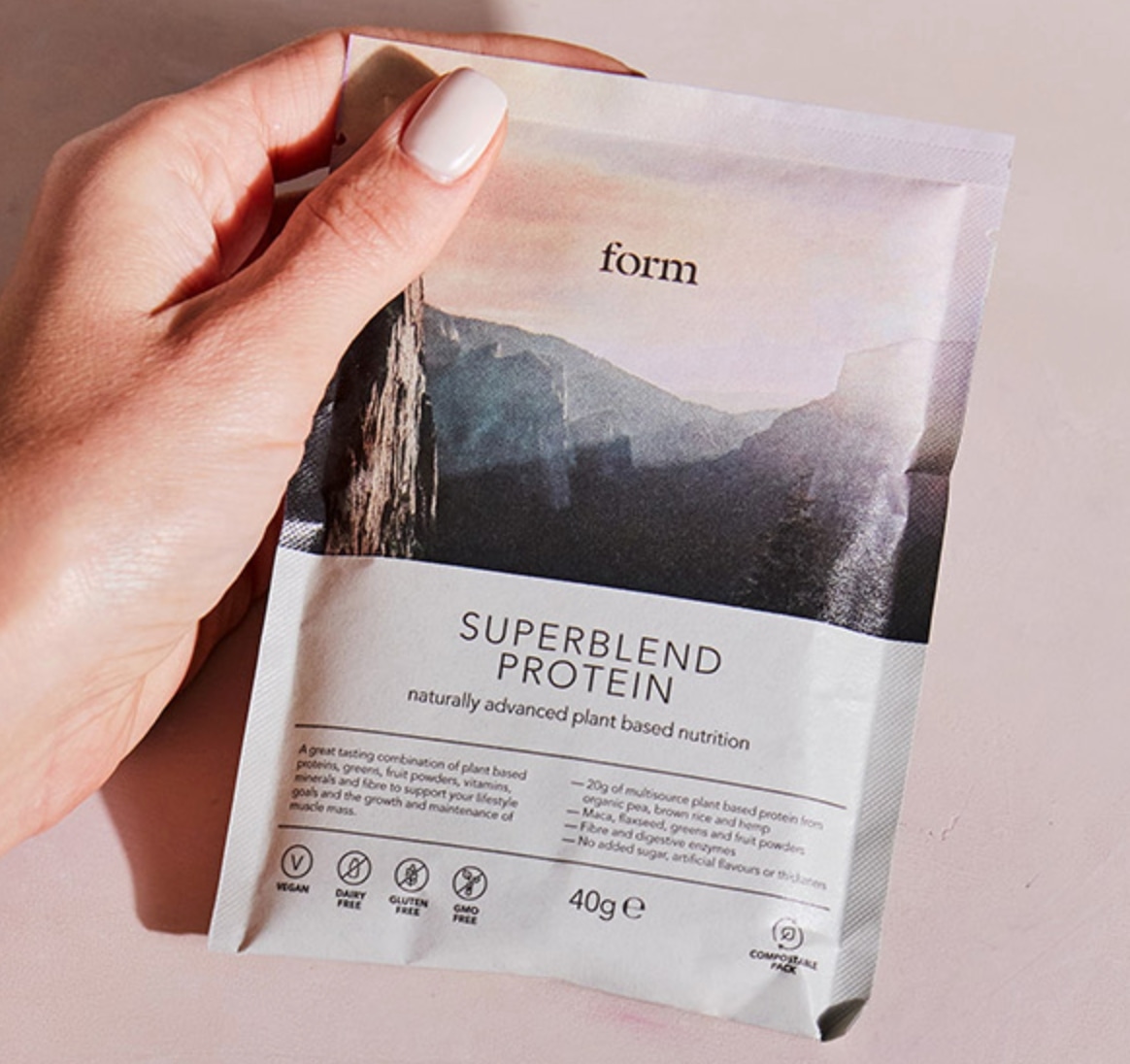 Form
4 Form Superblend Protein
Pack in your greens and your protein by choosing Form's Superblend Protein option, which again, boasts 20 grams of protein. But don't worry, it doesn't actually taste green. Delicious flavor options include Chocolate Peanut, Toffee, and Chocolate Salted Caramel.
Get it here
MyVegan
5 Myprotein Pea Protein Isolate
This soy-free, zero-sugar protein powder is packed with 23 grams of protein per serving, all of which is taken from one source: pea. It comes in multiple tasty flavors for your morning (or afternoon) smoothie, including Salted Caramel, Coffee & Walnut, and Strawberry.
Get it here
For more on vegan nutrition, read:
Here at VegNews, we live and breathe the vegan lifestyle, and only recommend products we feel make our lives amazing. Occasionally, articles may include shopping links where we might earn a small commission. In no way does this effect the editorial integrity of VegNews.