Vegan fried chicken company Atlas Monroe recently partnered with vegan chain Copper Branch to offer a Nashville Vegan Fried Chicken Sandwich at its more than 40 locations across Canada and the United States. The sandwich—which features spiced and breaded Atlas Monroe vegan fried chicken, garlic aioli, lettuce, sriracha slaw, and pickles—was previously a limited time offer that consistently sold out across North America. Because of its popularity, the sandwich is now a permanent menu item in Copper Branch US locations, soon to be extended in Canada.
"This is happy news because vegans can get a gourmet extra crispy Nashville-style, Atlas Monroe fried chick'n sandwich and not have to worry about cross contamination or it being fried in non-vegan oil if that is something they are concerned about (and many are)," Atlas Monroe founder Deborah Torres told VegNews. "This is also especially newsworthy in the vegan community because we are the first Black and woman-owned company to be carried at an international all-vegan chain and we couldn't be prouder of how far we have come."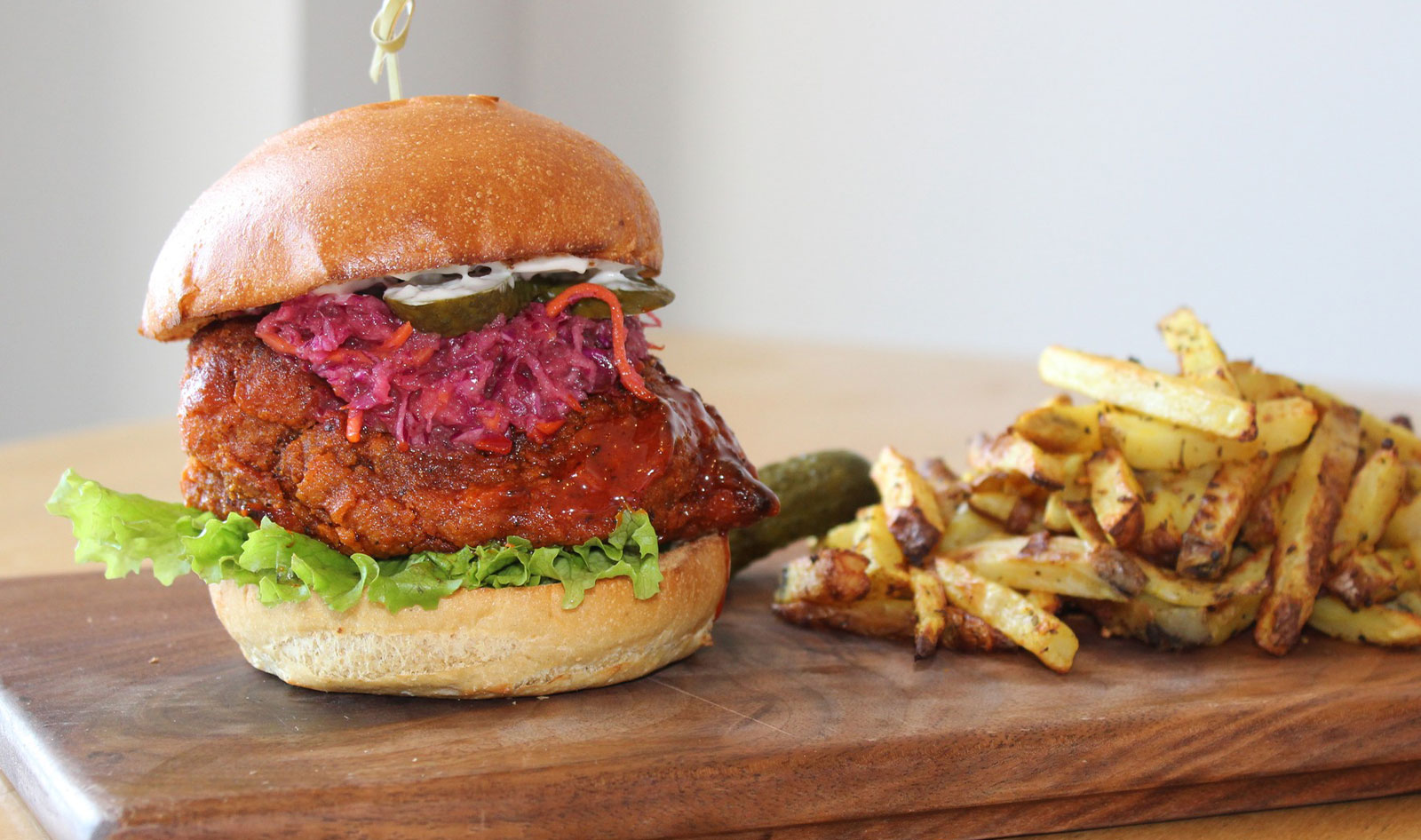 Copper Branch
The collaboration between Atlas Monroe and Copper Branch happened after Torres entered the Plant Powered Glow Up contest, a first-of-its-kind initiative through Vegan Women Summit, which invited women business founders to pitch their plant-based products. The goal was to help women innovators take their business to the next level by offering the winner a food-service contract with Copper Branch. Among hundreds of entries, Atlas Monroe was chosen for the partnership.
"When we launched our search to find the next great plant-based product with Copper Branch, it was important to us to not only find an incredible product, but to find an incredible founder, too. When Deborah applied with Atlas Monroe, we knew we had found the perfect match," Jennifer Stojkovic, founder of Vegan Women Summit, told VegNews. "Deborah's story of bootstrapping her company and her drive to succeed is exactly the type of brand we focus on empowering at Vegan Women Summit … We're thrilled—and not surprised—to see the launch selling out across North America and have much more planned with both Copper Branch and the Atlas Monroe team."
Vegan fried chicken named best dish
Torres launched Atlas Monroe in 2017 to help improve the health of her father after he was diagnosed with Type 2 diabetes—and in turn create healthier vegan meat products for everyone. Although Copper Branch is the company's biggest partnership yet, it adds to the growing list of restaurants that now feature Atlas Monroe products, including Pure Soul and Magpie's in Sacramento, CA; Loving Hut in San Diego, CA; and Rootz Soul Cafe in North Lauderdale, FL. Atlas Monroe has also gained an international following, including celebrity fans such as Jermain Dupri, Tabitha Brown, and Jay Versace.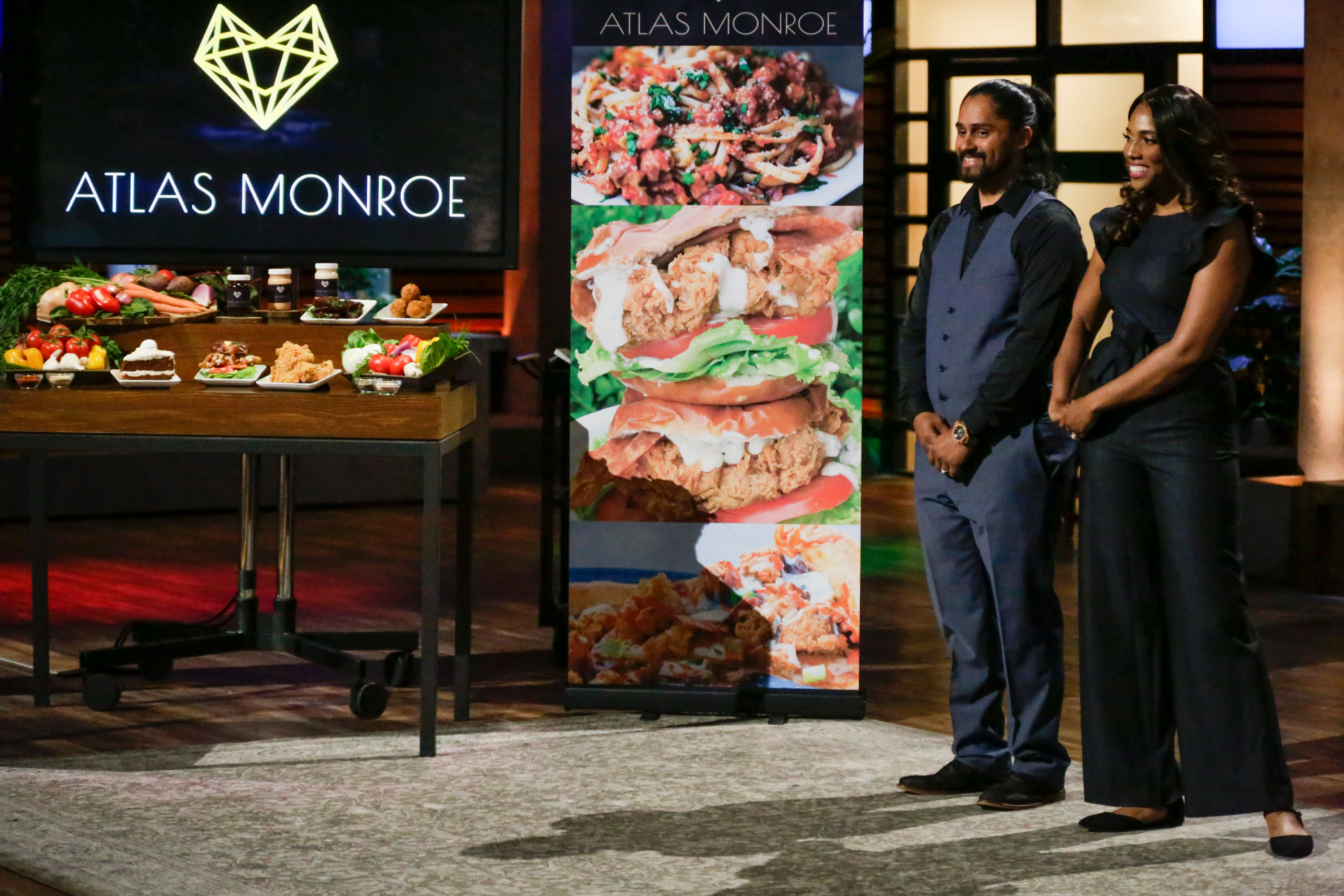 Shark Tank
In 2018, the company became the first and only vegan vendor at the National Fried Chicken Festival in New Orleans, LA, where Extra Crispy editor-in-chief Ryan Grim declared the company's wheat-based Cajun Fried Chicken and Waffles the best dish he had at the festival.
The following year, Torres pitched her company on reality investment series Shark Tank and investors Mark Cuban and Rohan Oza offered her a $1 million deal in exchange for 100 percent of the company. Torres ultimately decided that giving up the brand was not worth $1 million, an amount she believed the company would be able to generate on its own. "The fact you guys are even offering a million dollars lets me know you do understand what we are worth," Torres said on the show.
Atlas Monroe after Shark Tank
Torres' determination paid off, with the brand now owning a multimillion-dollar manufacturing facility in San Diego, CA, and shipping out more than 20,000 pieces of vegan fried chicken each week. Atlas Monroe also produces 32 other products, including vegan apple wood-fired ribs, deep-fried and stuffed turkey, and Philly Cheesesteak beef.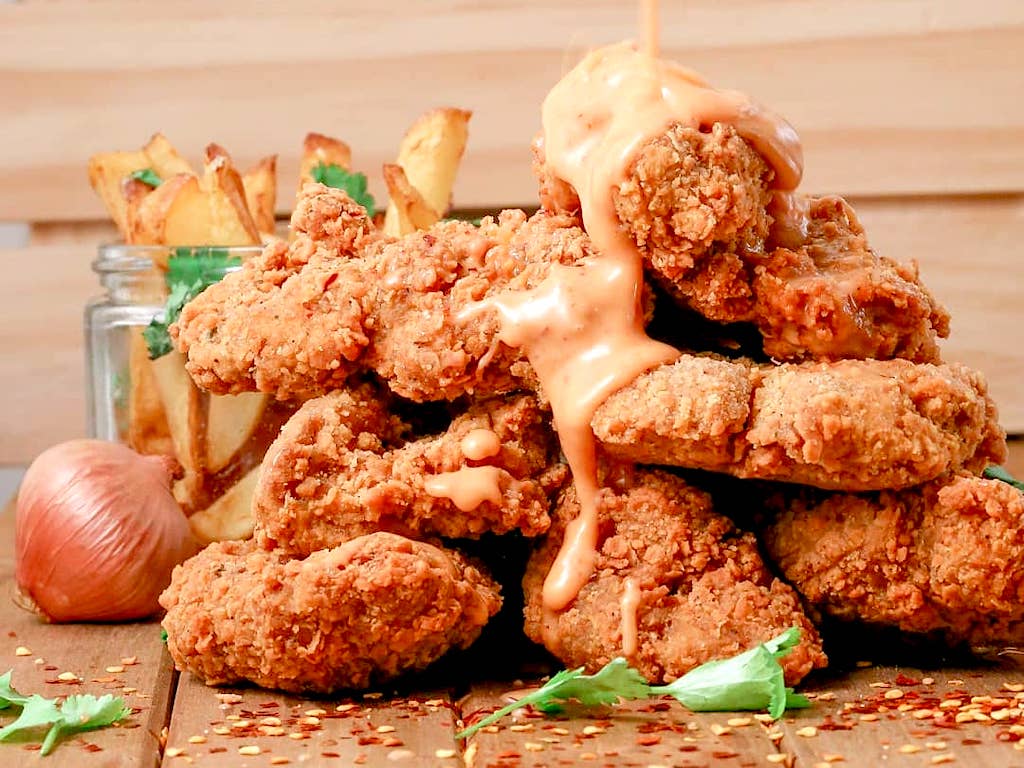 Atlas Monroe
And, after much research and development, the brand released three game-changing new chicken items dubbed Altas Monroe 2.0: all "white meat" extra crispy fried chicken breast, strips, and grilled chicken. "This new chick'n has a firm breast-like texture and is moist and bursting with flavor while still winning on providing an unparalleled extra crispy coating that we are renowned for," Torres said.
Going forward, Torres tells VegNews that Atlas Monroe will soon be carried in two major grocery chains and, because she has received so many requests to open restaurants across the country, Torres plans to open a flagship location in a major city in the near future.
For more about vegan fried chicken, read:
22 Vegan Fried Chicken Sandwiches That Are Better Than Chick-fil-A
Veganuary Founder Launches Vegan Fried Chicken Brand
A Vegan Fried Chicken Shop Just Opened in Toronto