New vegan fried chicken shop Blissful Bird recently opened in Toronto. The restaurant—formerly known as takeout spot Lovebird—currently operates out of a ghost kitchen inside board-game café Snakes & Lattes offering delivery through apps such as Uber Eats, DoorDash, and Ritual. Blissful Bird's vegan fried chicken is made from tofu, pea protein, gluten-free flour, and herbs and spices, and is served with slaw, French fries, and dipping sauces. The eatery also offers The Clucket Basket with French fries and dipping sauces, as well as fried chicken stuffed into sandwiches such as Chickun Parm, The Phoenix, What the Cluck, and served atop bowls such as the Chickun Masala Bowl (fried chicken with brown rice, spinach, bell peppers, chickpeas, and lightly spiced masala sauce); Chickun Coconut Curry Bowl (fried chicken with brown rice, spinach, carrots, butternut squash, pineapple, and a sweet coconut curry sauce); and Creamy Tahini Bowl (fried chicken with brown rice, grain-free tabouli, pickled turnip, hummus, cucumber, and creamy tahini sauce).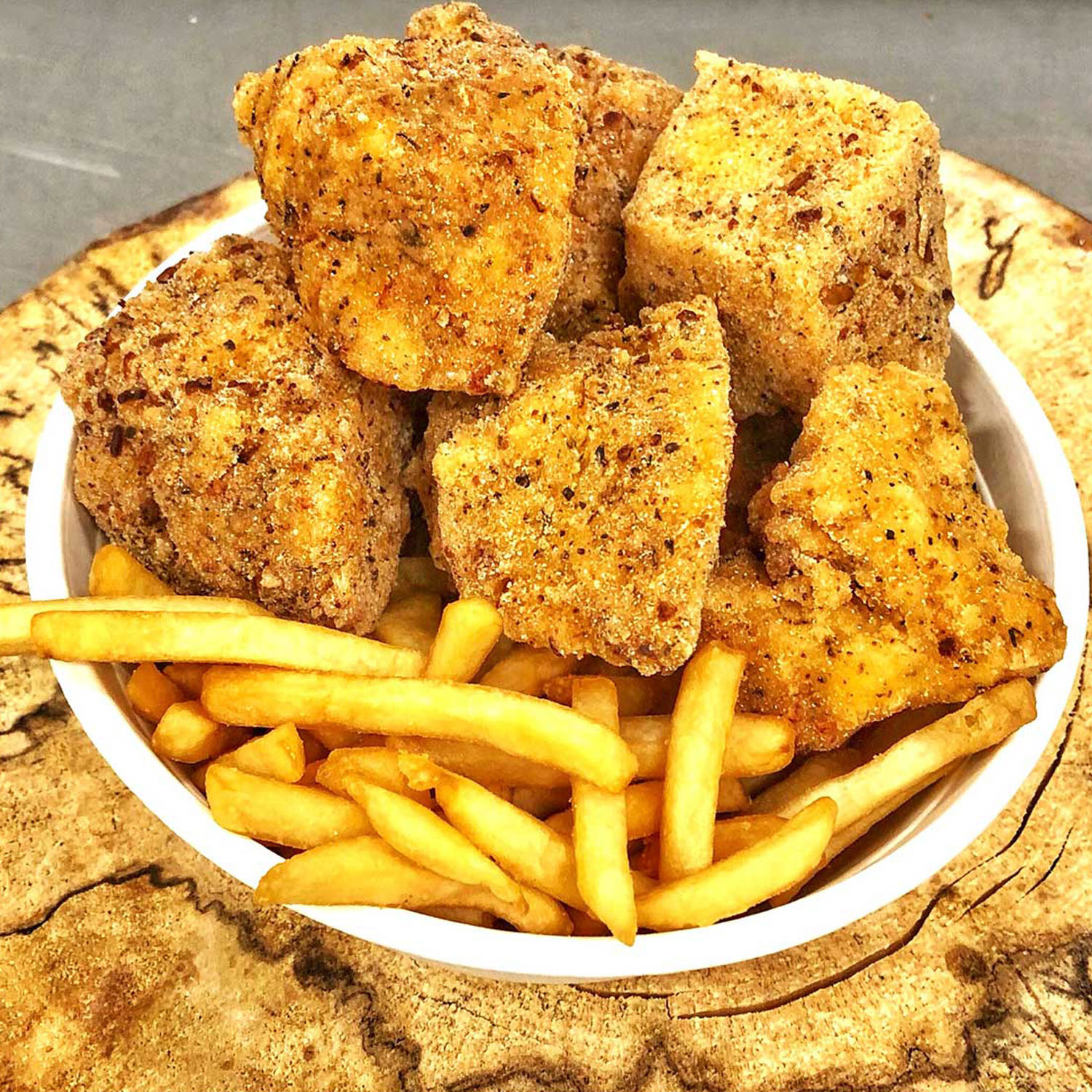 The concept was created by Blissful Bird co-owner Jeff (who prefers to only use his first name), who didn't want to miss out on classic comfort foods after going vegan. Growing up in a Pakistani-Muslim home, he often ate chicken burgers, fried chicken, and his mother's chicken curry. "I made the decision to go vegan for ethical and health reasons," Jeff told VegNews. "I also did not want to miss out on eating the classic comfort foods I ate growing up, and one of my favorites was fried chicken. I wanted to make a plant-based version of fried chicken that replicated the real thing in taste and texture. It also needed to be gluten-friendly and halal, so my family members could eat it as well."
Blissful Bird currently offers takeout while it builds its brand and is looking for a permanent location in the near future.
Vegan fried chicken is trending
While vegan burgers were previously all the rage, vegan fried chicken has been trending in recent years as more restaurants work to create the best vegan version of the classic comfort food. California-based vegan fried chicken company Atlas Monroe recently acquired its own multi-million-dollar manufacturing plant at a two-story, 10,000-square-foot warehouse in San Diego to manufacture its own products and is projected to sell one million pounds of vegan fried chicken this year. In 2019, the company appeared on reality investment show Shark Tank and was offered $1 million for 100 percent of the company, but owner Deborah Torres turned down the offer, confident that her company could soon generate the same amount on its own.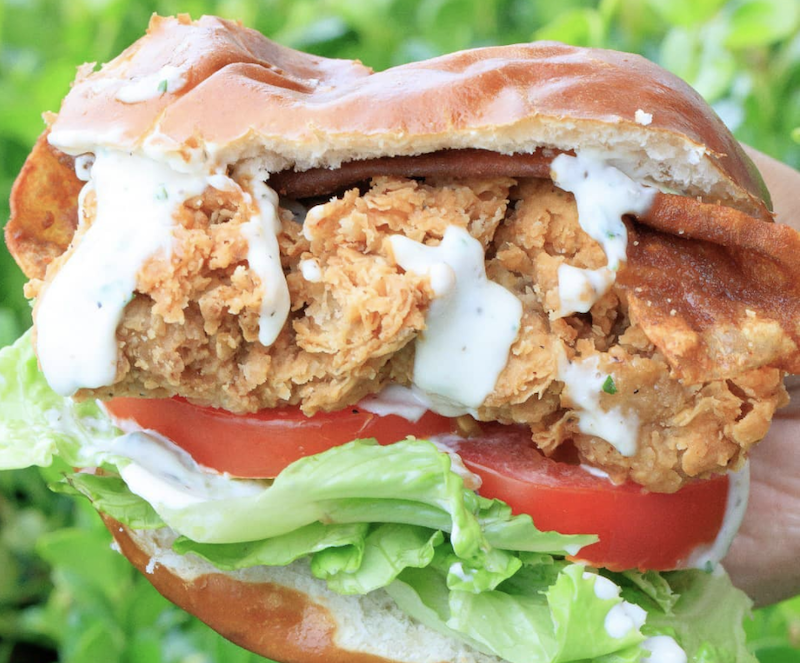 Earlier this year, Kansas-born vegan entrepreneur Lucas Bradbury started a mission to replace traditional chicken chains with Project Pollo, a rapidly expanding, mission-driven vegan fried chicken chain that offers vegan versions of classics such as sandwiches, strips, and wraps, along with sides, including mac and cheese and loaded papas. Project Pollo is on track to open a total of 12 locations over the course of 12 months with rapid expansion plans into the Dallas and Houston areas planned for 2022.
And in Minneapolis, The Herbivorous Butcher, America's first vegan butcher shop, is opening the state's first vegan fried chicken shop, Herbie Butcher's Fried Chicken, later this month. The shop will offer its seitan-based vegan fried chicken in buckets with housemade sauce or as part of a biscuit sandwich. The shop will also offer sides such as mac, cheese and tater tots, and milkshakes.