Gisele Bündchen is a big fan of lion's mane. The Brazilian supermodel recently posted on Instagram that she has been taking the mushroom "for a while" and it has helped with her focus and energy levels.
View this post on Instagram
Bündchen is far from alone; lion's mane is one of many mushrooms that are having a moment among consumers right now, hailed for its abundance of potential health benefits. The mushroom market, in general, is currently worth more than $50 billion and is expected to reach more than $126 billion by 2030. The growth, in part, is driven by growing interest in their natural health benefits. But what is lion's mane, specifically? And can it really make a difference to your focus and energy?
What is lion's mane mushroom?
Lion's mane is actually a tooth fungus, known for its tooth-like dangling spines. They are large and white, and their spines grow together in a way that looks like a mane (hence the name, lion's mane). The fungi are usually found growing on hardwood trees, like beech, maple, birch, and walnut, and are common across North America. But while it may grow in abundance across the region, Westerners have only recently caught on to lion's mane and its potential benefits. The mushrooms have long been used in Traditional Chinese Medicine (TCM). In fact, some reports state that it has been used by Buddhist monks across China for more than 2,000 years in order to deepen meditation.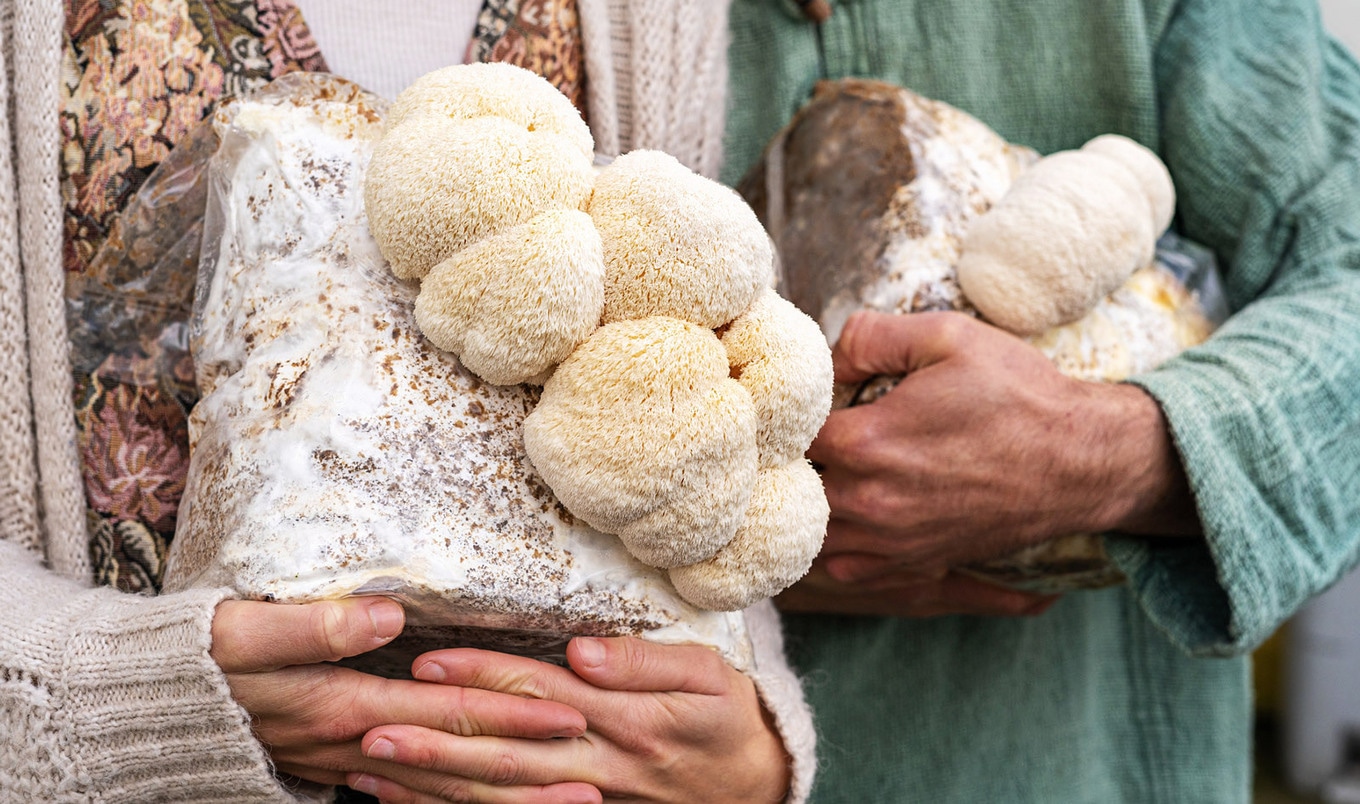 Adobe Stock
What are the benefits of lion's mane mushrooms?
Research suggests that many of lion's mane medicinal benefits may lie in two special compounds: hericenones and erinacines. According to Healthline, these compounds help to stimulate the growth of brain cells, and because of that, some research suggests lion's mane could even help to protect against dementia.
Because of the way this mushroom stimulates the growth and repair of nerve cells, there is also research to suggest it may help speed up recovery from injuries to the brain, spinal cord, and other nerves. That said, further research is needed, and no human studies have been carried out.
Research also suggests that lion's mane may help to protect against stomach ulcers, relieve anxiety and depression, and even reduce the severity of symptoms for people who suffer from inflammatory bowel diseases. Lion's mane could also reduce the risk of heart disease, and potentially slow the spread of cancer cells.
On top of all of this, they're also a good source of essential vitamins and minerals, including potassium, zinc, manganese, and B vitamins.
However, it's important to note that, while promising, research is still ongoing into lion's mane's benefits.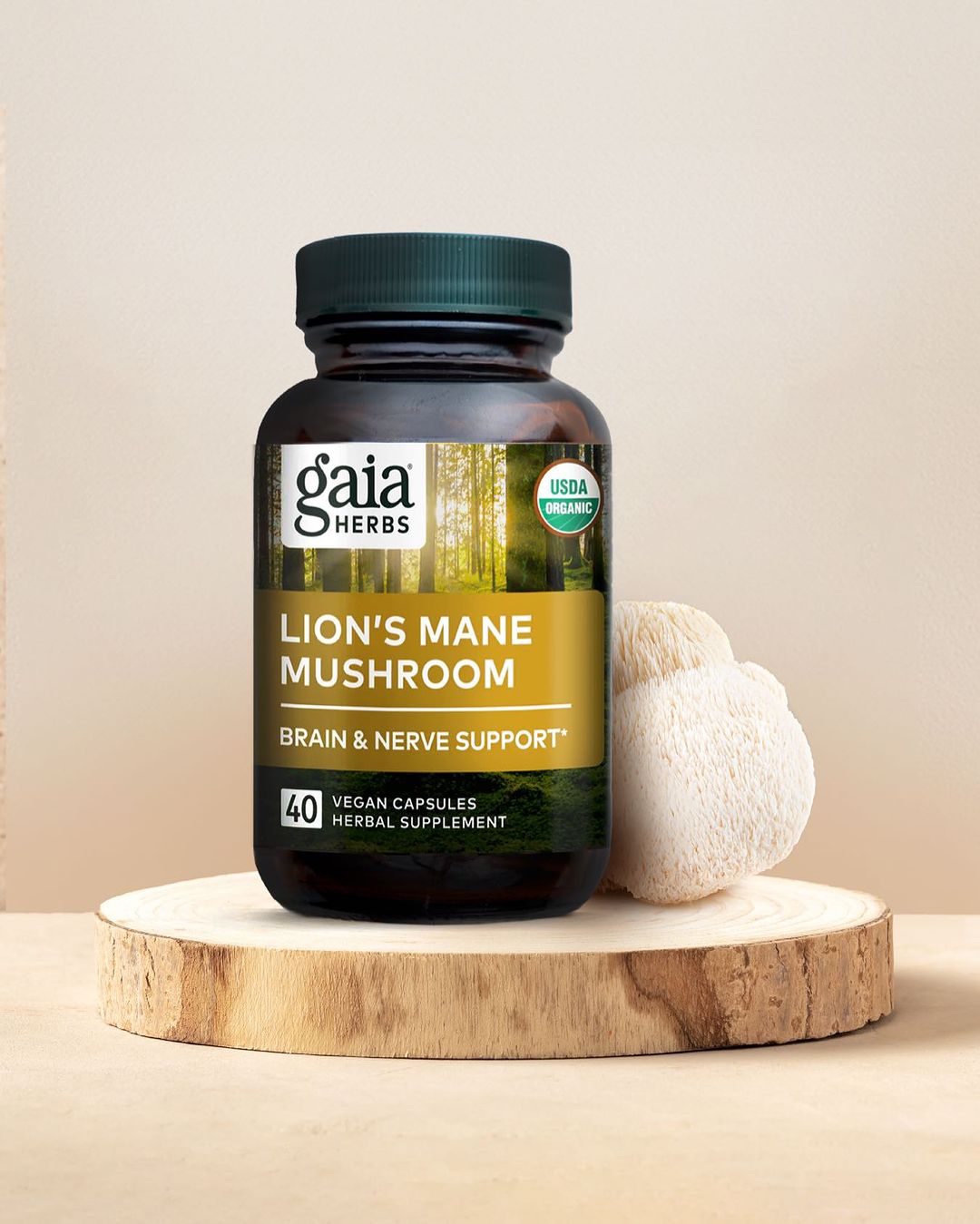 Gaia Herbs
Where to buy Bündchen's lion's mane mushroom
It is possible to cook lion's mane mushrooms yourself—just be careful if you're going to forage and always go with professional guidance. You can enjoy them in many recipes where you would use mushrooms, but they work particularly well in place of steak, lobster, or crab, thanks to their meaty texture.
But another way to reap the potential benefits of this mushroom is with supplements. Bündchen has teamed up with herbal supplement brand Gaia Herbs, which is based in North Carolina, to promote the benefits of lion's mane supplements.
The supermodel said she was drawn to the brand after learning about the "power of plants" from her grandmother. "[She] had a tea for everything," the supermodel said in a statement. "After over 20 years of connecting plants and wellness, I'm proud to partner with Gaia Herbs." Bündchen—who split from athlete Tom Brady last year—isn't fully vegan, but in the past, she has spoken out about how her diet consists of predominantly plant-based and organic foods.
Most of Gaia Herbs' supplements are vegan, including the lion's mane capsules. The mushroom supplements are also soy-free and certified organic, and each 450-milligram capsule is equivalent to 2.5 grams of dry mushrooms (that means you only need to take one per day).
"Gisele is open about how she feels healthier and more vibrant at this stage of her life than she has ever before, and she has been a long-time user of Gaia Herbs products," Gaia Herbs' CEO Jim Geikie said, speaking of Bündchen's partnership with the brand, through which she will promote many of its supplements, not just lion's mane.
"Gisele has a passion for helping others on similar journeys," he added. "We are delighted that she wanted to create a long-term partnership with Gaia Herbs to enable that."
For more on vegan health, read:
Here at VegNews, we live and breathe the vegan lifestyle, and only recommend products we feel make our lives amazing. Occasionally, articles may include shopping links where we might earn a small commission. In no way does this effect the editorial integrity of VegNews.