Hemp has had a tumultuous journey with humans over the years. It's been loved, it's been prohibited, and now, it's loved again. At least, that's what the statistics suggest. In 2021, the hemp market was valued at more than $4.2 billion, and by 2030, it's expected to surge to over $16 billion. The plant, which is the same species as marijuana, but is non-psychoactive, is used in a number of industries. You can find it in the wellness market, in textiles, in paper, in construction, and, of course, in the protein powder world. So, while hemp is undeniably a multi-talented crop, here, we're taking a closer look at the benefits of the latter: hemp protein. Plus, we've gathered seven of the best vegan powders to try.
What is hemp protein?
Hemp protein—which has a nutty, grassy taste—is a popular supplement, particularly for gym lovers, competitive athletes, those looking to gain weight, or anyone concerned about their protein intake. It's usually derived from the seeds of the hemp plant. These are ground down into a fine powder, which can then be easily added to shakes or smoothies.
"I like hemp protein powder because in terms of protein powder, first of all, it's plant-based and vegan," Perri Halperin, MS, RD, told Men's Health. "And then also because, compared to the animal-based protein powder, it's less processed, as it doesn't need to be isolated or extracted from the whole food."
As highlighted above, hemp is the same species as the marijuana plant, but because of its low Tetrahydrocannabinol (THC) content, it won't get you high.
What are the benefits of hemp protein?
Hemp protein is packed with benefits. For one, it's a complete protein, which means it contains all of the nine essential amino acids. It also has a high fiber content, which is linked with good gut health, and it contains healthy, unsaturated fats, too, like omega-6 and omega-3 fatty acids. In fact, according to Healthline, one 30-gram serving of hemp protein contains around three grams of fat, "most of which is unsaturated and excellent for heart health."

Hemp protein also contains minerals, like iron, calcium, phosphorus, magnesium, and lignanamides, which are plant compounds with antioxidant properties.
Hemp protein is generally considered a healthy dietary addition, but that said, its high fiber content may cause some digestive issues in some people. If you're concerned about how hemp may affect you, consult with your healthcare provider before adding any supplements to your diet.

7 hemp protein powders to try
If you'd like to experiment with hemp protein powder, there are plenty of brands on the market to choose from. Here, we've gathered a few of the best.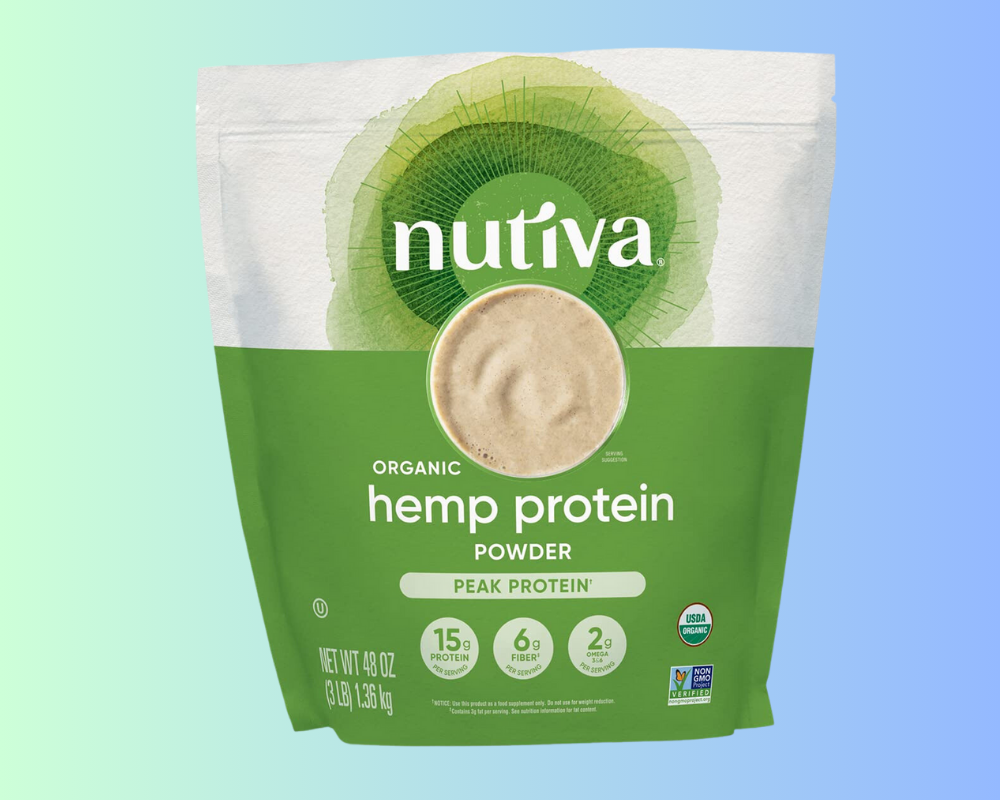 Nutiva
1 Nutiva
Nutiva was founded back in the late '90s, and since then, it has been committed to offering sustainably sourced, plant-forward products. Its range is extensive, with options like plant-based ghee and vegan nut spreads, but hemp has always been one of the brand's key focuses. As well as hemp seeds and hemp seed oil, the brand offers cold-pressed organic hemp protein powder, which packs in 15 grams of protein per serving.
Get it here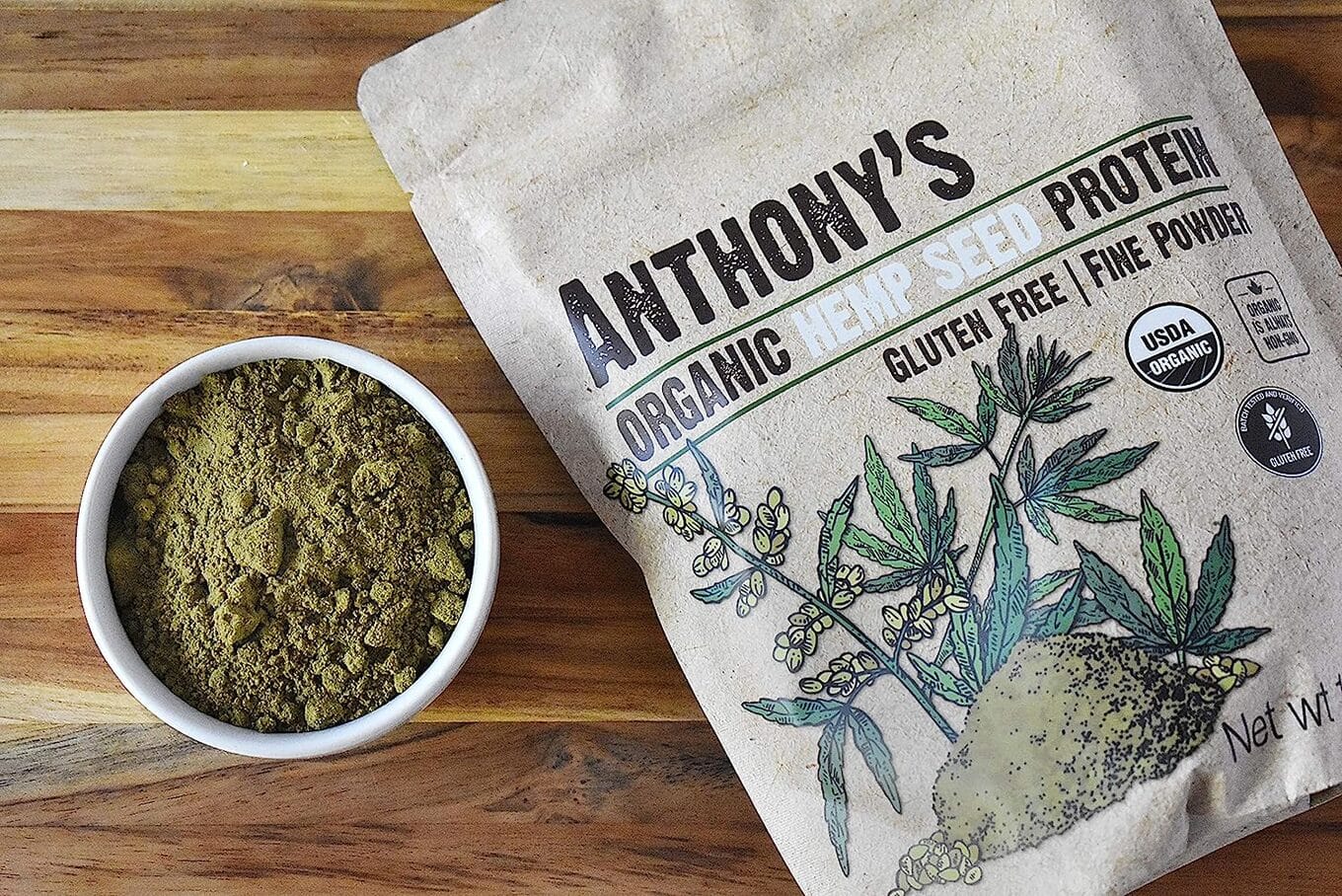 Anthony's Goods
2 Anthony's Goods
Anthony's Goods is all about offering people natural, organic, nutritious foods at reasonable prices. The California-based employee-owned company offers everything from gluten-free pantry staples to vegan supplements, which include, of course, hemp protein.
Get it here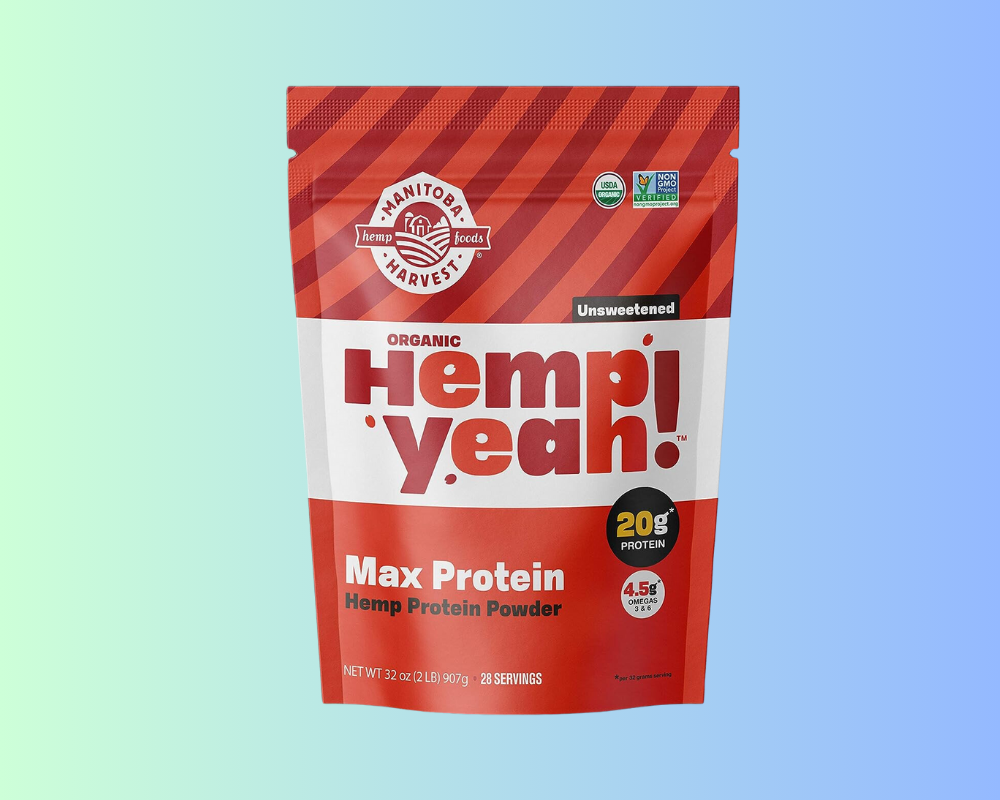 3 Manitoba Harvest
Manitoba Harvest is committed to one ingredient and one ingredient only: hemp seeds. The certified B-Corp's Hemp Yeah! range offers everything from dark chocolate granola to maple walnut bars, to organic protein powder. The latter offers around 20 grams of protein per serving, as well as 4.5 grams of omega-3 and omega-6.
Get it here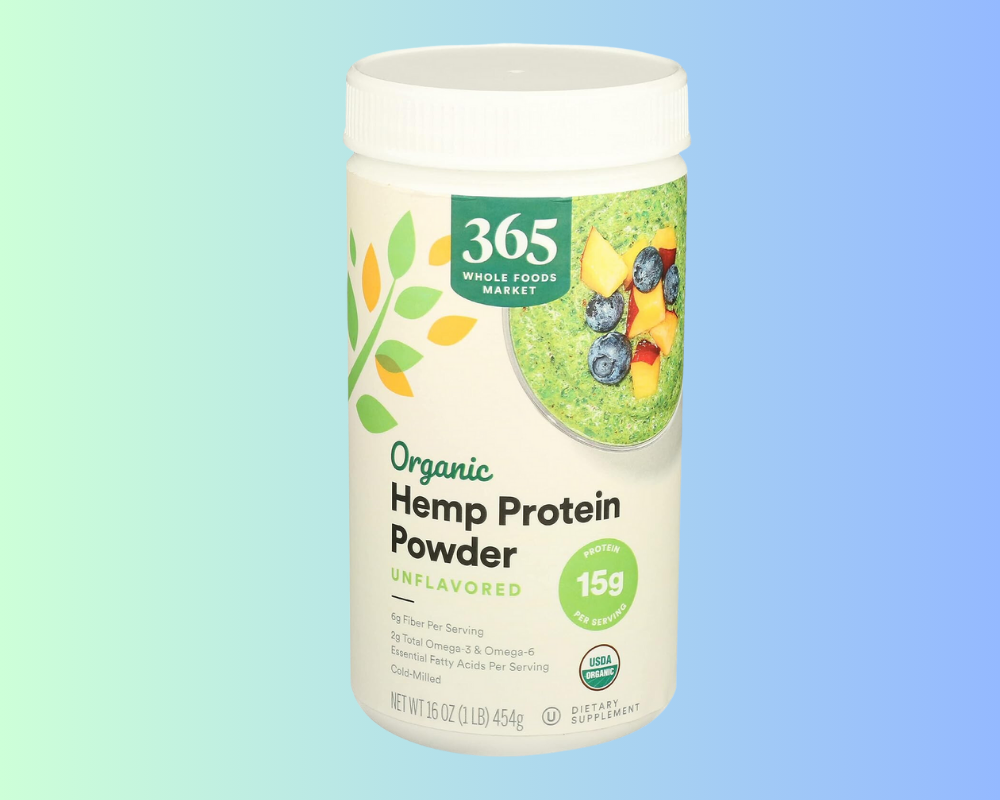 4 365 by Whole Foods Market
Whole Foods Market's 365 range boasts a number of vegan-friendly products, including Organic Hemp Protein Powder. The latter is unflavored (which means you can pretty much put it in any smoothie or shake without worrying about the taste!), and it provides around 8 grams of fiber serving and 15 grams of protein.
Get it here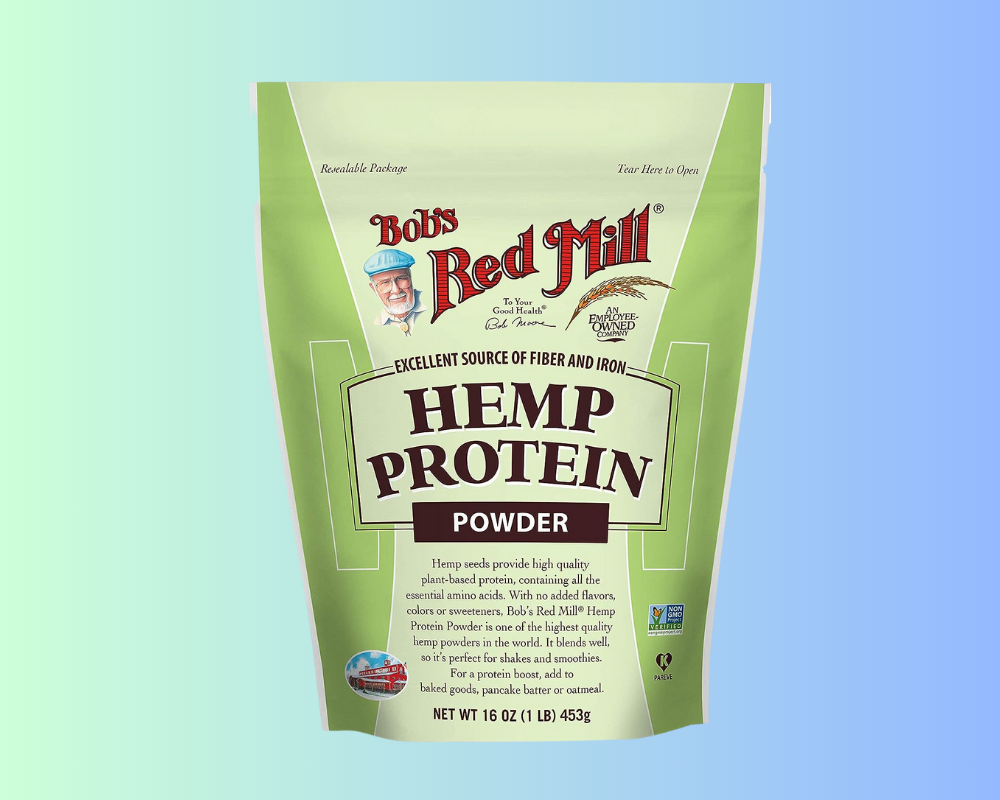 5 Bob's Red Mill
Founded in the '70s, Oregon-based Bob's Red Mill is a trusted brand in the whole foods space. It started out at a mill in Milwaukee, offering simple, whole-grain products. But now, the employee-owned company's portfolio includes everything from oats to baking mixes to protein powders. Its resealable hemp protein powder can be added to shakes and smoothies like all the others on this list, but it also recommends adding it to pancakes or baked goods for an extra protein boost.
Get it here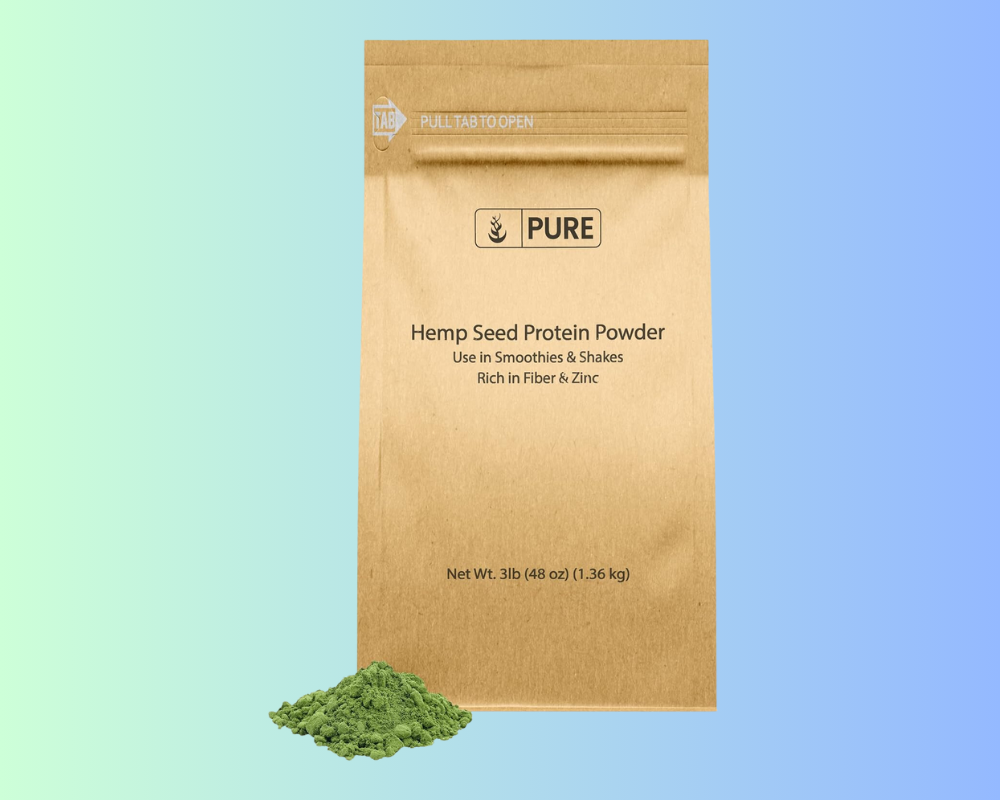 6 Pure
Pure likes to keep its supplements simple and straightforward with minimal ingredients, and its hemp powder is no exception. With no added extras to be found in the mix, its hemp protein powder gives you exactly what you're looking for with no fuss. Plus, it's rich in fiber and zinc, and as a bonus, has a mild nutty flavor.
Get it here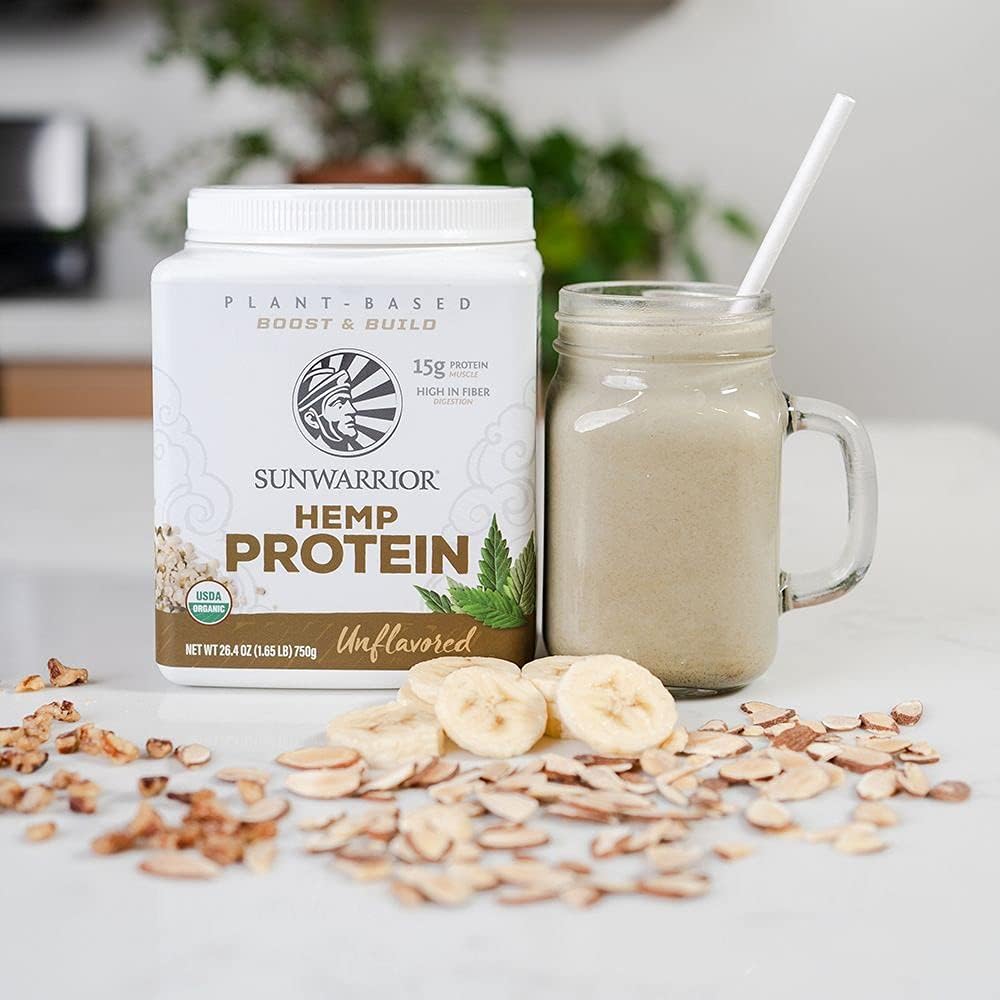 Sunwarrior
7 Sunwarrior
Utah-based supplement brand Sunwarrior hemp protein is a little different to the others on this list, because it also contains a combination of MCTs and coconut in the mix,. This means it tastes good, packs in 15 to 19 grams of protein per serving, and gives you 6 grams of BCAAs, too.
Get it here
For more on vegan nutrition, read:
Here at VegNews, we live and breathe the vegan lifestyle, and only recommend products we feel make our lives amazing. Occasionally, articles may include shopping links where we might earn a small commission. In no way does this effect the editorial integrity of VegNews.