In ancient China, in the year 2737 BCE, a pharmaceutical booklet was published called Shennong Bencaojing. But while it's several thousand years out of date now, the compendium (the title of which translates loosely to "Divine Farmer's Materia Medica") still holds great significance. Firstly, it is believed to have been influenced by Shennong, a mythological emperor known as the "Divine Farmer" and the widely believed father of Chinese medicine. But also, it is the first known written record that acknowledged the medicinal properties of the cannabis plant.
The Shennong Bencaojing no longer exists, but it reportedly credited cannabis with many physical and mental health benefits. It claimed that it could boost people's mood, help with memory, and even ease the symptoms of physical ailments, like gout and constipation. This was all written thousands of years ago, but much of it holds true today. Now, modern scientific studies have associated cannabidiol (CBD)—a nonpsychoactive component of cannabis—with relieving mild or temporary symptoms of anxiety, helping with sleep, and even easing pain after physical activity.
CBD—not to be confused with tetrahydrocannabinol (THC), the component of cannabis that gets you high—has earned quite a reputation for its health benefits. Now, the market is worth more than $5 billion. And arguably, one of the most popular ways to take it is in vegan gummy form. So here, with the help and guidance of experts from the leading Colorado-based CBD brand CBDistillery, we walk you through the basics of vegan CBD gummies, but also take a closer look at their benefits and some of their most famous advocates (looking at you, Kardashians).

What are vegan CBD gummies?
In a nutshell, CBD gummies are small edible drops of candy that contain CBD. But like regular candy, some CBD gummies are made with gelatin. The latter is a flavorless ingredient, derived from the bones, skin, or ligaments of animals like cows or pigs, which helps to give gummy candies their signature chewy texture and mouthfeel. But it isn't essential. Many vegan CBD gummies feature pectin, a fruit-based structural acid that works in a similar way to gelatin.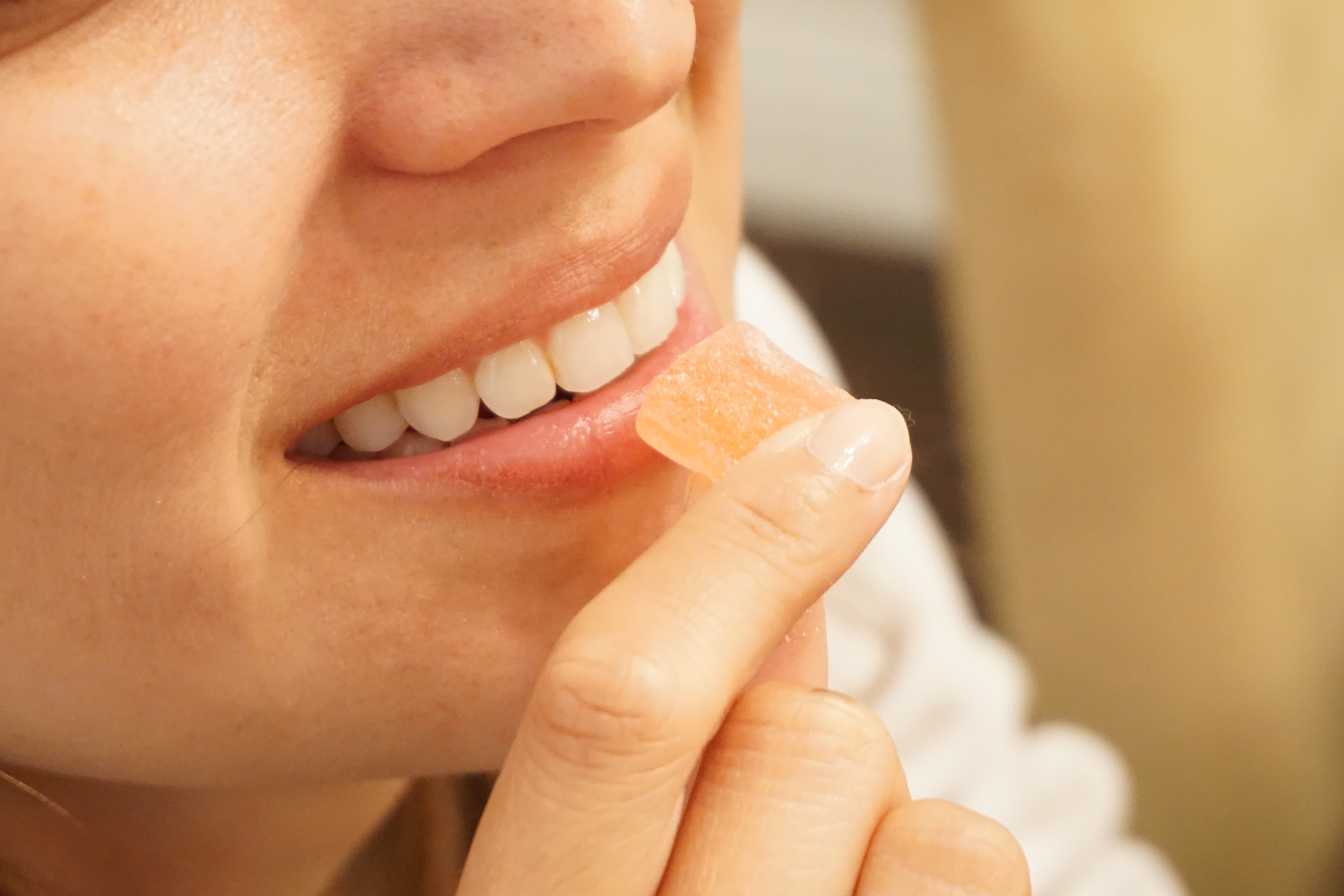 Unsplash
Do CBD gummies get you high?
Most CBD gummies on the market will not get you high, because they do not contain THC, which is the principal psychoactive component in the cannabis plant. Instead, they contain CBD which is usually derived from hemp, a type of cannabis plant with low THC content.
"Cannabis can be categorized as marijuana or hemp," explains Ellese Symons, CBDistillery's vice president of marketing. "The distinguishing fact between the two of them is the THC content," she adds. "So here in the US, the legal term for a hemp plant is a cannabis plant that contains less than 0.3 percent THC. That is essentially the rule that we operate under. We derive all of our products from hemp."

That said, some CBD gummies on the market do contain THC. CBDistillery's Unwind gummies, for example, contain five milligrams of THC as well as CBD. However, the consumption of these is not legal everywhere. While some countries and states have started legalizing or decriminalizing cannabis use, many places still have laws against it. In the UK, for example, CBD edibles can not contain more than one milligram of THC.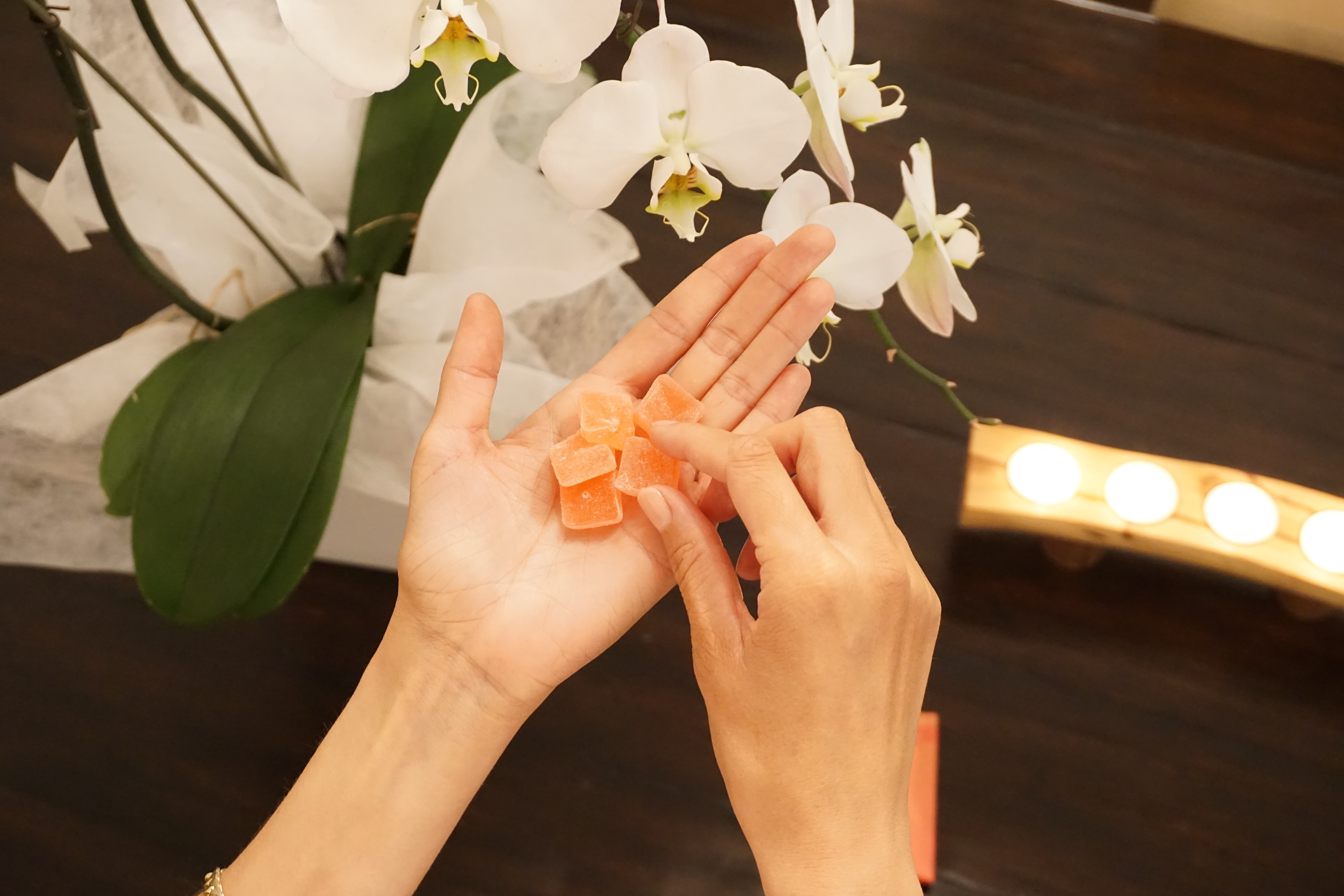 Unsplash
Are CBD gummies safe?
CBD gummies are widely considered to be a safe product. But, that said, it's important to take note of where you're buying them from. "The market is not regulated," says Symons. "We call it the Wild West."
While CBDistillery is known for its high-quality products and transparent practices (and has third-party test results for every batch to prove it), not all brands operate in a responsible way. There are brands selling lower quality products, for example, which are packed with sweeteners and preservatives. And consumers should also be wary of any brands making claims they can't back up. CBD is not an alternative to medical care, for example, and marketing it as such is irresponsible and dangerous.
"We're under such a microscope, and the companies that are doing things right take that microscope very seriously," adds Symons. "There are a lot of bad actors out there that are making claims about the products they are selling, or the industry as a whole, that you just can't simply say." Symons notes that CBDistillery wants more guidance and regulation from the government so that the industry is on a strong footing to go even more mainstream in the future. It's hoping to get more legislative direction in 2023, but right now, it doesn't exist.
The Food and Drug Administration can, of course, fine brands for false or misleading advertising, but it doesn't go much further than that. "The industry is unregulated from the point of the FDA coming in and saying 'here's how much CBD you can have in a product, here's what you can and cannot say,'" she notes. "It's just kind of following the guidelines like you can't say that CBD cures cancer. It doesn't. So don't go there."
So, essentially, CBD is safe, as long as you take it in the way it's intended. The bottom line is: do your research on ingredients before you buy, look for trustworthy certifications, and don't be sucked in by any brand that claims that CBD, taken in gummy form or any other form, is going to heal or prevent any form of chronic disease. And with any supplements, it's always best to discuss with your primary care physician before taking.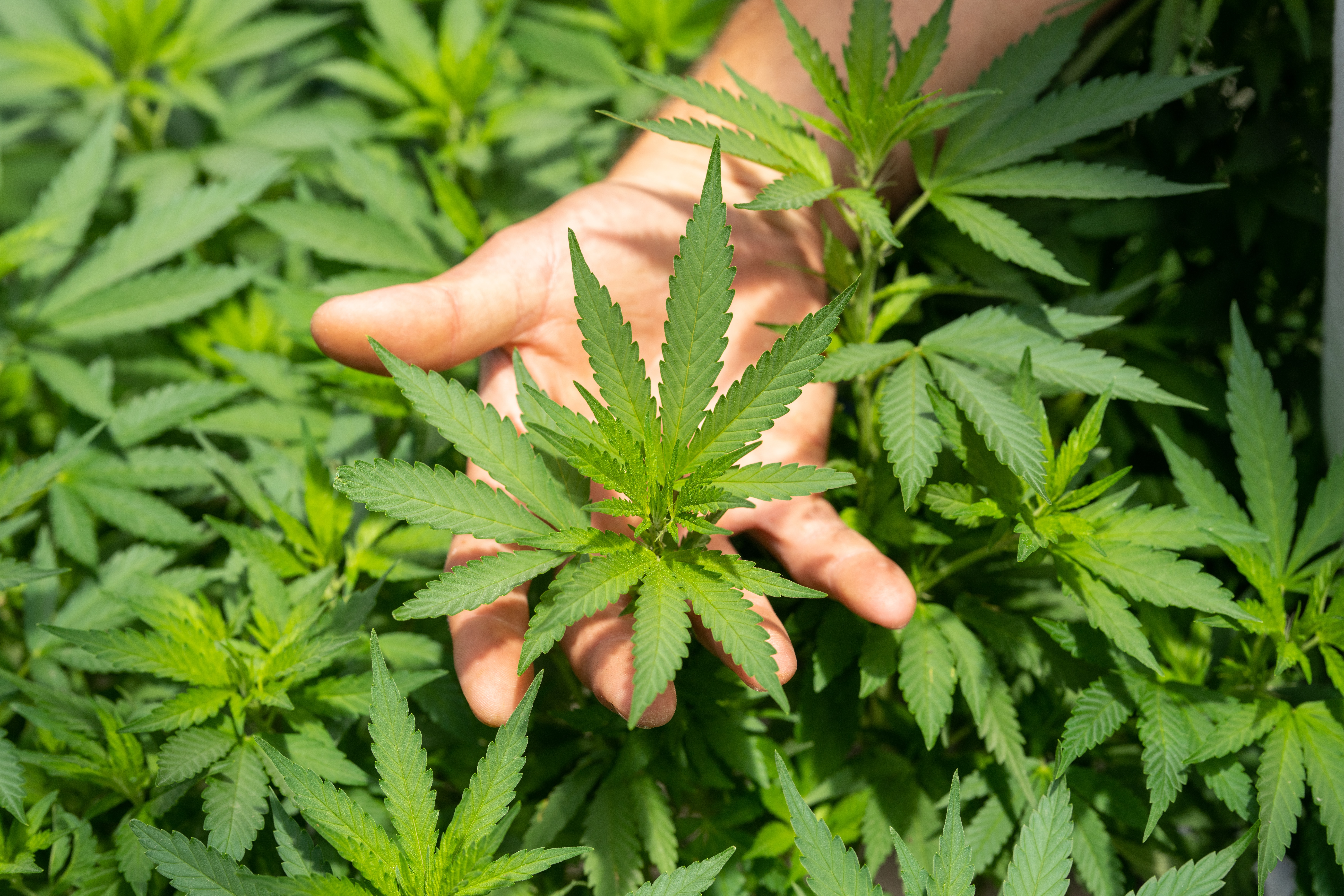 Unsplash
Vegan CBD gummies benefits
According to CBDistillery's own findings, its CBD products⁠—which include its wide range of gummies—have many benefits. They are effective at helping people relax and sleep (one of its options contains melatonin, the sleep hormone), as well as relieving the symptoms of temporary anxiety and pain after physical activity.
In 2019, the brand conducted a customer survey, which revealed that 88 percent said that taking CBD helped with temporary anxiety. Plus, 89 percent said it helped calm their mind. A further 89 percent said CBD helped them to get better sleep, and 84 percent said it helped to manage pain after physical activity.
Studies have also linked CBD with improved sleep, as it is associated with temporarily reduced levels of cortisol (the stress hormone). And it has even been linked with an improved sex life. Research is limited in this area, but this may happen because it helps to ease temporary anxiety, which can rise during sexual encounters.
However, it's important to note that while there are many benefits associated with CBD, it usually doesn't impact everyone in the exact same way.
"The thing about CBD is it's not a one-size-fits-all," says Symons. "If I take a product, and somebody else takes the exact same dosage, let's say it's one gummy, we're all going to have different experiences. That's because of the tolerance of the body, the health of the endocannabinoid system [a complex cell-signaling system in the brain and the body], and other factors that really play into how you metabolize the product."
This is why it's important to start with a small amount and build up to the dosage that works for you. "We have dosage recommendations on every single one of our packages," continues Symons. "It says increase until you achieve the type of experience that you're looking for."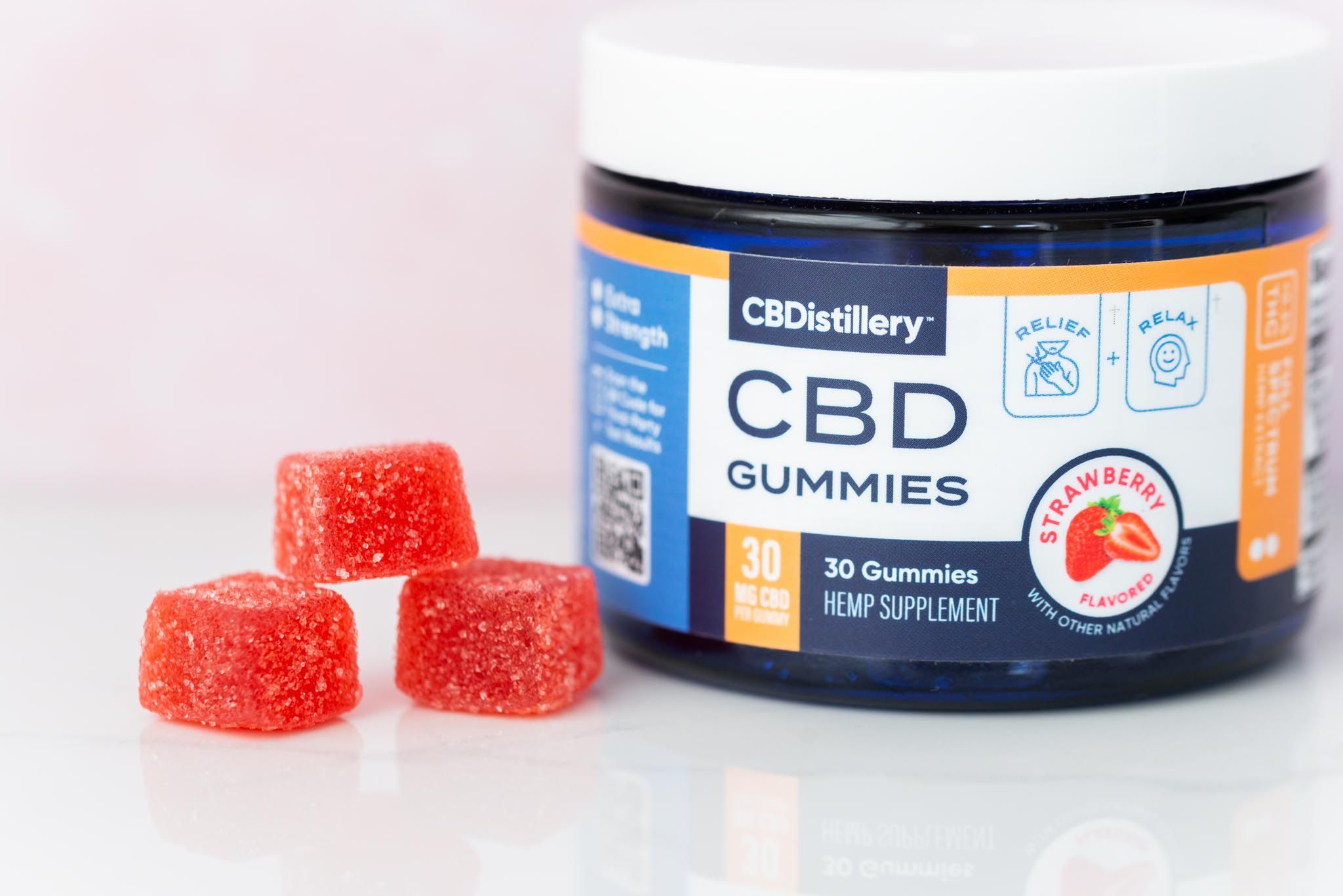 VegNews
What celebrities use vegan CBD gummies?
CBDistillery is far from alone in the CBD industry. As established, the market is currently worth more than $5 billion, and from 2022 to 2030, it's expected to grow at an annual rate of nearly 17 percent. And without a doubt, celebrities have played a big role in pushing the industry forward.
Arguably Hollywood's reality TV royal family, the Kardashians, have helped put CBD on the map. Kourtney Kardashian has sold it in topical serum form on her wellness platform Poosh, and her husband, Travis Barker, recently launched his own vegan brand, which sells organic broad-spectrum CBD gummies.
Kim Kardashian has also been vocal about how much she loves CBD gummies for many years. In 2019, she wrote on Poosh: "I've been a huge fan of CBD ever since I started feeling overwhelmed, which came with starting law school and having a fourth baby."
Other celebrities who have expressed their love for CBD gummies include Martha Stewart, Whoopi Goldberg, and Busy Phillips, and many more claim to use it in lotions, creams, and oils.
Symons agrees that the CBD industry wouldn't be where it is now without celebrity involvement. "I always talk about the summer of 2019; it was the peak of our industry," she recalls. "At that time, one of the weirder marketing moments from my career in this industry was when Kim Kardashian threw a CBD baby shower. It was things like that. You know, Martha Stewart adopting a brand. I think the celebrity endorsement has absolutely helped to really put it on the map."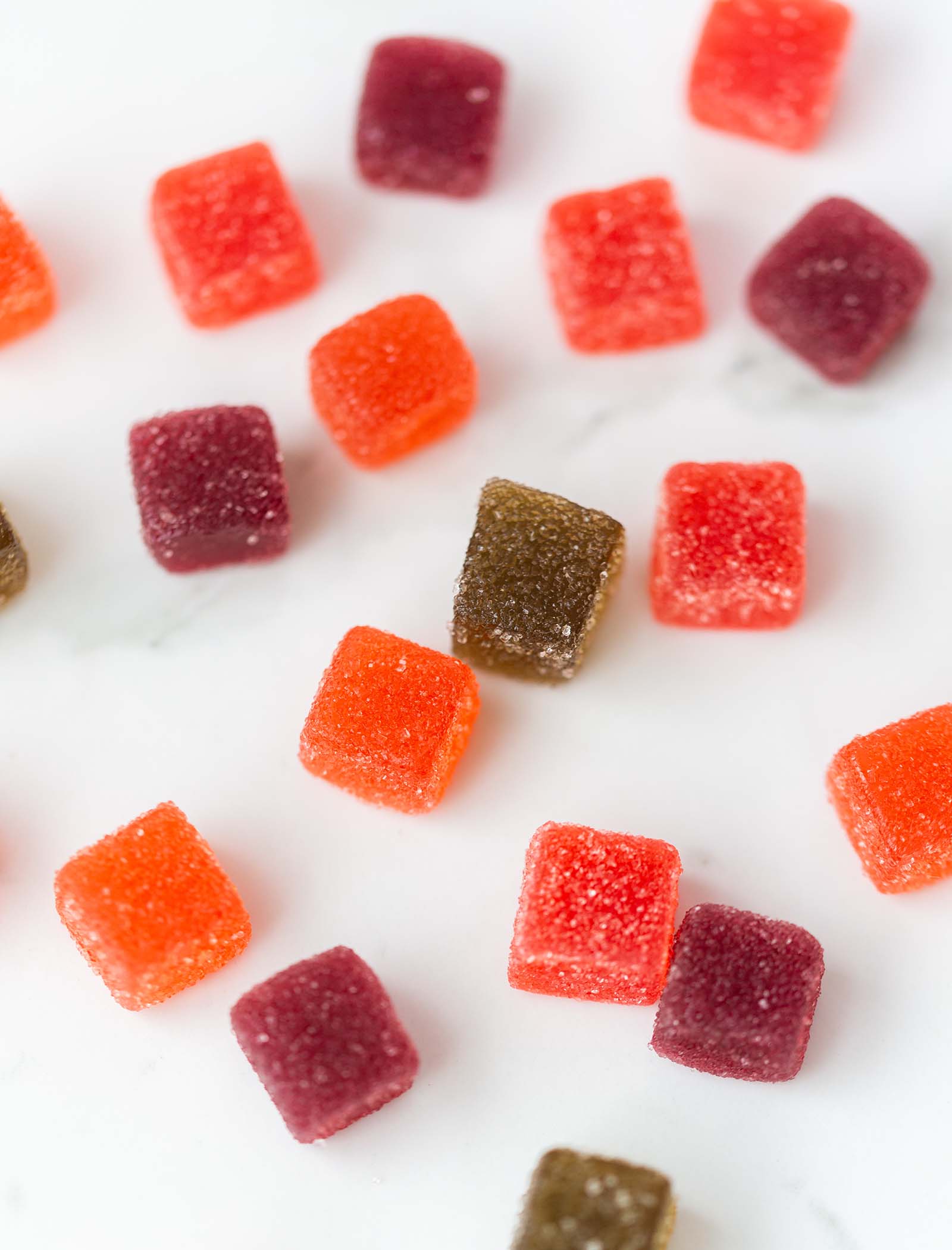 VegNews/CBDistillery
Why are vegan CBD gummies important?
Vegan CBD gummies may not be able to cure cancer, but, as much scientific and anecdotal evidence can attest to, they can help to improve the quality of life for many people, and that is where their true value lies.
Adrian Crawford, CBDistillery's content strategist, knows the positive impact that cannabis products can have on people because he has experienced it first-hand. After having back surgery, he was struggling to sleep through the night due to occasional discomfort. He tried cannabinol, another cannabinoid in cannabis, in a THC product, and the effects were life-changing.
"I bought some when I started at CBDistillery, and sure enough I slept through the night for the first time in months," he recalls. Symons can also attest to the benefits of vegan CBD gummies, specifically. "I will say for me, one of my favorite products is our full-spectrum CBD gummy," she notes. "Taking one is really all I need to relax at the end of the day and go to sleep at night."
"It changes the entire quality of someone's life," adds Crawford. "Be it relaxation or recovery. It's easy to become an evangelist when you see it working for yourself."
Thank you to CBDistillery for supporting independent media and partnering with VegNews on this story.
Here at VegNews, we live and breathe the vegan lifestyle, and only recommend products we feel make our lives amazing. Occasionally, articles may include shopping links where we might earn a small commission. In no way does this effect the editorial integrity of VegNews.