Stanley Tucci loves his pasta, that's no secret. In fact, he seems to love Italian food as much as he loves exploring his heritage (which he has documented in his CNN travel documentary, Searching for Italy). In a recent Today segment, Tucci demonstrated this love for his motherland and its cuisine by showing the hosts how to cook pasta e fagioli, a vegan-friendly dish.
"It's a classic, classic dish, it's been around forever," Tucci said of the meal, which directly translates to "pasta and beans." "It's been abused sometimes, and made, sometimes, really badly, but it doesn't have to be. It's incredibly simple," he added.
He also spoke about his new line of cookware with the Belgian brand GreenPan, which specializes in ceramic non-stick cookware. "It's something I always wanted to do, my parents always had really great cookware from the '60s and '70s, a lot of Danish stuff," Tucci explained. "And [GreenPan] came to me, and they said, 'Would you be interested in doing a line with us?' And I said, 'Yeah, as long as you can make it in Italy.' And they did, because they have a factory there. I wanted it to be quite modern."
Tucci then proceeded to cook pasta e fagioli using his own line of pans for the rest of the segment. While the actor's version of the dish uses plant-based ingredients, like cannellini beans, onions, and marinara, it isn't vegan, due to his inclusion of ingredients like chicken stock and dairy cheese. But due to the simplicity of the meal, it's very easy to make it entirely plant-based.
If you've got a craving for Tucci's favorite, here's how you can make it with vegan ingredients only. But first, what is pasta e fagioli and where did it come from?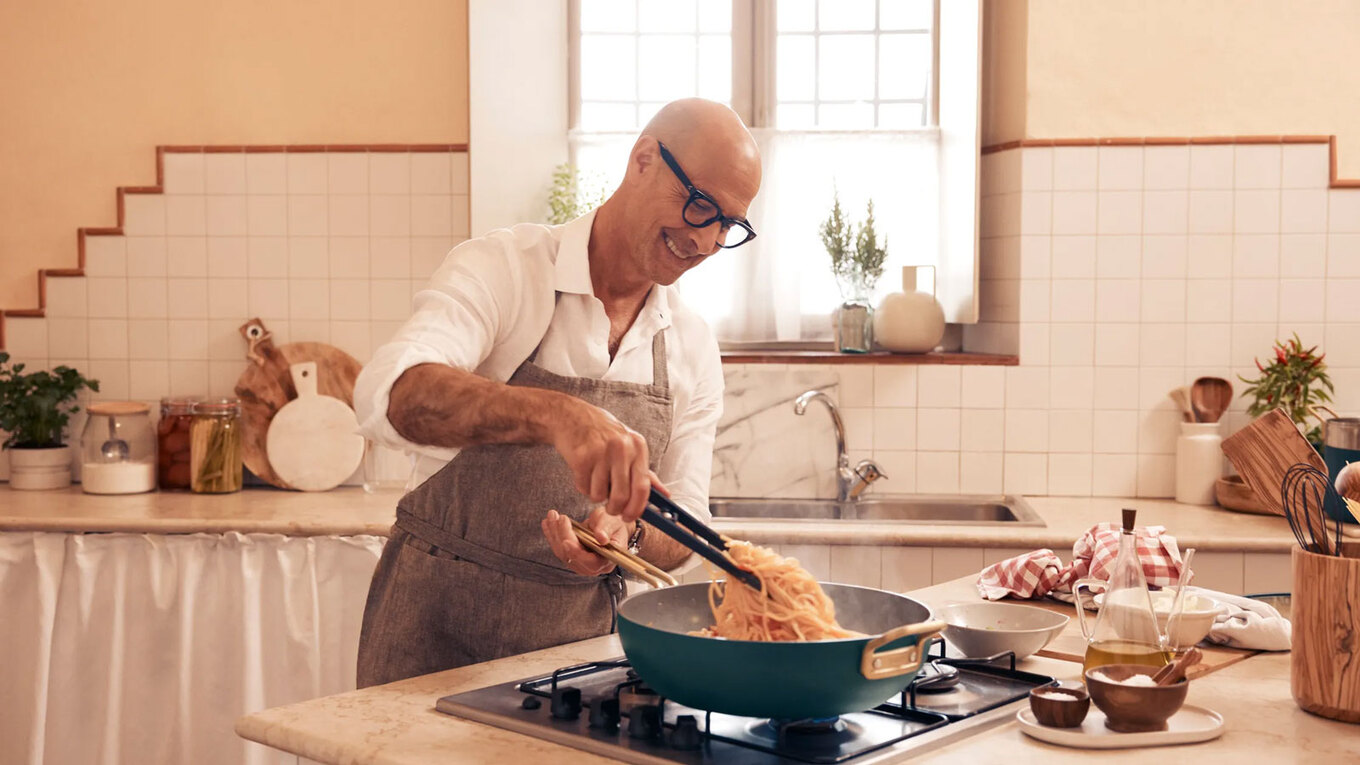 Matt Holyoak/Williams Sonoma
The history of pasta e fagioli
According to Italy Magazine, there are many different variations of pasta e fagioli, because each region makes it in a different way. And for that reason, it's hard to pinpoint its history. "No one can say for sure where the dish originated," the publication notes. "Some say Campania, others Lazio, and others are convinced it comes from Veneto, as the dialect name of it, pasta e fasoi, would imply."
But regardless of which area it originally came from, most food historians agree it has been around for some time. In fact, according to cookbook author and writer Judith Barrett, it likely dates back thousands of years. "Long before beans became an essential ingredient of the cooking of the Roman Empire, they provided sustenance and sustainable agriculture to the ancient civilizations that inhabited the Italian peninsula," she writes in her 2004 cookbook Fagioli: The Bean Cuisine of Italy.
Some variations of pasta e fagioli, like Tucci's, are made with meat stock. But others are meat-free, made with vegetable broth instead. The type of beans varies, too, with some dishes calling for borlotti beans and others opting for cannellini. The vegetables can vary as well, although most recipes call for onions, celery, and carrots.
To help you find your favorite (and vegan) version of pasta e fagioli, we've compiled a few variations of the dish below. Buon appetito!
How to make vegan pasta e fagioli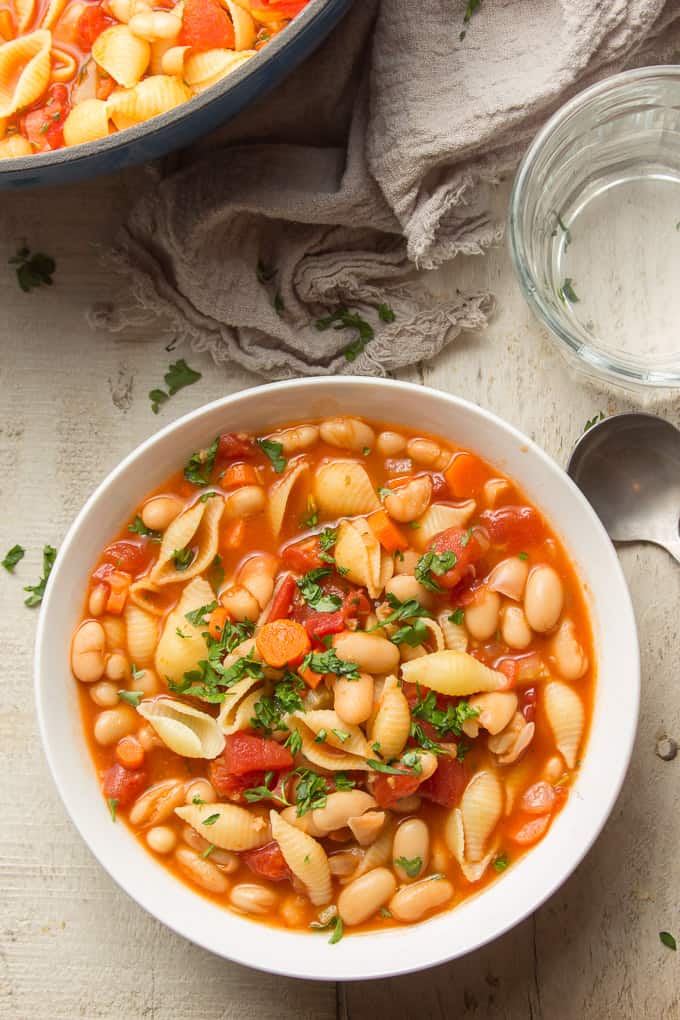 Connoisseurus Veg
1 Pasta e Fagioli With Butter Beans
This hearty, tasty version of the Italian dish opts for butter beans (also known as lima beans), which are large beans with a soft texture. They're paired with vegetable broth, plenty of herbs, and traditional vegetables: onions, celery, and carrots. The result is warming, comforting, and packed with flavor.
Get the recipe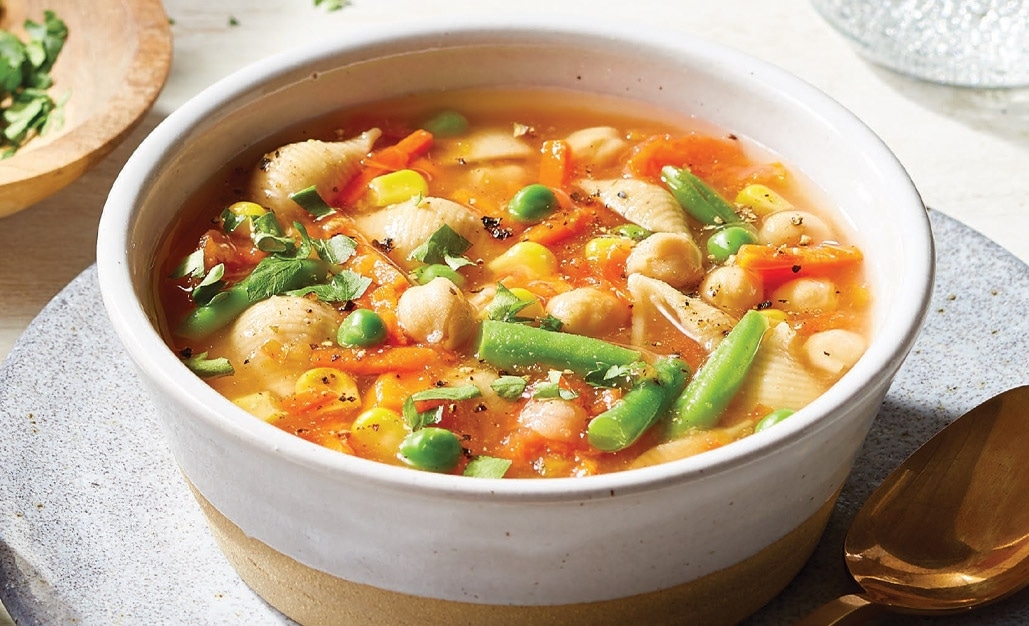 Forks Over Knives
2 Pasta Fagioli With Whole Wheat Pasta
Pasta isn't an unhealthy food, but some types are certainly more nutritious than others. Whole wheat pasta, for example, is a good source of vitamins and minerals, including iron, magnesium, and zinc, plus it contains carbohydrates, fiber, and protein, too. If you want to maximize the nutrients in this already healthy dish, this recipe opts for whole wheat over white pasta (which is what most Italians eat).
Get the recipe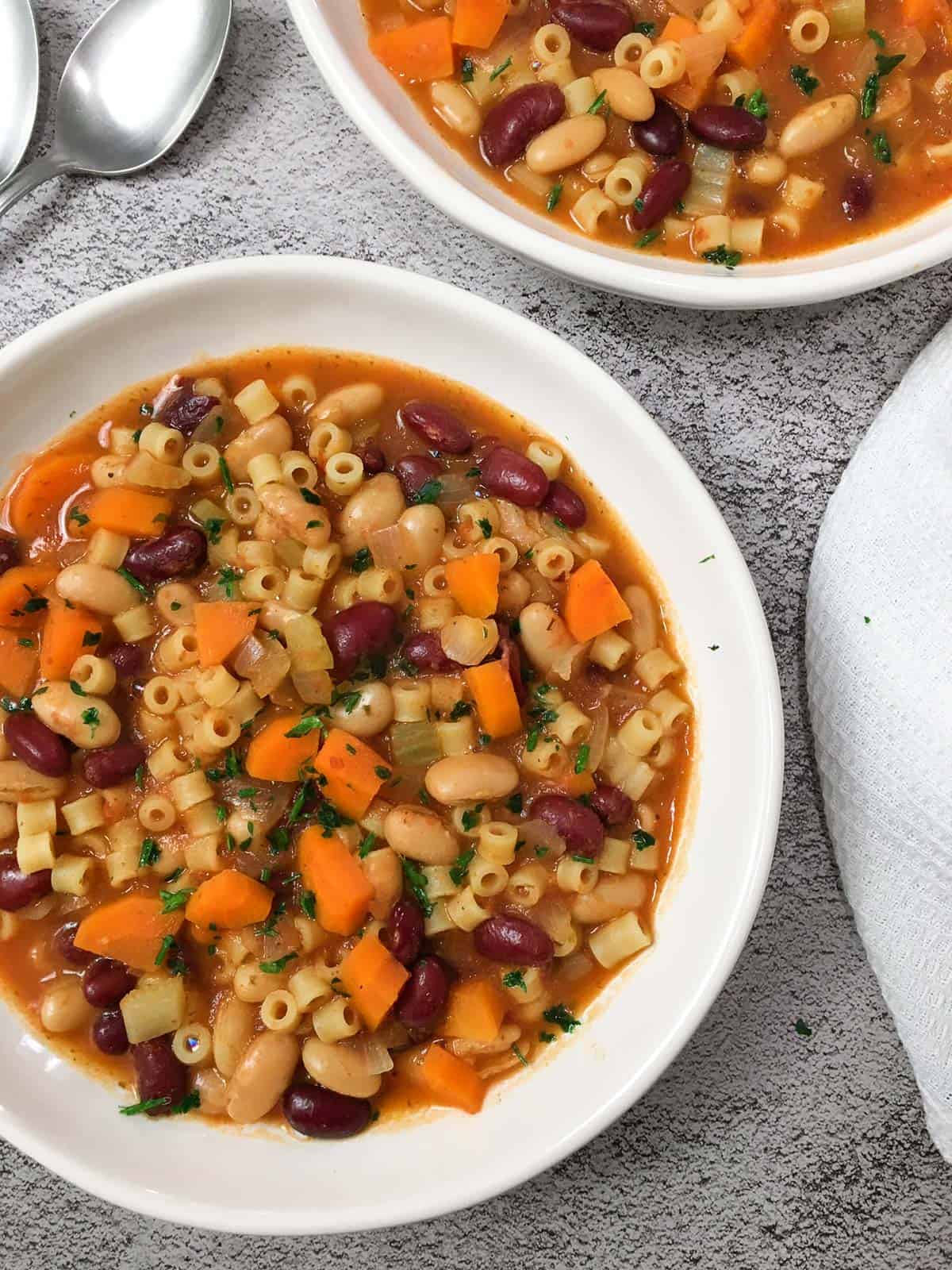 This Healthy Kitchen
3 Instant Pot Pasta e Fagioli
Life is busy, but this shouldn't mean you have to compromise on eating healthy meals. This pasta e fagioli is loaded with nutrients, and it's simple to make because it all comes together in an Instant Pot. This particular recipe uses a combination of red and white kidney beans, with tomato sauce, vegetable broth, and ditali pasta.
Get the recipe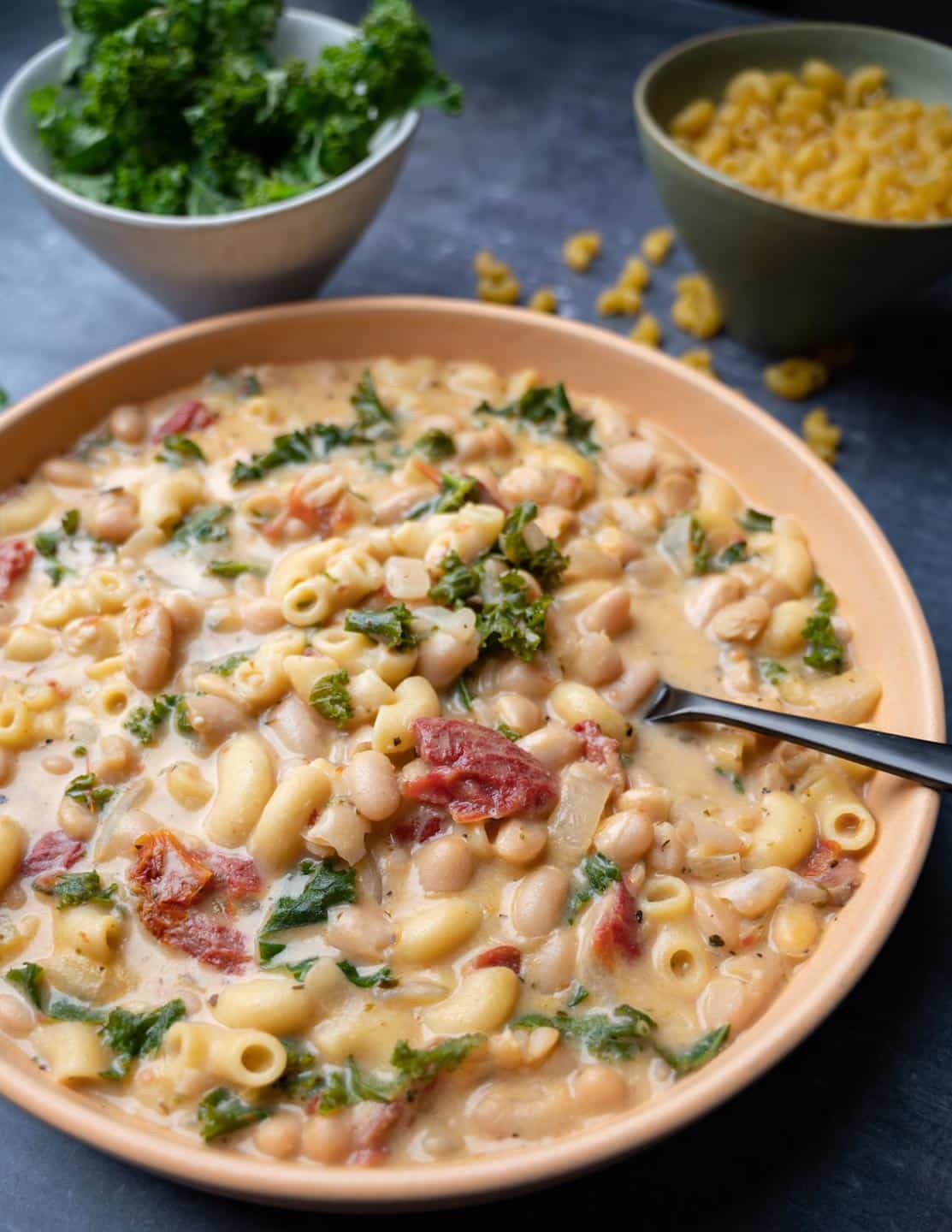 Vegan Cocotte
4 Creamy Pasta e Fagioli
Traditional pasta e fagioli is a hearty, stew-like consistency, but if you're craving something creamy, we recommend this twist on the classic recipe. The thicker sauce comes from cashew cream, but the rest of the ingredients are fairly standard for a fagioli recipe: cannellini beans, vegetable stock, garlic, and more.
Get the recipe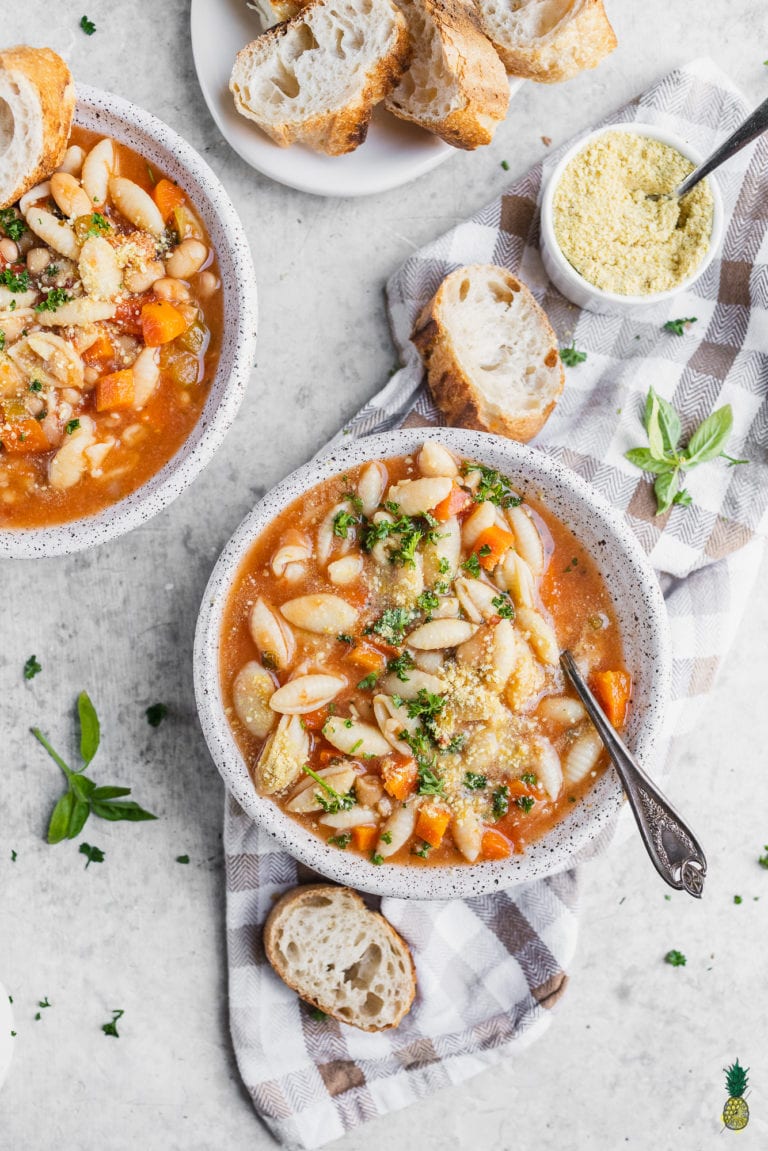 Sweet Simple Vegan
5 Beyond Pasta e Fagioli
If you love pasta but you're missing a little meaty addition, try this recipe with Beyond Meat. As well as traditional ingredients, like red kidney beans and cannellini beans, it features plant-based ground meat, Beyond sausages, and vegan chicken broth. So you can have all the meat but without the animal products. It's a win-win.
Get the recipe
For more vegan Italian recipes, read: