If you're thinking about the late '90s and early aughts pop-punk, there's a good chance you're thinking about Blink-182. In 1999, "What's My Age Again?" became the band's first mainstream hit and the first to feature Travis Barker. Since then, the drummer has become a household name, but not just for his music career.
Barker still plays drums with the band that made him famous, but today, he's also known for his ethical investments, passion for plant-based living, and, of course, marriage to reality TV royalty, Kourtney Kardashian-Barker. Here's everything you need to know about the musician and his commitment to accelerating the vegan movement, from backing plant-based restaurants to partnering with animal-rights organizations.
Who is Travis Barker?
Barker, a California native, is a dedicated vegan, father, entrepreneur, investor, and devoted husband. But he's spent most of his life as a working musician, so it makes sense that is what he's most well-known for.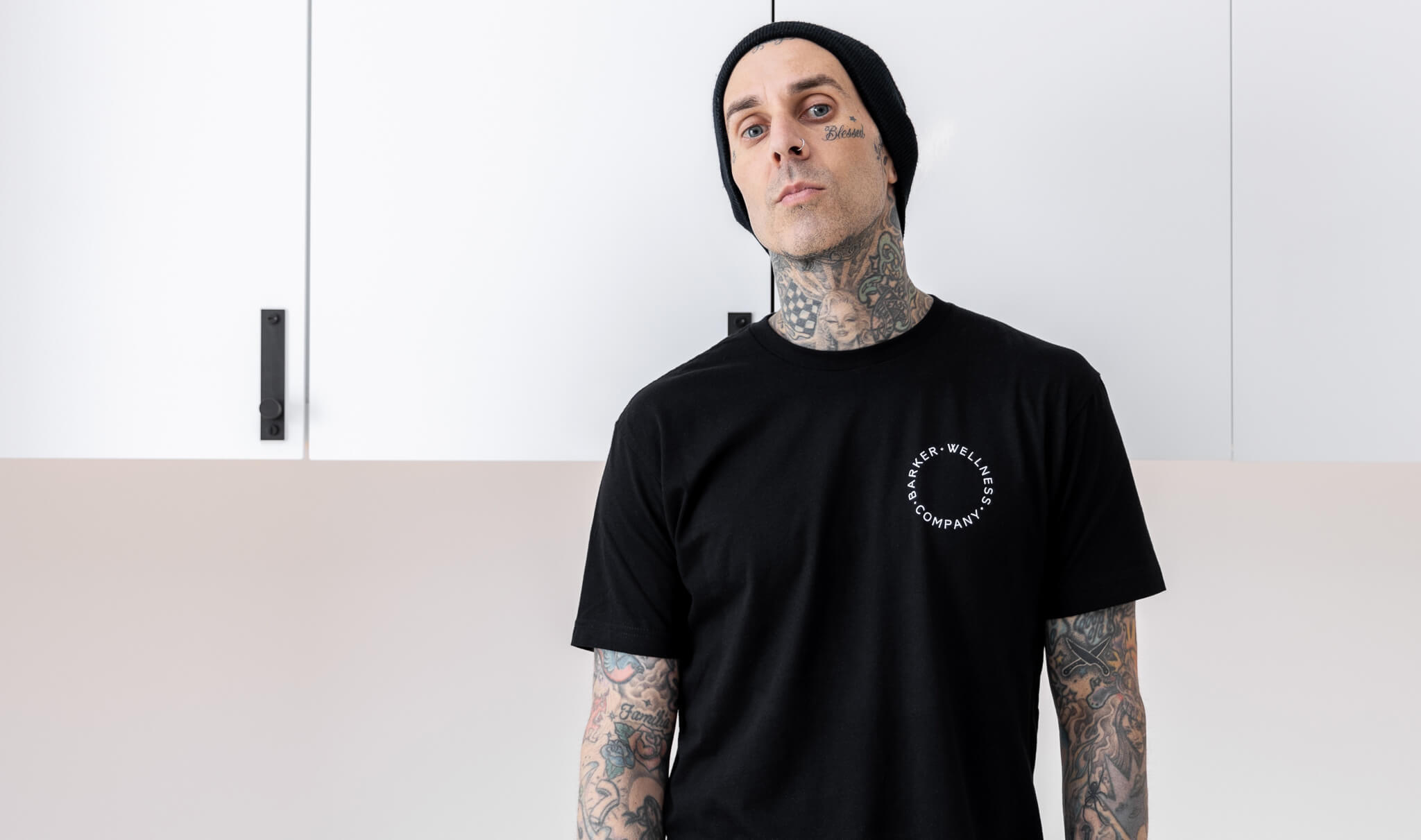 Barker Wellness
He has played the drums for a wide variety of bands including Transplants, +44, The Aquabats, TRV$DJAM, and of course, Blink-182. He has founded his own record label, DTA Records, and in 2016, he made Rolling Stone's "100 Greatest Drummers of All Time" list. At the time, the publication labeled Barker "an animalistic artist who performs fiercely and is unafraid to go theatrical."
Is Travis Barker vegan?
At the age of 13, Barker went vegetarian for the first time. But, after surviving a tragic plane crash in 2008, the drummer spent 11 weeks in the hospital, where he started eating meat again for protein but only briefly.
"I had to have 6,000 calories a day. Obviously, they didn't have a vegan chef for me, so I had to eat whatever. I ended up eating a lot of beef jerky, and extra-large peanut butter smoothies, which had like 3,000 calories each," he told the Guardian in 2015.
After that, he decided to go fully vegan. He told Men's Journal that following a plant-based diet gives him "endless amounts of energy." He also said that he snacks on strawberries, blueberries, and açaí berries, and added: "I find myself eating plates of broccoli or cauliflower at times."
He later told GQ in 2021 that he also loves vegan pizza, sushi, ice cream, and vegan Vietnamese food.
Travis Barker and animal rights
Barker takes his health seriously, which is part of the reason he follows a vegan diet. But the musician is also a huge animal lover. In 2017, he teamed up with PETA on a campaign that encouraged people to "make some noise for animals," and speak up if they see an animal being abused or in distress.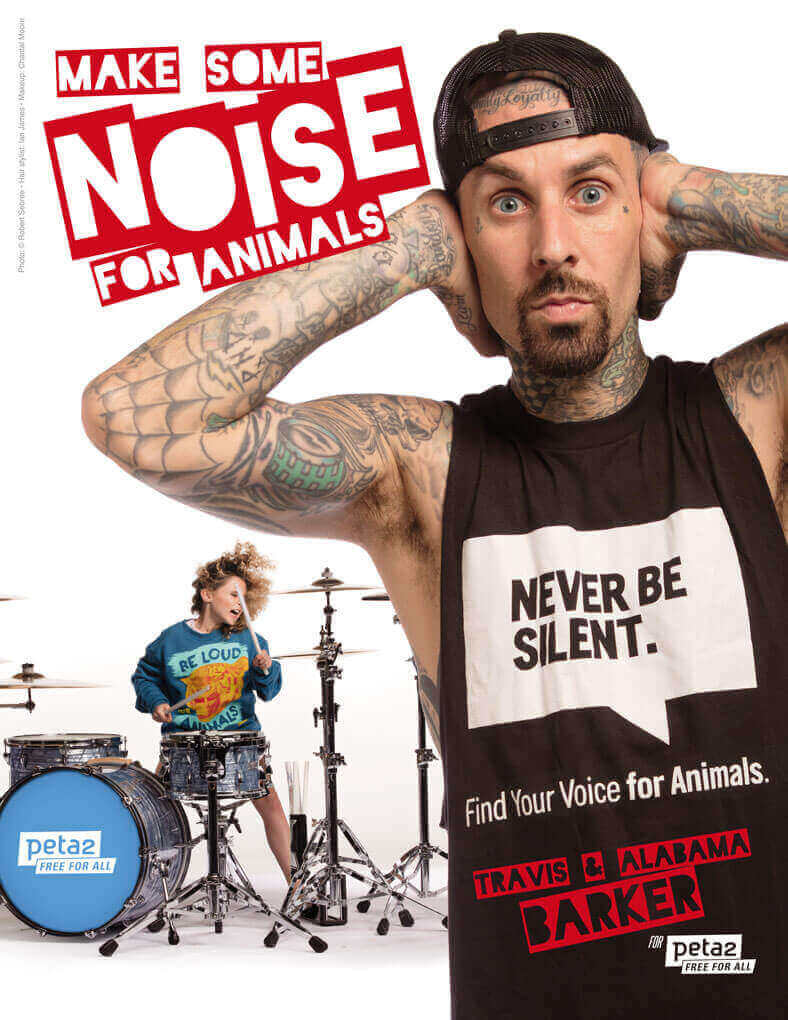 PETA
In an accompanying video, Barker appeared with his daughter, fellow animal-lover Alabama, who was 11 years old at the time, and the two talked about their compassionate dietary choices.
"I've been vegan for many years and vegetarian for even longer—Alabama is vegetarian," he said in the video. "We've always loved animals, and we choose not to eat animals. We choose a vegan and vegetarian lifestyle … we have a pig that's so smart, and to think that people still eat them is insane."
Because of his love for animals, Barker's veganism also extends to his clothing choices. "I'm always on the hunt for vegan leather, I love vegan leather. I don't ever want to confuse anyone—when you see me wearing leather, I promise you, it's vegan every time. I'm very, very adamant about it—like actually strict about it," he told People.
Travis Barker and Kourtney Kardashian
Lately, Barker has been making headlines for his relationship with Kardashian-Barker. The couple married last year in no less than three ceremonies in Las Vegas, Santa Barbara (the legally binding service), and Italy.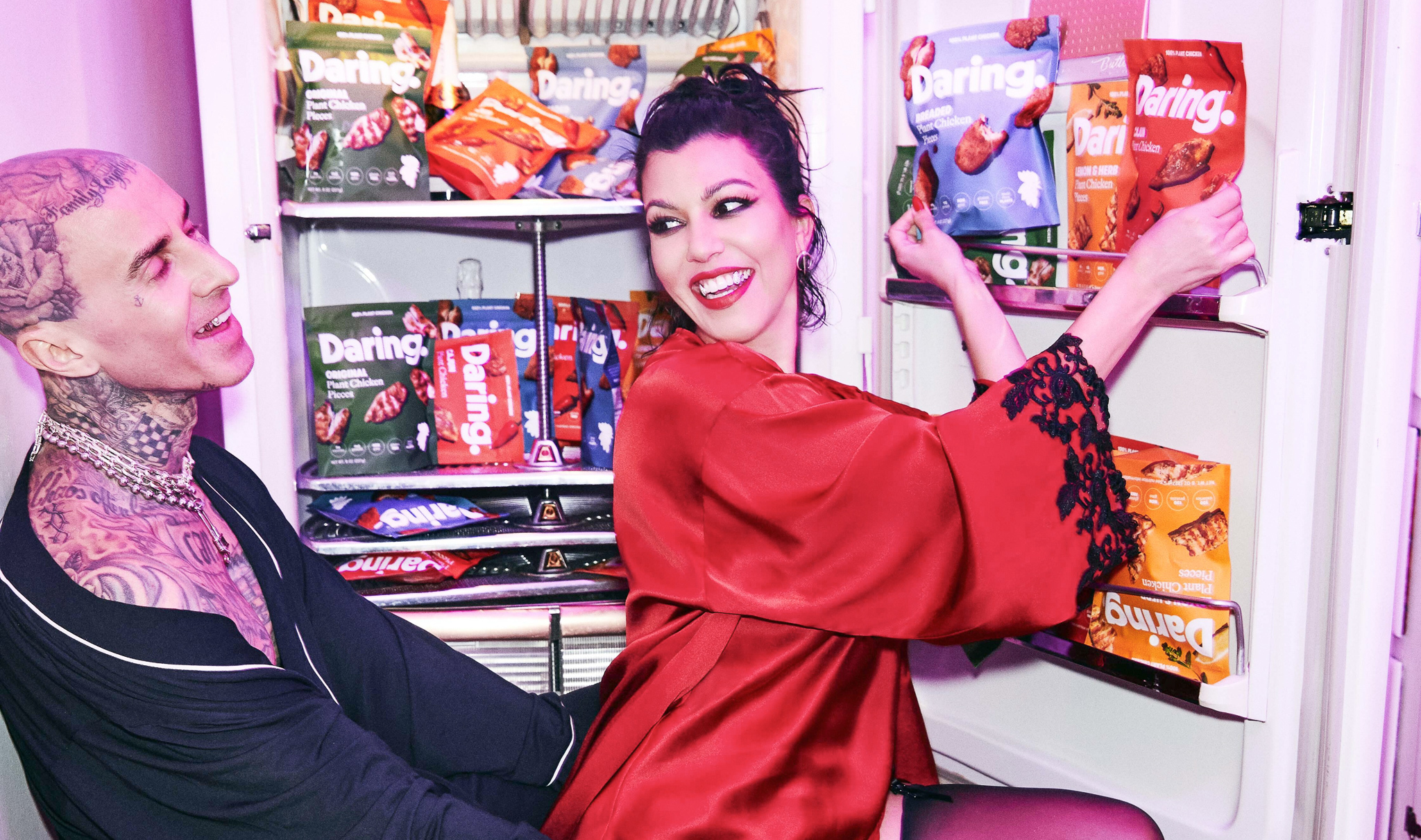 Ellen Von Unwerth
The oldest of the Kardashian sisters, Kardashian-Barker is known for her huge social media following, and the family's reality shows: Keeping Up With The Kardashians, which ended in 2021, and The Kardashians, which is currently streaming on Hulu in its fourth season.
She is also the founder of vegan gummy supplements brand called Lemme, as well as the lifestyle and wellness platform Poosh. The latter has promoted plant-based living on several occasions. In one post called "What Kourt Eats in a Day: The Vegan Edition," it was confirmed that Kardashian-Barker was easing herself into meat-free living, and had gone "mostly, like 95 percent" vegan.
Travis Barker's investments
Thanks to his successful music career, Barker has accumulated a pretty impressive net worth. And while, like many wealthy people, he has invested some of this money in property, he has also chosen to back vegan brands.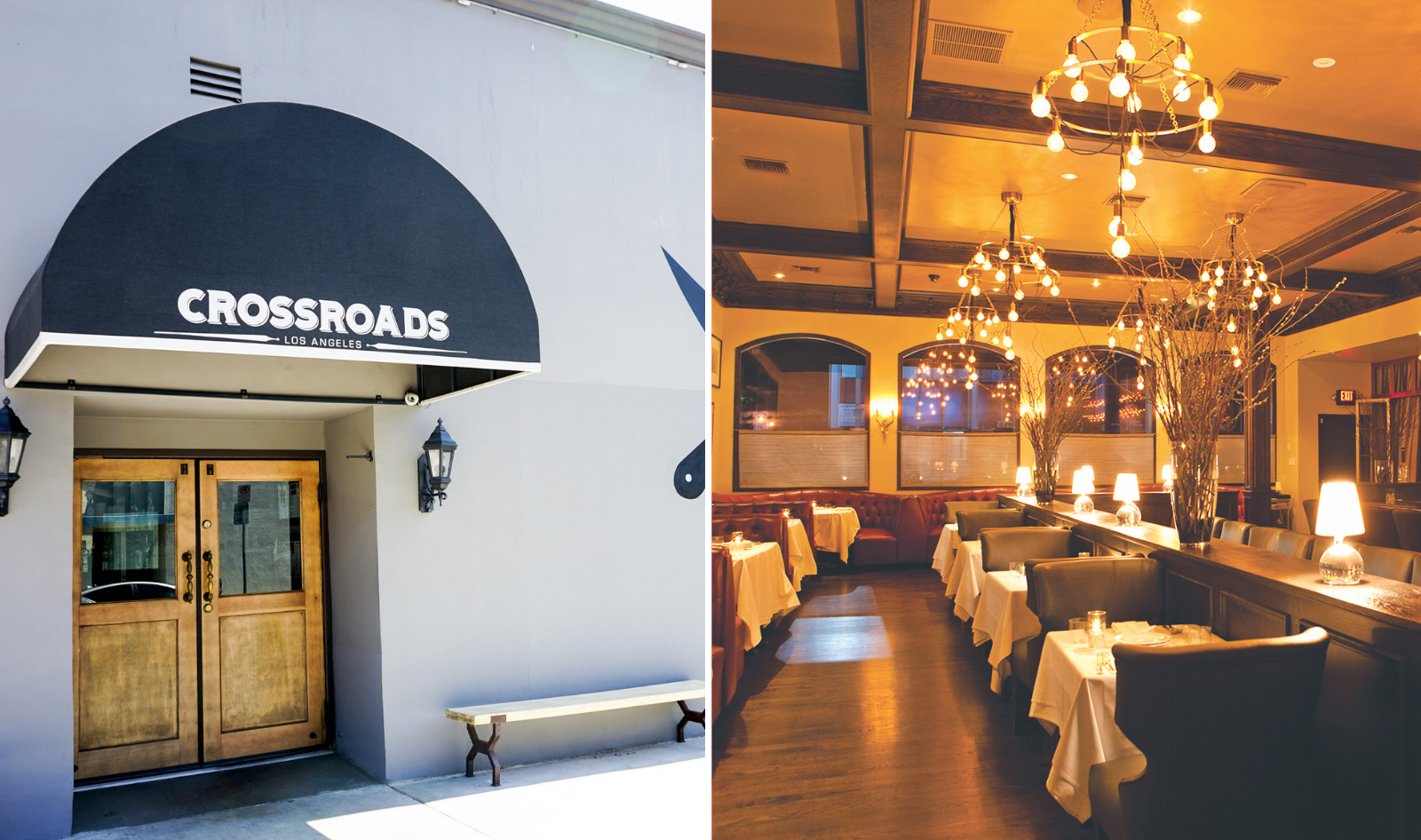 Crossroads Kitchen
He is an investor in MindRight, a vegan "nootropic-infused superfood" company, as well as Crossroads Kitchen. The latter is a vegan fine-dining restaurant in Los Angeles, and it also has restaurants in Las Vegas and Calabasas, a Los Angeles suburb where Barker lives.
The vegan drummer also holds shares in plant-based fast-food chain Monty's Good Burger, which were gifted to him by his friend Bill Fold, who is one of the founders. Earlier this year, Barker launched a collaboration with the chain which consisted of an oat matcha latte shake and several clothing items, including a hoodie and cap, with the slogan "Travis & The Barkers."
Travis Barker and vegan brands
Barker's support for the vegan movement also extends to his brand collaborations. Earlier last year, after their Las Vegas wedding, Barker and Kardashian-Barker worked with Daring on a new ad campaign to promote its vegan chicken.
At the time, the drummer praised the growth of the plant-based industry, saying in a statement: "When I went fully vegan 15 years ago, the options were basically straight vegetables, so I'm excited to see more plant-based choices on menus. That's why I invested in Crossroads Kitchen and Monty's and why this partnership with Daring felt so right for Kourt and me."
Ross Mackay, the founder of Daring, backed this sentiment up by stating there was "clear synergy between Daring's mission and [the Barker's] personal beliefs on plant-based eating."
Barker Wellness
A few months later, Barker again showed support for vegan business, but this time, he launched his own brand. Barker Wellness, which offers vegan skincare products infused with CBD, is designed to help busy people take a step back from the stresses of life.
It's safe to say, from brand launches to restaurant partnerships to personal food choices, in almost every aspect of his life, Barker has prioritized the vegan movement consistently. He is a beacon of plant-based living, and a passionate advocate for animals, too. With Kardashian-Barker by his side, one day at a time, the drumming icon is helping to make the world a more compassionate, vegan place.
For more on Travis Barker, read: