In honor of National Glazed Doughnut Day, VegNews rounds up the most drool-worthy doughnuts across the country.
June 11, 2015
---
These days, there's a special day honoring just about every food imaginable. But when it comes to doughnuts, we don't mess around. Here at VegNews, we are celebrating National Doughnut Day, and we're going big. To get this doughnut party started, we've rounded up 10 of the most mouthwatering vegan doughnuts from the country's best-known bakeries. Just how wild did we go? You'll have to read to find out …
Brooklyn's Dun-Well's Doughnuts
With more than 600 flavors under its belt, it's no wonder that Dun-Well is consistently named one of the nation's top doughnuts. Owners Christopher Hollowell and Dan Dunbar bake twice daily, always starting with the basic chocolate, vanilla, and berry flavors. "After that," the pair says, "we just play." To celebrate National Doughnut Day, Dun-Well's is giving away free doughnuts with their new line of espresso drinks. We'll take a Salted Caramel Latte and a baker's dozen to go, please.
Customers are loving: The Peanut Butter and Jelly sells out every single day
Bakery staff favorite: The Turtle with chocolate chip cookie dough, dark chocolate, chocolate-caramel icing, pecans, walnuts, and hard caramel glass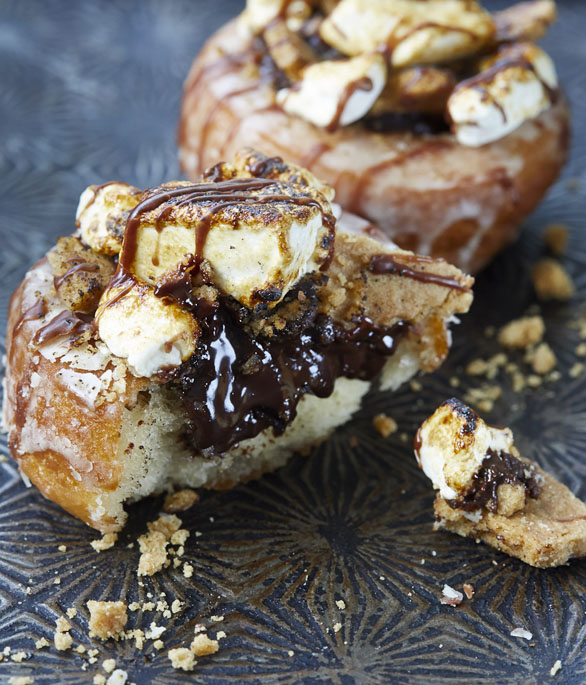 New York City's The Cinnamon Snail
It's almost impossible to choose just one doughnut from The Cinnamon Snail, what may be the country's most beloved vegan food truck. In addition to whipping up savory favorites like Korean Barbecue Seitan and Maple Mustard Tempeh Sandwiches, chef/owner Adam Sobel and team bake up world-famous doughnuts. In fact, there is an entire chapter dedicated to just doughnuts in Sobel's brand-new cookbook, Street Vegan.
Customers are loving: Vanilla Bourbon Crème Brulée with Maker's Mark bourbon whisky, torched to perfection
Don't miss: Chocolate Ganache Stuffed S'mores with crushed graham crackers and torched marshmallows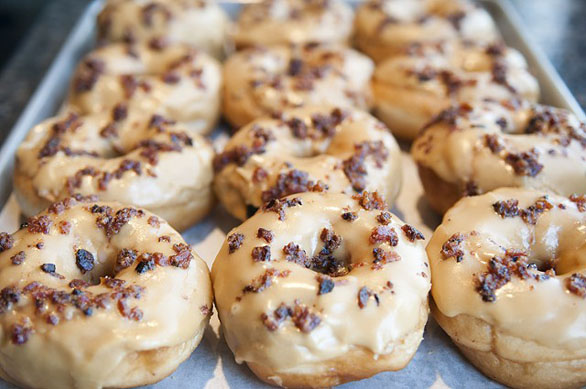 Atlanta's Revolution Doughnuts
This mom-and-pop bakery, opened three years ago on National Doughnut Day, hopes to "revitalize the American doughnut" by making delicious creations all by hand. With a plethora of vegan treats to choose from, the shop offers egg- and dairy-free twists of traditional flavors (Cinnamon Apple Fritter) as well as their own unique flavors (Orange Pistachio). Today, they're celebrating their third birthday by giving away free mini birthday cake doughnuts with every purchase.
Customers are loving: Vanilla Bean made with real vanilla bean
Don't miss: Fresh Peach Sliders filled with Georgia peaches and dusted with sugar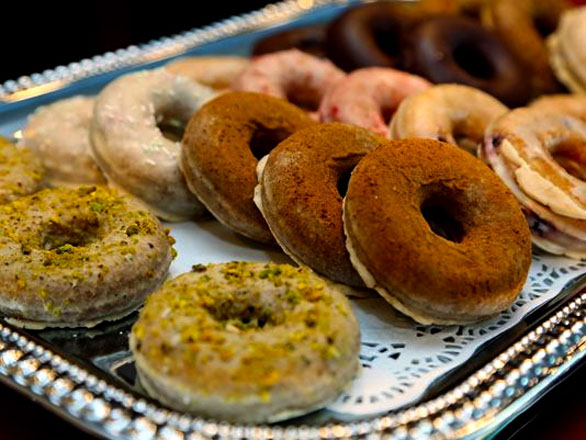 Nashville's Vegan Vee Gluten-Free Bakery
Nashville's newest vegan bakery counts doughnuts amongst its best-sellers. Converting her husband's handyman storefront into a bake shop, Vivi Peatman's desserts are already getting a lot of love from the Nashville community. And why not, with doughnut flavors like Salted Caramel, Organic Toasted Coconut, and Organic Carrot Walnut.
Customers are loving: Chocolate-Covered Vanilla dipped in a rich, hardened glaze
Bakery staff favorite: Pistachio Rosewater with a light-pink glaze and chopped pistachio nuts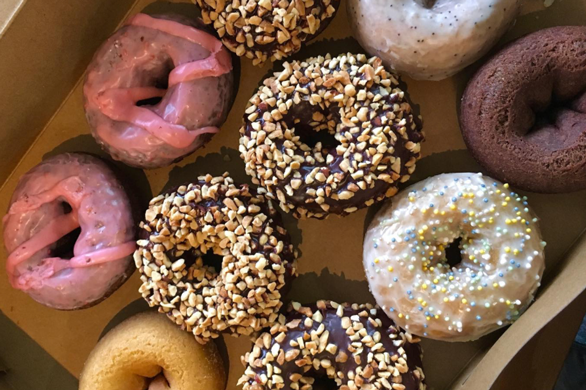 Mighty-O Donuts
Inside Seattle's Mighty-O Donuts, you will find organic varieties of tried and true classics like vanilla and chocolate glazed cakes, yeast-risen treats, and jam-filled gems. What you won't find are any GMO's, artificial flavors, colors, additives, dyes, preservatives, and you guessed it: no dairy or eggs. Upon opening its doors in 2003, Mighty-O has made it their mission to incorporate their do-good attitude into its business model, making it easy for donut lovers to feel good about purchasing a dozen….or two dozen.
Customers are loving: French toast boasts a spiced cake donut with a maple glaze.
Don't Miss: the yeast-raised Apple Fritter contains chunks of fresh green apples.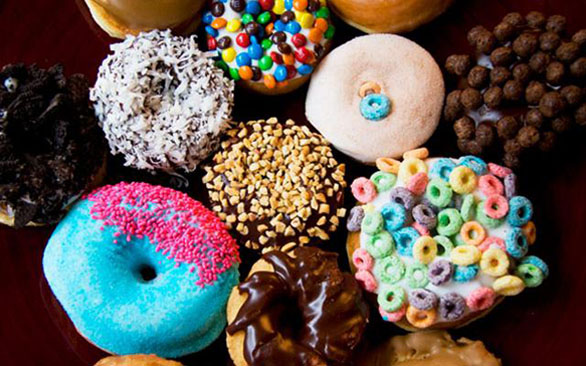 Portland's Voodoo Doughnut
Having just celebrated its 12th anniversary last week—and new stores planned for Austin, Taipei, and Tokyo—Voodoo Doughnut is one of the country's most famous doughnut shops. Known for irreverent and innovative doughnut shapes—think ghosts bleeding raspberry jelly—Voodoo emphasizes the looks of their doughnuts as much as the taste.
Customers are loving: Old Dirty Bastard doughnut drenched in chocolate frosting, Oreos, and peanut butter drizzle
Bakery staff favorite: Portland Cream with Bavarian cream, chocolate, and "two eyes representing Portland's great vision"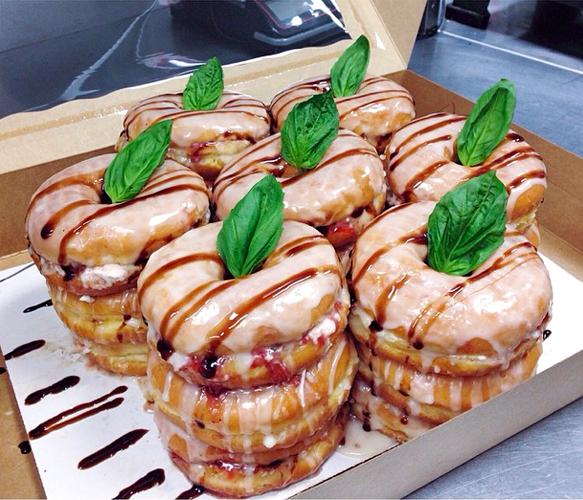 Los Angeles' Donut Friend
With the motto "Donuts Done Differently," owner Mark Trombino describes his doughnuts as classically flavored, but his combinations are nothing short of awe-inspiring. We're talking Srirachosin (peanut butter, strawberry jam, coconut bacon, and sriracha sauce), S'Morrissey (toasted marshmallows, chocolate glaze, and graham cracker crumbs), and Javabreaker (coffee cake and espresso-bean glaze). Donut Friend also has a do-it-yourself doughnut bar where you can pile on as many toppings as you want.
Customers are loving: Strawberrylab with coconut whipped cream and chocolate glaze
Bakery staff favorite: Jets to Basil filled with vegan cream cheese, strawberry jam, and fresh basil, and topped with vanilla glaze and balsamic reduction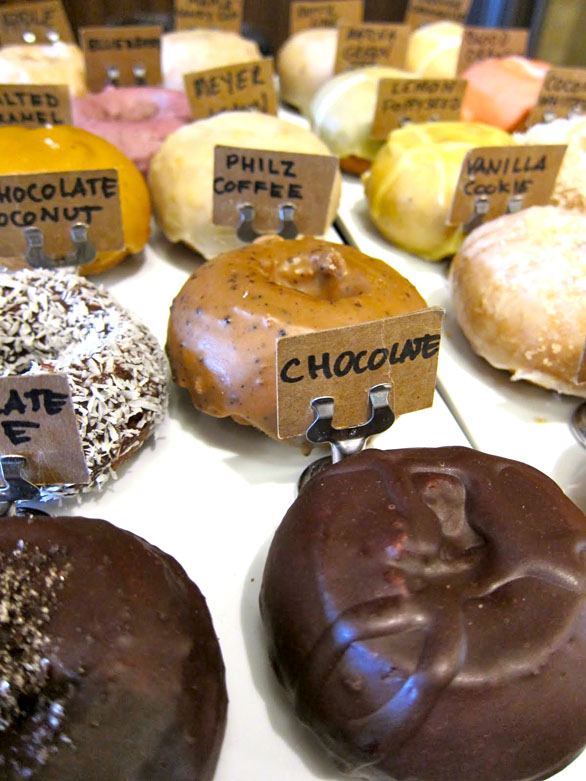 Oakland's Pepples Organic Donuts
Vegans in Northern California get their doughnut fix from the wildly popular Pepples. Though they specialize in classic flavors like Chocolate and Cinnamon Sugar, their daily creations up the doughnut game with concoctions like White Chocolate Coconut Curry and Matcha Green Tea.
Customers are loving: Salted Caramel strikes the perfect balance between salty and sweet
Don't miss: Candy Cap with a mushroom glaze