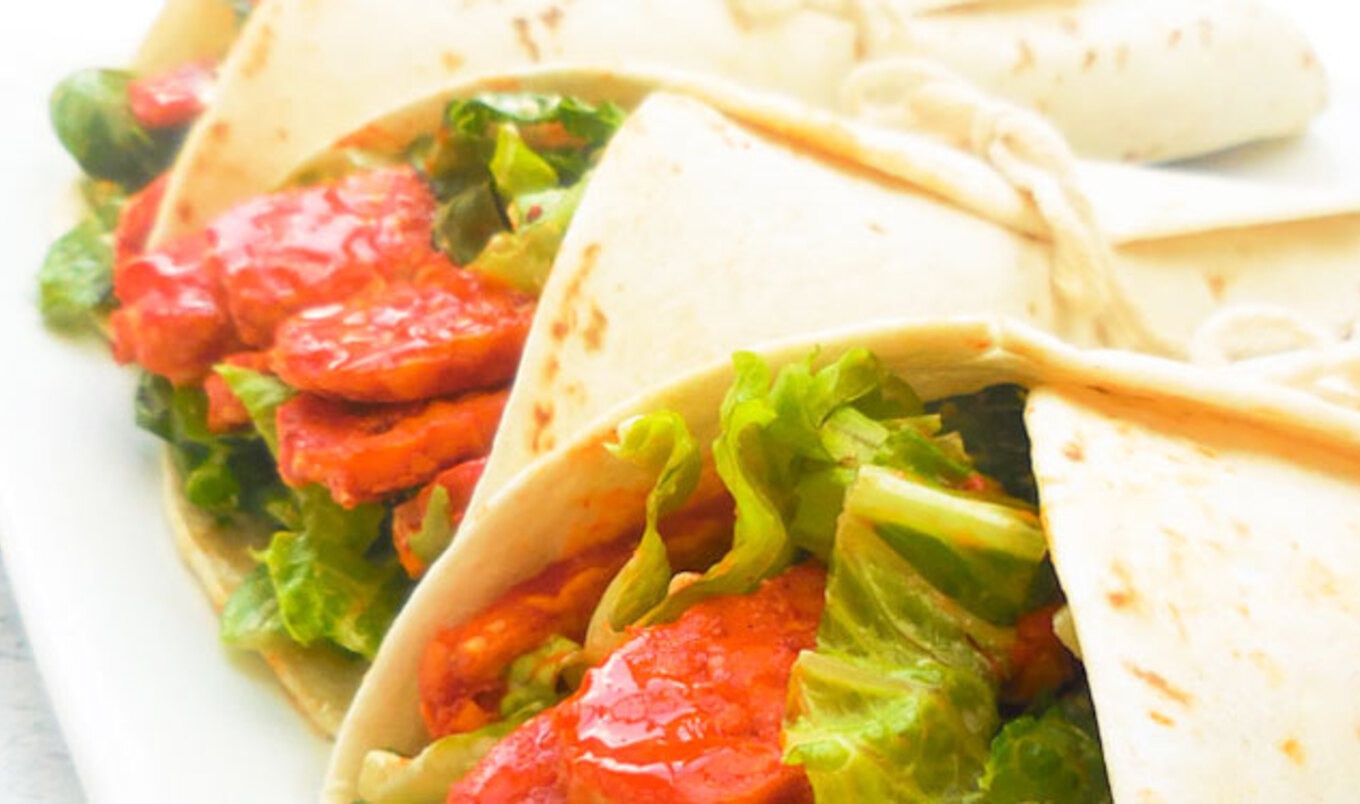 Steamed tempeh in a spicy Buffalo sauce pairs with a vegan bleu cheese dressing for a robust must-make wrap.
June 11, 2017
The classic flavor combination of Buffalo sauce and bleu cheese dressing is one of our favorite culinary pairings, which is why we're adding these two flavor-packed ingredients into a healthy wrap. Ideal for a leisurely picnic or lunch on the go, these wraps are ready in less than an hour and can be enjoyed warm or chilled. For make-ahead convenience, prepare the tempeh and dressing up to a day in advance, and refrigerate both until ready to assemble wraps.
Serves 4
What you need:
For the dressing:
¼ cup vegan mayonnaise
3 tablespoons silken tofu
1½ teaspoons apple cider vinegar
⅛ teaspoon garlic salt
⅛ teaspoon onion powder
⅛ teaspoon ground black pepper
For the tempeh:
6 cups water
1 8-ounce package tempeh
⅓ cup Buffalo-style sauce + additional ¼ cup for basting
For the wraps:
4 roughly chopped cups romaine lettuce
¼ cup sliced celery
4 8-inch flour tortillas
What you do:
1. For the dressing, in a medium bowl, add vegan mayonnaise, tofu, apple cider vinegar, garlic salt, onion powder, and ground black pepper. Stir well and refrigerate until ready to use.
2. For the tempeh, fill a medium-sized pot with water and bring to a boil. Cut tempeh in half, making two even-sized squares. Into a steamer basket, place tempeh and set over the pot of boiling water for 25 minutes. Remove from heat and allow to cool 5 minutes. Slice tempeh into ¼-inch-thick pieces.
3. In a 9 x 13 baking dish, arrange steamed tempeh in a single layer. Pour ⅓ cup Buffalo sauce evenly over tempeh, turning each piece to coat well. Cover and marinate at room temperature for 15 minutes. While tempeh is marinating, preheat oven to 375 degrees. Uncover and bake in preheated oven for 25 minutes, basting with reserved ¼ cup Buffalo sauce every 5 minutes.
4. To assemble wraps, in a medium mixing bowl, toss lettuce, celery, and ¼ cup dressing.
5. Over each tortilla, spread 1 tablespoon of remaining dressing. In the center of each, layer equal portions of lettuce mixture, and top with 4 strips of tempeh. Roll tortillas like a burrito to close and serve.