November marks a month of deals—there's Black Friday, Small Business Saturday, Cyber Monday, and even Veteran's Day sales—but you don't have to wait until the end of the month to score super savings. We're kicking off the month of mark-downs on November 1—World Vegan Day. While regional and independent vegan restaurants are sure to host their own deals, here are five major vegan-friendly chains that are offering discounts on everything from pizza to ice cream. Scoop, scoop, hooray!
View this post on Instagram
1. Ben & Jerry's
Right on par with Free Cone Day, this whimsical ice cream chain is giving out free scoops of their non-dairy delights on World Vegan Day. Stop by any scoop shop between 4pm-8pm for your choice of Cookie Dough or Coconut Almond Fudge Chip. While you're in the shop, pick up a pint (or four) of the other non-dairy flavors—with twelve options ranging from the classic Cherry Garcia to the fully loaded PB & Cookies, it's nearly impossible to choose just one.
View this post on Instagram
2. So Delicious
Set your alarm—this beloved vegan ice cream company is offering a free product voucher for the first 500 people who comment on its November 1 post. Be sure to follow @So_Delicous on Instagram, then leave a comment about your reason for being vegan. With a playful array of flavors from creamy Oatmilk Peanut Butter and Raspberry to cookie dough-studded Cashewmilk Snickerdoodle, this prize is worth setting an early alarm.
View this post on Instagram
3. Blaze Pizza
There are few food pairings more perfectly suited for each other than pizza and ice cream. Before you dive into your Ben & Jerry's or So Delicious, enjoy a Blaze Vegan "Life Mode" Pizza at home. The fast-casual pizza chain is offering free delivery on this plant-based pie only when you order online or via the Blaze app. Made with the company's signature dough, red sauce, gooey Daiya cheese, spicy vegan chorizo, mushrooms, red onions, green bell peppers, basil, and an olive oil drizzle, there's no need to customize—this pizza has it all.
View this post on Instagram
4. Gregory's Coffee
Start World Vegan Day off with a full breakfast and a jolt of caffeine. This hip East Coast coffee chain is offering breakfast for $2 when they order a JUST Vegan Egg Scramble and any beverage made with Califia Farms oatmilk. The Scramble is simple yet hearty—bite into a fluffy JUST Egg patty covered in melty vegan cheese sandwiched between two pieces of warm, homemade focaccia. Also, if you're in the market for a reusable coffee cup, arrive early. The first 100 customers at each store will be given a free Keepcup.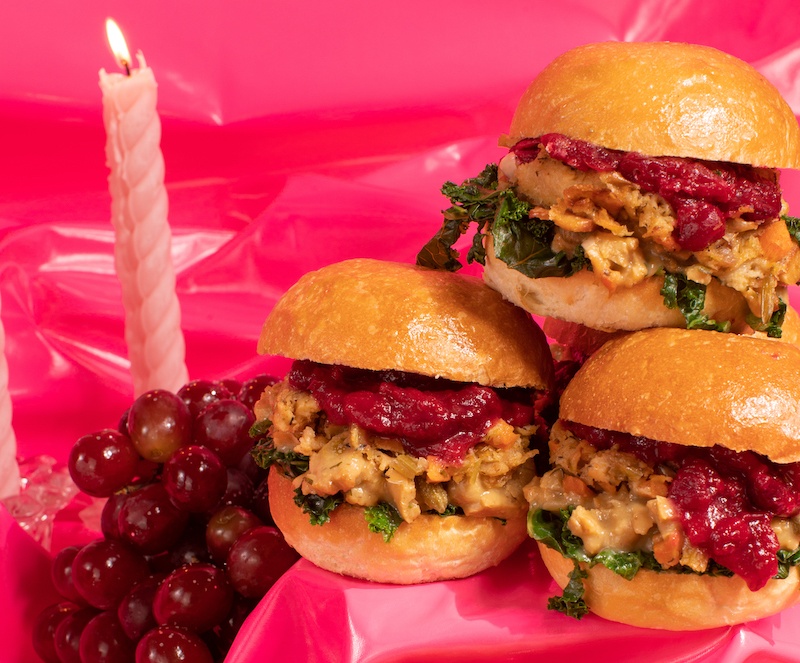 5. by CHLOE
At by CHLOE, Thanksgiving comes early. The fast-casual concept known for its inventive veggie burgers, beet ketchup, and sweet potato-mac and cheese is bringing back a favorite: the Gobble Gobble. While there is no discount attached to this, it's a special you don't want to miss. This Thanksgiving leftovers-inspired sandwich is comprised of a lemon-caper seitan patty, sauteed kale, rosemary gravy, harvest stuffing, and cranberry sauce stacked between a hearty potato bun (like mashed potatoes—get it?). Bonus: for every burger purchased throughout the month of November, the chain will donate $1 to North Shore Animal League America. So go eat a burger—it's for the animals.
View this post on Instagram
6. Baked by Melissa
The queen of mini cupcakes is giving away free vegan treats! Visit any of the 14 Baked by Melissa shops and receive a free six pack of mini vegan cupcakes with a purchase of $30 or more. Don't live near a cupcakery? The company ships nationwide. Online shoppers will also be treated to a complimentary six pack with the purchase of a pre-assorted 25-pack of cupcakes. That may sound like a lot, but when each cupcake is bite-sized, you'd be surprised how many Chocolate Chip Vanilla and Peanut Butter cupcakes you can comfortably eat.
View this post on Instagram
7. FatBurger
Perhaps one of the least likely places you'd expect to celebrate World Vegan Day, this fast-food burger joint is coming around to the vegan side. Based on a successful trial period within nine Los Angeles restaurants, FatBurger is launching its new vegan cheeseburger nationwide on November 1. Made with an Impossible Foods patty and Daiya cheddar cheese on a plant-based bun, this juicy handhold is vegan as is. Try it out yourself—at a discount. The chain is offering free vegan cheese on any burger or sandwich for World Vegan Day. For those who live in Southern California, pair the cheeseburger with FatBurger's recently launched vegan milkshake. If it does as well as the burger, there's hope the chain will launch this non-dairy shake nationwide.
Tanya Flink is a Digital Editor at VegNews as well as a writer and fitness enthusiast living in Orange County, CA.