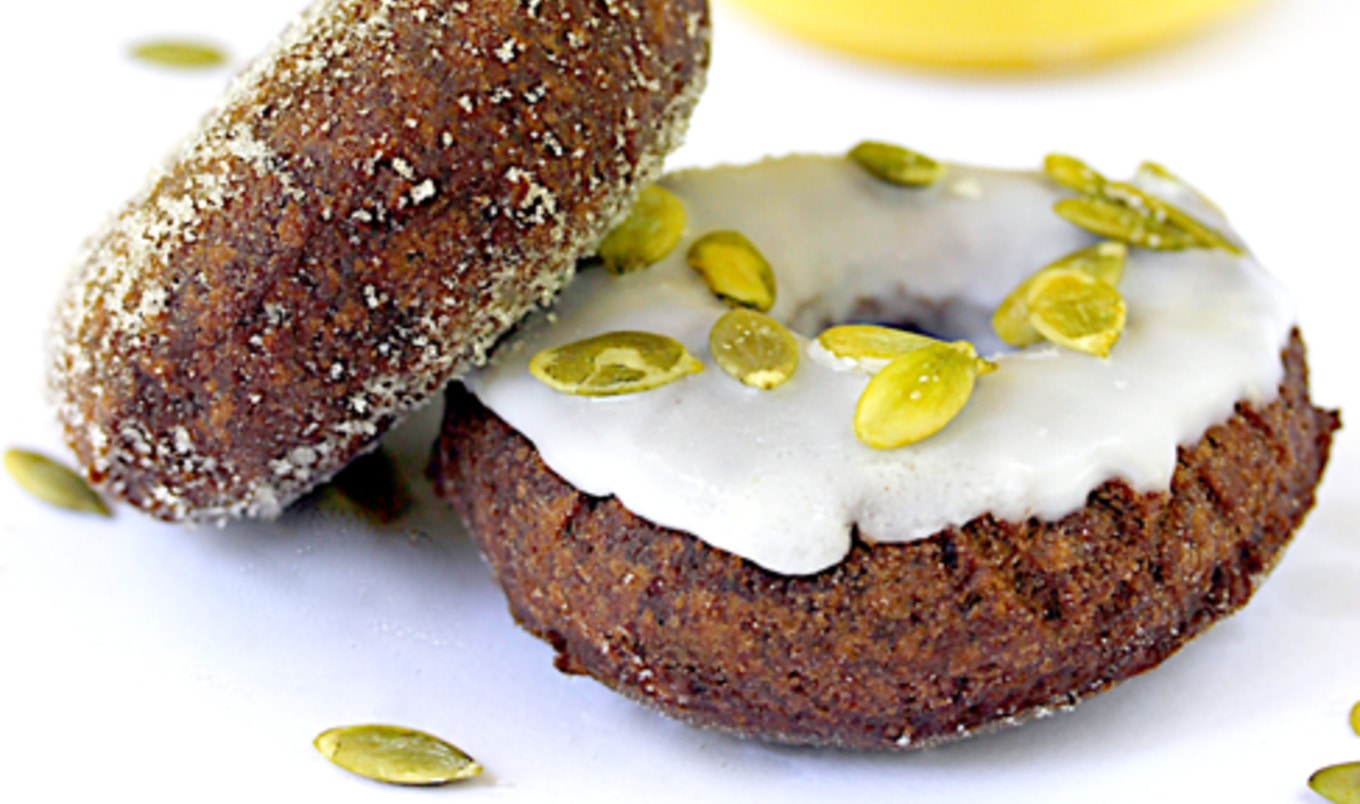 The warm flavors of pumpkin, chocolate, and spices make these gluten-free cake doughnuts the perfect breakfast treat for a cool autumn morning.
October 31, 2023
What you need:
1½ cups sweet white sorghum flour
1 cup finely ground brown rice flour
½ cup potato starch
¼ cup tapioca starch
¾ cup cocoa powder
1 teaspoon xanthan gum
4 teaspoons baking powder
¾ teaspoon salt
1 teaspoon ground cinnamon
½ teaspoon ground cardamom
½ teaspoon cloves
1 cup sugar, plus more for dipping doughnuts
3 tablespoons vegan butter
2 tablespoons ground flaxseeds mixed with 4 tablespoons water
1 teaspoon vanilla extract
½ cup coconut cream
1 cup canned pumpkin
Vegetable oil for frying
What you do:
In a medium bowl, sift together flours, potato starch, tapioca starch, cocoa powder, xanthan gum, baking powder, salt, cinnamon, cardamom, and cloves.
In a large mixing bowl, cream together 1 cup sugar and butter until smooth. Add prepared flaxseed meal, vanilla, coconut cream, and pumpkin, and mix until very smooth. Gradually add flour mixture until incorporated and a sticky batter forms. Chill in refrigerator for at least one hour.
Preheat oil in deep fryer or deep pan to 365 degrees. Turn batter out onto lightly floured surface and flatten gently using floured hands to make a patty about 1 to 1½ inches thick. Using two circular cookie cutters (one 3-inch and one ¾-inch size), cut out one circle and then use the smaller cutter to cut out the middle.
Drop a few doughnuts into the hot oil and fry for 3 minutes. Using a slotted metal spoon, remove from oil and place onto paper bag or towel to absorb any excess oil. Repeat with remaining doughnuts, and then fry doughnut holes for 1 to 2 minutes. Dip hot doughnuts in remaining sugar, or let cool and top with your favorite glaze.
For more vegan doughnut recipes, read: