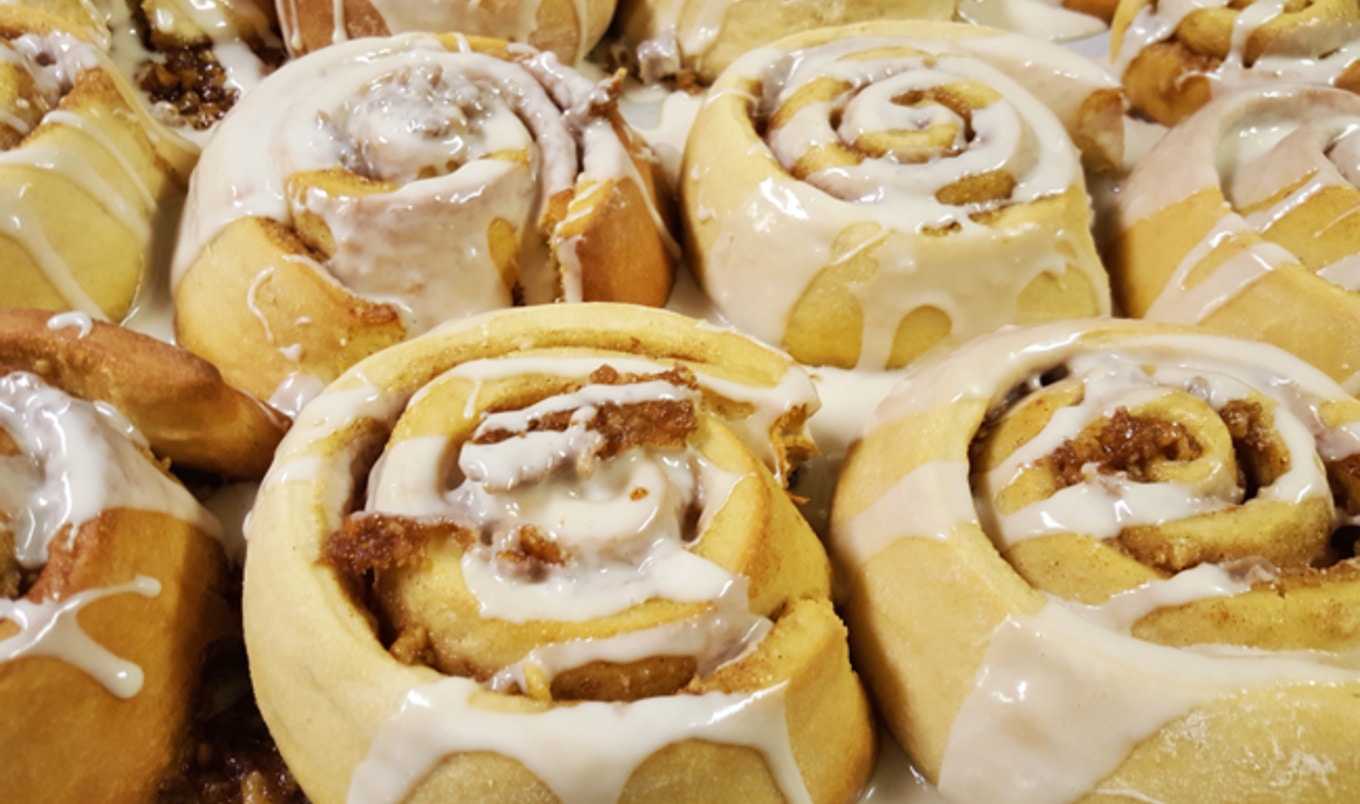 Christmas wouldn't be the same without these ooey, gooey hot buns.
December 1, 2019
If you're anything like us, you wake up early on Christmas morning for one thing—homemade cinnamon buns. Dripping in a sweet glaze, our veganized version of this traditional breakfast treat is an absolute must on December 25, but the fact that we can make these ooey, gooey buns the night before and reheat them the next morning means we can sleep in and still feel like it's morning … even when it's closer to noon.
Serves 36
What you need:
For the dough:
1½ cups warm water 2 tablespoons yeast
1 cup sugar
2¼ cups soy or rice milk
¾ cup vegan butter
2 teaspoons vanilla extract
11 cups all-purpose flour
1 tablespoon salt
For the cinnamon streusel:
2½ cups vegan butter
1 cup sucanat
3½ cups cane sugar
1 tablespoon vanilla extract
2 cups walnuts, chopped
For the creamy glaze:
4 cups confectioners sugar
1 cup non-dairy milk
1 tablespoon vanilla extract
What you do:
1. Preheat oven to 350 degrees.
2. For the dough, into a small bowl, combine water, yeast, and sugar. Proof for approximately 10 minutes, or until yeast is activated (foamy). Combine milk, butter, and vanilla with the yeast mixture.
3. Into a separate large bowl, whisk together flour and salt. Add yeast mixture to the flour mixture, combining with your hands to create a dough that pulls away from the sides. Knead dough approximately 10 minutes to form a soft, smooth ball.
4. Into a lightly oiled large bowl, transfer dough. Cover with a towel and let rise until doubled in size (approximately 45 minutes).
5. Punch down dough and let it rise one more time (approximately 75 minutes) in a warm kitchen.
6. For the streusel, into a food processor, combine butter, sucanat, sugar, vanilla, and walnuts until smooth. Place in refrigerator to chill.
7. Cut dough in half and roll each half to ¼-inch-thick rectangles. Spread half the streusel mixture over dough. Roll dough into cylinder. Repeat process with second dough.
8. Cut rolled dough into 2-inch rounds, pinch edges closed, arrange on two large sheet trays with parchment paper, and cover with towels. Let dough rise for 20 minutes.
9. Bake for 25 minutes, rotating pans after 10 minutes, and then bake for another 15 minutes or until firm to the touch and golden.
10. For the glaze, while the rolls are in the oven, into a small bowl, slowly whisk together 1 cup at a time the confectioners sugar with the non-dairy milk and vanilla, until it has the consistency of cake batter.
11. Drizzle buns with the glaze and serve warm.