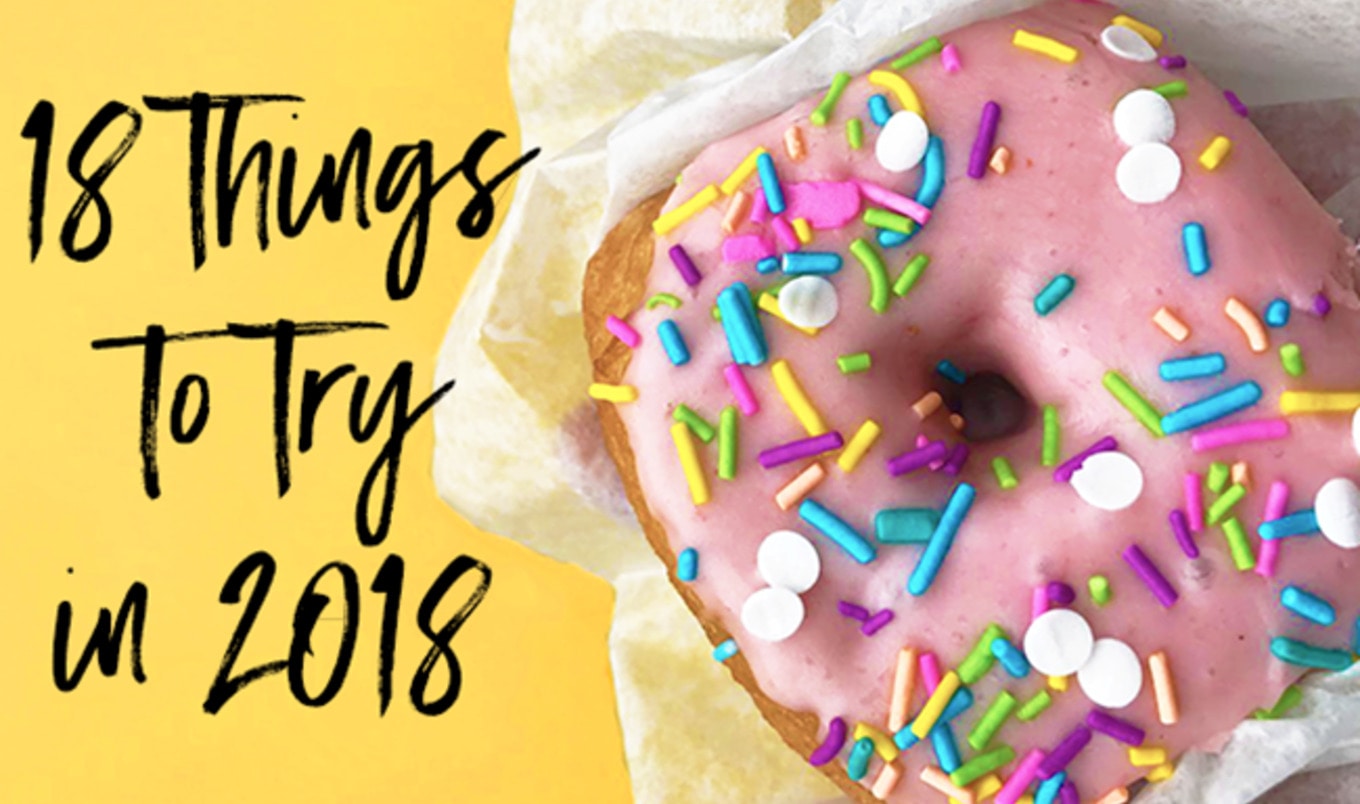 The new year is quickly approaching, and vegan cannabis gummies, bottled Starbucks Frappuccinos, and three new vegan whipped cream options await on the other side.
December 10, 2017
---
In 2017, we gorged ourselves on vegan ice cream and innovative plant-based burgers, and had at least three cups of coffee too many so we could try the entire line of Coffee-Mate vegan creamers. This year's array of vegan products has us looking forward to 2018, a year when we're sure to be excited to sample the newest vegan things the year has to offer. Starting now, we're making room for a variety of whipped cream options, pizza galore, cannabis-infused candy, and a whole lot more. Here's what we're thinking:
1. Dairy-Free Reddi-Wip
With both Trader Joe's and Whole Foods launching their bottles of coconut-based, totally foamy whipped cream in 2017, we can't wait for the most iconic cream of all—Reddi-Whip—to debut its own version next year. Will we be topping pies and lattes with Reddi-Wip? Yup. But more often than not, you will find us getting a fridge tan with a mouth full of whipped cream straight from the source.
2. CBD gummy bears
Cannabis company CBDfx launched its cannabidiol-infused vegan gummy bears in October, and snacking has never been so relaxing. CBD is the non-psychoactive portion of the marijuana plant, and gelatin is the boiled collagen derived from pig bodies (gross!). Infused with 25 milligrams of CBD and zero gelatin, these little bears will create a whole new meaning to being high on sugar!
3. Starbucks food
Kevin Johnson, CEO of Starbucks, explained that the coffee chain plans to add more plant-based food and drink options to drive the company's sales in 2018. We're with you, Kev! In case you're taking notes, our dream menu would be: vegan egg breakfast sandwiches, a variety of plant-based baked goods, and perhaps a hearty salad or 10. For now, we'll pop in periodically for almond milk Frapps and sad plain bagels.
4. Starbucks Frappuccinos
The brand plans to reformulate its iconic bottled Frappuccinos to include two almond milk-based flavors (vanilla and mocha) before the summer heat hits in May. We're planning an epic road trip this summer just to recreate the experience of grabbing a bottle or two at the gas station and sipping on the smooth, caffeinated beverage in the car all the way to happy town.
5. Vegan fried chicken, again
London's Temple of Seitan—the world's first vegan fried chicken shop—will be opening a second location sometime next year in the Camden neighborhood. One of our editors (ahem, this one) visited the beautiful English city in 2017 and is clamoring to go back for more vegan fried chicken at the holy temple. The best part is that the Camden location will have indoor seating, which means you no longer have to coerce local pigeons to skedaddle away from your vegan chicken.
6. All-You-Can-Eat pizza
… and while we're across the pond, it would be a shame if we didn't stuff a massive amount of vegan pizza down our pie holes. Thanks to Liverpool-based eatery Santa Maluco—which launched an all-you-can-eat vegan pizza night recently—that wish could be a painfully satisfying reality. The shop features an array of ready-made pies with toppings such as vegan mozzarella, salt-and-pepper tofu, mock duck, Big Mac sauce, and more.
7. Vegan grilled cheese
In October, popular Virginia-based food truck The Cheesy Rider switched gears to become a fully vegan restaurant named Urbavore. The dairy might be gone (good riddance!), but its popular grilled cheese sandwiches are here to stay. Hey Gouda-looking, we'll take several vegan grilled cheeses with a side of tomato soup, please.
8. Jerky of the sea
What in the barnacles is kelp jerky you ask? It's a new, chewy jerky made from sea plants by New York company Beyond the Shoreline. The jerky goes through a unique freezing, drying, extrusion, and seasoning process to get its texture and flavor, and we're sea-foaming at the mouth to get our hands on it.
9. Crepes and ice cream
At Crepe & Spoon—the newest vegan-friendly eatery in Minneapolis, MN—minus two dairy-based ice cream flavors, all items on the menu are vegan. The eatery make its crepes with vegan meat and cheese fillings thanks to local vegan shop The Herbivorous Butcher, while the coconut- and cashew-based ice cream comes in flavors such as maple nut, popcorn, and piña colada. Forget spoons! We're double fisting with a crepe in one hand and a cone in the other.
10. Glittery Converse
Miley Cyrus has been teasing her collaboration with shoe brand Converse on Instagram for weeks and, while not confirmed, we hope the line is as vegan as the famed pop singer. So far, we've peaked at four styles—some of them featuring glittery platform soles. Our New Year's resolution is to be more fashionable, vegan-style. Let's go, Miley!
11. Aquafaba fabulous
Elmhurst Milked—a brand that used to process dairy but flip-flopped to plant-based to keep up with the times (which is why we named them our Company of the Year in the 2017 Vegnews Veggie Awards)—will introduce Elmhurst Aquafaba to its line. The liquid product—made from the liquid brine that surrounds canned chickpeas—will serve in place of egg whites to make baking easier and more animal-friendly. We're thinking 2018 will be the year of vegan cakes, scones, meringues, and more!
12. Pizza Hut
We'd have to head back to the United Kingdom to sample Pizza Hut's vegan cheese pies—and would think about Greek brand Violife luscious vegan cheese melting all over the chain's pizzas the entire plane ride there. We'll be sure to pack our stretchy pants to accommodate any unforeseen bloating that may happen. Alternatively, we'd love to stay put and have Pizza Hut deliver. Hey Pizza Hut, let's launch vegan cheese in United States. You game?
13. Just Scramble
Hampton Creek debuted its newest product—vegan scrambled eggs Just Scramble—last month, and we've been craving more ever since. Sure, we already tried it in scramble form (accented with mushrooms and spinach), but we're thinking of all the possibilities of this revolutionary product that's made mostly from mung beans. Can we make a frittata? How about a quiche? Or perhaps whip up an eggless custard? In 2018, we're putting our vegan egg-making skills to the test.
14. Ben & Jerry's
Last year was undoubtedly the year of vegan ice cream—and mainstream ice cream pioneer Ben & Jerry's had no shortage of flavors (a whopping seven) to offer the cruelty-free crowd. A little birdie tells us that more flavors are scheduled for the frozen dessert giant, and we're extremely eager to try whatever they concoct. Here's to hoping the new flavors are loaded with vegan cookie dough, gelatin-free marshmallows, and enough fudge to drown any doubt that vegan ice cream will take over the world in 2018.
15. Barley milk
New vegan startup Canvas is like that college roommate we always wished we had, primarily because it turns beer waste into plant-based barley milk. The company's initial line features five upcycled flavors, including Original, Cocoa, Cold Brew Latte, Matcha, and Turmeric Chai, and we're going to bet they'll be a big hit with plant-minded fraternities in 2018. Canvas makes us regret that we never made our Bud Light into breakfast … oh wait, we did.
16. "Hogwarts" vegan dining station
Speaking of college, the University of Southern California launched an all-vegan station inside of what students term "Hogwarts"—as it reminds them of Harry Potter's gothic aesthetic. Chef Nathan Martinez makes everything vegan and often experiments with flavor combinations to create tasty food for busy students. On our visit in 2018, we'll be sure to bring our very vegan friend Evanna Lynch—known to many Potter fans as Luna Lovegood.
17. Greek yogurt
Plant-based brand Ripple—known for its pea-based milk line and its suggestive branding—debuted several flavors of thick, tangy, Greek-style yogurt made with zero animal products. Chobani might have the dairy-drinkers in a chokehold, but we're betting that Ripple's yogurts—in flavors such as blueberry and strawberry—will attract them to team vegan in no time.
18. All the doughnuts
At VegNews, we are no strangers to vegan doughnuts, but new shop The Vegan Doughnut Company—run by adorable sisters Kharisma and Kyra Mayo—has piqued our interest. The Mayo sisters create innovative doughnuts in a variety of flavors, including the drool-inducing Cookie Dough—a yeast-raised doughnut dipped in vanilla frosting, then topped with cookie-dough chunks, chocolate chips, and a drizzle of chocolate. Ladies, the irony of your last name is not lost on us, and once we get to your shop in Ohio, none of your doughnuts will be safe from our dessert-loving rage!
Anna Starostinetskaya is VegNews news editor and will need to make some new vegan friends to help her try all of these things in 2018.