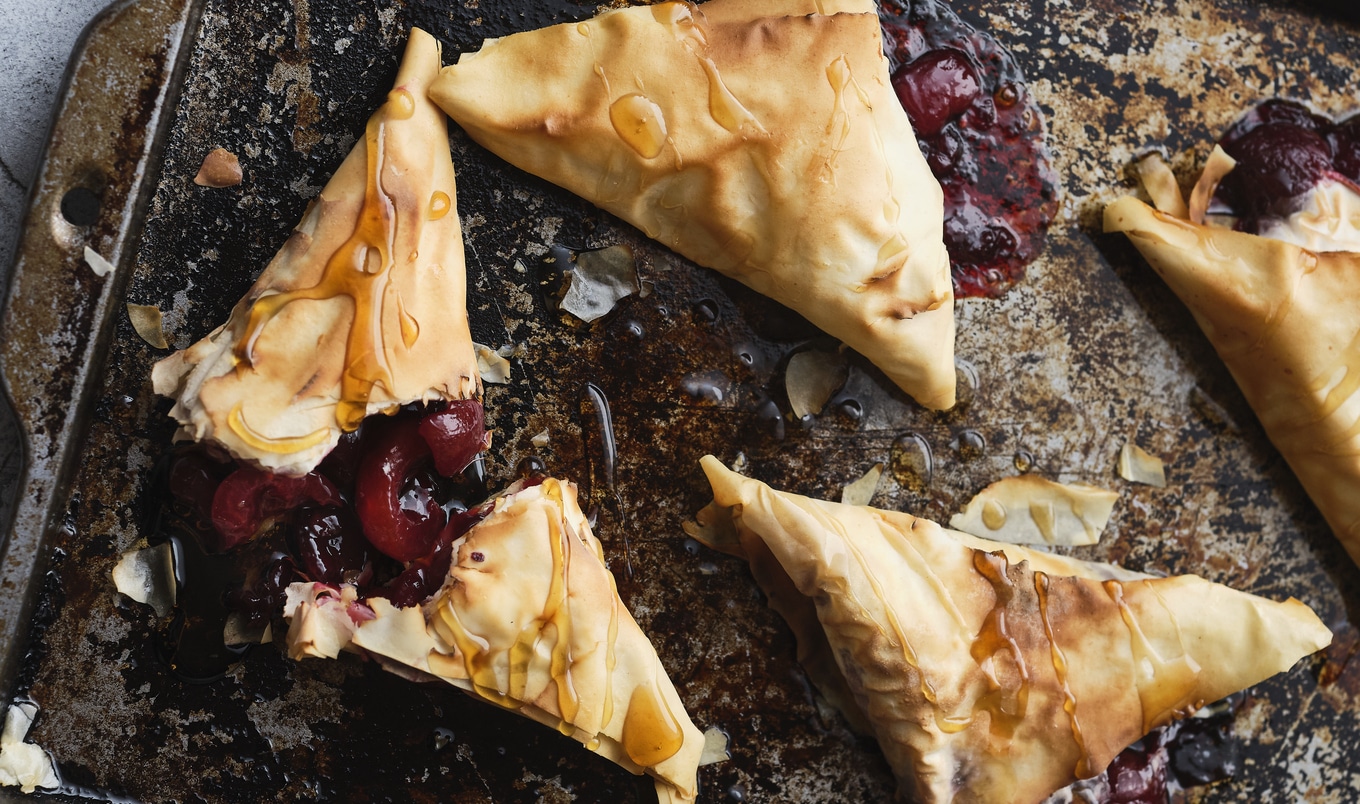 These turnovers may seem complicated, but each flaky, buttery, fruit-filled pocket comes together in no time.
July 11, 2021
These turnovers from the Healthy Vegan, Happy Body cookbook taste like sweet summer memories, but can be made year around with frozen fruit. Or substitute a different type of fruit—and coordinating jam flavor—for the cherries for endless turnover possibilities.
What you need:
Nonstick cooking spray
1 cup pitted, chopped cherries (fresh or frozen)
¼ cup plus 2 tablespoons cherry jam
2½ teaspoons arrowroot powder
½ teaspoon vanilla extract
8 whole-wheat phyllo dough sheets (9 x 13 inches each), thawed
2 tablespoons brown rice syrup
What you do:
Preheat oven to 350 degrees. Spray a small baking sheet with cooking spray and set aside.
In a medium bowl, stir cherries, jam, arrowroot, and vanilla. Set aside.
Lay two sheets of phyllo (one on top of other) on a clean, dry surface. Fold in half lengthwise to form a 4½ x 13-inch rectangle with short side facing you. Place 1⁄4 of filling at base of phyllo rectangle. Working from a corner, fold bottom left edge of phyllo up and over mixture to form a triangle. Repeat this motion from opposite corner, continuing triangle pattern. Keep folding into triangles until no more phyllo is left.
Place turnover on prepared baking sheet and spray with oil. Repeat process to make remaining turnovers.
Bake for 10 to 20 minutes, or until golden brown. Remove from oven and drizzle with brown rice syrup just before serving. Refrigerate leftovers in an airtight container for up to 5 days.
Photo credit: Iain Bagwell