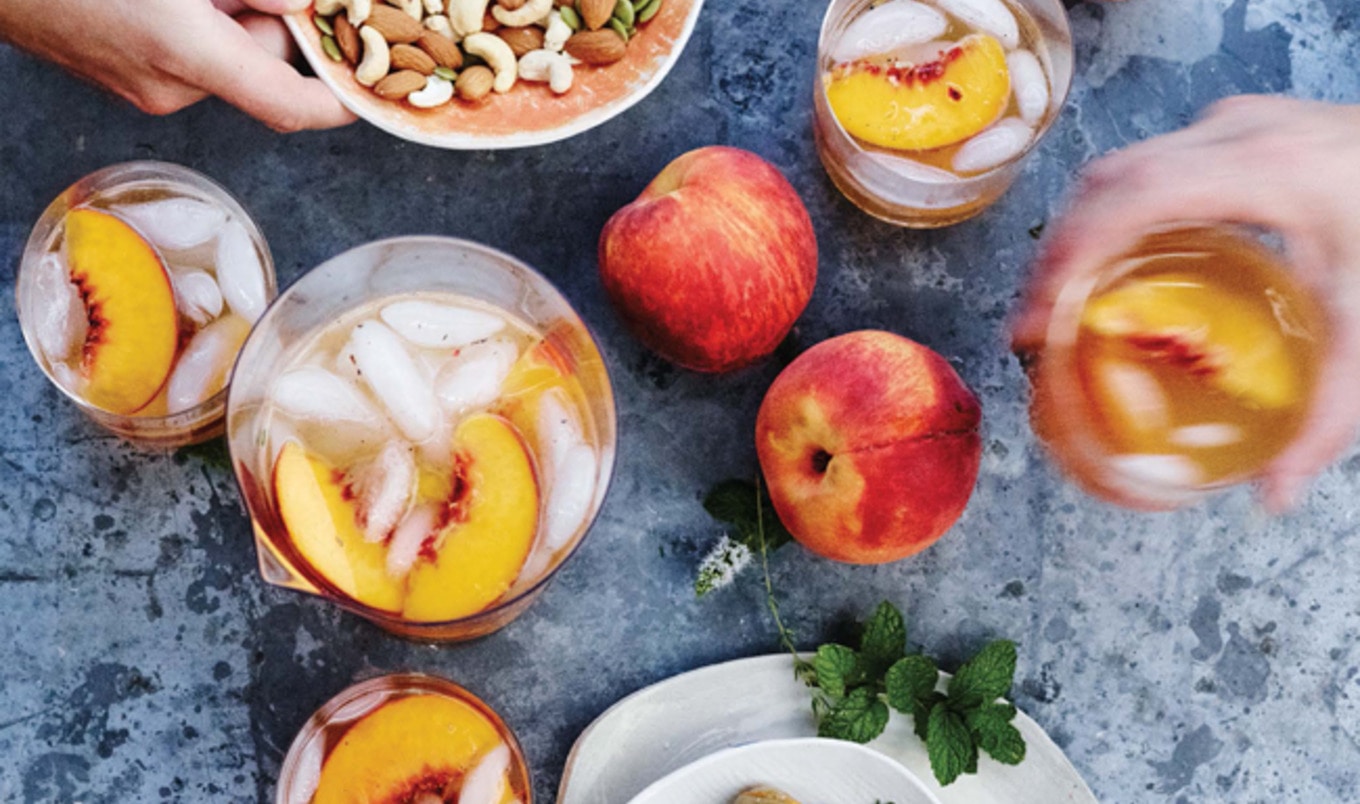 Ginger, vanilla, mint, and lime combine with sweet seasonal peaches for an unforgettable fruity sangria.
July 3, 2022
Perfect for hot, sunny days, this lip-smackingly delicious sangria—from Tess Master's cookbook The Perfect Blend—combines the sweetness of summer peaches and complexity and elegance of ginger, lime, mint, and vanilla. Make ahead of time to allow flavors to meld and mingle, served chilled at your next picnic or barbecue, and enjoy the fruits of your labor (and of the season).
What you need:
5 ripe peaches
2 cups unsweetened white grape juice
1 teaspoon minced fresh ginger, plus more to taste
½ teaspoon finely grated lime zest
1 bottle Sauvignon Blanc
½ cup apricot brandy
1 vanilla bean, sliced lengthwise
1 cup loosely packed mint, plus more to taste
2 cups ice (optional)
What you do:
1. Peel and pit peaches. Roughly chop 3 to yield 2 cups. Cut the remaining 2 peaches into 16 slices.
2. Into a blender, add grape juice, chopped peaches, ginger, and lime zest and blend on high for 30 to 60 seconds, until smooth. In a glass pitcher or punch bowl, combine the wine and brandy. Stir the blended mixture into the wine mixture. Frothiness will settle.
3. Add peach slices, vanilla bean, and mint to sangria. Stir to combine and let sit at room temperature for 2 hours to allow the fruit flavors to infuse the mix. Chill in the fridge for at least 12 hours, and preferably 24 hours, for the best flavor.
4. Once chilled, remove vanilla bean and mint leaves. If serving all of the sangria at once, add ice to the pitcher. Otherwise, drop ice into individual glasses.