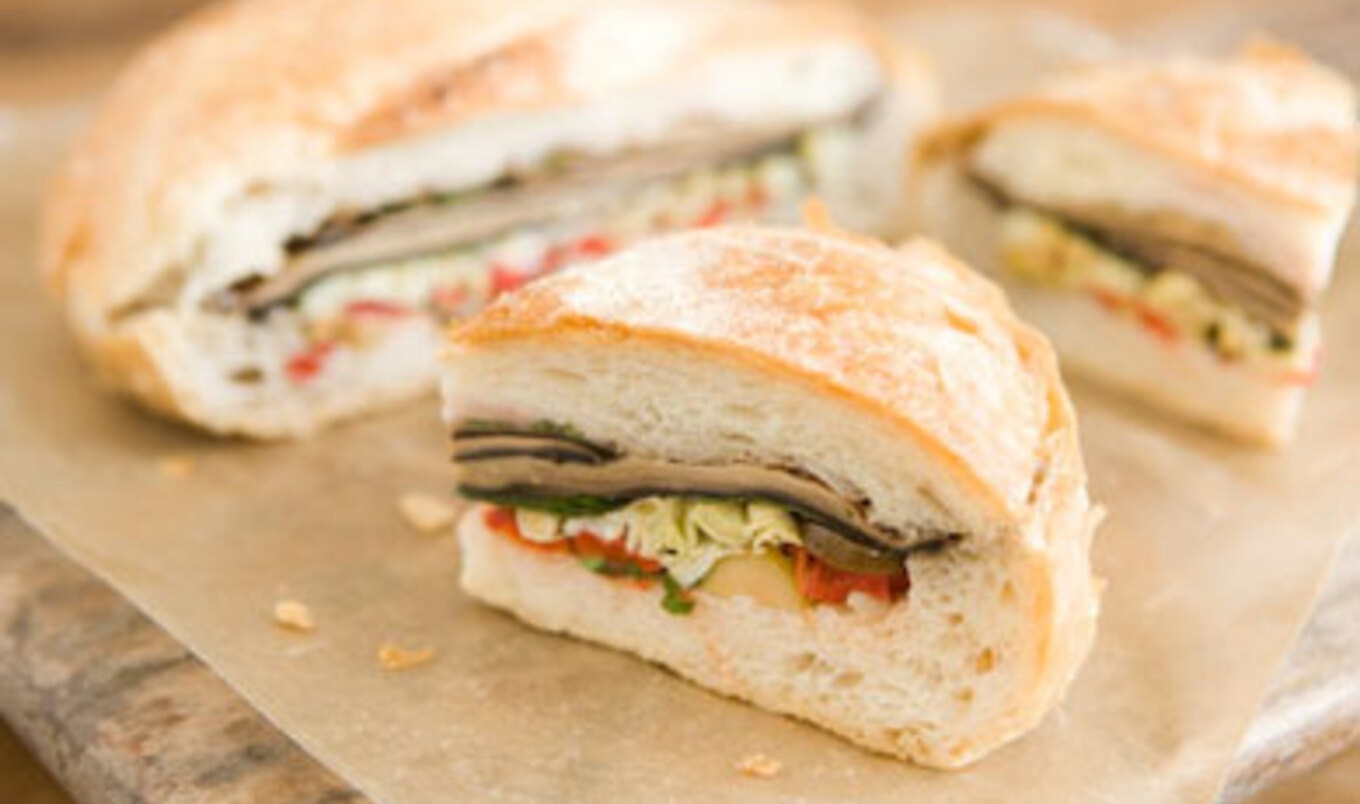 Mardi Gras is the perfect time to make this mouth-watering, multi-layer sandwich.
March 5, 2019
Take a tasty trip to New Orleans with this sensational, super-savory sandwich. For extra authenticity, layer this massive meal up with your favorite faux meats and non-dairy cheeses—just make sure and leave room for beignets!
What you need:
1 15-ounce can chickpeas, drained
½ cup roasted sweet red peppers, chopped
1 cup pimiento-stuffed green olives, chopped
1 cup imported pitted black olives, chopped
½ cup chopped banana peppers, pepperoncini, or other mild pickled peppers
2 large garlic cloves, minced
2 tablespoons capers
2 tablespoons fresh parsley, chopped
1 teaspoon dried oregano
¼ cup olive oil
2 tablespoons white-wine vinegar
¼ teaspoon salt
¼ teaspoon black pepper
1 round loaf crusty Italian bread
2 avocados, peeled, pitted, and sliced
1 large ripe tomato, thinly sliced
What you do:
In a food processor combine the chickpeas and roasted red peppers until smooth. Set aside.
In a medium bowl, combine both kinds of olives with the banana peppers, garlic, capers, parsley, oregano, oil, vinegar, and salt and pepper to taste. Set aside.
Use a serrated knife to cut the bread in half horizontally and remove some of the inside to make room for the filling. Spoon some of the liquid from the olive salad onto the cut sides of the bread. Spread the reserved chickpea mixture on the bottom half of the bread. Layer the avocado and tomato on top, then spread the olive salad evenly over all. Top with the top half of the bread loaf. Using a serrated knife, cut the sandwich into four wedges and serve.