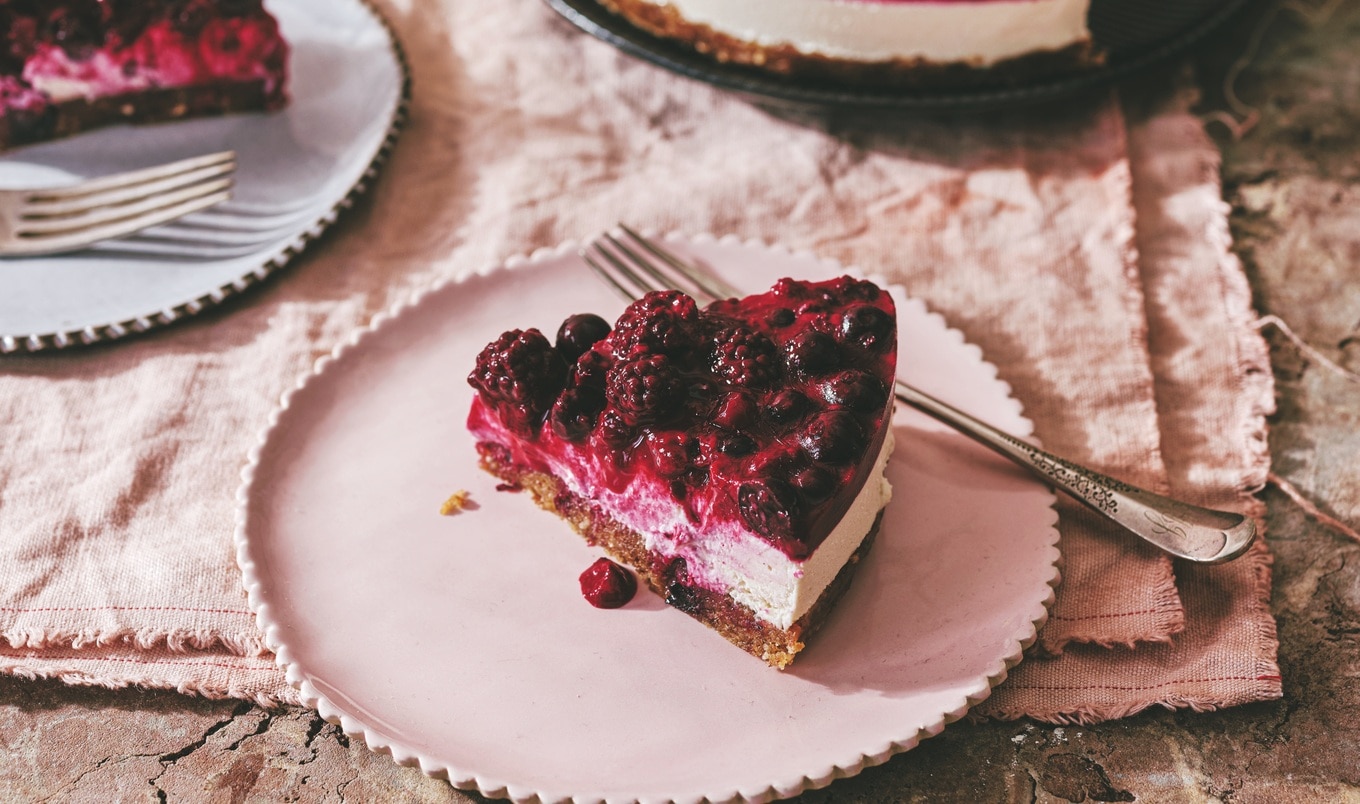 Take advantage of summer's bounty with this simple, fruity, and zesty no-bake dessert.
July 15, 2023
Decadent coconut milk and fresh, sweet berries mingle in this irresistible recipe from the One Pot: Three Ways cookbook by Rachel Ama, a popular London-based blogger and recipe developer. Serve with coconut whipped cream and thick chocolate shavings for some added decadence.
What you need:
For the stewed berries:
6½ cups mixed berries (fresh or frozen)
¾ cup maple syrup
1 lemon, zested
For the cake:
Stewed berries (see recipe above)
1 tablespoon cornstarch
⅓ cup plus 2 tablespoons maple syrup, divided
1⅓ cups cashews, soaked for 1 hour, then drained
3 tablespoons lemon juice
¼ cup coconut oil
⅔ cup full-fat canned coconut milk
1 teaspoon vanilla extract
¼ teaspoon salt
For the crust:
1 cup walnuts
¾ cup plus 2 tablespoons dates, pitted
¼ teaspoon salt
What you do:
For the stewed berries, in a deep saucepan over low heat, place berries. Stir in maple syrup and lemon zest. Simmer for 10 minutes, stirring occasionally. Add cornstarch and simmer, stirring occasionally, for about 5 minutes until mixture thickens. Turn off heat and stir in 2 tablespoons of maple syrup.
Into a clean blender, add cashews, lemon juice, coconut oil, remaining maple syrup, coconut milk, vanilla extract, and salt. Blend until completely smooth.
For the crust, line a 6-inch pie pan with parchment paper. Into a blender, add walnuts and pulse into small crumbs. Transfer to a plate. Into same blender, add dates and salt, and pulse into small pieces. Add walnuts to blender and pulse until just combined with dates, being careful not to overmix. Transfer mixture to a plate and set aside.
Into prepared baking dish, add crust mixture and press down to create an even layer. Pour cashew mixture over top and place in freezer for 2 hours to set. Remove from freezer, and pour stewed berries on top. Return to freezer for another 2 hours. Serve within 10 minutes of removing from freezer.