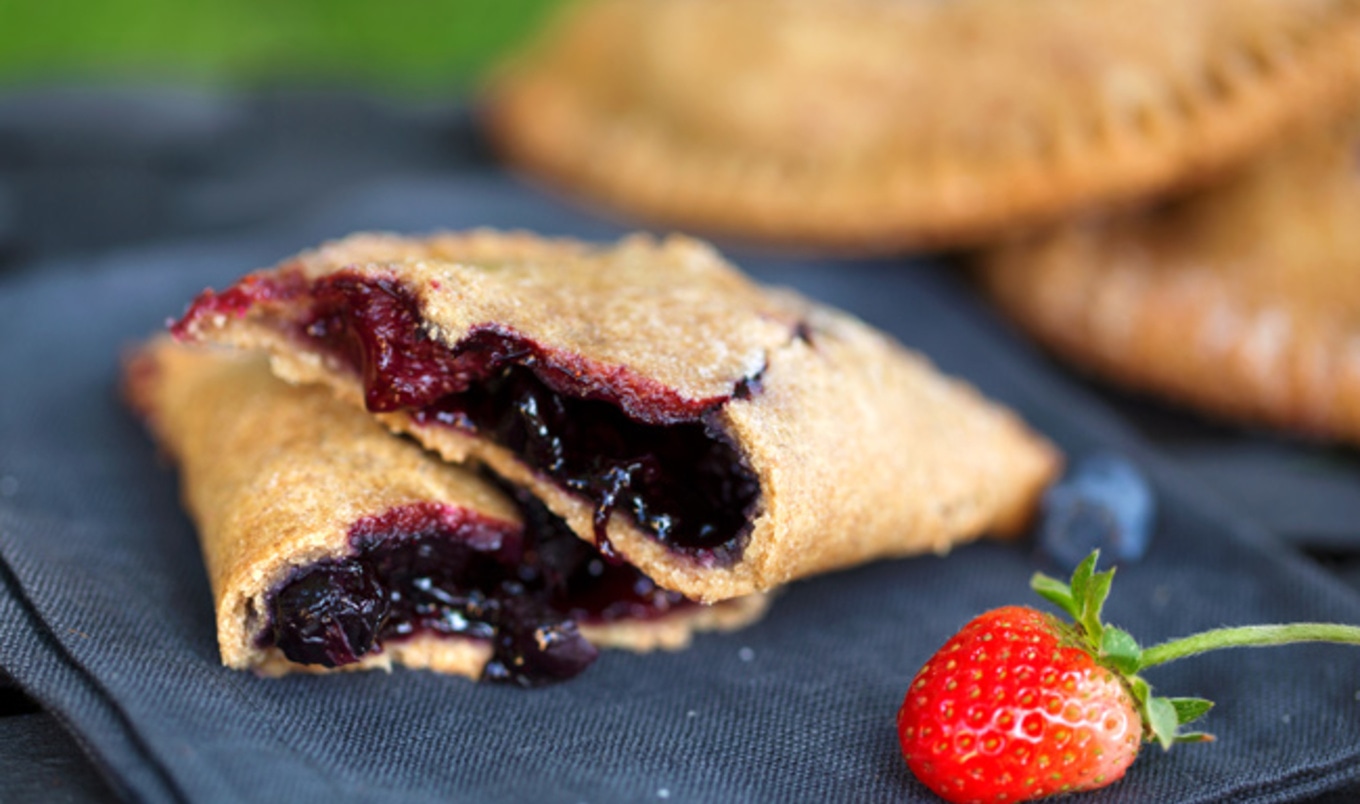 Blackberries, blueberries, strawberries, and raspberries—this recipe for "hand pies" uses them all!
August 5, 2023
These baked treats are a welcome addition to a bagged lunch or to take along on a hike or picnic. The berry filling can be varied to suit your own personal tastes or to take advantage of other seasonal fruits.
What you need:
For the pastry:
1½ cups whole wheat pastry flour
⅓ cup chickpea flour
½ teaspoon cinnamon
½ teaspoon salt
2 tablespoons safflower oil
3 to 5 tablespoons water, as needed to bring dough together
3 tablespoons maple syrup
For the filling:
½ cup strawberries, de-stemmed and cut into quarters
½ cup blackberries
⅓ cup blueberries
⅓ cup raspberries
⅓ cup plus 1 tablespoon sugar, divided
1 tablespoon flour
1 tablespoon lemon juice
1/8 teaspoon ground cardamom
What you do:
1. For the pastry, in a large bowl, place whole wheat pastry flour, garbanzo bean flour, cinnamon, and salt, and stir well to combine. Drizzle the oil over the dry ingredients. Using your fingers, work in oil so the mixture resembles coarse crumbs.
2. Add remaining pastry ingredients, and stir until mixture comes together to form a ball. Cover and refrigerate for 30 minutes or more. Line a cookie sheet with a piece of parchment paper and set aside.
3. For the filling, in a small bowl, place all of the berries, sugar, flour, lemon juice, and cardamom, toss gently to combine. Set aside. Transfer the chilled dough to a floured work surface. Working with one half at a time, roll dough out to 1/8-inch thickness, and cut it into 5-inch circles. Using a spatula, carefully transfer the circles to the prepared cookie sheet. Add trimmings to remaining pastry dough, and repeat rolling, cutting, and traying procedure to yield six circles.
4. Placing in the center of each circle, evenly divide berry filling among dough circles. Carefully fold over one side of pastry dough, press down around edges of dough to seal, and then crimp edges with a fork. Sprinkle tops of pies with the remaining one teaspoon of sugar. Bake at 375 degrees for 15 to 20 minutes or until lightly browned. May be served either hot or cold.
For more recipes like this, check out: