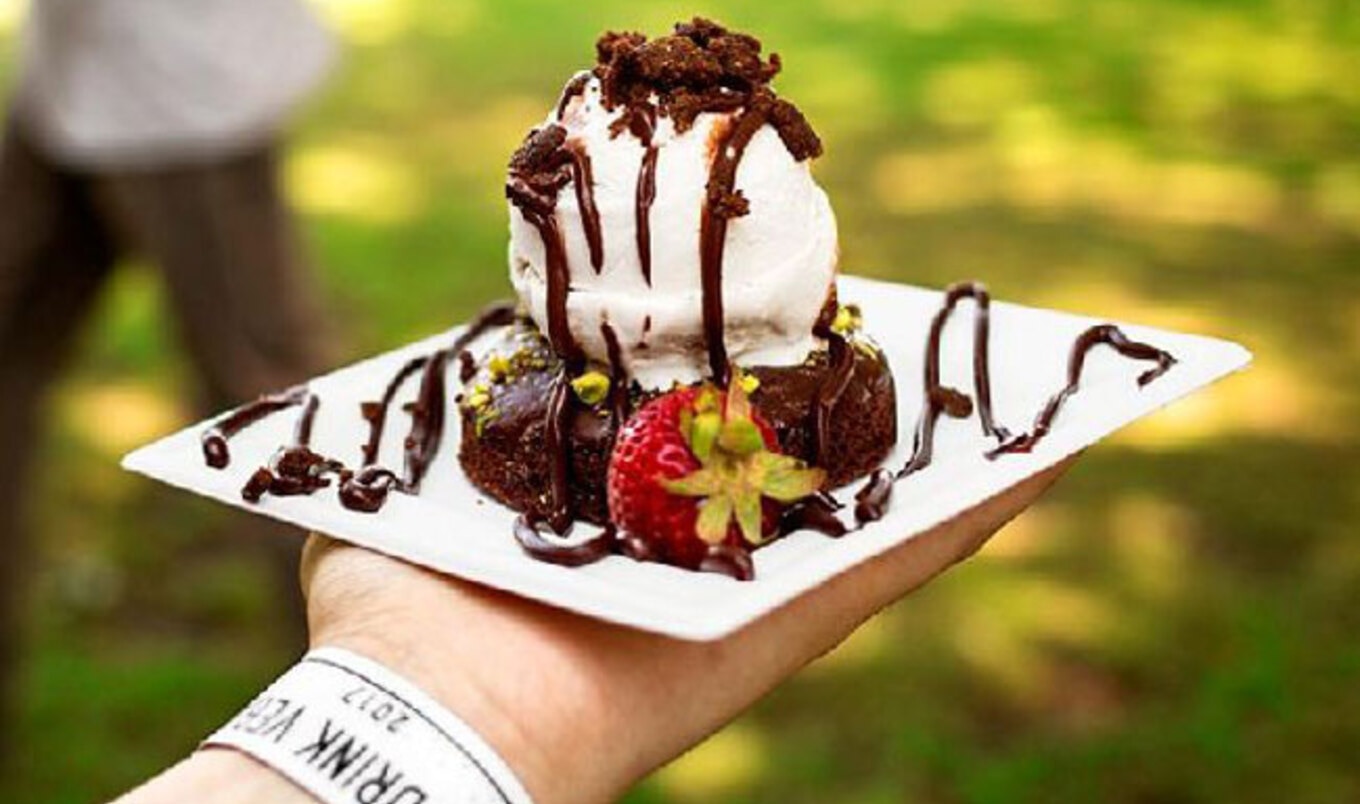 Foodies and drink geeks flocked to this highly anticipated (and all-vegan!) event.
June 7, 2017
---
Eight hours. Two hundred and fifty vendors. Thousands of attendees. One spectacular festival. With statistics such as these, it's hard not to call this year's Eat Drink Vegan the largest—and most successful—to date. In fact, Eat Drink Vegan was so overwhelming that we needed a few days to recover from so much awesomeness in one setting (the Rose Bowl in Pasadena, CA). Now that (we think) we've recovered, here are a few highlights from this year's event that already have us booking tickets to next year's gathering.
 
The Food
Classic comfort foods won the day, as the lines for tacos, burgers, and macaroni and cheese were key indicators as to what people wanted to eat. Although lines at this festival were comparatively short in relation to other events, Cena Vegan, The Abbot's Butcher, and Sizzle Pie all had waits that catered to patient festival-goers. Cena is a Los Angeles festival favorite that serves burritos, nachos, and tacos with a choice of four plant-based, Mexican-style meats—carne asada, pollo asado, al pastor, and gluten-free barbacoa, while the Abbot's Butcher BBQ Western Cheeseburger was piled high with a hearty plant-based burger, Follow Your Heart Cheese, crispy onions, lettuce, and barbecue sauce. Then there was Portland-based Sizzle Pie, which offered a variety of crispy thin-crust vegan pizzas with homemade marinara sauce and a creamy caramelized onion spread. Attendees also loved the mac and yease from ieatgrass—Instagram was flooded with "best vegan mac ever" posts—and the molé nachos from Casa. The event also featured a plethora of options to satisfy the sweet tooth, but Peaceful Provisions' triple layer brownie took the cake (pun intended). This treat was a true triple threat, combining a chocolate chip cookie, Oreo cookies, and a gooey chocolate brownie into a brick-sized sugary masterpiece … topped with sprinkles, of course!
 
The Drink
As the sun beat down on the festival grounds, attendees kept cool by sipping unlimited samples from an array of beverage vendors. For starters, the wine vendors curated by Plant Food + Wine served a signature spritzer created especially for the event, while VOXIE—a dry sour cherry chardonnay spritzer—was the first dry hopped wine spritzer in the world (thanks to the collaboration between Hoxie Spritzer and Field Recordings Wine). As for beer, guests flocked to a familiar favorite: Bottle Logic Brewing's Ocularity IPA. Café Gratitude garnered attention due to its blender bicycle. Customers who ordered the Cool—a mineralizing mint chocolate chip shake—could blend their beverage by pedaling a bicycle-powered blender. For those who needed a pick-me-up, The Brauhaus offered its single-origin cold-drip coffee, meticulously crafted through its state-of-the-art brewing system. Finally, VIP guests could enjoy the best of both worlds with 2nd Craft Coffee, whose coffee beans are aged in alcohol before roasting, so you get the taste without the toxicity. The 2nd Craft Kelapa—which is created with their Rum Sumatra Cold Brew, coconut, coconut milk, and vanilla beans—was the most popular.
 
The Chillin'
Sometimes, large festivals can be overwhelming. The lines are despairingly endless, parking can be a nightmare, and vendors often sell out hours before closing. However, Eat Drink Vegan overcame these logistical frustrations, creating a truly enjoyable and carefree experience. Both the parking situation and entrance to the event was efficient, allowing eager ticket holders to start sampling sooner. Lines were kept to a minimum, especially for the beverage samples, so attendees could chat with the vendors and learn about their products. There were also plenty of benches, tables, and grassy open spaces to lay out a towel, listen to the music, and savor your meal. Best of all, many of the popular vendors were well-stocked, serving crave-worthy dishes all day long. The attention to detail and solid organization allowed everyone to rest easy and enjoy their day. Basically, Eat Drink Vegan was the perfect day that brought people—who proudly donned pretzel necklaces and pro-vegan apparel—to celebrate the plant-based movement.
 
Tanya Flink is a certified Master Personal Trainer based in Orange County, CA, and host of the upcoming new podcast The Vegan Potluck.