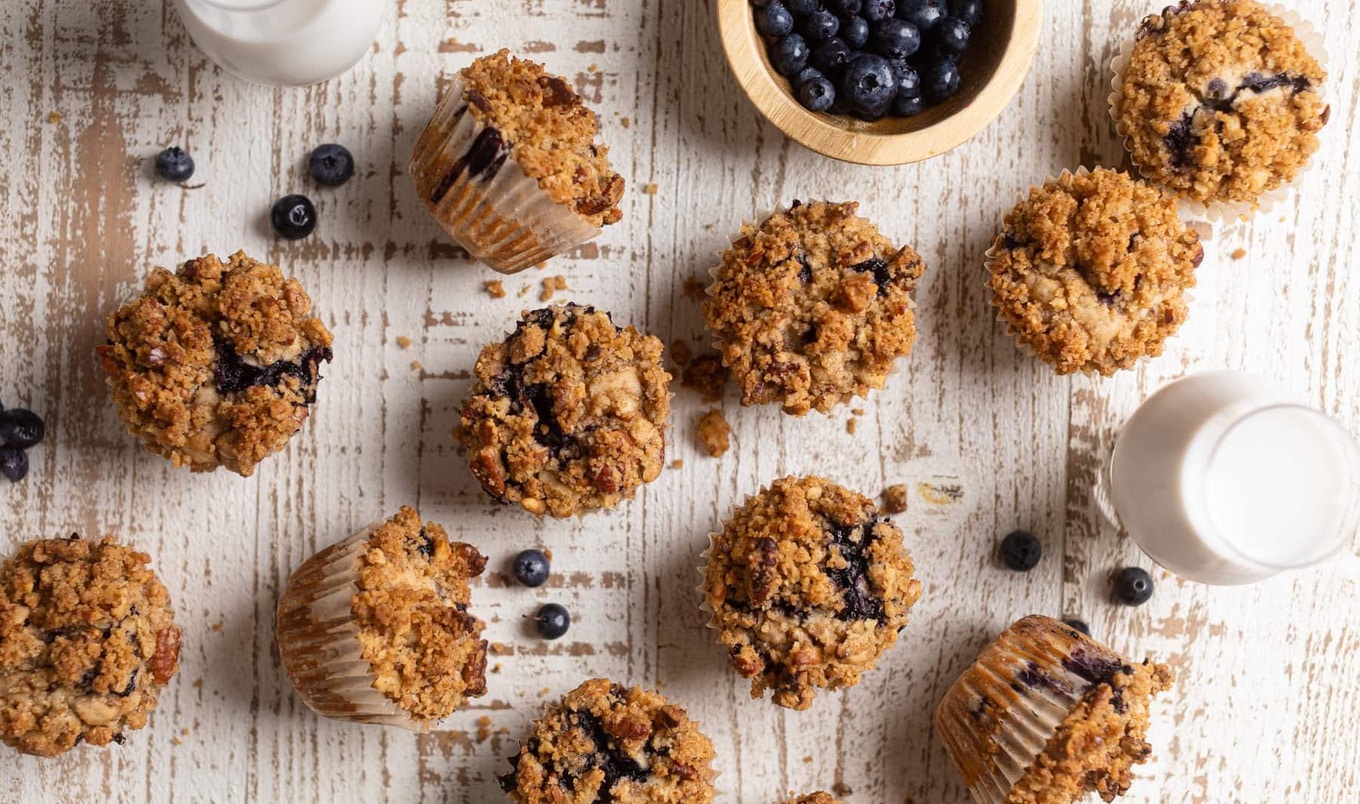 These moist muffins are the perfect way to incorporate fresh bananas, blueberries, and other healthful ingredients into your mornings.
July 15, 2023
The lightly sweet, buttery crumble topping on top of these fresh muffins adds a touch of decadence to these baked goods from the Orchids + Sweet Tea blog.
What you need:
For the muffins:
½ cup vegan milk
1 teaspoon apple cider vinegar
2 ripe bananas, mashed
¼ cup vegan butter, melted
¼ cup agave nectar
1 teaspoon vanilla extract
1½ cups flour
½ teaspoon baking powder
1 teaspoon baking soda
¼ cup coconut sugar
1 teaspoon ground cinnamon
½ teaspoon salt
1 cup fresh blueberries
For the pecan crumble topping:
½ cup flour
½ cup brown sugar
1 cup roughly chopped pecans
1 teaspoon ground cinnamon
¼ cup vegan butter, partially melted
What you do:
For the muffins, into a small bowl, add milk and apple cider vinegar. Stir together until combined, and let sit for 5 minutes. Preheat oven to 375 degrees, and lightly grease muffin pan.
Into a large bowl, combine mashed bananas, melted butter, agave, vanilla, and milk mixture, whisking together until well combined.
Stir in flour, baking powder, baking soda, sugar, cinnamon, and salt, and mix until just combined, being careful not to overmix. Fold in blueberries, and pour batter evenly inside prepared muffin pan.
For the pecan crumble topping, into a medium bowl, combine flour, brown sugar, pecans, and cinnamon. Using a spatula, add partially melted vegan butter and mix until a crumble texture is achieved. Sprinkle crumble topping evenly over each muffin, until fully covered. Place in oven.
Bake muffins 20 to 24 minutes or until a knife inserted in center comes out clean. Remove from oven and let muffins cool in pan before removing.
For more recipes like this, check out: