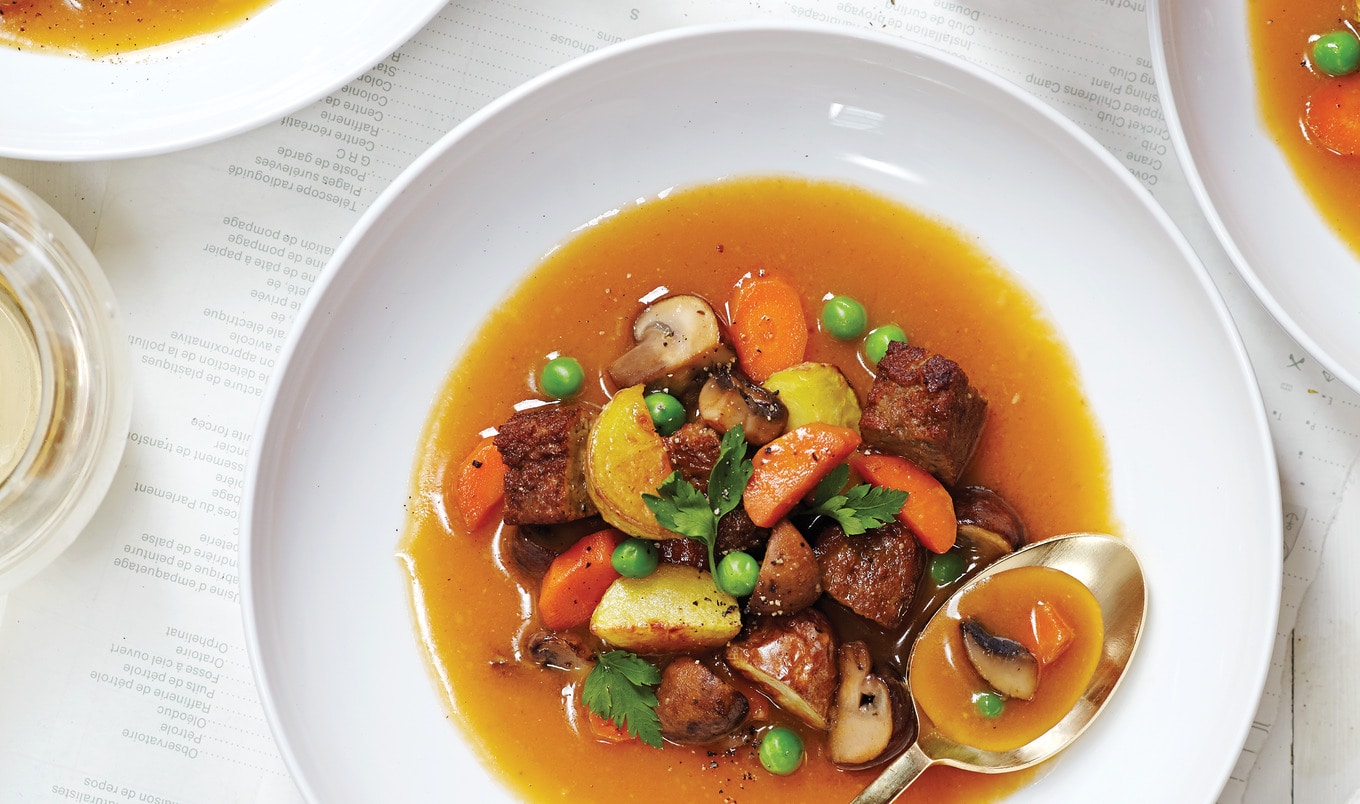 Garlicky seitan bathed in a red-wine reduction takes center stage in this hearty rendition of the classic French stew.
December 24, 2022
This traditional recipe from celebrated vegan chef Miyoko Schinner gets a plant-based twist with homemade seitan, a rich red wine sauce, and hearty potatoes.
What you need:
For the seitan:
3 cups quartered cremini mushrooms
3 tablespoons soy sauce
1 cup vegetable stock
⅓ cup red wine
3 garlic cloves
2 cups vital wheat gluten
1 tablespoon canola oil
For the red wine sauce:
¼ cup water
3 cups diced onions
2 cups diced celery
2 cups diced carrots
6 ripe tomatoes, chopped
3 cups red wine
1 garlic bulb, peeled and sliced
12 dried shiitake mushrooms
1 cup sliced cremini mushrooms
4 tablespoons soy sauce
3 tablespoons medium miso
1 teaspoon dried rosemary
1 teaspoon dried thyme
7 cups vegetable stock, plus more as needed
For the bourguignon:
2 cups chopped carrots
5 cups halved cremini mushrooms
2 cups halved baby potatoes
2 cups small green peas
¼ teaspoon salt
¼ teaspoon black pepper
¼ cup canola oil, divided
⅔ cup all-purpose flour
½ cup chopped parsley
What you do:
For the seitan, in a food processor, combine mushrooms, soy sauce, vegetable stock, red wine, and garlic. Process until combined. Add wheat gluten and process until a soft dough forms, about 30 seconds.
Divide dough into 5 portions and pat each into a patty about ½-inch thick. In a skillet over medium heat, warm oil. Cook and flip each patty until browned on both sides.
For the red wine sauce, in a large pot or Dutch oven over medium heat, add water and sauté onions, celery, and carrots until tender. Add tomatoes, wine, garlic, shiitakes, creminis, soy sauce, miso, rosemary, and thyme, and bring to a boil. Add vegetable stock and sautéed seitan, and after reaching a second boil, cover, reduce heat to low, and simmer for 1 hour or longer to concentrate. Add more vegetable stock if flavor is too strong or boil down longer for stronger flavor and thicker sauce.
Using tongs, remove seitan from pot, and set aside on a plate. Set a colander over a large bowl and pour sauce mixture through to strain vegetables, pressing as much liquid out of vegetables as possible. You should have about 6 cups strained sauce. If you have reduced it too much, add additional stock.
For the bourguignon, preheat oven to 425 degrees. Sprinkle carrots, mushrooms, potatoes, and peas with salt and pepper and roast on a baking sheet for about 25 minutes until tender.
In a large pot over low heat, warm oil. Add flour and cook for several minutes to make a roux. Add strained sauce and whisk well to incorporate. Cook, stirring with a wooden spoon, until thickened.
Cut seitan into 1 ½-inch chunks and add to sauce along with roasted vegetables. Simmer for 10 minutes, sprinkle with parsley, and serve warm.