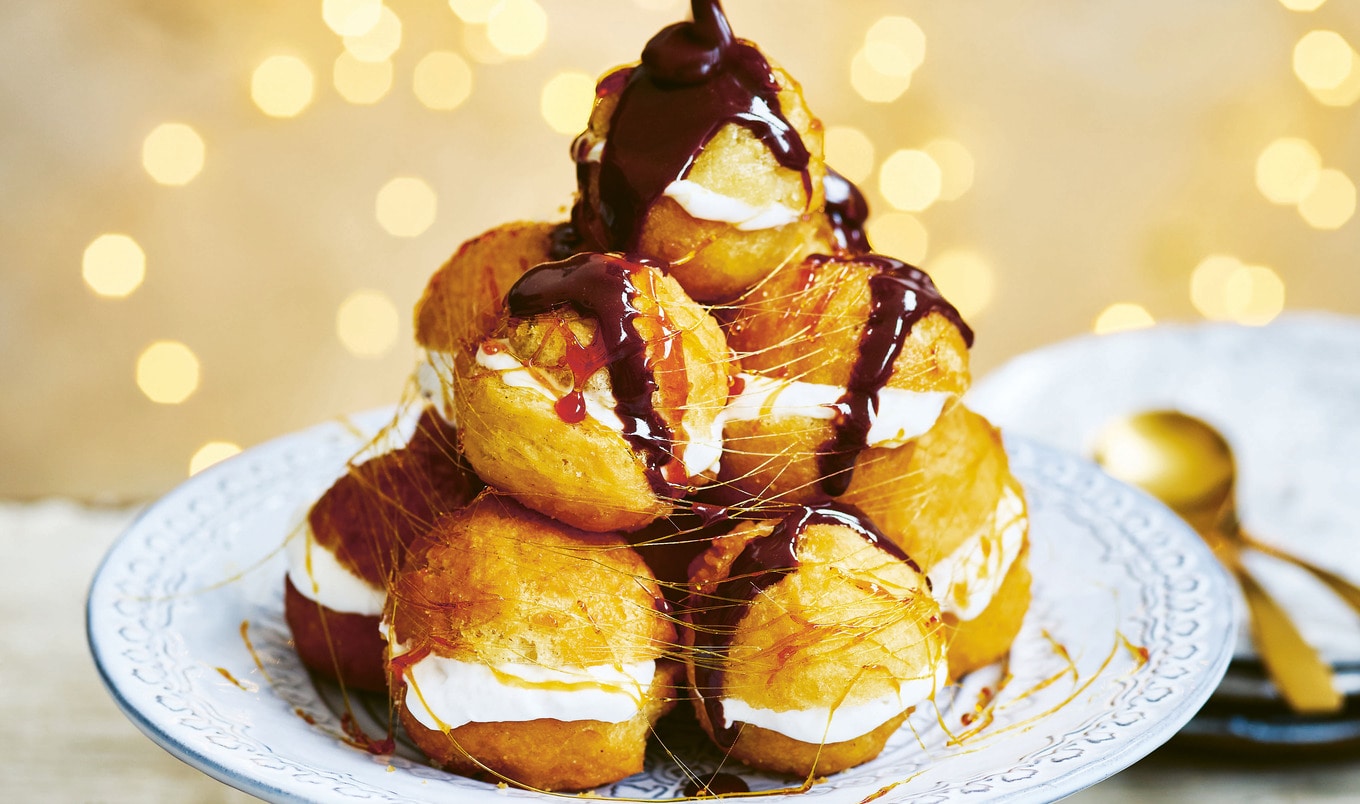 Combining two popular sweet treats, these whipped cream-filled masterpieces will take center stage at your holiday gatherings.
December 17, 2022
This towering stack of golden-fried treats—filled with Baileys Almande-spiked cream and drizzled with chocolate sauce and spun sugar—from popular YouTuber Gaz Oakley's Vegan Christmas cookbook is the definition of a show-stopping dessert.
What you need:
For the doughnut profiteroles:
½ cup almond milk
5 tablespoons vegan butter
2 cups flour
2 teaspoons baking powder
⅛ teaspoon salt
½ cup powdered sugar
6⅓ cups vegetable oil, for frying
For the filling:
1⅓ cups coconut cream
1½ ounces Baileys Almande
1 teaspoon vanilla bean paste
2 tablespoon powdered sugar
For the sauce:
1¼ cups almond milk
3 tablespoon agave nectar
3½ ounces vegan dark chocolate, finely chopped
For the sugar string:
1 cup sugar
What you do:
For the doughnut profiteroles, in a small saucepan over low heat, add milk and butter, and whisk until butter is melted. In a medium bowl, whisk flour, baking powder, salt, and powdered sugar. Add milk mixture and stir.
Lightly flour hands and work surface. Roll 2 tablespoons of dough to form a ball. Repeat with remaining dough.
Line a baking tray with parchment paper and preheat a deep-fryer to 340 degrees. Fry 4 balls at a time for 4 minutes, or until golden brown. Lift out of oil with a slotted spoon, shaking off excess oil, transfer onto lined tray, and set aside to cool.
For the whipped cream, in a mixing bowl, add all ingredients and whisk until thick and creamy. Set aside until ready to serve.
For the chocolate sauce, in a saucepan over low heat, add milk and agave nectar. In a medium bowl, add chopped chocolate. Pour warmed milk over chocolate, and stir until completely melted.
Cut profiteroles in half lengthways. Pipe generous amounts of cream onto bottom halves and sandwich with top halves.
Before serving, in a heavy-based pan, melt sugar until golden. Stack profiteroles on a serving plate and drizzle with chocolate sauce. Finally, using a spoon, spin melted sugar around stack.