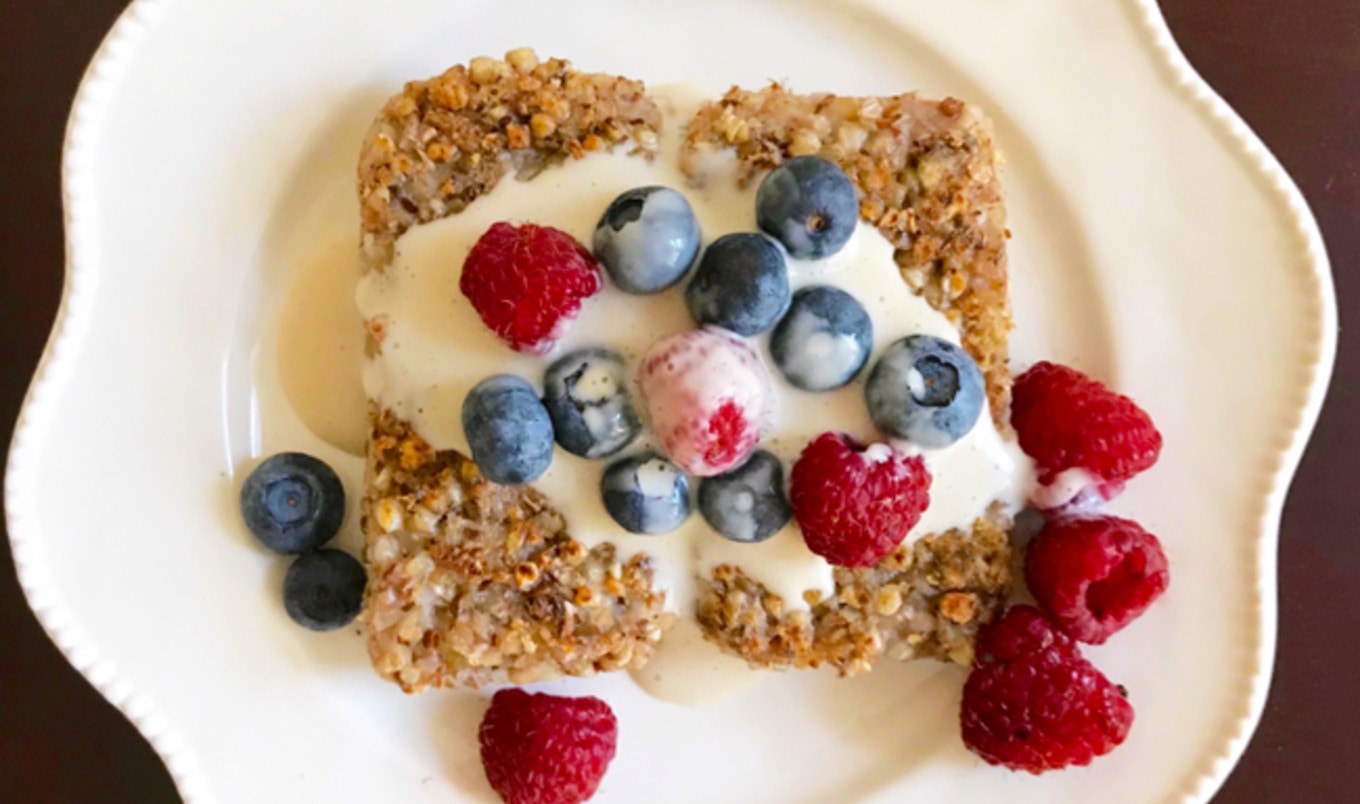 Say goodbye to traditional pancakes, and hello to buckwheat.
October 28, 2023
We love oatmeal so much that we forget all about buckwheat, a nutritious breakfast choice that can easily become one of your breakfast staples. Fiber-rich, gluten-free, and a source of vegan protein, buckwheat can be prepared in numerous ways. For this recipe, we've paired it with a delicious cashew-maple cream.
What you need:
For the buckwheat cakes:
1½ cups buckwheat groats
3 cups plus 3 tablespoons water
3 tablespoons flaxseed meal
½ teaspoon cinnamon
1 teaspoon coconut sugar
⅛ teaspoon salt
1 teaspoon cooking oil
For the cashew cream:
1½ cups unsweetened cashew yogurt
1 tablespoon maple syrup
For the garnish:
1 cup raspberries
1 cup blueberries
What you do:
1. For the buckwheat cakes, rinse buckwheat groats, and place into a pot with 3 cups water. Bring to a boil, and simmer until cereal is soft but not mushy.
2. Whisk flaxseed meal with 3 tablespoons water and allow mixture to thicken. Set aside.
3. Into a bowl, place cooked buckwheat and mix thoroughly with the flaxseed meal, cinnamon, coconut sugar, and salt. Allow mixture to fully cool.
4. Into an 8 x 8 pan, press cooled mixture evenly (approximately 1½ inches high), and place in the refrigerator to chill for at least 4 hours.
5. Cut the chilled buckwheat into 8 rectangles. Remove each piece from the pan, and brush oil on each side.
6. Heat a pan on medium-high heat and cook buckwheat cakes on each side until brown and toasted.
7. For the cashew cream, whisk or blend yogurt and syrup.
8. To serve, plate two buckwheat cakes and top with cashew cream and berries.
For more recipes like this, check out: