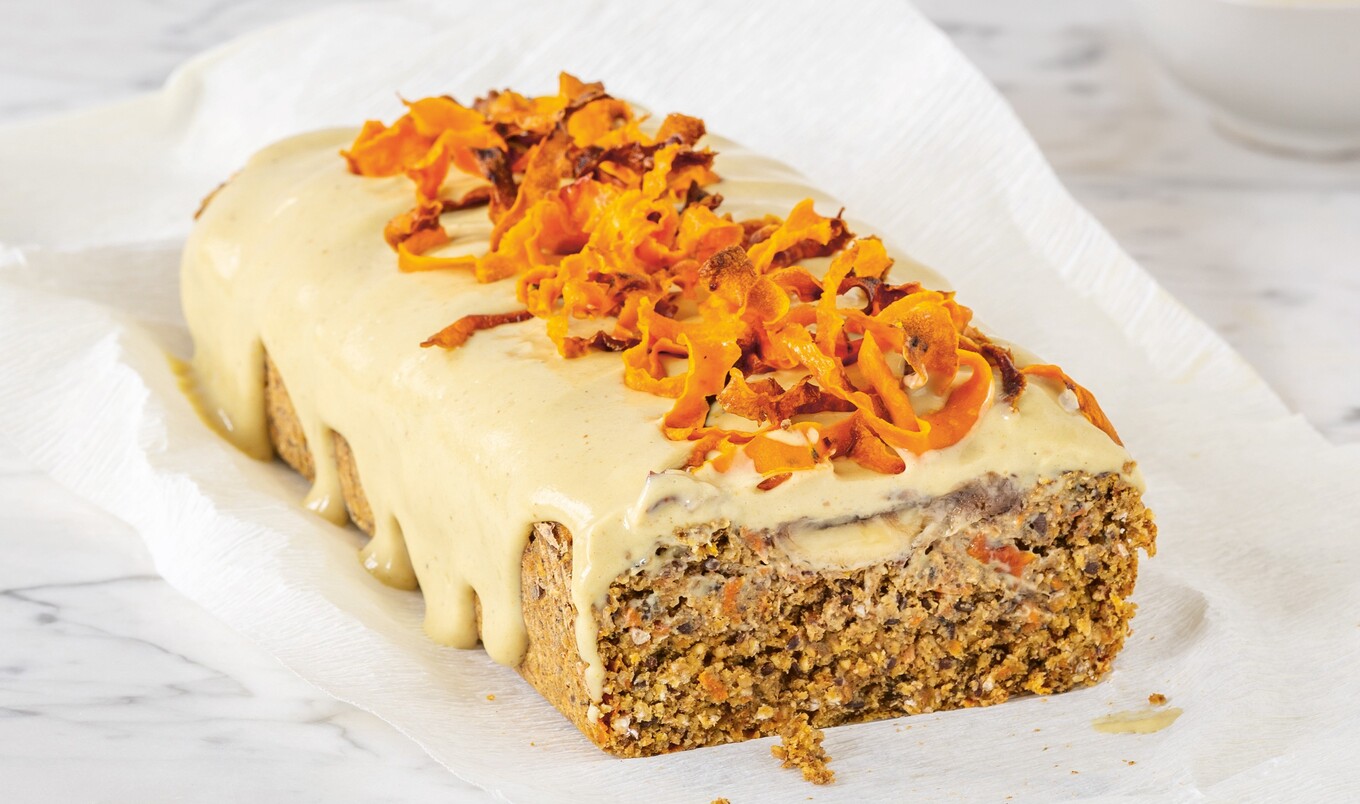 This moist, flavorful loaf packs in a sneaky serving of fruit and vegetables, making it perfectly acceptable to eat for breakfast.
June 1, 2023
Smooth cashew cream and vibrant turmeric join together to create a thick and sweet frosting for this banana-carrot loaf from the Let's Go Nuts cookbook by Estella Schweizer.
What you need:
For the bread:
3 cups oat flour
¾ cup whole-grain buckwheat flour
½ cup flaxseed meal
1 teaspoon baking powder
½ teaspoon baking soda
1½ teaspoon cinnamon, divided
½ teaspoon salt, divided
¼ cup cashew butter
⅓ cup water
½ teaspoon lemon juice
3 ripe bananas, peeled and mashed
3 large carrots, scrubbed, peeled, and grated, peels reserved
½ tablespoon coconut oil
For the turmeric cream:
3 tablespoons coconut oil
¾ cup cashew pieces, soaked in water overnight, drained
2¼ tablespoons agave nectar
⅔ cup rice milk
½ teaspoon ground turmeric
½ teaspoon bourbon vanilla powder
¼ teaspoon ground nutmeg
½ teaspoon ground cinnamon
¼ teaspoon ground allspice
⅛ teaspoon cayenne pepper
¼ teaspoon salt
What you do:
Preheat oven to 350 degrees. Into a large bowl, combine oat flour, buckwheat flour, flaxseed meal, baking powder, baking soda, 1 teaspoon of cinnamon, and ¼ teaspoon of salt.
In a small bowl, stir together cashew butter, water, and lemon juice. Add to dry ingredients with mashed banana and whisk until smooth. Fold in grated carrots. Line loaf pan with parchment paper, leaving a 1-inch overhang on long sides, pour in batter, and smooth surface with a spatula.
In a saucepan, melt coconut oil. Add reserved carrot peel strips, remaining salt, and remaining cinnamon. Toss well. Remove from heat and line a baking sheet with parchment paper, then arrange carrot strips on top. Place carrots and bread in oven and bake for 10 minutes. Turn carrots and continue baking for another 5 minutes until crisp and dry. Remove from oven and continue baking bread for another 20 minutes until golden brown, or until a knife inserted comes out clean. Remove from oven, carefully lift out of pan using parchment paper, and let cool completely on a wire rack.
For the turmeric cream, in a small saucepan, warm coconut oil until melted. Remove from heat.
In a high-speed blender, purée all ingredients until a smooth cream is formed.
Frost bread with turmeric cream and scatter crispy carrot strips over top.
For more recipes like this, check out: