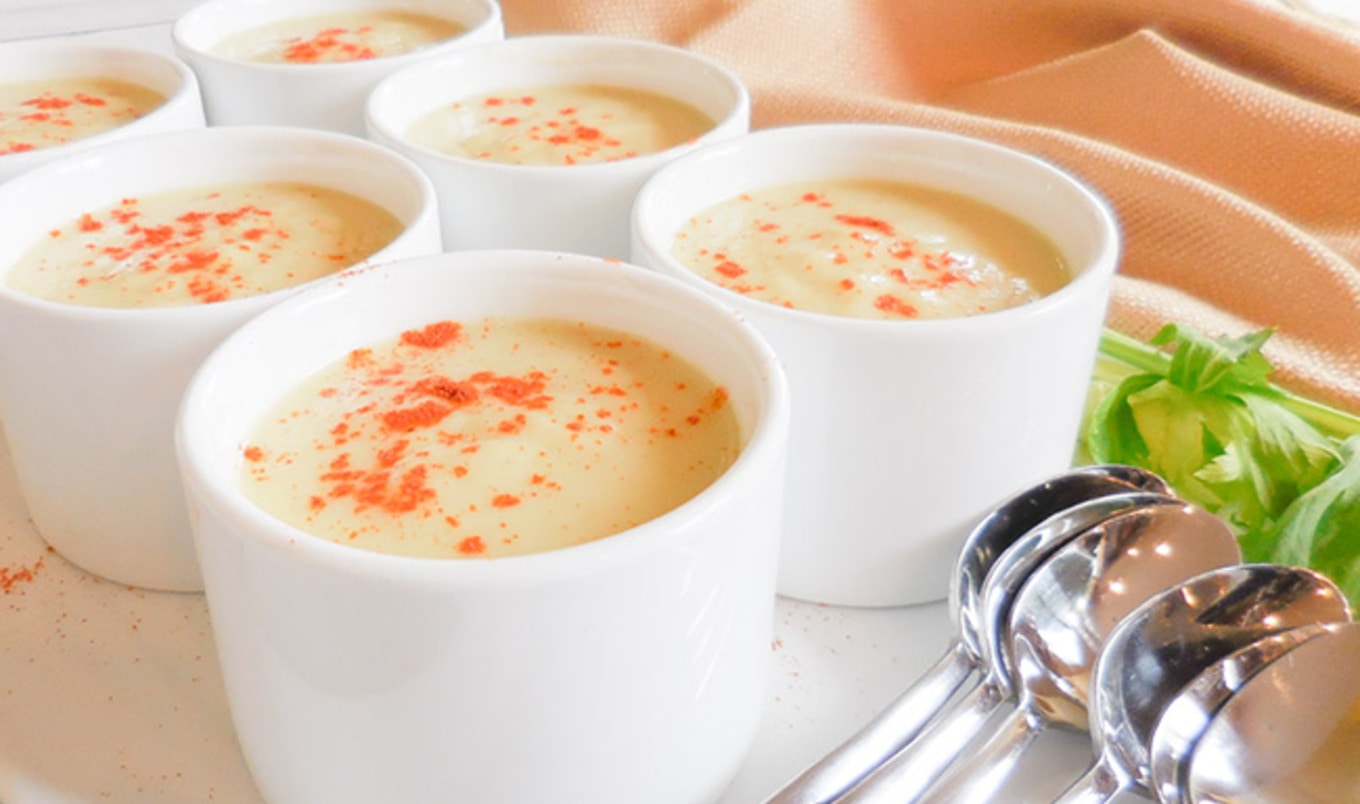 Impress your holiday guests with a simple yet sophisticated first course.
December 17, 2017
Frequently used in a supporting role, celery is one of the hardest working and humblest of winter vegetables. With this in mind, we've created a hearty soup that includes Yukon Gold potatoes (which add a creamy touch) and cayenne for the right amount of heat. Perfect as a starter to your holiday meal, this soup is rich, flavorful, and ready to serve in less than an hour.
Serves 8
What you need:
2 tablespoons olive oil
1 tablespoon vegan butter
¾ pound celery, cut into ½-inch slices
¼ cup yellow onion, diced
2 cloves garlic, minced
¼ cup all-purpose flour
¼ teaspoon ground white pepper
⅓ teaspoon dried dill
3 cups vegan chicken broth
1 cup Yukon Gold potatoes, peeled and diced
½ cup unsweetened almond milk, room temperature
1 teaspoon cayenne pepper
What you do:
1. Into a large soup pot over medium-high heat, add olive oil and butter. Once butter is melted, add celery and onion. Cook 5 minutes, stirring frequently until vegetables are softened. Add garlic and continue cooking for 1 minute.
2. Into the soup pot, whisk in flour, white pepper, and dill. Add broth, ½ cup at a time, whisking after each addition.
3. Into the soup pot, add potatoes and bring to a boil. Reduce heat to low, and simmer, uncovered, for 20 minutes. Turn off heat.
4. Into a high-speed blender, add the soup and pulse to purée until consistency is smooth. Return puréed soup to the cooking pot and stir in milk.
5. Ladle into soup bowls, garnish each with cayenne pepper, and serve warm.