Not everyone celebrates Christmas, but that doesn't mean it can't be a day of delicious food and relaxation. The Chinese-food-and-a-movie tradition stands strong in many households on December 25—some, like our VegNews Editor at Large, Jasmin Singer—revere this practice as adamantly as others revere ornament-adorned evergreen trees. Sure, most Chinese and Chinese-American restaurants carry at least one or two vegan-friendly options (pro tip from Singer: bean curd is everywhere), but when you have the option to support a plant-based business, we say go for it. Here are our VegNews picks for vegan-Chinese-food-and-a-movie when Christmas is just another day of the year.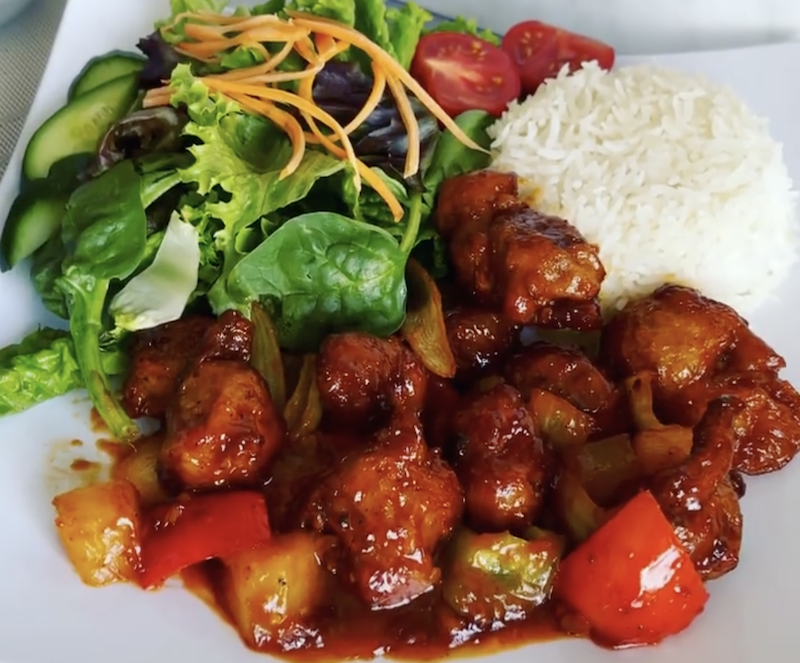 Loving Hut Garden Grove
1 Loving Hut, multiple locations
As one of the largest vegan chains in the world, it's very possible there is a Loving Hut near you. The menu varies from location to location and veers from staple Chinese dishes into pan-Asian cuisine and even some American-style comfort food. Check your nearest Loving Hut to ensure they're open on December 25, then order yourself some egg rolls, chow mein, and a slice of cake for dessert.
Movie pairing: Not a movie, but this heartwarming, seven-minute YouTube video of a guy rescuing two male calves from a dairy farm will make you melt. Essentially a one-man rescue and rehoming operation, Jason Bolalek of Destination Liberation is doing the necessary work to save lives.
Find it here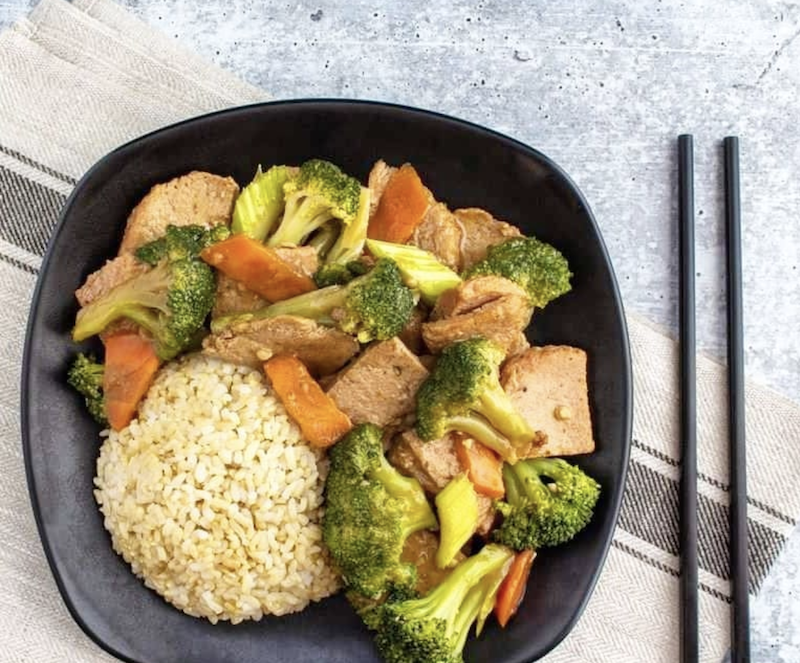 Sipz
2 Sipz in San Diego, CA
This plant-based microchain in Clairemont, La Jolla, and North Park offers a dizzying variety of Chinese-inspired and pan-Asian dishes. On Christmas Day, tuck into pan-fried potstickers and any one of the generously portioned rice entrées such as Walnut Shrimp or Sweet & Sour. Don't skip dessert. While not Chinese in origin, the vibrantly purple ube cake is an absolute must. If they're out, the coconut cake and layered brownies won't disappoint.
Movie pairing: Vegucated. It's light, entertaining, and watching three meat-eaters adopt a vegan diet for six weeks could inspire your on-the-fence family to give it a go in the New Year.
Find it here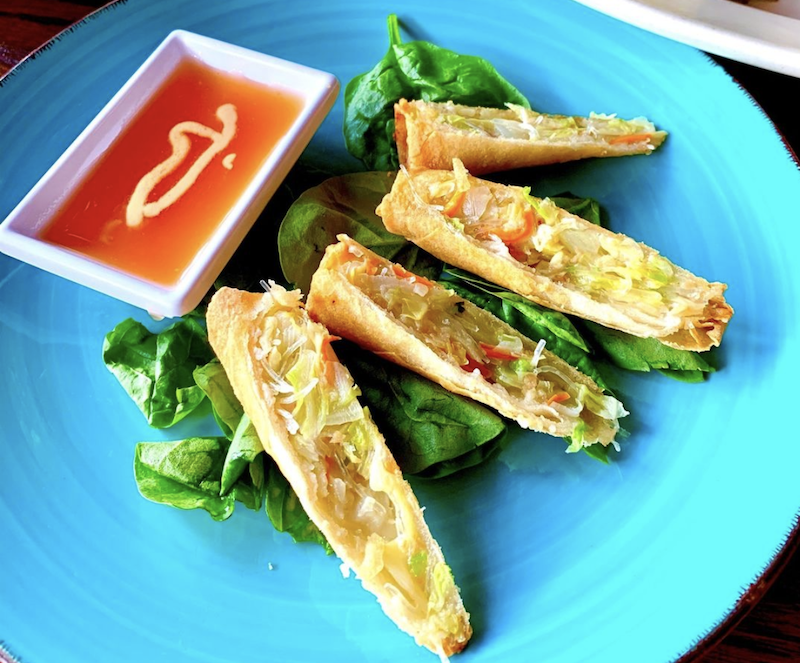 Cafe Sunflower
3 Cafe Sunflower in Atlanta, GA
We've confirmed that this vegan Atlanta institution will be closed on Christmas Day, but if you order ahead around lunchtime on December 24, the food should keep in the fridge. The menu spans a number of cuisines, but there is plenty of Chinese food to tuck into. Favorites include steamed dumplings and a glistening, golden sesame soy chicken served with organic brown rice and a medley of vegetables in a ginger soy sauce.
Movie pairing: The Game Changers. You may not want to be plowing through a mound of saucy noodles while watching ripped vegan athletes, but a healthy plate of vegan protein and veggies pairs perfectly with this plant-based sports documentary.
Find it here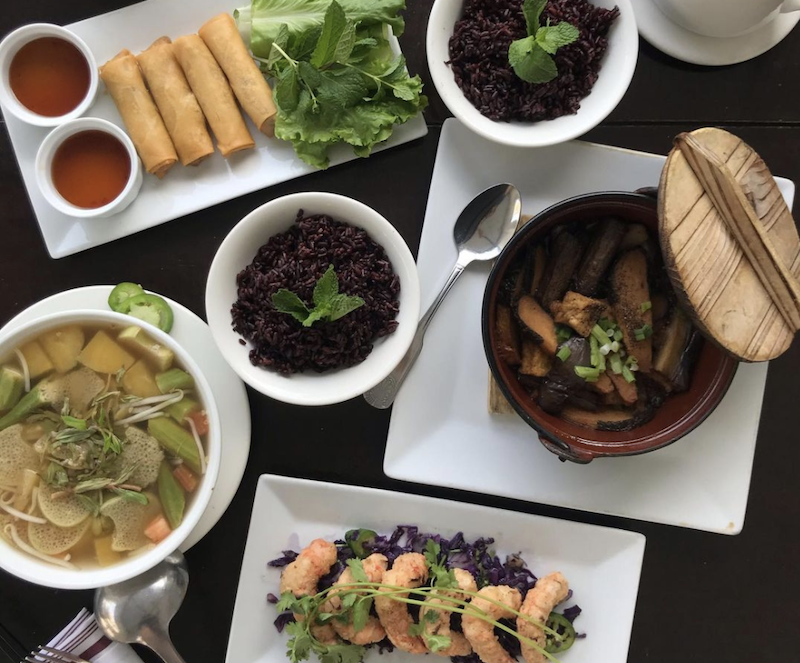 Au Lac
4 Âu Lạc in Los Angeles and Fountain Valley, CA
Âu Lạc is a Southern California vegan institution. The Vietnamese and Chinese menu straddles the line between both raw and cooked dishes, offering everything from sticky sweet and sour chicken to complex raw soups and rice dishes. We highly advise trying a bit from each menu. Our go-to order includes BBQ pork rolls, raw Sea Salad, and T-Anh Fried Rice.
Movie pairing: Forks Over Knives. Âu Lạc makes whole food, plant-based dishes enticing and craveable, which is exactly the kind of reinforcement you need when engrossed in this vegan health documentary.
Find it here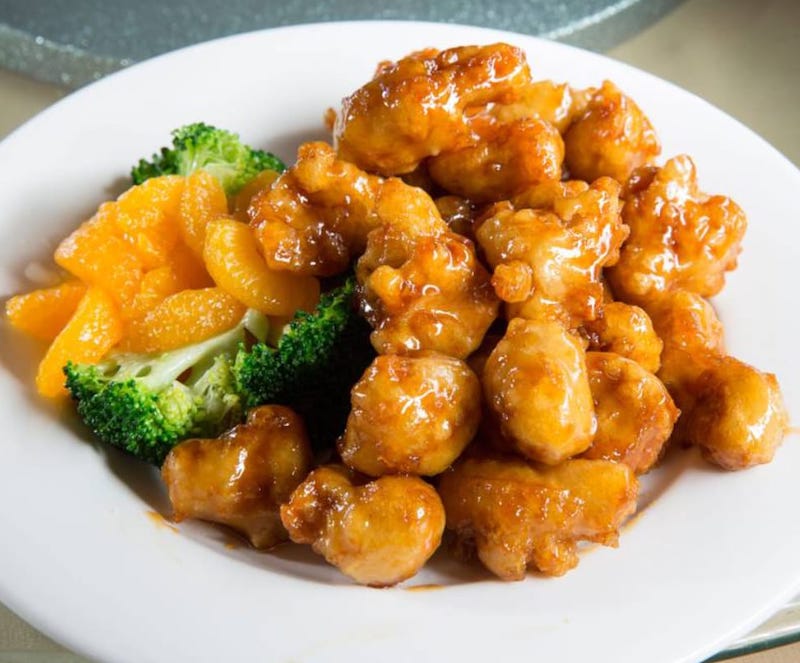 Chef Kenny's Asian Restaurant
5 Chef Kenny's Asian Restaurant in Las Vegas, NV
Just like its home city, there is a lot going on with the menu at Chef Kenny's. Yes, you'll find the standard Chinese-American dishes like Spicy Kung Pao Beef, Orange Chicken, and Buddha Delight, but you'll also see sushi rolls, vegan tacos, and Thai Tom Yum Soup. Essentially, there's something for whatever you're craving.
Movie pairing: Seaspiracy. Heavy without being outright gorey (with the exception of that whaling scene toward the end), this eye-opening documentary will hook you from beginning to end.
Find it here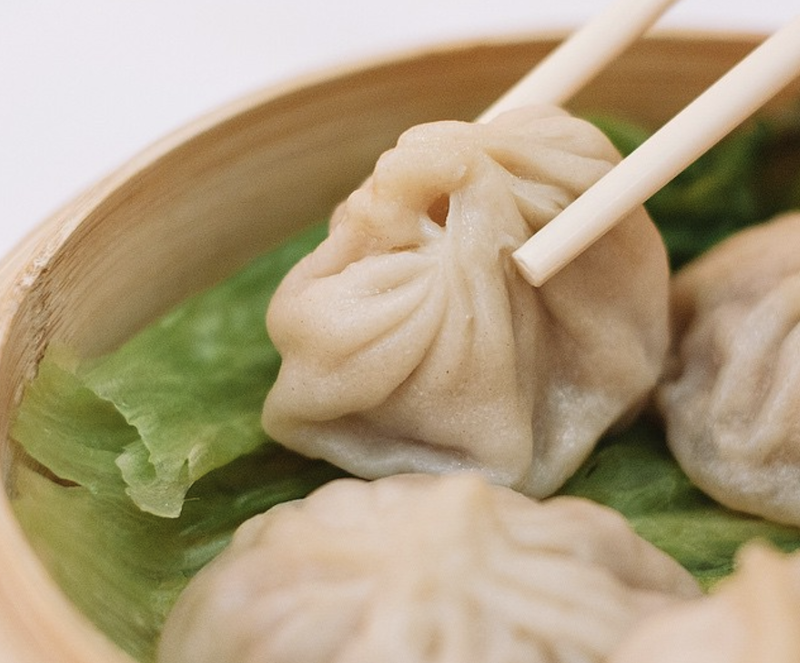 Bodhi Kosher Vegetarian Restaurant
6 Bodhi Kosher Vegetarian Restaurant in New York City, NY
For a satiating meal of plant-based dim sum and larger entrées such as vegan turkey, take a seat at this casual NYC spot. With a menu so expansive it's impossible to try everything in one sitting, make it a New Year's resolution to come back until you've sampled it all.
Movie pairing: Ferdinand. Technically a children's animated film, this heartwarming story about a gentle-souled Spanish bull doesn't sugarcoat the realities of what happens to spent fighting bulls. It's kid-friendly and teaches compassion to all.
Find it here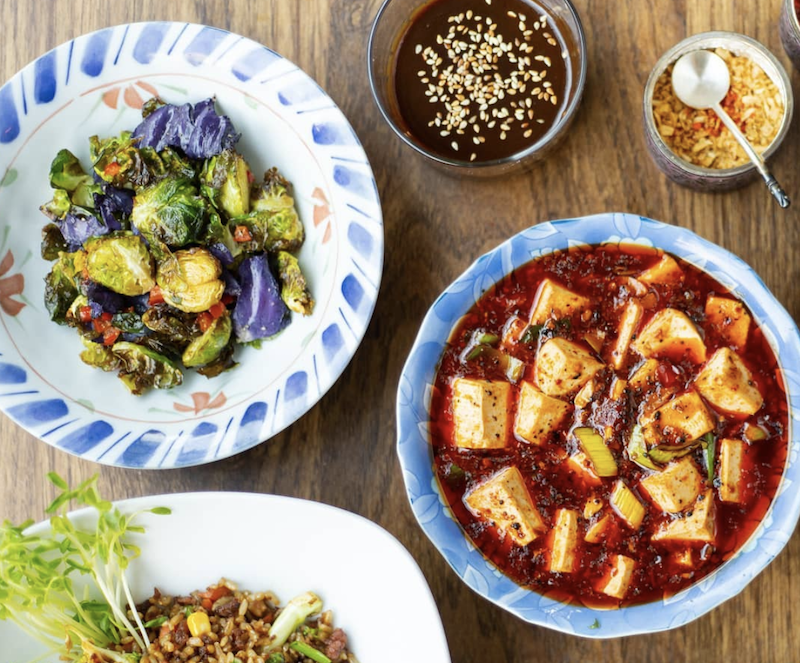 Spicy Moon
7 Spicy Moon in New York City, NY
With locations in both the East and West Village, this no-frills vegan Szechuan restaurant packs a fiery kick into most of its dishes. Locals love this place—from the Dan Dan noodles to the mapo tofu. If you're trying it for the first time on December 25, be prepared to become a regular.
Movie pairing: Cowspiracy. Are you ready to feel old? This hit documentary debuted almost eight years ago! Time for a rewatch.
Find it here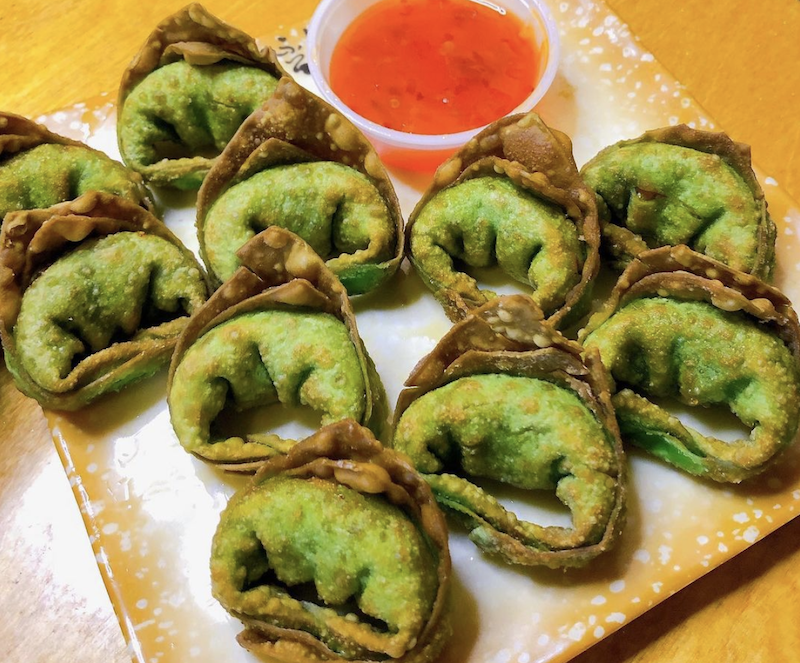 Dumpling the Noodle
8 Dumpling the Noodle in Seattle, WA
Those seeking takeout with mixed company may not be able to choose a vegan restaurant, but thankfully, many restaurants have added dedicated vegan options to their offerings. Dumpling the Noodle is just one example. The restaurant serves animal-based dishes, but all vegan items are clearly labeled (and delicious). Don't miss the shiitake vegan buns, Jajang tofu pancake roll, or the Chili the Veggie Rice Noodles. If they're closed on Christmas, plan ahead and order a 20-count of the frozen organic vegan dumplings.
Movie pairing: Fast Food Nation. Many omnivores don't realize where their food comes from. If you're dining with them, turn this on and watch their eyes open to what's on their plate.
Find it here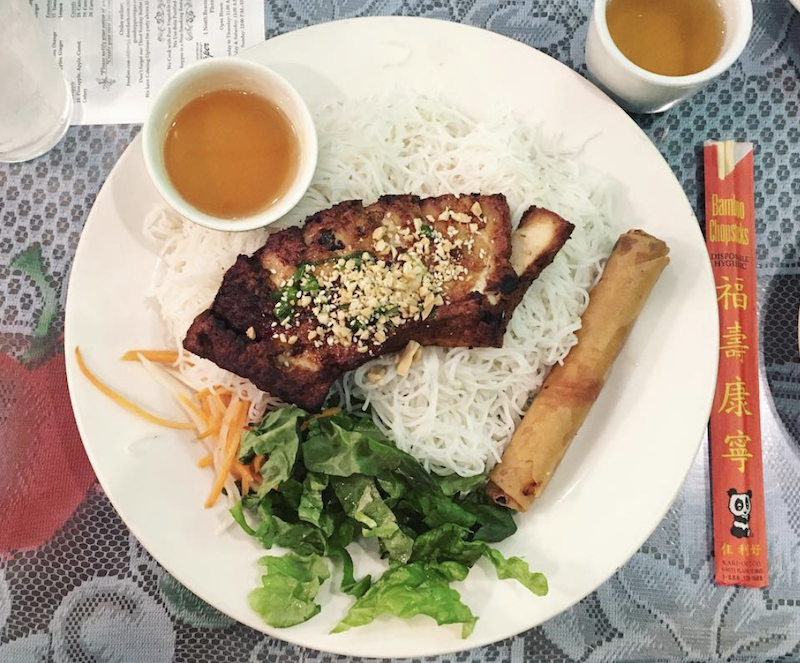 @Fayex/Instagram
9 Grasshopper Restaurant in Boston, MA
Similar to the Loving Hut, this college student hot spot offers a bit of everything—from sweet- and sour-smothered tofu to fried vegan chicken tenders. Check out the Grasshopper Specials for a medley of plant-based proteins served with chili sauce and an assortment of nourishing, colorful veggies.
Movie pairing: Chicken Run. Yes, another animated kid's movie. Because you can't watch Earthlings and eat at the same time. This film gets the vegan point across without being graphic.
Find it here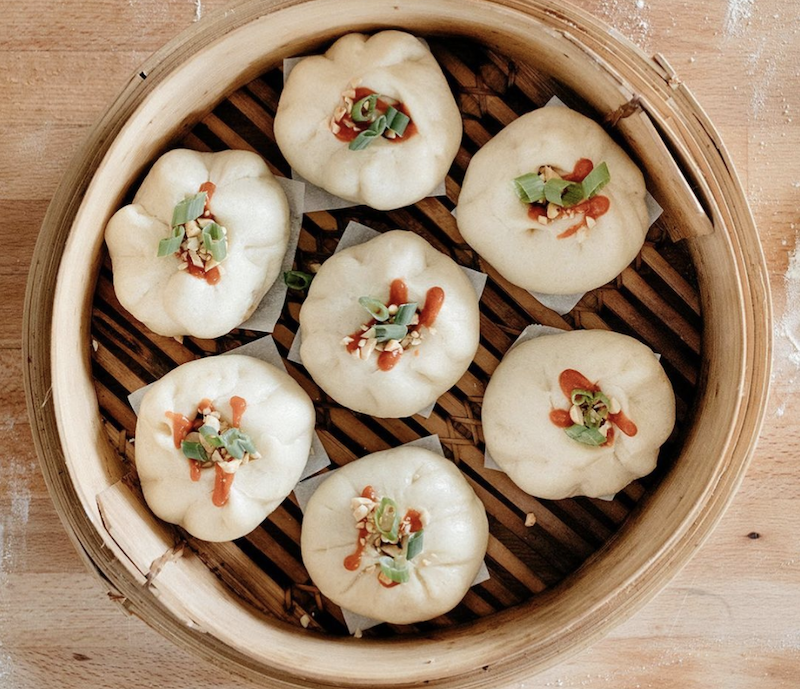 Molly Yeh
10 Make your own
It's 3pm on December 25 and you realize every restaurant within reasonable driving distance is closed. Don't panic. Chinese buns are actually fairly easy to make—they just take a little time (give yourself three-and-a-half hours if it's your first time). Beyond their addictively pillowy texture, they're the perfect vessels to clean out your fridge. While the recipe below calls for certain ingredients, you can essentially roast whatever veggies you have in your fridge, mix in some crumbled tofu (optional), pour in soy sauce, a couple drops of sesame oil, and minced ginger (if you're feeling fancy), and use this savory mixture to stuff your bao dough. You can even make these a few days before (pre-cooking), freeze them, then steam on December 25 when all else fails.
Movie pairing: Pig. Plenty will argue this isn't a vegan movie—Nicholas Cage's character prepares plenty of animal-based dishes. But the pig at the beginning will warm your heart, and the ending will leave you breathless and contemplating the meaning of love, grief, and the power of both animal and human companionship.
Get the recipe
Note: before making plans, check with the restaurant to ensure it's operating normal or modified hours on Christmas Day. Further, this list is just a selection of vegan-friendly Chinese restaurants across the US. Check out HappyCow.com to find more near you.
Craving vegan Chinese now? Check out these recipes:
Vegan Chinese Turnip Pastry
5 Vegan Dim Sum Recipes to Drool Over
Beefy Vegan Tempeh and Broccoli