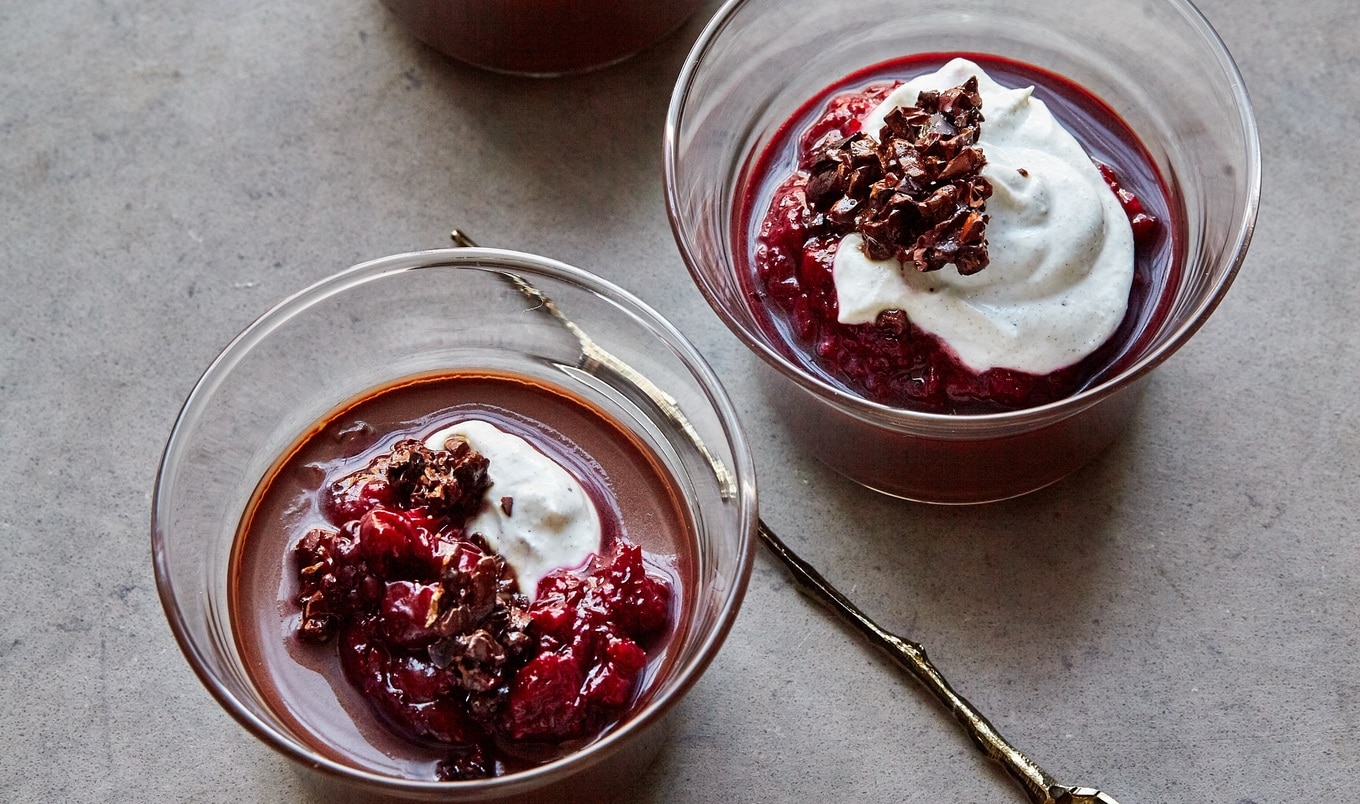 Silky chocolate gets a major step up in this smooth, lightly sweetened mousse with sweet, salty, roasted toppings.
December 10, 2022
Calling all chocolate lovers! This smooth, spoonable recipe from the Mind Food: Plant-Based Recipes for Positive Mental Health cookbook is somewhere between a pudding and a ganache, and is sure to satisfy any chocolate craving.
What you need:
For the mousse:
1 cup vegan chocolate, finely chopped
1 tablespoon olive oil
1 tablespoon reishi mushroom powder
⅔ cup vegan milk
¼ teaspoon salt
1 teaspoon maple syrup, to taste
½ cup coconut yogurt, for serving
For the candied cacao nibs:
¾ cup cacao nibs, roasted
2 tablespoons maple syrup
½ teaspoon salt
For the cherry compote:
1 cup fresh or frozen cherries
1 tablespoon maple syrup
What you do:
Preheat oven to 325 degrees.
For the mousse, in a heatproof bowl, place chocolate, olive oil, and reishi powder.
In a saucepan over medium-high heat, place milk and bring to a boil, then pour milk over chocolate and stir until very well combined. Add salt and maple syrup, tasting and adjusting sweetness to preference.
Into 3 small glasses or ramekins, pour chocolate and place in refrigerator to set for at least 3 hours.
For the candied cacao nibs, in a small mixing bowl, combine all ingredients and spread evenly on a baking tray. Bake for 30 minutes until roasted and crispy. Remove from oven and let cool.
For the cherry compote, into a small saucepan over medium heat, add all ingredients and simmer for 10 minutes. Set aside.
Remove mousse from refrigerator, and top with cherry compote, a spoonful of coconut yogurt, and candied cacao nibs.