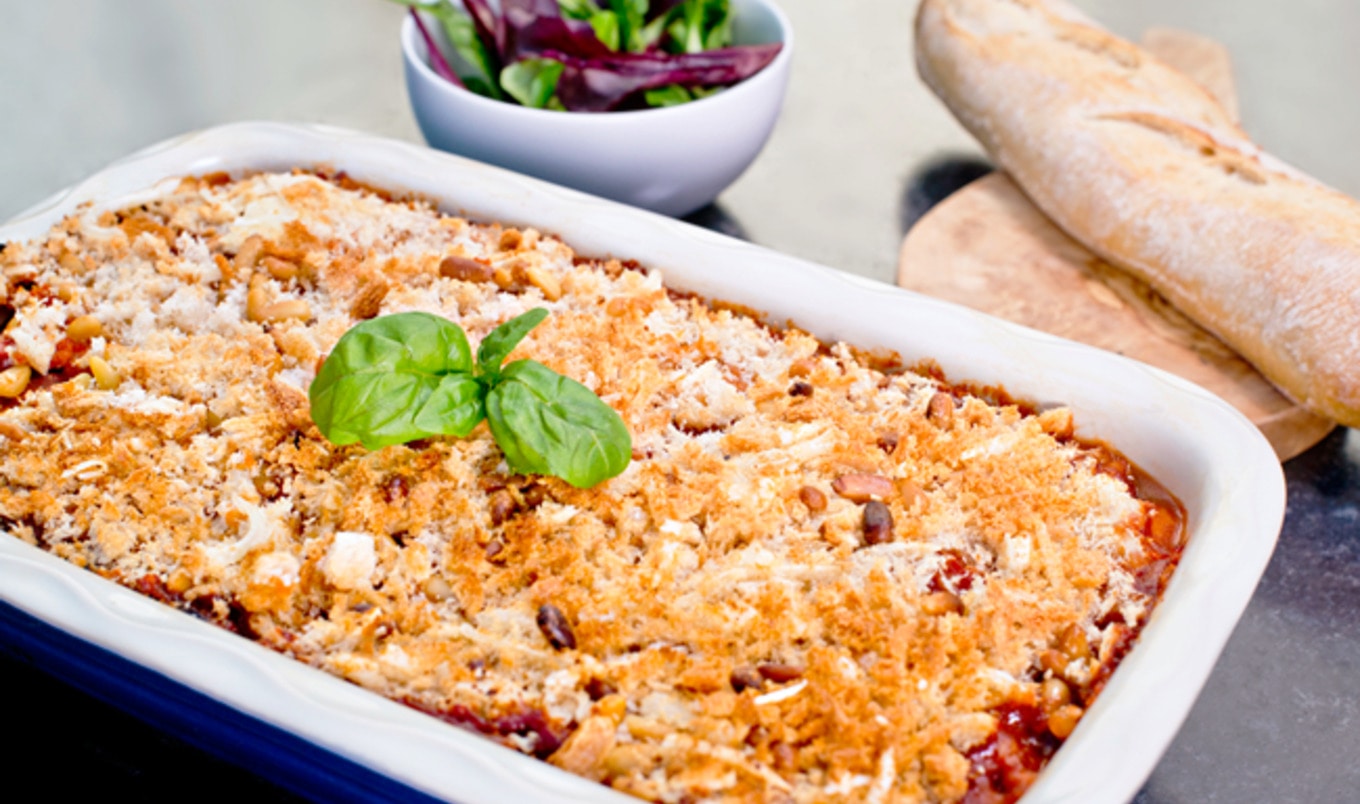 If you're a fan of rich Mediterranean flavors, you'll love this beautiful Melanzane.
September 12, 2021
Peter Egan (Downton Abbey) is an incredible actor, a true gentleman, and a passionate animal lover. He took part in Veganuary 2016 and has never looked back. "I will always support Veganuary," Egan says, "but I won't have to do it again because I am now vegan." In honor of Egan's vegan transformation, we're bringing you a cruelty-free version of one of his favorite dishes, which just so happens to be an Italian classic.
What you need:
2 tablespoons olive oil, plus more for brushing
3 cloves garlic, crushed
3 sprigs thyme
8 sage leaves, finely chopped
10 cups chopped tomatoes
3 tablespoons red-wine vinegar
3 tablespoons sugar
4 large eggplants, sliced lengthways as thinly as possible
1 cup vegan cheese, grated
½ cup white breadcrumbs
⅓ cup pine nuts
10 whole basil leaves
What you do:
1. Preheat oven to 400 degrees.
2. Into a large pan, heat oil and add garlic, thyme, and sage, and cook approximately 5 minutes. Add tomatoes, vinegar, and sugar, and simmer approximately 25 minutes, or until mixture has thickened.
3. While the mixture is simmering, heat a frying pan. Brush eggplant slices with olive oil on both sides and fry in batches until each slice is softened and slightly charred.
4. Mix ⅓ cup cheese with the breadcrumbs and pine nuts, and set side.
5. Into a large baking dish, add half of the tomato sauce and spread over the base. Top with a layer of eggplant.
6. Spoon remaining tomato sauce over eggplant, layer with remaining cheese and basil leaves, and another layer of eggplant. Repeat until you have a layer of tomato sauce and top with the breadcrumb mixture.
7. Bake for approximately 35 minutes, or until the top is crisp and golden and the tomato sauce is bubbling. Let cool for 10 minutes and top with basil.