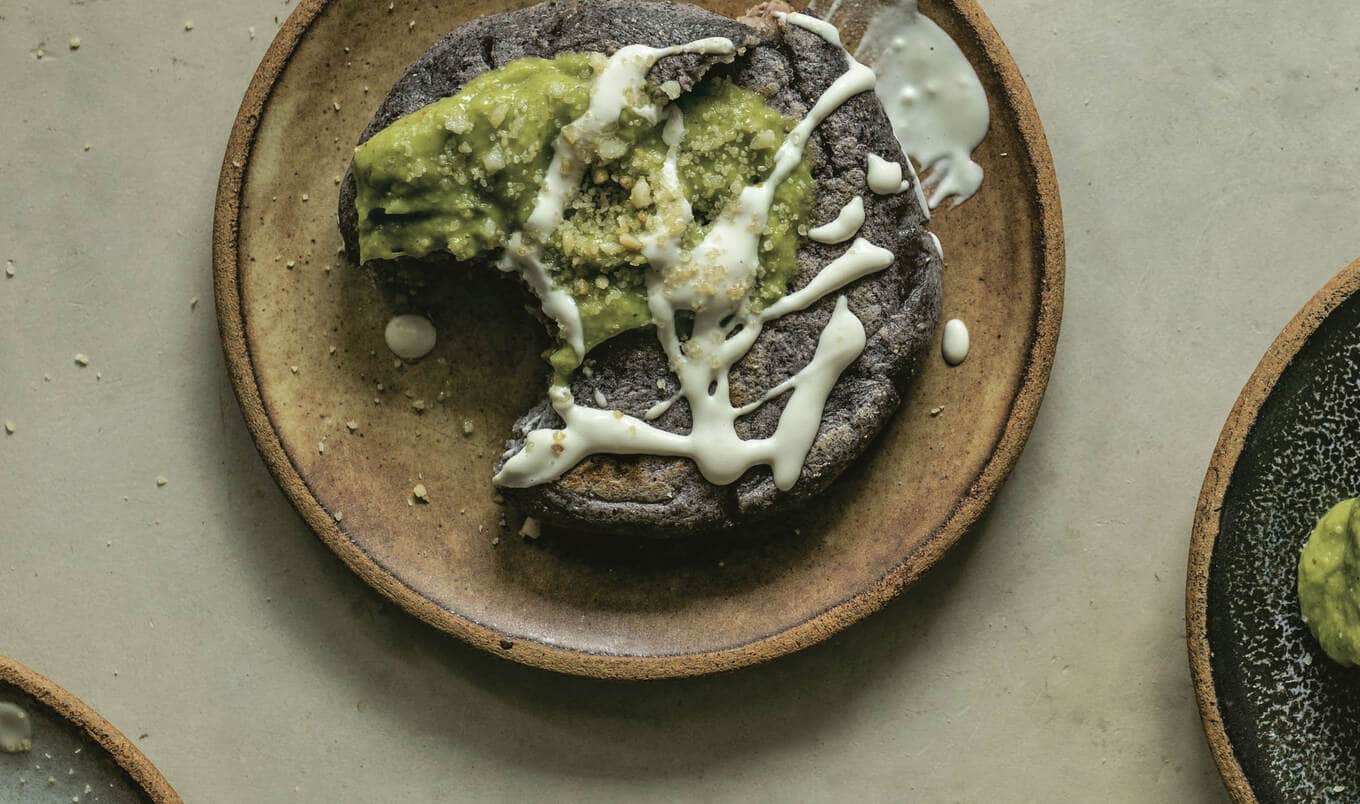 These puffy, savory bean-filled masa disks are totally foolproof and filled with flavor.
January 22, 2023
While these gorditas from the Provecho: 100 Vegan Mexican Recipes to Celebrate Culture and Community cookbook are stuffed with homemade refried pinto beans, you can get creative and fill with your favorite vegan cheese, peppers, or vegan meat.
What you need:
For the masa:
2 cups instant blue corn masa flour
1 teaspoon salt
1¼ cups water, plus more as needed
3 tablespoons avocado oil
For the filling:
1 tablespoon avocado oil
¼ white onion, finely diced
1 garlic clove, minced
2 (15-ounce) cans pinto beans, drained
1 teaspoon salt
1 tablespoon avocado oil, for cooking
Vegan sour cream, for topping
Salsa, for topping
What you do:
1. For the masa, in a large mixing bowl, combine masa flour and salt. Slowly add water, mixing with clean hands, until completely combined. Add avocado oil and mix until a moist dough forms. (You should be able to form a bit of dough into a ball that's easily flattened with no deep cracks; some small cracks are okay). If needed, add more water, 1 teaspoon at a time, until consistency is achieved. Shape dough into one large ball, place into a medium bowl, and cover with plastic wrap. Place in refrigerator.
2. For the filling, warm a saucepan over medium-low heat for 2 to 3 minutes. Add avocado oil, onion, and garlic and cook, stirring often, just until onion is translucent and lightly golden, 3 to 4 minutes. Add beans and let simmer until almost dry, 3 to 4 minutes. Add salt, remove from heat, and mash beans with back of a wooden spoon. Let cool to room temperature.
3. Remove masa from refrigerator and tear off a chunk about size of a golf ball. Roll into a ball and press with fingers, flattening and forming into a small bowl. Pinch all around edges to thin and extend them. Spoon about 1½ tablespoons of filling into center and bring edges together and seal, forming a ball enclosing beans in center.
4. Gently turn and flatten ball between palms, until size and shape of a hockey puck. Repeat with remaining masa and filling.
5. In a large cast-iron skillet over medium heat, warm avocado oil. Working in batches, place gorditas in skillet in a single layer and fry for 3 minutes on one side. Flip and fry for 2 minutes more.
6. Transfer to individual plates and serve hot, topped with vegan sour cream and salsa.
Here at VegNews, we live and breathe the vegan lifestyle, and only recommend products we feel make our lives amazing. Occasionally, articles may include shopping links where we might earn a small commission. In no way does this effect the editorial integrity of VegNews.