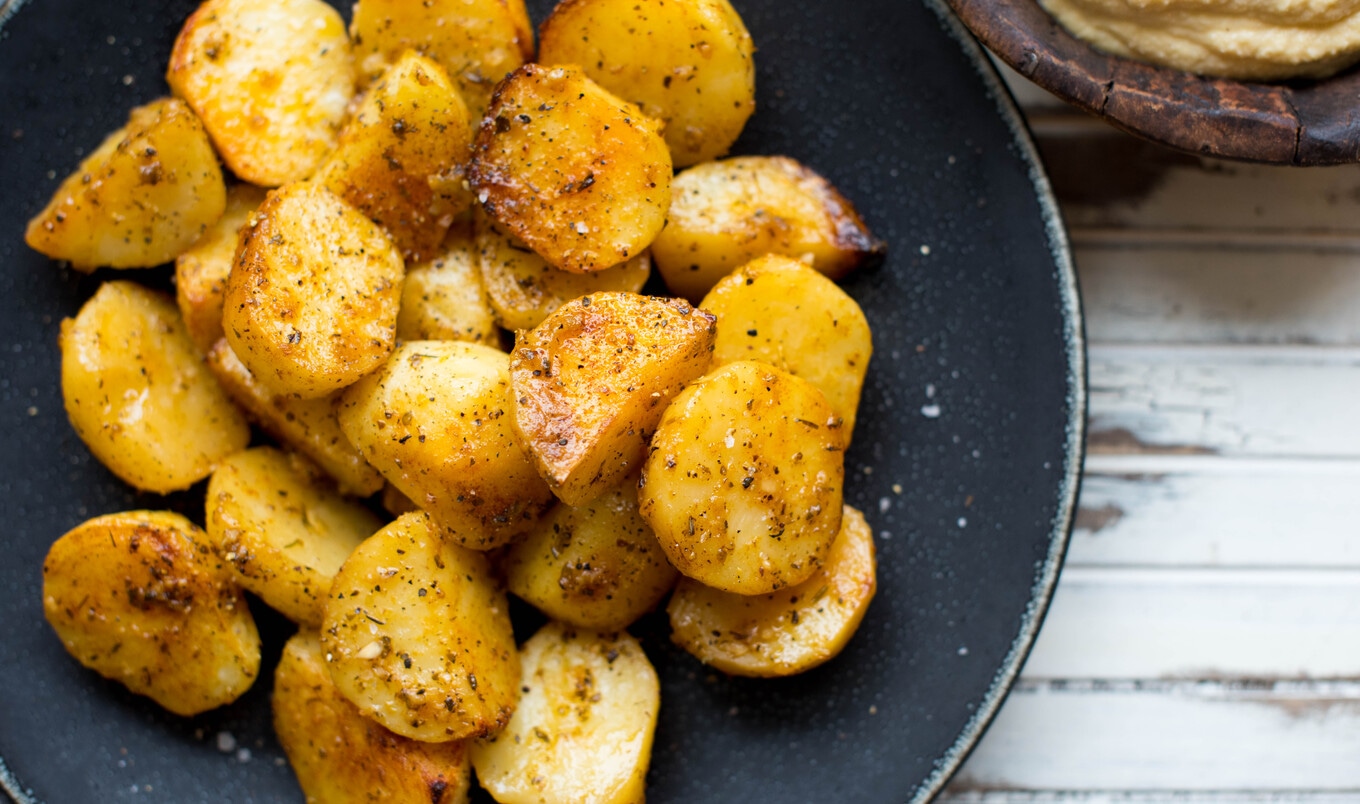 These crispy, golden, lemony roasted potatoes are tossed with fresh rosemary and a flavorful lemon-garlic Greek dressing.
November 23, 2023
A tangy dressing made from sweet mustard, agave nectar, and fresh lemon helps to caramelize potatoes in this easy roasted recipe from online cooking school Rouxbe. Pair with greens and a plant-based protein for a full meal.
What you need:
For the dressing:
4 garlic cloves
¼ cup grainy mustard
3 tablespoons agave nectar
¼ cup Dijon mustard
½ tablespoon Greek seasoning
½ tablespoon lemon pepper
¼ teaspoon salt
¼ teaspoon black pepper
1½ tablespoons lemon zest
¼ cup lemon juice
1¼ cups vegetable oil
For the potatoes:
6 large Yukon gold potatoes, washed and cut into wedges
⅛ cup fresh rosemary, finely chopped
Prepared dressing
⅛ cup parsley
¼ teaspoon black pepper
What you do:
1. For the dressing, into a food processor, purée garlic. Add grainy mustard, agave, Dijon, Greek seasoning, lemon pepper, salt, and pepper. Pulse a few times to blend. Add lemon zest and juice. Keep food processor running and slowly add oil, being careful not to over mix. The consistency should be thick, but still pourable.
2. For potatoes, preheat oven to 400 degrees. In a large bowl, add potatoes and rosemary, and drizzle with dressing. Toss to coat.
3. Onto a baking tray, pour potatoes and spread evenly. Place in oven. Roast for 15 minutes or until potatoes start to brown slightly. Remove potatoes from oven and toss to redistribute dressing. Return to oven and roast for another 15 to 25 minutes or until cooked through.
4. Garnish with parsley and black pepper.
For more recipes like this, check out: