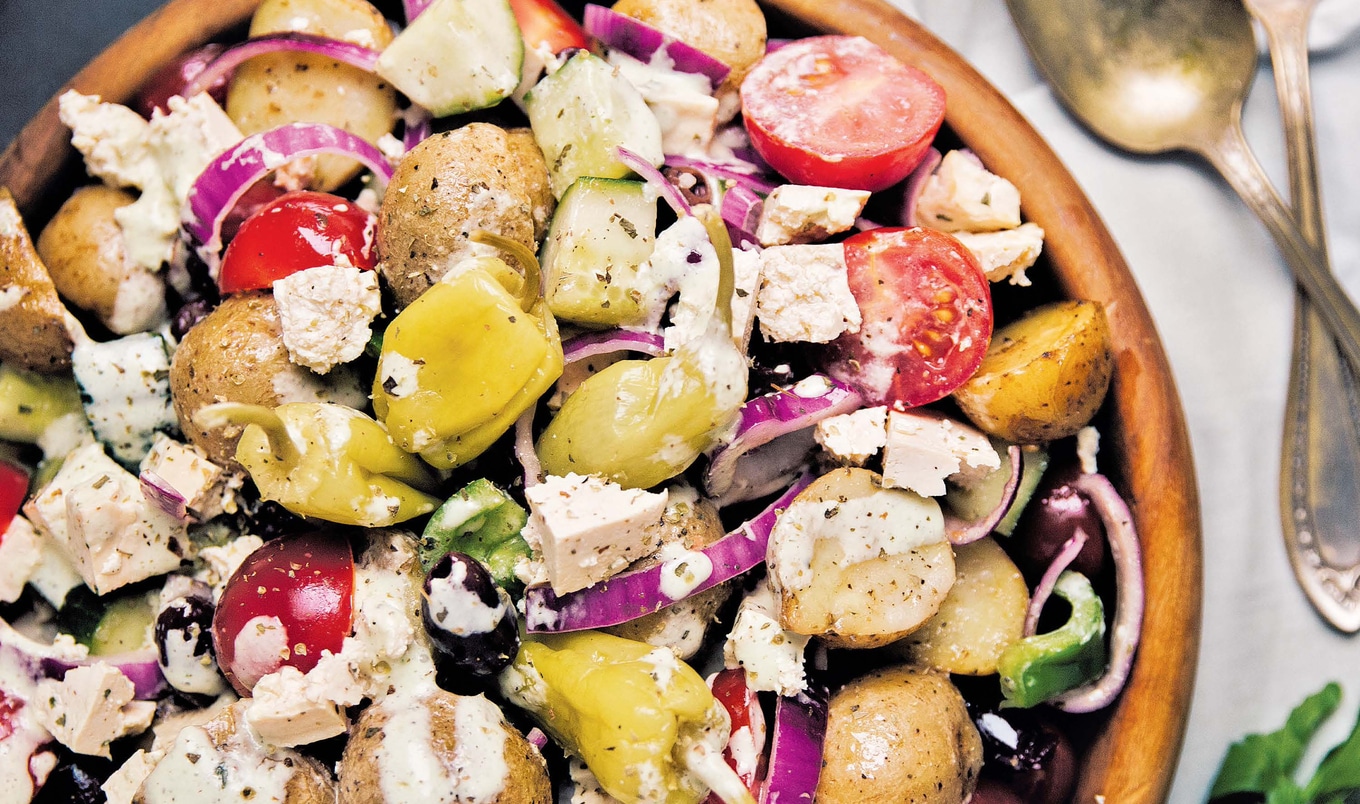 This is a potato salad with serious substance, and it's perfect for your next barbecue or picnic with friends.
July 23, 2019
This tangy, roasted potato salad from Lauren Toyota's Hot For Food Vegan Comfort Classics cookbook is bursting with big, bold Greek flavors, and is a welcomed change from traditional potato salad.
What you need:
For the tofu feta:
1 (14-ounce) brick extra-firm tofu
1⁄2 cup white wine vinegar
1 tablespoon lemon juice
1⁄2 cup unsweetened vegan milk
1 teaspoon dried basil
2 garlic cloves, minced
2 teaspoons sea salt
For the creamy cucumber dressing:
⅓ English cucumber
1 cup vegan mayonnaise
2 tablespoons lemon juice
2 garlic cloves
2 teaspoons apple cider vinegar
1 teaspoon finely chopped fresh dill
1⁄4 teaspoon sea salt
1⁄4 teaspoon ground pepper
For the salad:
2 pounds small red potatoes, halved
1 tablespoon olive oil
1 teaspoon dried oregano
1⁄2 teaspoon sea salt
1⁄2 teaspoon black pepper
2 cups diced English cucumber
2 cups diced green bell pepper
2 cups cherry tomatoes, halved
2 cups diced red onion
1⁄2 cup pitted kalamata olives
6 to 8 pepperoncini peppers
Dried oregano, for serving
What you do:
For the tofu feta, drain excess water from tofu and press it between paper towels to dry. Cut tofu into ½-inch cubes. Whisk vinegar, lemon juice, milk, basil, garlic, and salt in a glass container with a fitted lid. Submerge tofu cubes in mixture, place lid on container, and refrigerate. Marinate tofu for 3 hours or overnight for a stronger flavor.
For the creamy cucumber dressing, shred cucumber. Place in a sieve or double layer of cheesecloth and squeeze out excess water. Place cucumber and remaining ingredients in a high-powered blender and blend until very smooth. Set aside.
For the salad, preheat oven to 400 degrees. In a baking dish, toss potatoes with olive oil, oregano, salt, and pepper. Bake for 45 minutes, tossing once halfway through, until roasted and golden brown. Toss warm potatoes with cucumber, bell pepper, tomatoes, onion, olives, pepperoncini, and tofu feta. Drizzle with creamy cucumber dressing, sprinkle with black pepper and oregano, and serve immediately.
Note: Be sure to dress only the amount that will be consumed. If not eating it right away, do not toss potatoes with veggies, as cucumber and tomatoes will get soggy.
Photo credit: Lauren Toyota