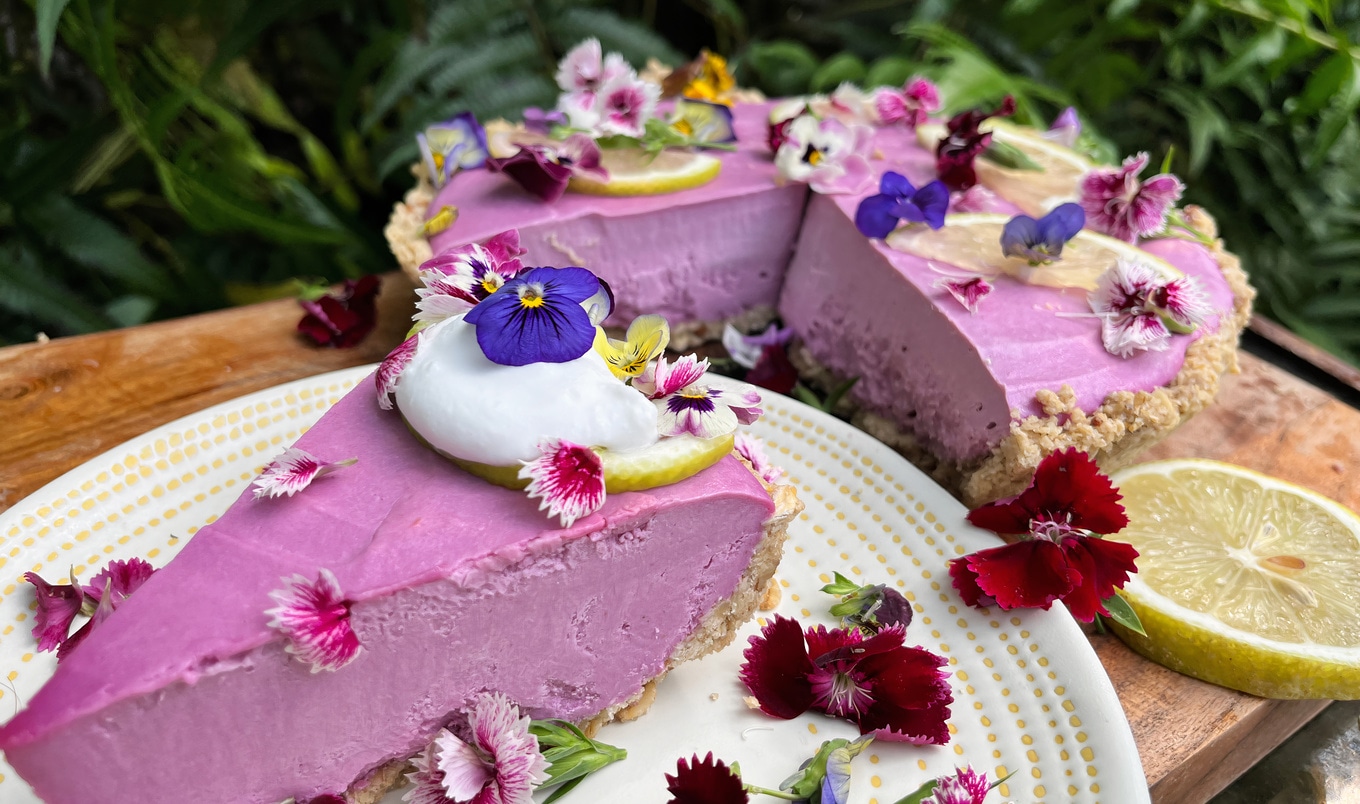 Can't choose between gorgeous and decadent? Have it all with this cheesecake, which marries the creaminess of ube yams with zesty fresh lemons.
August 24, 2023
This luscious dessert by vegan blogger Deborah Gleason harmoniously combines the zesty brightness of lemon with the subtly sweet and nutty essence of ube (purple yam). A velvety, dairy-free cheesecake filling rests atop a delicate crust, providing a perfect contrast of textures.
What you need:
For the oat cookie crust:
1½ cups oat flour
½ cup rolled oats
½ cup finely chopped pecans
⅓ cup sugar
⅓ cup coconut oil, melted
¼ teaspoon salt
For the filling:
1½ cups mashed ube yam, peeled and steamed until soft
1 cup canned coconut milk
1½ cups raw cashews, soaked
Juice of 2 lemons
½ cup maple syrup
⅓ cup coconut oil, melted
2 teaspoons vanilla extract
2 teaspoons lemon zest
¼ teaspoon salt
Coconut whipped cream, for garnish
Edible flowers, for garnish
What you do:
1. for the oat cookie crust, preheat oven to 375 degrees. In a large bowl, combine all ingredients, stirring until mixture begins to stick together. Place into a parchment paper lined 9-inch pie plate. Press firmly into bottom of plate and up sides. Bake for about 13 minutes, or until crust begins to brown. Remove from oven and let cool before adding filling.
2. For the filling, to a blender, add all ingredients. Blend until smooth, about 1 minute. Pour into prepared crust and place in freezer for 4 hours, or until solid.
3. Let thaw for 30 minutes before serving. Top with coconut whipped cream and edible flowers.
For more recipes like this, check out: