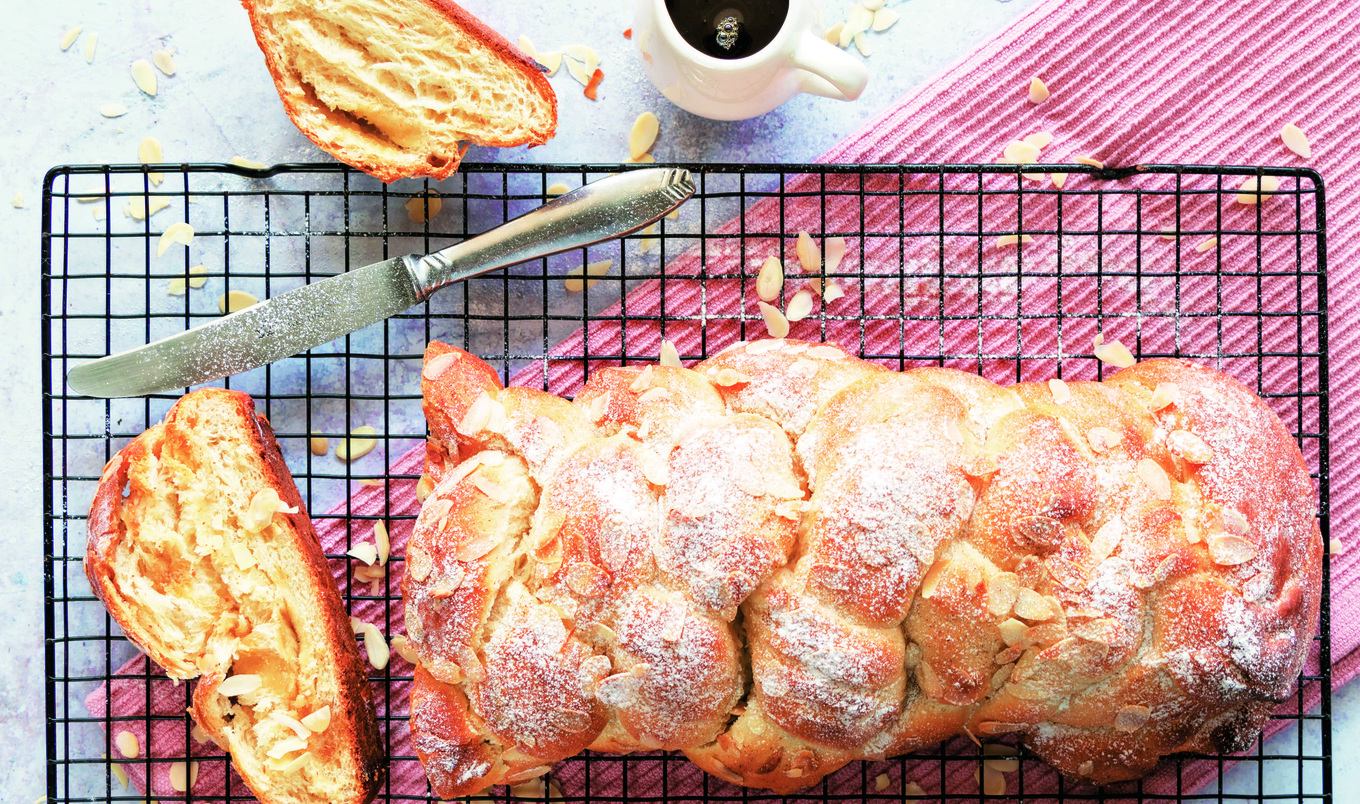 This beautiful vegan challah is the perfect twist on a holiday classic, with the sweet addition of homemade marzipan.
December 12, 2019
Don't be intimidated by challah—this recipe from the Vegan Holiday Cooking cookbook is easier than you think. Warm, fresh-baked bread plus homemade marzipan means it's so worth the effort.
What you need:
For the challah:
1 tablespoon instant yeast
1⁄4 cup sugar, divided
1 cup plus 3 tablespoons warm water, divided
5 tablespoons vegetable oil, divided, plus more as needed
1 tablespoon baking powder
3 1⁄2 cups all-purpose flour, divided
1 teaspoon salt
For the marzipan:
1⁄2 cup almond flour

1⁄4 cup powdered sugar
1 teaspoon almond extract

1 tablespoon pure maple syrup
For the vegan egg wash:
1 tablespoon almond milk

1 tablespoon pure maple syrup
For the topping:
1⁄4 cup slivered, blanched almonds
1⁄2 teaspoon ground cinnamon

2 teaspoons powdered sugar
What you do:
For the challah, in a medium bowl, place yeast, ⅛ teaspoon sugar, and 1 cup warm water, and whisk lightly. Let mixture rest for 3 minutes.
In a small bowl, combine remaining 3 tablespoons warm water with 2 tablespoons oil. Add baking powder and stir until mixture is fizzy.
In a large bowl, combine 3 cups flour, remaining 1⁄4 cup sugar, and salt and whisk well. Add remaining 3 tablespoons oil to yeast mixture and combine. Add baking powder mixture to oil-yeast mixture, then add to flour mixture while stirring well. Knead until dough is smooth, about 6 minutes. If dough is too sticky, add remaining 1⁄2 cup flour, a little at a time as needed. The dough is ready once it doesn't stick to sides of bowl anymore.
Lightly grease a large bowl with additional oil. Transfer dough to bowl and gently roll around to coat it with oil. Cover bowl with a damp kitchen towel and let rise at room temperature for 2 hours or until doubled in size.
For the marzipan, into a food processor, add all ingredients and pulse until a sticky mass forms. Wrap in plastic wrap and place in refrigerator.
Line a baking sheet with parchment paper. Once dough has risen, place on a floured surface and knead for 2 minutes to get rid of any air bubbles. Divide dough into 6 equal pieces. Pat and stretch each piece into a long rectangle, making sure they are all the same length, and place about ⅙ of marzipan in a long strip in middle of rectangle. Roll dough around marzipan and pinch closed, making a rope that is about 16 inches long. Repeat with remaining 5 pieces of dough.
Arrange dough ropes next to one another on a work surface. Connect ends at top and use your palm to pinch together so they'll hold well, then tuck them under a bit. Braid dough by bringing rope down from right side and replacing with second rope from left, then bringing down rope from left and replacing with second rope from right until there is no more dough to work with, then pinch ends together and tuck it under.
Preheat oven to 325 degrees. Transfer dough to prepared baking sheet, cover with a damp cloth, and let rise for 45 minutes at room temperature.
For the vegan egg wash, in a small bowl, whisk milk and maple syrup. Gently brush all over braided challah and sprinkle with almonds and cinnamon. Bake for 25 minutes, or until bread is golden brown on top. Place challah on a cooling rack to cool. Once cooled, dust with powdered sugar prior to serving.