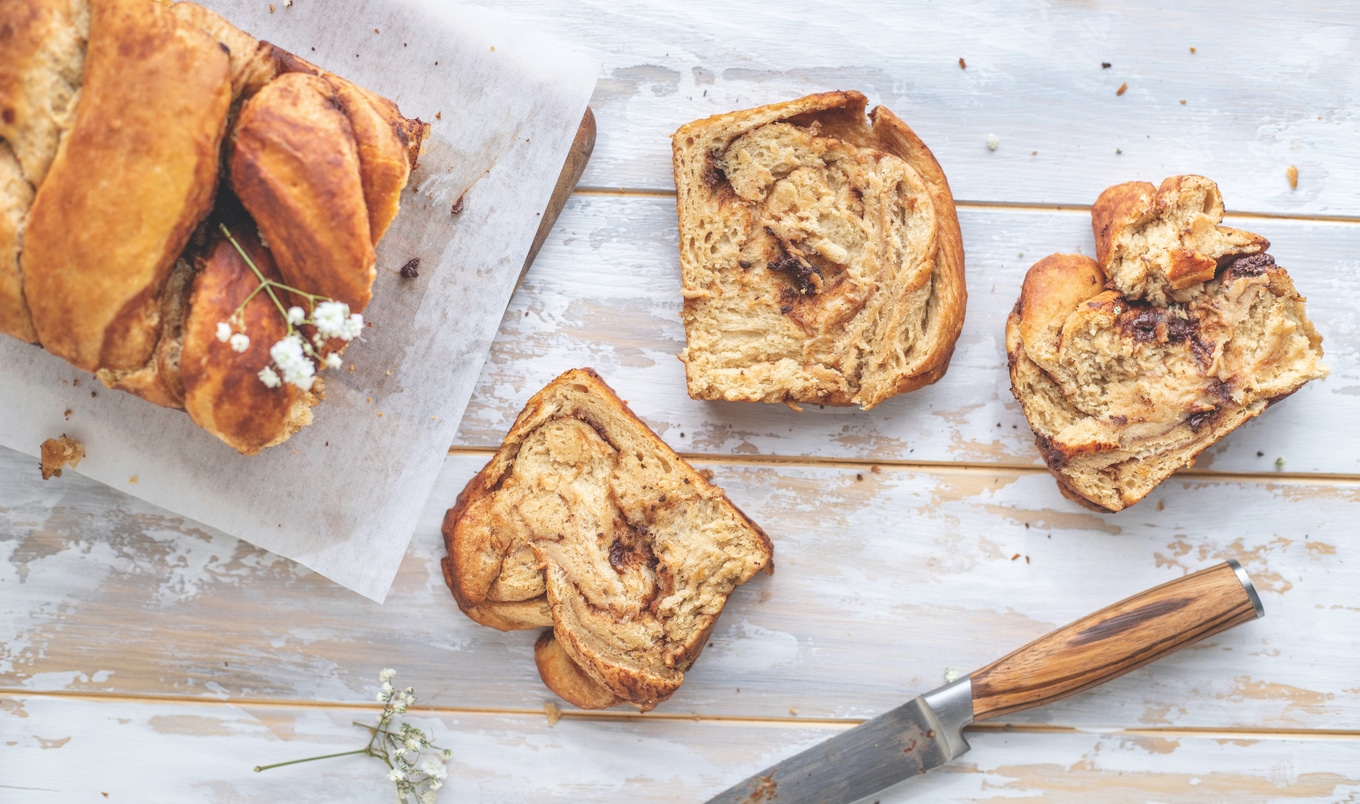 This sweet braided bread features flaky layers of chocolate and buttery pastry baked into one glorious loaf.
December 4, 2022
Originating in Jewish communities, this traditional sweet bread from the Baked With Love cookbook can come in many variations, but this rich chocolaty version is our favorite.
What you need:
For the dough:
¾ cup unsweetened vegan milk
3 cups plus 1 tablespoon flour, divided
⅓ cup plus 1 tablespoon coconut sugar, divided
2¼ teaspoons instant yeast
¼ cup unsweetened applesauce
¼ cup vegan butter, melted
1 teaspoon vanilla extract
For the chocolate filling:
½ cup chopped vegan dark chocolate (80% cacao)
½ cup unsweetened coconut cream
¼ cup coconut sugar
1 tablespoon coconut oil, melted
What you do:
For the dough, warm milk to 110 degrees and pour into a large bowl. To bowl, add 1 tablespoon flour and 1 tablespoon coconut sugar and whisk to dissolve. Add yeast, mix, and set aside to activate for 5 to 7 minutes.
Once yeast is activated, add remaining ⅓ cup sugar, applesauce, butter, and vanilla. Mix to combine.
Gradually sift remaining 3 cups flour into wet mixture in 1-cup increments, mixing dough with a spoon to combine flour with wet mixture. Once flour is fully incorporated, gently knead dough in bowl until combined. Shape dough into a ball.
Grease a clean bowl with 1 teaspoon olive oil, then place dough in bowl and cover with a clean kitchen towel. Place bowl in a warm area to rise until doubled in size, about 45 minutes.
While dough is rising, prepare chocolate filling. In a microwave-safe bowl, add chocolate and microwave in 30-second intervals until melted. Into a medium bowl, pour melted chocolate and add coconut cream, coconut sugar, and coconut oil and whisk. Set aside in a warm area.
Preheat oven to 350 degrees. Grease two 9 x 5-inch loaf pans with remaining olive oil. When dough has doubled in size, lightly flour a clean work surface and rolling pin and place dough on floured surface. Roll dough into a large rectangle measuring 9 x 17 inches, with one of long sides toward you. Using a butter brush or spoon, spread chocolate filling onto dough, making sure it reaches edges.
Begin to roll far side of dough toward you, until it is a 17-inch-long cylinder. Using a sharp knife, cut cylinder in half lengthwise. Cross one strand over other in middle. Gently twist strands together to form a spiral. Cut spiral in half crosswise and place in prepared loaf pans, then cover with a clean kitchen towel. Place covered loaf pans in a warm area to proof for 20 minutes.
Once proofed, bake loaves for 45 minutes, or until browned and puffy. The babka should be slightly firm to touch and sound hollow when tapped. Remove from oven and let cool for 10 minutes before removing from pans. Slice and serve.