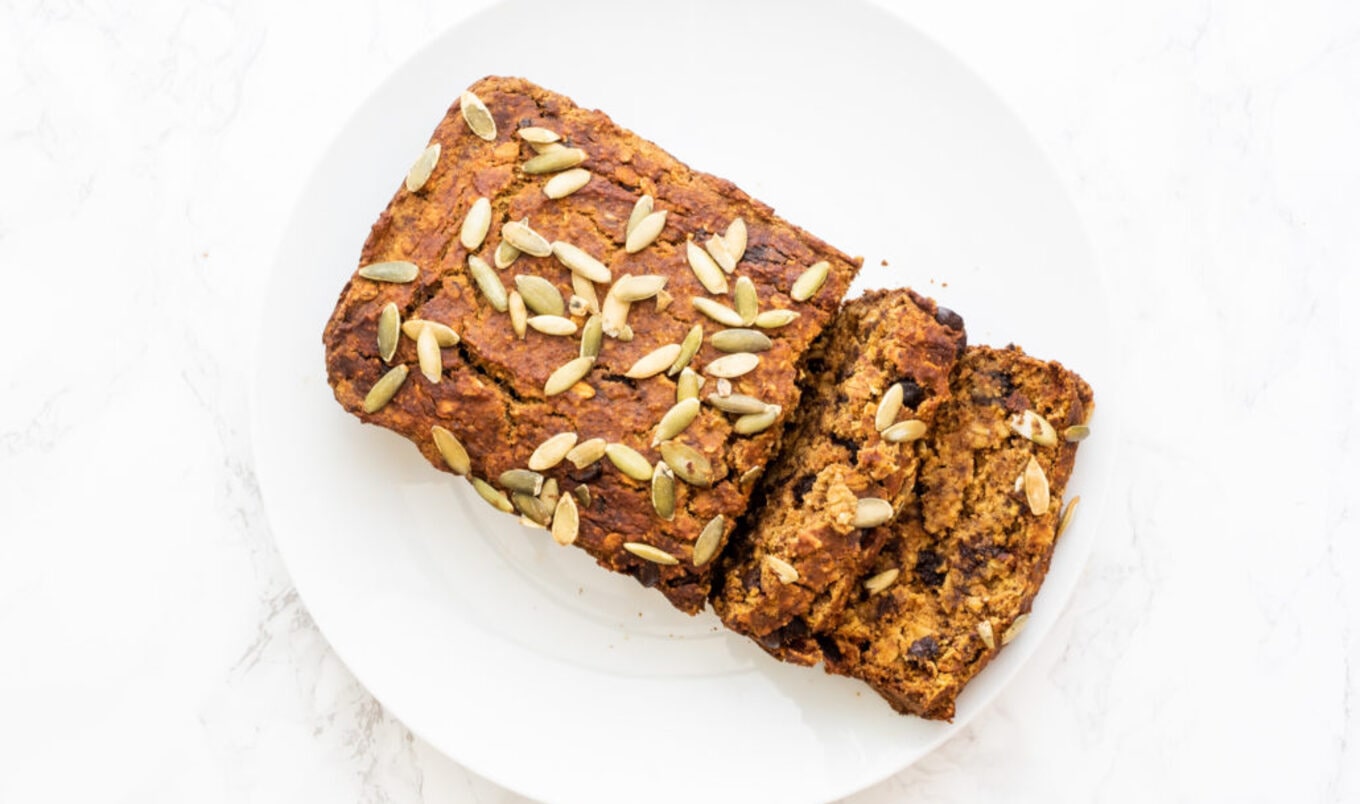 This one-bowl, plant-based pumpkin bread comes together quickly for a moist, springy loaf.
November 26, 2022
There's something so cozy and comforting about a slice of pumpkin bread during the fall. And this recipe from HealthyGirl Kitchen is no exception. Pair with your morning coffee or tea for a comforting start to the day.
What you need:
1½ tablespoon flaxseeds
½ cup plus 4 tablespoons water, divided
¾ cup pumpkin purée
2 tablespoons mashed banana
¼ cup applesauce
¼ cup maple syrup
⅓ cup coconut sugar
2 teaspoons baking soda
¼ teaspoon salt
½ teaspoons ground cinnamon
1 teaspoon pumpkin pie spice
1 cup gluten-free rolled oats
½ cup almond meal
1¼ cup gluten-free flour
½ cup chocolate chips
¼ cup raw pumpkin seeds, for garnish
What you do:
In a large mixing bowl, combine flax and 4 tablespoons of water. Set aside.
Preheat oven to 375 degrees. Line a loaf pan with parchment paper. Set aside.
To flax mixture, add pumpkin, mashed banana, applesauce, and maple syrup. Mix to combine. Next, add coconut sugar, baking soda, salt, cinnamon, and pumpkin pie spice and mix. Add remaining water and mix again.
Add oats, almond meal, and flour and gently fold. Fold in chocolate chips.
Into prepared loaf pan, pour batter and sprinkle with pumpkin seeds.
Bake for 40 to 45 minutes or until golden brown and a knife comes out clean when inserted in center.
Remove from oven and let set in pan for at least 20 minutes and then gently transfer to a plate to cool. Let cool completely before slicing, at least an hour.