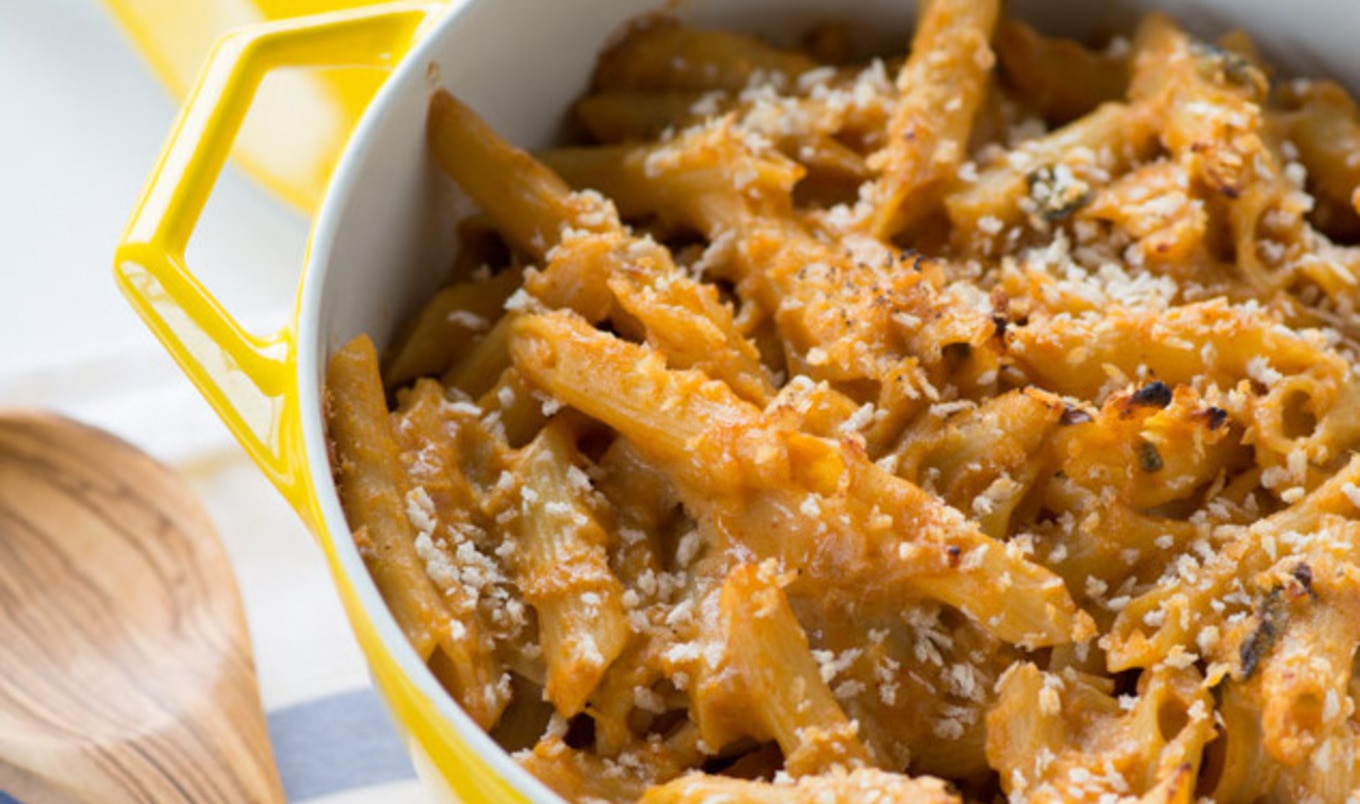 A little bit of sass from peppers and a little bit of crunch from panko make for a warm, hearty, curl-up-on-the-couch-with-a-bowl-of mac and cheese.
April 23, 2020
Miso infuses a deep umami-rich flavor into this cheesy comfort food recipe from VegNews Food Editor Joni Marie Newman's Fusion Food in the Vegan Kitchen cookbook.
What you need:
For the Miso Cheese Sauce:
¼ cup vegetable oil
1 cup finely diced onion
2 tablespoons minced garlic
¼ cup all-purpose flour
2 cups full-fat coconut milk
¼ cup nutritional yeast
2 tablespoons Chinese hot mustard
2 tablespoons mellow white miso paste
1 tablespoon soy sauce
1 tablespoon lemon juice
1 tablespoon sesame oil
1 teaspoon smoked paprika

For the Mac and Cheese:
1 pound dry penne pasta, prepared according to package instructions
1 cup panko bread crumbs, divided
2 whole roasted red bell peppers, seeded and diced
2 tablespoons olive oil
What you do:
For the Miso Cheese Sauce, in a pot over medium-high heat, warm oil. Add onion and garlic and sauté for 1 minute, stirring constantly. Sprinkle in flour and stir to absorb all liquid (it should be the consistency of thick paste). Continue to stir and cook until roux is golden in color, about 2 more minutes. Add coconut milk and stir until smooth and consistency of gravy. Stir in remaining ingredients. Keep warm until ready to use.
Preheat oven to 400 degrees.
For the Mac and Cheese, in a large bowl, add pasta, most of sauce—reserving ½ cup for later use—½ cup panko, and diced peppers. Stir to combine.
Add mixture to an ovenproof casserole and top with remaining ½ cup sauce. Sprinkle remaining ½ cup panko over top. Drizzle olive oil evenly over top. Bake for 25 minutes, or until panko is golden.
Photo credit: Wade Hammond