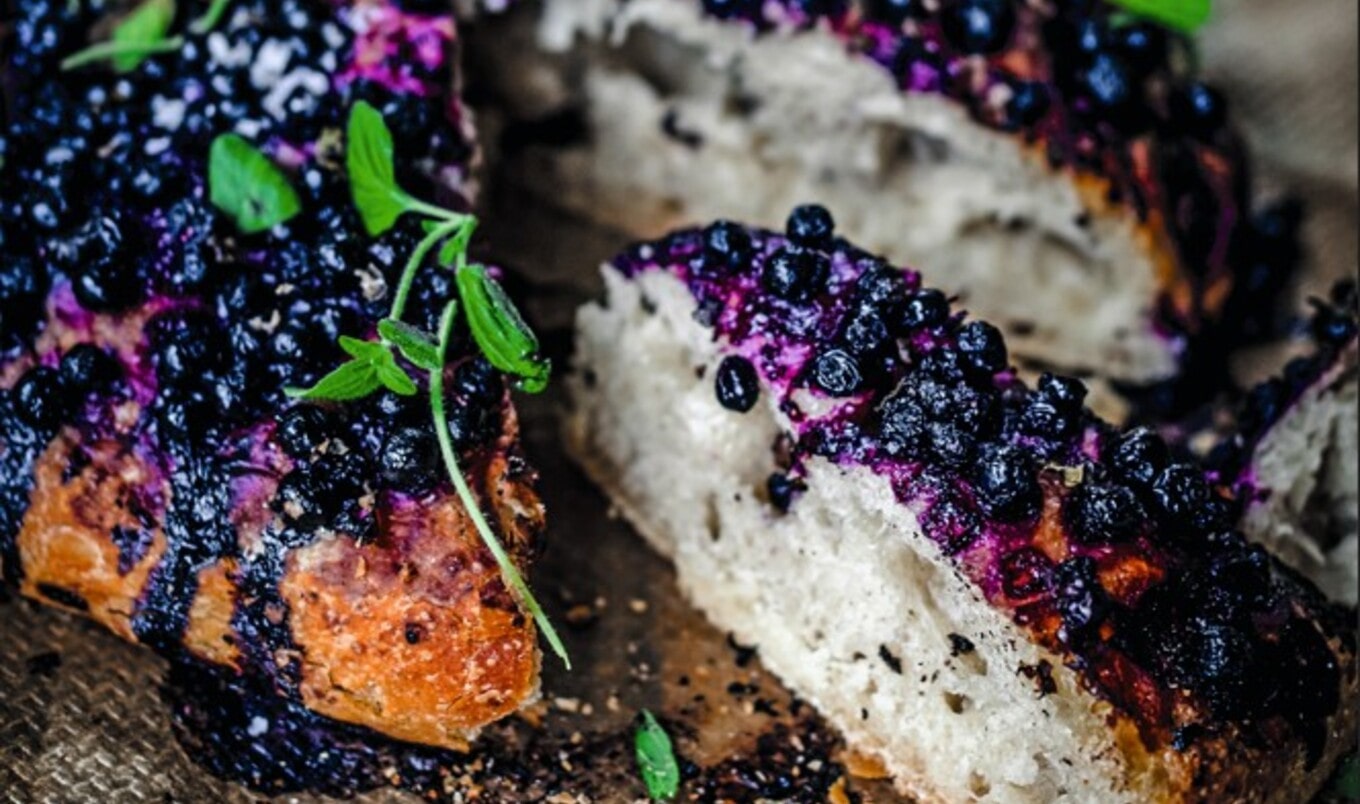 Tossing wild blueberries on top of bread dough and then baking until they burst, turning into a slightly sweet, jammy layer that mingles with an herbaceous pop of fresh oregano makes for a one-of-a-kind loaf.
May 3, 2023
Serve this bread—from the Norwegian Baking through the Seasons cookbook—warm with some good olive oil and vegan goat cheese. If you don't have wild blueberries, you can swap in regular blueberries or blackberries. Plan to start this recipe a day in advance, as like most bread recipes, perfection takes time.
What you need:
3 cups white bread flour
1 teaspoon salt
1 teaspoon instant yeast
1¼ cups warm water
2 teaspoons safflower oil
1 cup wild blueberries
1 teaspoon salt, plus more for serving
1 tablespoon fresh oregano leaves, plus more for serving
What you do:
1. In a large bowl, whisk flour, salt, and yeast. Stir in warm water and mix to form a soft dough. Cover with plastic wrap and let rise in a warm spot overnight (8 to 12 hours), or until bubbly and doubled in size.
2. Once doubled in size, preheat oven to 425 degrees. Line a baking sheet with parchment paper and sprinkle some flour on parchment. Turn dough out onto prepared baking sheet. With floured hands, fold dough over itself a few times. Drizzle oil on top and gently press dough down with hands to form a flat, round shape, roughly 8½ inches in diameter.
3. Spread blueberries evenly on top of dough and use hands to gently press into dough slightly. Sprinkle salt and oregano on top. Bake for about 40 minutes, or until golden brown. Let cool for 10 minutes, then garnish with a little more salt and oregano and serve warm. Store leftovers in an airtight bag at room temperature for 1 to 2 days.
For more recipes like this, check out:
Here at VegNews, we live and breathe the vegan lifestyle, and only recommend products we feel make our lives amazing. Occasionally, articles may include shopping links where we might earn a small commission. In no way does this effect the editorial integrity of VegNews.