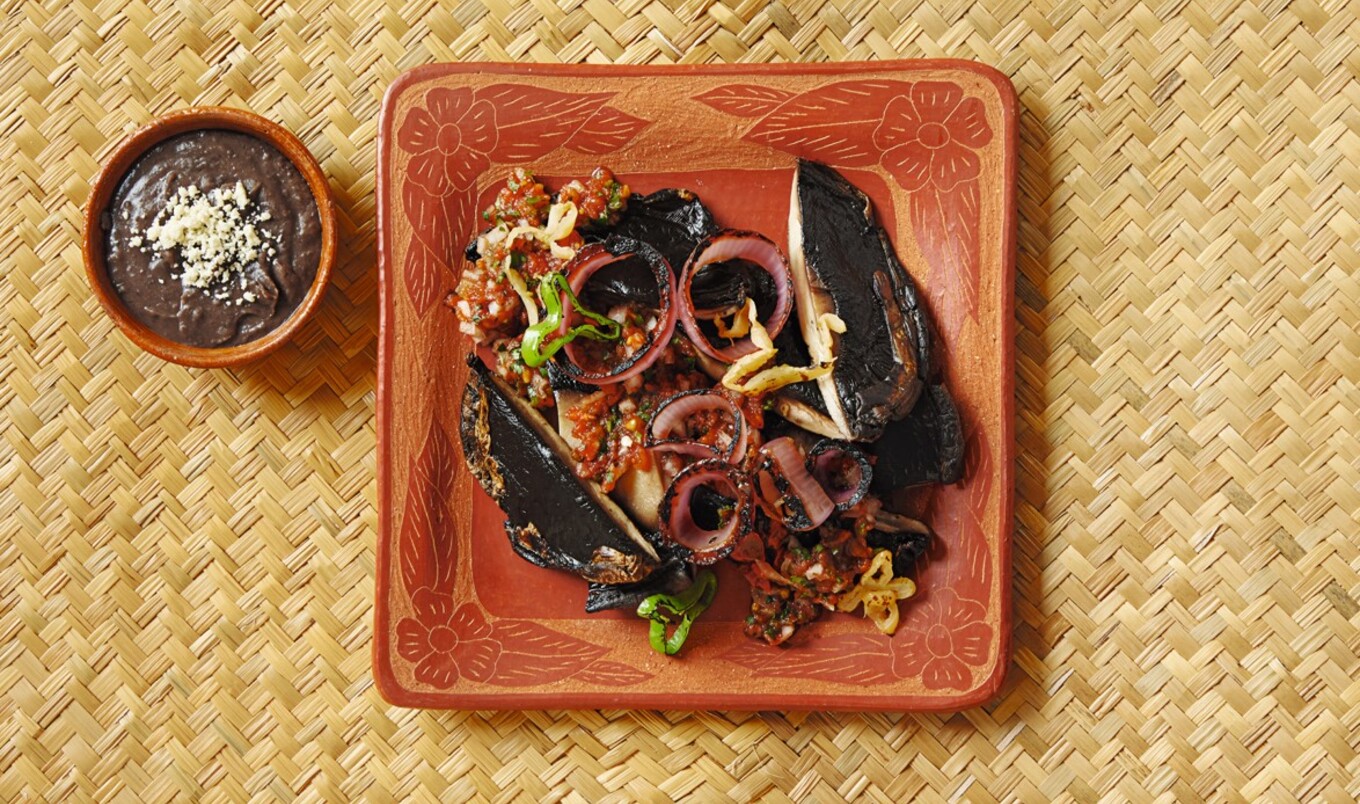 Tangy marinated onions, meaty portabellos, chili-spiced beans, and an herby tomato sauce make for one incredible dish.
May 18, 2023
Poc chuc, a traditional Yucatan dish typically made with grilled pork, gets a plant-based makeover with meaty, tender mushrooms in this recipe from The Mexican Vegetarian Cookbook. Sour orange juice, which imparts sharp flavor to this dish, can be found in the grocery aisles of stores such as Walmart and Shop Rite.
What you need:
For the beans:
1⅓ cups dried black beans, soaked overnight, drained, and rinsed
6¼ cups water
1 garlic clove, crushed
1 tablespoon vegetable oil
1 small onion, chopped
1 habanero chili, seeded and finely chopped
1½ tablespoons epazote leaves, finely chopped
For the mushrooms:
10 portabello or oyster mushrooms, stems removed
2 sour oranges, juiced
2 garlic cloves, minced
¼ teaspoon salt
¼ teaspoon black pepper
For the marinated onions:
3 red onions
3 sour oranges, juiced
1 bunch cilantro, chopped
¼ teaspoon salt
For the chiltomate:
2½ cups ripe tomatoes
1 small onion, minced
1 bunch cilantro, finely chopped
¼ teaspoon salt
To serve:
1 habanero chile, dry-roasted
What you do:
For the beans, into a large flameproof pot over medium heat, place beans. Add water and garlic, and cover and boil for 2 to 3 hours (or 30 minutes in a pressure cooker). Once tender, add salt and boil for a few minutes more.
For the mushrooms, using a spoon, scrape underside of mushroom caps to remove gills and cut each in half. In a medium bowl, mix orange juice, garlic, salt, and pepper to taste, and toss in mushrooms. Let marinate for 1 hour.
For the marinated onions, on a grill or grill pan, place whole onions and roast turning frequently, until browned on all sides. Let cool, then peel, and slice into rings or half-moons. Into a large bowl, add onions, orange juice, cilantro, and salt. Place in refrigerator for 1 hour before serving.
For the chiltomate, on a grill or grill pan, roast whole tomatoes turning frequently. Place in a bowl and mash using a potato masher. Let cool, then add onion, chopped cilantro, and salt. Cover with plastic wrap and place in refrigerator until ready to serve.
Drain beans, add to a food processor, and blend. In a pan, warm oil and sauté onion with chili until golden. Add blended beans and epazote leaves, and simmer over low heat for 5 minutes. Strain beans through a sieve and set aside.
To serve, grill mushrooms on a grill or roast in a 400 degree oven for 3 to 4 minutes until slightly golden. Serve with beans, marinated onion, and chiltomate, and garnish with a roasted habanero.
For more recipes like this, check out: