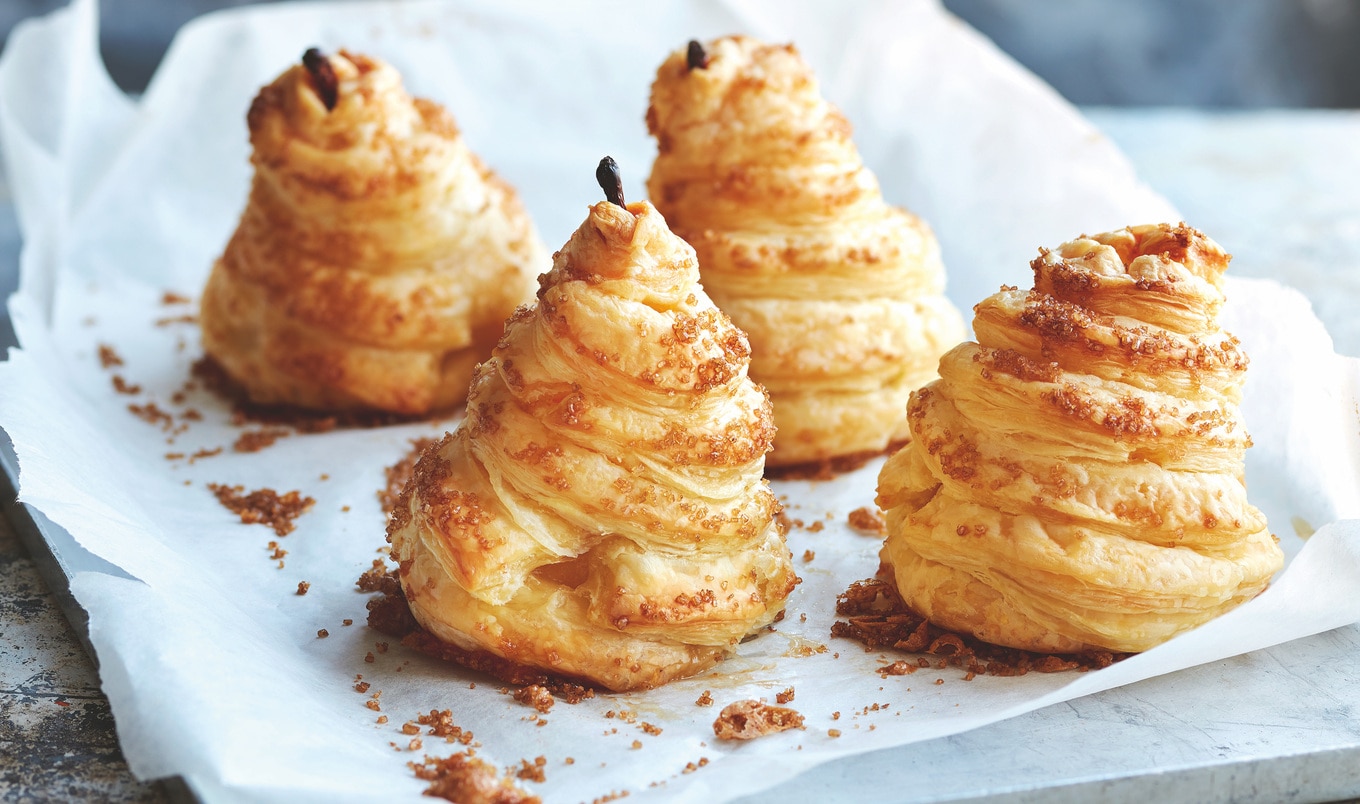 This showstopper of a dessert, featuring buttery vegan puffed pears and decadent sauce, will easily impress anyone you serve it to.
December 5, 2022
Who says the roast has to be the centerpiece of a holiday meal? These beautiful desserts from the Dirty Vegan: Another Bite cookbook make dessert the spotlight of your feast. Pair with a scoop of creamy vanilla ice cream for a dreamy combination.
What you need:
For the pears:
4 firm pears
¾ pound vegan puff pastry
Unsweetened almond milk, to glaze
¼ cup brown sugar
For the poaching liquid:
1 cup sugar
2¼ cups water
Juice of 1 lemon, plus a strip of its zest
1 cinnamon stick
½ vanilla bean pod, seeds scraped out
For the sauce:
4 ounces dark chocolate, chopped
4 tablespoons olive oil
4 tablespoons boiling water
¼ teaspoon flaky sea salt
What you do:
Peel pears, leaving stalks attached.
In a saucepan over medium-high heat, place all poaching ingredients and bring to a boil, stirring to dissolve sugar, then reduce heat to a simmer. Add pears to pan and simmer very gently for 10 minutes, or until just soft. Turn heat off and let pears cool completely in liquid. Store in liquid until needed.
Preheat oven to 350 degrees. Roll pastry out into a long, thin rectangle about ¼-inch thick. Cut into ½-inch wide strips. Cut bottom ½ inch of each pear away, so they sit up straight. Starting from bottom, wrap each pear in a tightly spiralled strip of pastry. You may need to join 2 or more strips together to complete each pear, but this is easily done by dabbing ends of both with a little almond milk.
Once all pears are wrapped, brush lightly with almond milk and sprinkle with sugar. Transfer to a baking tray and bake for 20 minutes, or until golden. When ready, leave to rest for 10 minutes.
Into a small saucepan, add chocolate, olive oil, and water. Swirl pan so hot water starts to melt chocolate. If needed, place pan over very low heat to aid melting. Gently stir with a metal spoon until chocolate resembles a smooth, glossy sauce. Add salt and serve immediately, spooning a pool of sauce on to 4 warm serving plates and sitting a pastry-wrapped pear on top of each.