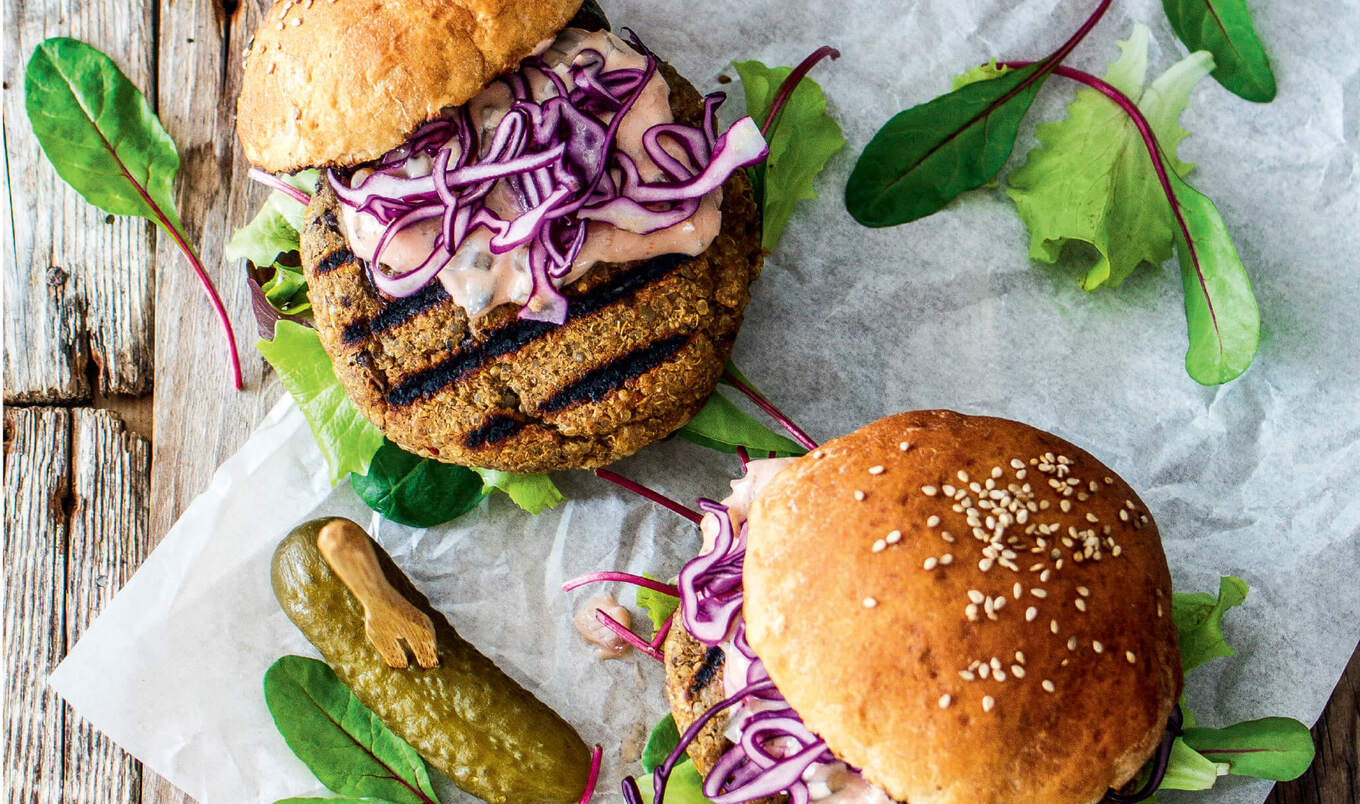 How about a scrumptious burger with a crispy grilled quinoa patty, fast-food style sauce, and fresh salad greens? Yes, please!
June 30, 2023
These protein-packed burgers from VBQ: The Ultimate Vegan Barbecue Cookbook are perfect for outdoor grilling, but also crisp up deliciously on a grill pan in the comfort of your home.
What you need:
For the patties:
1 tablespoon chia seeds
¼ cup water
1 red onion, thinly sliced
4 tablespoons olive oil
4 cremini mushrooms, diced
½ teaspoon salt
1½ cups chickpeas
1 tablespoon soy sauce
1 tablespoon apple cider vinegar
1 tablespoon maple syrup
½ cup rolled oats
1½ cup cooked quinoa
2 garlic cloves, minced
½ teaspoon ground allspice
½ teaspoon ground cinnamon

For the burger sauce:
1 shallot, finely chopped
3 tablespoons finely chopped pickles
¼ cup unsweetened, plain vegan yogurt
2 tablespoons ketchup
2 teaspoons agave nectar
⅛ teaspoon salt

For extras:
4 sweet potato buns
2 cups salad greens
¾ cup finely chopped red cabbage
What you do:
Grind chia seeds, and mix with ¼ cup water and set aside.
In a frying pan over medium heat, add 1 tablespoon of olive oil and onion, and cook for 7 minutes. Add mushroom and ¼ teaspoon salt, and cook for another 5 minutes over low heat.
In a food processor, blend chickpeas with soy sauce, vinegar, and maple syrup.
In a blender, finely grind oats and transfer to a large mixing bowl. Add chia seed mixture, quinoa, garlic, fried onions, chickpea paste, ¼ teaspoon salt, allspice, and cinnamon, and knead by hand. Let rest for 10 minutes, knead again and shape mixture into four patties.
Brush patties with remaining 3 tablespoons olive oil and cook over direct heat on grill for 5 minutes on each side.
For the sauce, into a medium bowl add all ingredients and mix well.
Split burger buns open and warm on cut side over direct heat on grill for 1 minute. On bottom buns, add salad greens, one patty, cabbage, and sauce, and cover with top buns.
For more recipes like this, check out: