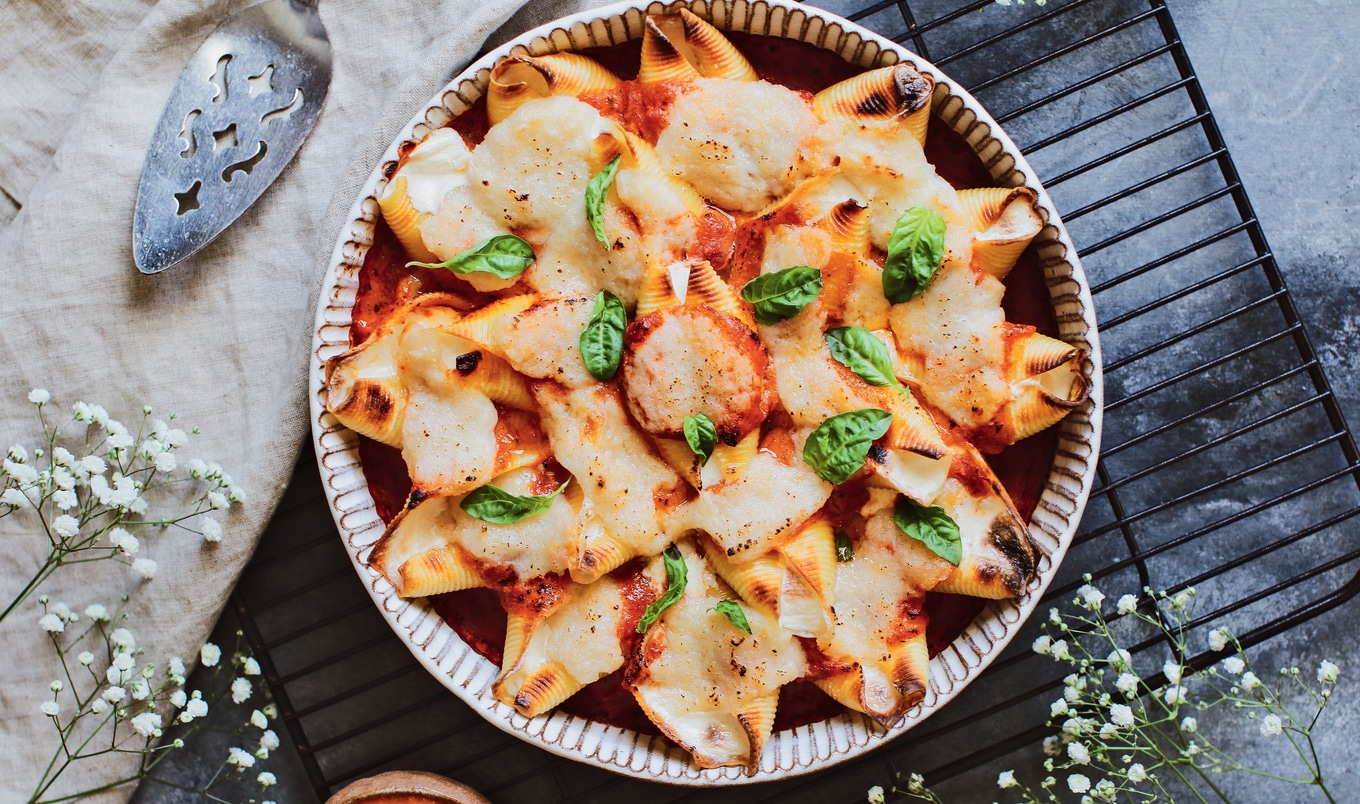 Creamy, pink-hued tomato vodka sauce lends depth and richness to these slightly spicy sausage and mild ricotta-filled shells.
December 20, 2022
Adding spicy sausage to the ricotta filling in this recipe from the Vegan Pasta Night cookbook adds heartiness to these stuffed shells, and the vodka sauce adds extra depth and flavor that you'd miss out on by using traditional red sauce.
What you need:
2 tablespoons olive oil
1 pound vegan hot Italian sausage, crumbled
¼ teaspoon salt
¼ teaspoon black pepper
2 cups vegan ricotta
4 tablespoons chopped fresh parsley
4 tablespoons chopped fresh basil, plus more for serving
1 tablespoon garlic powder
1 (1 pound) box large shell pasta
2½ cups vegan vodka sauce, divided
1 ball of fresh vegan mozzarella, shredded
What you do:
Preheat oven to 400 degrees. In a skillet over medium heat, add oil and warm until shimmering, and then add sausage. Add salt and pepper, stir, and cook for 5 to 7 minutes until browned. Set aside to cool for about 10 minutes.
In a large mixing bowl, add ricotta, cooked sausage, parsley, basil, and garlic powder. Mix well until thoroughly combined.
In a large pot of boiling salted water, cook shells until tender and then drain and rinse with cold water. Fill shells with ricotta and sausage mixture.
In a baking pan, add 1½ cups sauce to bottom of pan and then place shells on top. Spoon remaining 1 cup sauce over shells, but don't cover completely. Sprinkle mozzarella over each shell.
Bake for 15 minutes and then switch to broil setting, and broil for 3 minutes until cheese is bubbly and browned. Remove from oven, top with more fresh basil, and serve.