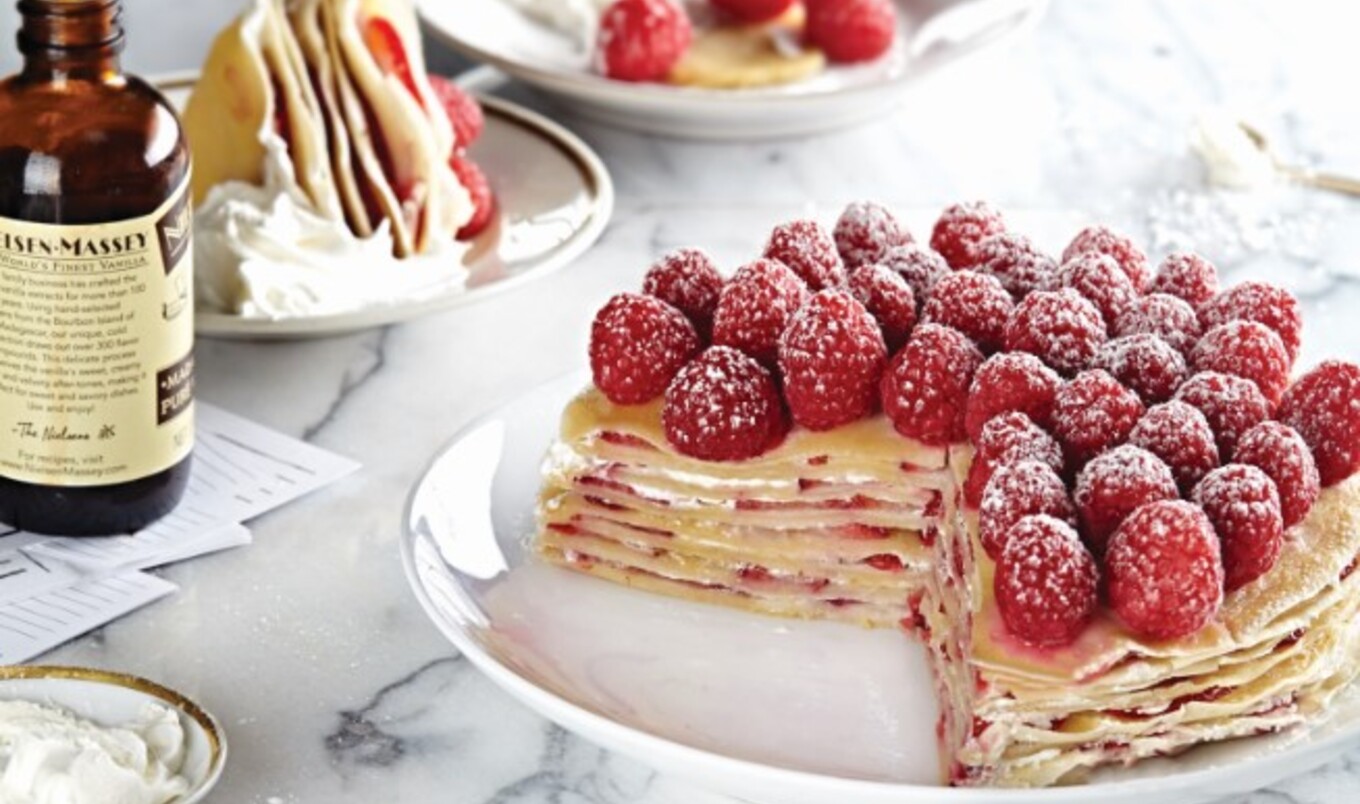 This delightful concoction filled with fluffy whipped cream and sweet berries makes for an impressive ending to a French meal.
February 14, 2023
Light-as-air French crépes serve as the cake layers between sticky-sweet apricot jam, fresh-and-juicy slices of in-season fruit, and fluffy coconut whipped cream.
What you need:
For the crêpes:
2¾ cups water
1 cup flour
1 cup whole wheat pastry flour
¼ cup mashed silken tofu
1 tablespoon canola oil
2 teaspoons baking powder
1 teaspoon salt
Nonstick cooking spray
For the cake:
1 cup apricot jam
6 cups mixed fruit (such as strawberries, peaches, nectarines, bananas, mangoes), sliced
7 crêpes
For the coconut whipped cream:
2 cans chilled full-fat coconut milk
3 tablespoons maple syrup
2 teaspoons vanilla extract
1 tablespoon Grand Marnier
What you do:
For the crêpes, into a blender, add all ingredients, except nonstick spray, and process for 60 seconds. Let rest for 1 hour at room temperature.
Heat a nonstick 8-inch crêpe pan on medium-low heat for a few minutes. Coat pan with nonstick cooking spray. Remove pan from heat, pour 1 cup of batter into pan, and swirl to spread evenly. Immediately pour any excess batter from pan back into remaining batter.
Cook for 2 minutes until bottom is lightly browned. Flip and cook other side briefly. Repeat with remaining batter.
For the cake, into a small saucepan over medium heat, add jam and cook for 1 minute. Remove from heat and let cool.
For the coconut whipped cream, scoop solidified coconut milk from cans, leaving remaining coconut water in can. In a large bowl, add solidified coconut milk and whip using an electric mixer on high until stiff peaks form. Add maple syrup, vanilla, and Grand Marnier, and whip on high again to combine.
On a serving plate, place 1 cooled crêpe. Using a pastry brush, brush crêpe with jam. Spread fresh fruit evenly over jam. Layer whipped cream in between fruit to create an even layer. Place a crêpe on top. Repeat jam, fruit, and whipped cream layers until all crêpes have been used. Brush top crêpe with jam and decorate with remaining fruit.